Amazon is the world's largest retailer. In 2018, nearly 50% of all ecommerce sales in the US were made on Amazon. If you're an ecommerce merchant, you likely already have a presence in their Marketplace or are considering one for the near future.
Selling on Amazon Marketplace means playing by their rules. There are many things that you'll need to be concerned with such as the type of product(s) you can sell, their potential profitability, sourcing quality suppliers, pricing, advertising, packaging and — most importantly — fulfillment. Choosing a suitable fulfillment method is crucial to becoming a successful merchant on Amazon.
Overview
There are two main ways of fulfilling orders with Amazon — Fulfillment by Amazon or Fulfillment by Merchant. Both leverage Amazon Prime — the paid subscription service that offers fast and free delivery on over tens of millions of products. As of January 2019, Amazon reported having more than 100 million Prime subscribers in the US, making this a very important target demographic for Amazon sellers.
Fulfillment by Amazon (FBA)
With FBA, inventory is stored at Amazon fulfillment centers and orders are picked, packed and shipped by Amazon once they're received. Free two-day shipping is available for Amazon orders placed by a merchant's Prime customers (along with free shipping for other eligible non-Prime orders).
These fulfillment centers can also be used to fulfill your third-party orders, for example, orders from your own website or other sales channels. This is called Multi-Channel Fulfillment (MCF).
Fulfillment by Merchant (FBM)
With FBM, you store inventory at your own warehouses (or with your own suppliers) and it's on you to coordinate the picking, packing and shipping of orders received from Amazon.
FBM also allows you to offer free Prime shipping, but your products must follow very stringent guidelines. This is known as Seller Fulfilled Prime (SFP) and sellers (and their products) must qualify in order to participate.
Before we go into more detail about these fulfillment methods, it's worth noting that an Amazon merchant doesn't need to stick with just one of them. In fact, they can mix and match to better fit what they're selling and who they're selling to.
Fulfillment by Amazon (FBA)
FBA has many benefits and is ideal for merchants looking to scale their businesses. Here are some perks:
You do not have to worry about storing inventory, picking, packing, shipping, customer support or returns as Amazon handles all of these things.
At no additional cost to you, FBA orders are eligible for free Two-Day Amazon Prime shipping (and free shipping on other eligible orders) which is enticing to Prime members shopping your products.
You have a higher chance of winning the Buy Box (more on that later), as Amazon gives FBA merchants higher scores for certain Buy Box criteria.
You have more time to focus on marketing or growing your business because you've offloaded all fulfillment and customer service to Amazon.
Participating in FBA does come with some downsides. The biggest one is paying handsomely for Amazon's inventory storage and fulfillment services. For storage, Amazon charges per cubic foot of space your inventory occupies in a warehouse on a monthly basis. Fulfillment fees are levied on a per item basis and vary based on weight. To help calculate what the monthly overhead might be, Amazon provides a full breakdown of the fees and rate structure.
Additionally, if inventory sits on a shelf in a fulfillment center for over 365 days, you become susceptible to a long-term storage fee (LTSF). Inventory optimization is the key to avoiding this. You need to work diligently to keep your top-selling products in stock, while removing or marking down low-performing products to avoid these additional fees and holding costs.
On top of that, Amazon measures the merchant's overall inventory health with a metric known as the Inventory Performance Index (IPI). The IPI is calculated with many variables including excess inventory percentage, stranded inventory percentage, sell-through rate, and in-stock rate. A low IPI score could mean additional fees and storage limits. Amazon provides tools that help you track these performance metrics and take action to improve your IPI.
Multi-Channel Fulfillment (MCF)
Amazon's fulfillment centers can also be used to handle orders coming from third-party sales channels like Magento, Shopify, WooCommerce or Volusion. This is called Multi-Channel Fulfillment (MCF). With MCF, you can offer faster shipping options — like 1-day or 2-day delivery — for your non-Amazon customers. This can help you scale your business without adding to your supply chain complexity.
Just like for FBA, there are storage and fulfillment fees for MCF. The storage fees are the same for both, but the fulfillment fees differ, as they depend on the type of shipping method chosen (higher fees are charged for faster delivery options).
To access MCF, you'll need to connect your third-party ecommerce account so that Amazon is able to receive orders as they're placed. Many sales channels — like the ones mentioned earlier — already have connections with Amazon. However, if you're on a custom or brand new ecommerce sales channel, an integration to Amazon will need to be built using the Amazon Marketplace Web Service API.
Fulfillment by Merchant (FBM)
Want to sell on Amazon, but not pay them to fulfill your orders? Fulfillment by Merchant (FBM) might be the right option for you. With FBM, you have the benefit of listing your products on Amazon, but the onus is on you to store your products and ship them once an order is placed. You also lose access to the all of the Prime shipping benefits, but that also means you don't have to worry about the stringent performance standards Amazon has for Prime shipping.
There are two FBM pricing plans: Professional and Individual. The Professional plan is for higher-volume merchants and has a monthly subscription fee along with additional per-item selling fees. The Individual plan is geared towards merchants who sell less than 40 items per month. There is no monthly subscription fee for Individual. Instead, merchants pay a fixed cost per item sold along with some additional selling fees.
Why choose FBM? Well, it could be a good way for first time sellers to get the hang of listing on the Amazon marketplace before committing to FBA. Also, merchants who sell niche products (without much competition on Amazon) may find that FBM is a more cost-effective way of fulfilling orders for those types of goods.
Seller Fulfilled Prime (SFP)
Seller Fulfilled Prime (SFP) is really just FBM, but with better marketing for your products. You store and ship things yourself, but SFP allows you to display the Prime badge on your Amazon listings. This gives you access to the large network of Prime customers that Amazon has to offer, while saving you on FBA storage and fulfillment costs. Prime customers are more likely to make repeat purchases than non-Prime members, so it's a good idea to appeal to them as much as possible on the marketplace. Furthermore, your chances of winning the Buy Box are also improved with SFP, which is a boon for increasing sales.
Sellers must first go through a trial period to show that they are able to adhere to Amazon's requirements before gaining full access to SFP. Here are the criteria they must meet:
Offer premium shipping options (like one-day or two-day shipping options to Non-Prime customers)
Ship over 99% of your orders on time
Have an order cancellation rate of less than 0.5%
Use Amazon Buy Shipping Services for at least 98.5% of orders
Deliver orders with Amazon-supported SFP carriers
Uphold the Amazon Returns Policy
Allow for all customer service inquiries to be dealt with by Amazon
There are no additional subscription charges for SFP — aside from the usual FBM fees — you do, however, have to pay for the Prime two-day shipping costs for each shipped order. On top of that, you need to consider the added costs of offering free standard shipping to non-Prime customers. They can add up quickly, so you need to evaluate whether or not you want to factor this cost into your product prices.
Buy Box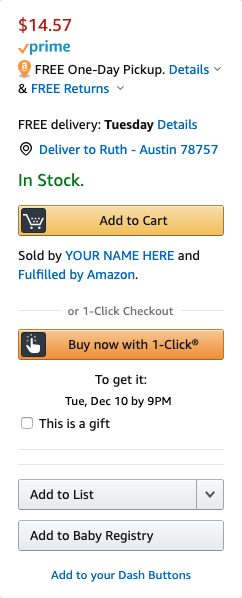 The area that houses the "Add to Cart" button on every Amazon product page is known as the Buy Box. More than 82% of the sales on Amazon go through it, with an even higher number for mobile purchases. Since different merchants can sell the exact same item on Amazon, the Buy Box is Amazon's way of singling out the best purchasing option for shoppers. The Buy Box is not allotted to just one seller, but instead rotates through multiple qualified sellers of a product. The merchant that "wins" the Buy Box at a given time will have their product ordered when the shopper clicks "Add to Cart" or "Buy Now," so it's a high priority to receive top placement there.
To even be considered for Buy Box placement, you must first meet some eligibility criteria:
Have a Professional seller account
Have a Buy Box eligible status for the given product (you can check your status on Amazon seller central)
Sell new items (used items are not eligible for the main Buy Box, but are eligible for the Buy Used Box)
Ensure that the product for sale is in stock
Once you meet the above criteria, you are now eligible to compete for the Buy Box. Winning the Buy Box requires you to have high seller metrics combined with competitive prices. Of course, Amazon doesn't disclose the exact metrics that go into deciding Buy Box winners, but below is a list of the most likely factors.
Fulfillment Method
Merchants who fulfill their orders using FBA or SFP have a higher chance of winning the Buy Box.
Landed Price
The sum of the total price plus shipping costs is the landed price. A lower landed price is typically better for winning the Buy Box.
Shipping Time
This is the amount of time it takes the merchant to ship the item out. Quicker shipping times (two days or less) are preferred.
Order Defect Rate (ODR)
This metric comprises of negative feedback rate + A to Z claim rate + chargeback rate. Amazon requires sellers to have an ODR of less than 1%. But to win the Buy Box, sellers should aim for even better — as close to 0% as possible.
Valid Tracking Rate
This metric tracks the percentage of total packages shipped with valid tracking numbers. For Buy Box eligibility this metric should be greater than 95% and as close to 100% as possible to have a chance of winning.
Late Shipment Rate
This measures the number of orders shipped later than the expected ship date. A late shipment rate of less than 4% — preferably close to 0% — will aid your chances of securing the Buy Box.
On-Time Delivery Rate
This is the percentage of orders that were delivered on time. Sellers should aim to deliver between 97% to 100% of their orders on time.
Feedback Rating
On a scale of one to five stars, this is the average rating score of all customer feedback the seller has received. An average score closer to five stars will help a merchant win the Buy Box. Another thing to note — more recent customer ratings are given more weight than older ones.
Feedback Count
This is the number of customers who have given the seller a rating. The higher the amount of ratings, the better.
Customer Response Time
This measures how quickly the seller responds to their customer inquiries. A merchant should shoot to respond to customers within 12 hours of being contacted to help bolster their Buy Box chances.
Inventory Depth
How often does the merchant run out of stock for a product? If it happens often, then your chances of winning the Buy Box are very low. Amazon expects sellers to have a well-stocked inventory in order to keep up with Buy Box demand.
Cancellation Rate
This metric tracks how often a merchant cancels an order. The rate should be well under 2.5% in order for the merchant to stand a chance in winning the Buy Box.
Refund Rate
This is a measurement of how often customers ask a merchant for a refund. Just like the Cancellation Rate, this number should be as close to zero as possible.
One other thing to keep in mind is that you do not have to be the lowest priced seller to win the Buy Box. If your seller metrics are in good standing, then you may be able to have slightly higher prices than your competitors and still win the Buy Box. On the other hand, if you have low-scoring seller metrics, then you will have to be priced very competitively to even stand a chance of winning.
In summation, securing the Buy Box is a common goal for all Amazon merchants, regardless of the type of fulfillment they choose. As mentioned previously, maintaining high seller metrics are paramount to making this happen. Furthermore, maintaining high fulfillment metrics are also important for ensuring your FBA or SFP status. It's a lot of work, so it might be worth tapping centralized multi-channel order fulfillment software (like Ordoro) to help you stay on top of your inventory, shipping and resupplying efforts so that you stay in good standing with Amazon.