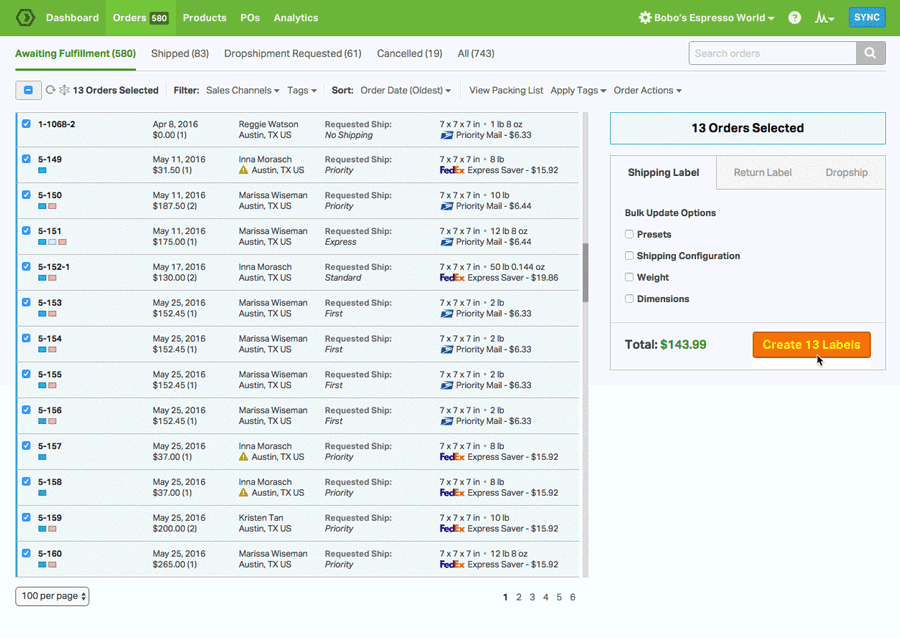 Our robust platform shows you how dropshipping works
The All-In-One Ecommerce Logistics Platform
Equip yourself with a comprehensive solution
Dropshipping
Truly hands-off dropshipping.
Launch a dropshipping operation in a matter of clicks
Tag any product as dropshipped and assign it to a vendor
Choose between automated or manual routing
Activate a Vendor Portal between you and your supplier
Multi-Carrier Shipping
Your workflow, minus the work.
Enjoy heavily-discounted shipping rates via USPS
Ship via any of our integrated shipping carriers like USPS, UPS, FedEx, DHL and Canada Post
Set up your own Automation Rules and Shipping Presets
Print shipping labels in triple-digit batches or individually
Inventory Management
Stock, sync, and scan.
Automatically track and sync your inventory levels
Create and send out Purchase Orders when it's time to restock
Bundle multiple SKUs into one unit for sale
Use Barcode Scanning to reduce fulfillment errors
Multichannel
We're your operations hub.
Integrate and view all of your sales and supplier channels in one spot
Use our open API to hook up any third-party or custom apps
Manage every aspect of your orders
Establish Supplier Feeds for real-time, back-end communication
Barcode Generation and Scanning
Raise the bar for stocking and packing.
Create UPC barcodes for your products
Scan, set, and search UPC codes for SKUs within Ordoro
Reduce fulfillment errors with our pack and pack barcode scanning workflow
Scan received POs to automatically adjust stock levels
Don't take our word for it
Our awesome customers have shipped some really great compliments our way:
"I spent about a month thoroughly searching for the right backend fulfillment software for my eCommerce business. There were definitely some big name guys out there that I considered, but at the end of the day, I went with Ordoro and I'm so glad I did!"

Tina Yarandi
Founder/CEO of Nature's Artisan
"Ordoro continues to add immensely valuable features to an already awesome sales/warehousing/shipping platform. Using Ordoro continues to save us time and money."

Anthony Krize,
VP of GE Holiday Lighting
How Dropshipping works – what it is (and isn't)
One dropshipping definition: dropshipping is a supply chain business model using where a dropshipper, instead of keeping an inventory of goods to sell, directly ships a product from the supplier's warehouse or another source to the customer, while bypassing the usual handling logistics and management. The term came into use in 2006 with the popularity of the newly-launched AliExpress in the US, although many here didn't know at the time exactly how it worked. Once word got around, more would-be entrepreneurs jumped on the bandwagon and a marketing trend was born.
How dropshipping works: orders received by a dropshipper are transferred to the third-party wholesaler, manufacturer, another retailer or a fulfillment house, which then ships directly to the customer on the dropshipper's behalf. Dropshippers are thus freed up to spend more time on other business activities of their enterprises, including scalability, planning, and growth.
What is a dropshipping business? Dropshipping is essentially a form of ecommerce, where customers place orders and receive their products. Behind the scenes, however, the dropshipper accepts payment then places an order with the third party supplier, which can be AliExpress, DOBA, or even wholesalers, such as from Salehoo. Although dropshippers don't directly handle the order, they can still track it.
One question that comes up time and again: "Is dropshipping legit?" Absolutely – as with any other ecommerce or retail store, there are always a few bad actors, but overall, yes, as a business model, it is perfectly legal and "legit."
What are some of the best products to dropship in 2021? As always, the best products to dropship are those in high demand. You can check out sites such as Google Trends or Product Mafia to get a good idea of what to offer. Sometimes, though, the best way is to simply trust your instincts, offer the product online and see how it sells.
That said, here are a few top-selling products that are currently hot:
Carphone holders
Wireless mobile device charging stations
Phone accessories of all kinds
Backpacks for travel
Pocket translators
E-cigarettes
Beauty items and cosmetics
Bluetooth speakers
Fitness trackers
Drones
Women's yoga pants
Posture support belts (for those of us glued to our computers all day)
You get the picture. It seems that anything phone or fitness-related is a good bet on offering for sale with dropshipping.
Is Dropshipping Worth It?
Is dropshipping worth it? Like any business endeavor, you tend to get out what you put in it. For many starting out, especially if already working in a "day job", it's a good way to supplement income without going into a lot of upfront startup expenses. It's a relatively easy business to get into or leave.
On the downside, dropshipping's profits can be small at first, until you start getting repeat orders through the pipeline. Then there can be problems finding suppliers if your product is a niche with one or more closes shop, you'll have to scramble to find a replacement. Keeping track of product lines and expanding offerings (and their wholesalers/ suppliers) can be a headache without the right software and support. Ordoro's dropshipping apps let you enter products, route requests to vendors, or even fill orders within the app themselves!
Is dropshipping profitable? It can be profitable if you follow the steps below and do your homework before launching your dropshipping business. For example, let's say that if a product's wholesale price is $150, and a dropshipping store sells it for $200 or even 250, then that's a tidy commission of $50-100.
If you're starting out, you'll need to spend time on popular shopping sites such as eBay, Etsy, or Amazon to get an idea of what's hot and what's not. You can also visit Oberlo (discussed below). It is important to also check out who else is selling the items you're planning on offering. Are they doing well or are sales slow?
The drop shipping process after that is pretty simple:
Find a product that sells well after checking the competition and availability
Procure your suppliers (check them out for reliability – you don't want someone who "takes the money and runs" without having filled any orders!)
Decide on your payment options, returns policy, and other finer points of customer service
Set up an ecommerce website and marketing strategy (WooCommerce, a free WordPress plug-in, or Shopify – which admittedly is a bit more expensive - are two good platforms for setting up a dropshipping operation)
You should now be good to go – get ready for those orders!
Dropshipping suppliers
You're probably wondering what kinds of dropshipping products are popular enough to be profitable, or where you might find them. Shopify has put together an excellent guide to getting started in dropshipping, including sourcing products suppliers and wholesalers, national dropshippers in the US, as well as top trending items.
Currently, the more popular dropshipping products in 2021 include most of the following:
Car phone holders
Wireless mobile device charging stations
Phone accessories of all kinds
Backpacks for travel
Pocket translators
E-cigarettes
Beauty items and cosmetics
Bluetooth speakers
Fitness trackers
Yoga pants (women's)
Posture support belts
Pet toys and supplies
Dropshipping suppliers can be found by checking websites such as Oberlo, a major dropshipping marketplace offering products from thousands of global suppliers. Oberlo also offers a toolkit for fledgling entrepreneurs to get their business underway. The marketplace uses analytics to spot trends and future stars in the dropshipping world. All it takes is a few clicks to grab your goods, customize them for your store, and put them on your site to sell.
Market demand is usually strong for dropshipping clothing, especially with women's designer or boutique apparel.
Dropshipping Wholesalers
There are probably more similarities than differences between wholesalers and suppliers; but in a nutshell, a supplier may be a manufacturer, and who may sell directly to consumers as well as retailers, such as dropshippers. Wholesalers, on the other hand, are distributors who may have large warehouses globally and who do not as a rule sell directly to consumers due to the large quantities required to purchase. Dropshippers who buy from wholesale suppliers are eliminating the middle man in the supply chain, and not only saving themselves money but are able to (if they choose, of course) to save their customers money down the line.
Dropshipping wholesalers are suppliers to many of the dropshippers around the world¸ and who sell in bulk (large quantities) to retailers who in turn sell to consumers.
Ranking high on the wholesale dropship supplier list would be AliDropship, the dropshipping arm of AliExpress, with Inventory Source coming in the No. 2 slot, Oberlo third, followed by Sprocket and SaleHoo.
Dropshipping wholesale USA sources can be found by checking the above listings of suppliers. Wholesale boutique clothing dropship is a booming business and an excellent choice to dropship: items such as designer (or not) T-shirts, fitness apparel, shoes (think Zappos) all sell briskly through dropshippers.
Dropshipping Amazon
Dropshipping Amazon? The huge online retailer isn't a dropshipper itself but is comprised of sellers (individual retailers) who sell on the site, and who in turn bought many of their goods from suppliers such as AliExpress. If you're getting into dropshipping Amazon is one platform for potential sales you should consider, in spite of the heavy competition. Most dropshippers get into the game because of the potential for profits with low overhead: in spite of heavy competition, even a novice dropshipper may get good commissions on quality wholesale products, especially top-selling items.
For anyone interested, yes, Amazon does have a dropshipping policy. The Amazon dropshipping policy allows third-party fulfillment of orders on a seller's behalf, as long as you comply with the other terms of the seller agreement.
Is dropshipping on Amazon worth it? That depends on who you ask. Given that the platform reaches millions of shoppers daily, it would certainly be worth checking out. On the other hand, precisely because it's so large, you will have a lot of competition.
The Amazon dropshipping guide for beginners is offered on their website – it's a good way to get an introduction into dropshipping and get started doing it right.
Shopify dropshipping
Shopify dropshipping has become a specialty unto itself on the Shopify ecommerce platform, and no wonder. Many Shopify dropshipping suppliers are doing very well with the popular platform, with suggestions for finding dropshipping suppliers for Shopify available on their website under the dropshipping option. You can also contact the sources given above, such AliExpress.
You can find suggestions for Shopify dropshipping products in the Shopify dropshipping pages on their website, under the Getting Started heading. The Shopify dropshipping app is a handy tool to access the platform's wealth of information on starting and succeeding in a dropshipping business. Shopify dropshipping apps have been designed to streamline and ease the process of the start-up.
Shopify dropshipping stores are one of the profitable side specialties of Shopify, for those who can't or don't want to stock and track inventory as well as deal with complex shipping regulations and other aspects of running the usual ecommerce operation.
A Shopify dropshipping course is conveniently offered on the platform's website, as well as training videos. You'll learn everything you need to set up a successful dropshipping store, from finding suppliers and products to creating an awesome website to bring in customers and sales, as well as tools for tracking shipments and sales analytics.