An integrated customer service, live chat, and helpdesk platform

Connect Ordoro to Re:amaze
Display customer order data directly in Re:amaze's suite of customer service tools.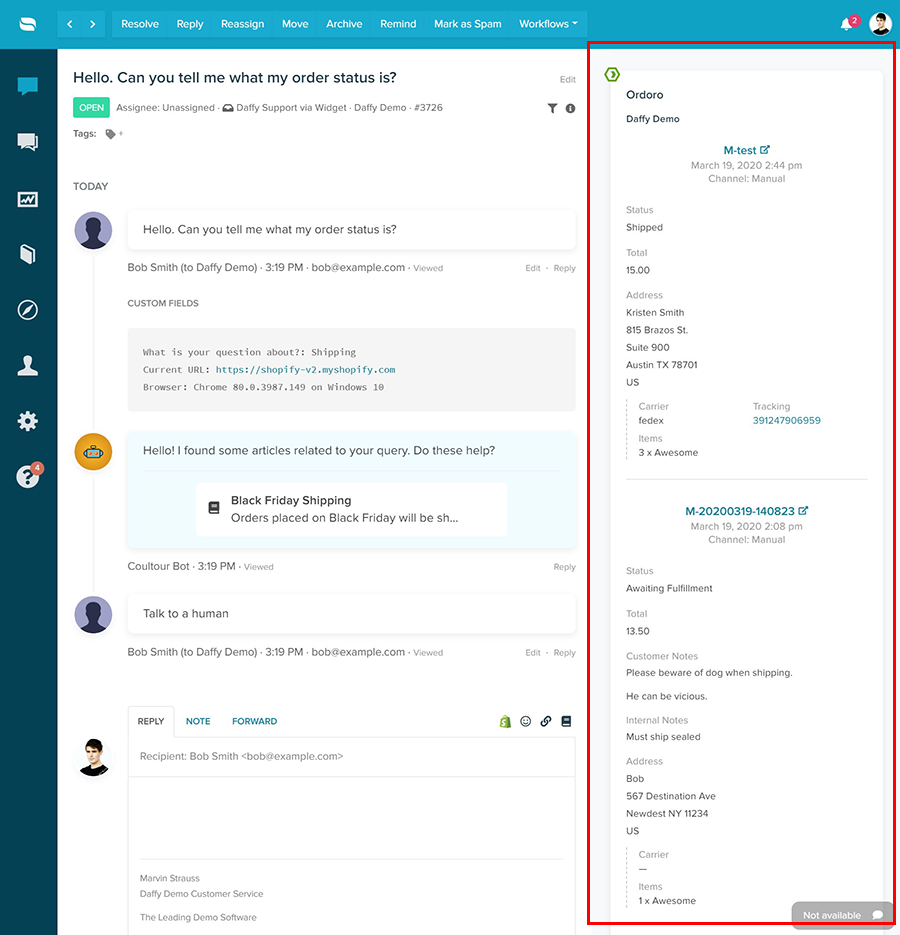 Better conversations and happier customers
Re:amaze has all the bells and whistles your online business needs to help and impress your customers. Their integration to Ordoro makes things even sweeter.
Simply link your Ordoro credentials to Re:amaze to enjoy quick access to customer order information, order status, fulfillment status, and shipping info.
Overview of Re:amaze's Features
Shared Inbox
Built in workflow automation to allow your team to work smarter and faster
Powered by a suite of native 3rd party integrations
Powerful administrative features such as internal notes, private forwarding, response templates, customizable email templates and much more
Live Chat and Chatbots
Built in automated messaging with advanced rules and triggers
Pre-built chatbots to help customers check their order status and find frequently asked question answers
Build custom chatbots to help customers through unique and advanced scenarios using a flow-based approach
Built in FAQ so customers can find their own answers easily
FAQ
Powerful editor that supports WYSIWYG, markdown, and HTML editing
Public, internal, and draft articles
Powerful search with smart keyword tagging
Drag and drop organizing
Chatbot enabled
Re:amaze Live
See real time user count on your website or web app
See geolocation and time zone data per customer
Track user activity events in real time
Message customers 1-on-1
Use Re:amaze Peek to access customer screens so you can provide more accurate support
Search for users by name, email, city, state, product name, and much more
Status Page
Public facing status updates added to your Re:amaze FAQ
Update customers with incidents before a starting a chat
Publish incident histories
Provide real time updates
Let us help with your mountain of work.
Discover what Ordoro can do for your business.