— for —

Shipping
Swim in shipping savings thanks to rate discounts of up to 67% via USPS
Integrate shipping accounts from USPS, FedEx, UPS, Canada Post and more
Print out shipping labels by the batch or on individual basis
Implement your own shipping rules for a quicker workflow
Auto update tracking information back to Woocommerce
Inventory Management
Bring your sales and supplier channels together for a unified inventory
Ensure that inventory quantities are accurate and synced across your channels
Put our kitting feature to work and bundle multiple products into one SKU for sale
Know exactly when it's time to restock and send purchase orders in a couple of clicks
Dropshipping
Judge the effectiveness of your dropshippers
Automate your processes and route orders to certain suppliers
Designate products by dropshipper
Multichannel Markets
Link each of your channels to the app, whether it's WooCommerce, eBay, or Amazon
Get a good look at your entire business and make multichannel-informed decisions
Use our API to build whatever integrations your business needs, whenever you need them
Business Analytics
Throw away the spreadsheets and track all of your metrics within the app
Handle your financials, like revenue, costs, and profit, all in one place
Dive into a variety of data, from customer demographics, to supplier costs and fulfillment efficiency
Advanced Shipment Tracking Pro by Zorem
We're also integrated with the most powerful shipment tracking extension for WooCommerce.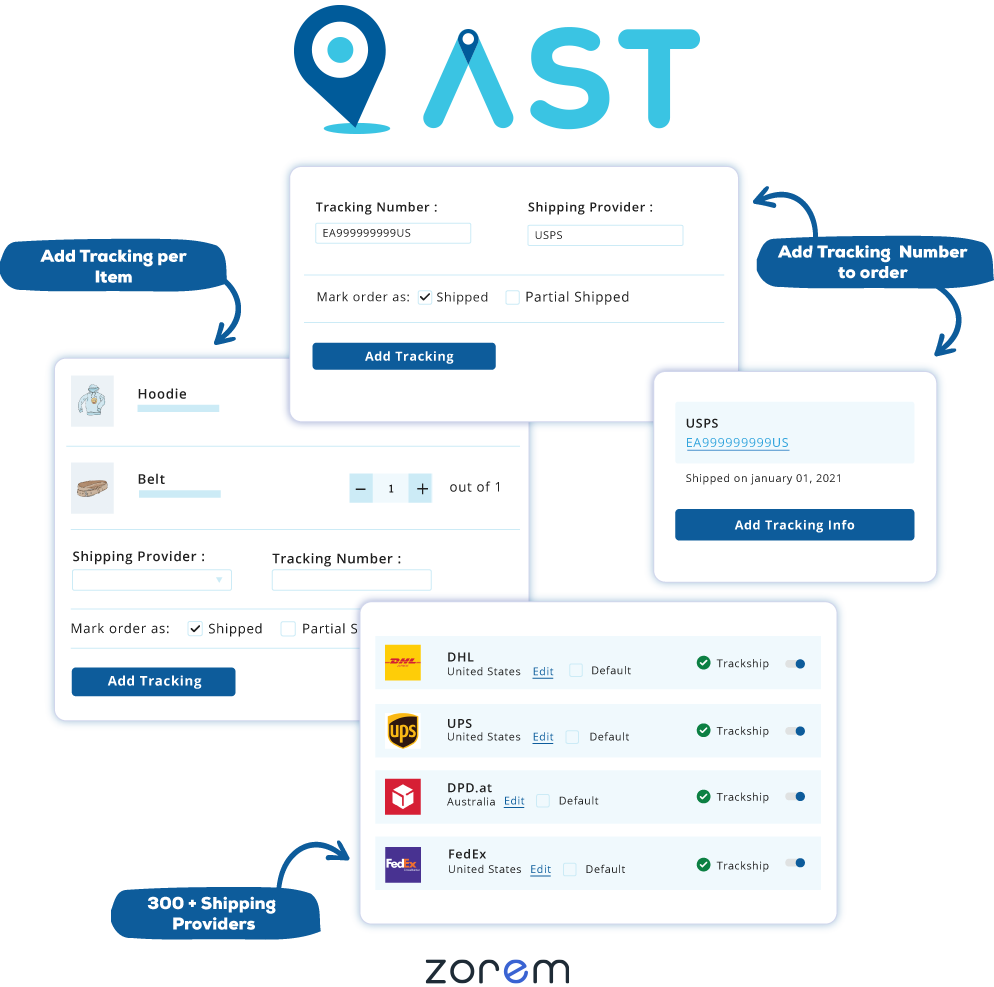 Zorem's Advanced Shipment Tracking Pro plugin enables Ordoro to automatically write back tracking information to the Shipment Tracking field in WooCommerce for partially or fully-shipped orders. They can even auto-detect the shipping provider based on the tracking number format. This integration will help automate merchants' workflows, provide shipping information to customers quickly, and reduce the chance for human error!
Zorem offers their Advanced Shipment Tracking pro for only $129 per year with a 14-day money back guarantee! Not sure if this is the solution for you? Try it for free and upgrade when you're ready!
Don't take our word for it
What WooCommerce customers have to say about Ordoro
"Without Ordoro my business would not have been able to grow the way that it has. Ordoro enables us to stay organized and provide better service to our customers."

Angela Murphy Schumacher,
Owner of Smoky Lake Maple Products
Let us help with your mountain of work.
Discover what Ordoro can do for your business.