10,000,000+ Shipping Labels Printed
High-performance shipping software at an affordable price
5/5 – 55 reviews
4.7/5 – 54 reviews
5/5 – 85 reviews
EXPRESS

Starting at

Automation Rules
Shipping Presets
Barcode Scanning
No Seller-Fufilled Prime (SFP) fees
Not just another shipping label app.
We don't charge additional fees for Amazon orders or for advanced features like barcode scanning and branding.
We offer 5-star rated phone support to ALL of our customers.
When you're ready for inventory management, dropshipping and other logistics capabilities, upgrading to one of our Pro plans is a click away.
Need inventory management?

Pumping out shipping labels is just the beginning. Get your hands on all of our inventory and dropshipping features on our Pro plan, from quantity tracking and syncing to kitting and Vendor Portals.
A full-suite of shipping features
Run your workflow like clockwork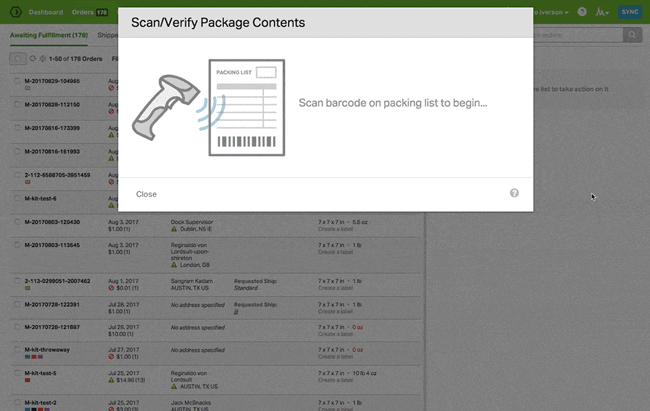 Barcode Scanning
Item-to-order verification.
Turn your brain off; our Barcode Scanner modal walks you through the pick and pack process
Scan every item in an order to prevent packing mistakes
Choose to scan orders one by one or in batches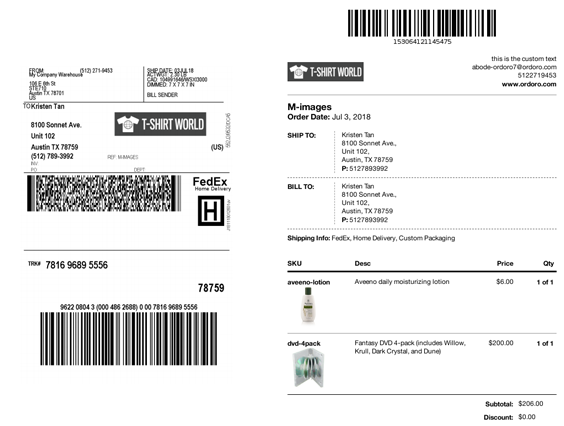 Branding
Bring your branding into the mix.
Add your logo to labels and packing slips
Choose between the branding of any of your sales channels
Create and edit customer notes for every order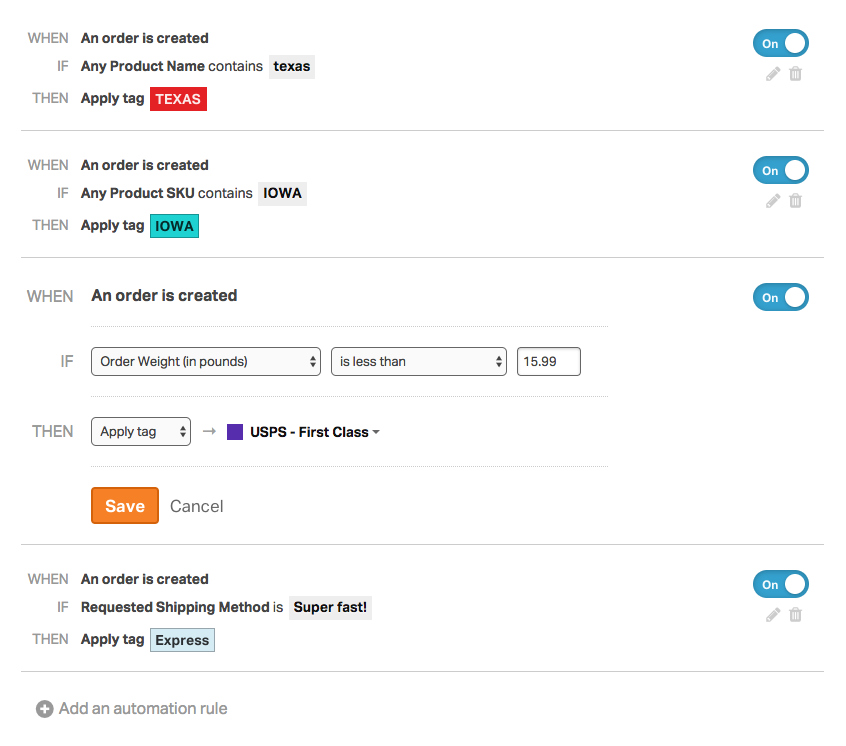 Automation
Build a fine-tuned machine of a workflow.
Create Automation Rules that instantly act on imported orders
Configure Shipping Presets that auto-fill an order's shipping info
Print shipping labels in triple-digit batches with a couple clicks
Use our Direct-to-Printer label feature
The Bottom Line
It's time to cut those shipping costs.
Make use of heavily-discounted USPS shipping rates
Purchase discounted shipping insurance directly through us
Never pay any additional fees for Amazon SFP orders or features like barcode scanning
View how much you're spending by shipping carrier, as well as their effectiveness
All Features
Express
Pro
User Permissions
Advanced Analytics
Onboarding and Training*
Shipping and Returns
USPS, UPS, FedEx, DHL and Canada Post Shipping
Lowest USPS Rates

(save up to 67%)

Automation Rules and Presets
Printer Integration
Barcode Scanning
Flexible Label Layouts
Multiple Packing/Pick List Templates
Categorize Orders Through Tagging
Tracking Number Writeback
Data Import via CSV
End-of-Day Scan Forms
Discounted Shipping Insurance
Shipping Rate Comparison Across Carriers
Logos on Shipping Labels
Multiple Ship-From Locations
Initiate and Track Return Merchandise Authorizations (RMAs)

–

Create and Email Return Labels

–

Receive and Restock Returned Goods

–

Inventory Management
Inventory Writeback by Channel

–

Multichannel Inventory Sync

–

Multi-Warehouse Inventory Tracking

–

Multi-Level Kitting (Bundling)

–

Purchase Orders

–

One-Click PO Creation

–

Goods Receipts

–

Low Stock Alerts and Filtering

–

Inventory Stock Location on Pick Lists

–

Profitability Tracking

–

Inventory Allocation

–

Advanced Shippability

–

Just-In-Time Fulfillment

–

Dropshipping
Manual, Semi-Automatic and Fully-Automatic Dropshipping

–

Labels for Dropshipped Orders

–

Amazon FBA Routing and Inventory Management

–

Amazon FBA Order Import

–

Supplier Management
Supplier Cost Tracking

–

Assign Suppliers to Products

–

PO Unit Cost

–

Vendor Portal*

–

Supplier Feeds*

–

Workflow Customization*

–
*Some additional fees may apply. Learn more about Pro →
Five-star customer service
Get the most out of Ordoro with our award-winning support
By phone or email, our highly-rated customer support team is at the ready to answer any questions you have. Not only do we aim to resolve your issues quickly, we also act on any feedback you provide and incorporate it into our ever-evolving product roadmap.
Let our customers do the talking
"Ordoro saves me an absolutely humongous amount of time processing orders and unlike the other solutions I've tried, Ordoro is really a pleasure to use. The support I've received has also been simply amazing, helpful and quick."

Andy Salamone
Yoga For Men
"Ordoro's customer service should be the model that more businesses use. They have terrifically accomplished technical support and the team members, to whom I've spoken, are polite, helpful, and knowlegeable beyond the normal standard that I usually see. Bravo to Ordoro!"

Jeff Landtroop,
Owner of Apex Strings
Do you offer phone support?

You betcha. All users get 100% rock-solid phone support for no additional cost. Our software is so easy to use that you shouldn't need to call us at all, but if you do need help, we're totally here for you. Give us a buzz at 512.271.9453 or email us at info@ordoro.com and our support team will be happy to assist you.
Do I have to sign a long-term contract?

Absolutely not! Ordoro is a pay-as-you-go service. You can cancel at any time. If you do cancel, you'll be billed for the current month, but you won't be billed again.
Occasionally, we do offer special pro-rated annual plans. If you are interested in signing up for an annual plan, give us a call.
I'm a Mac user. Will Ordoro work for me?

Yes! Ordoro is 100% web-based. It works on Mac and PC. There is nothing to download or install. All you need is a web-browser. We recommend using Chrome or Firefox.
What are your support hours?

We offer phone support Monday - Friday, 9am - 6pm Central Time. On the weekend, we offer limited email support. If the phone lines are busy when you call, please leave a voicemail. We typically will follow up with you within the same day.
Do you have a Starter plan?

Our shipping-only, $0 per month is a great option for ecommerce merchants who are just getting up and running and have lower order volumes. Starter users won't have access to our lowest USPS rates, but they can use all of our shipping features. Under the plan, orders are capped at 50 per month, which begins once a merchant's 15-day trial is up. If the 50 order limit is hit within that 30-day period, or if a Starter user wants access to better USPS rates, it's super-easy to upgrade to a Express or Pro plan from within Ordoro.