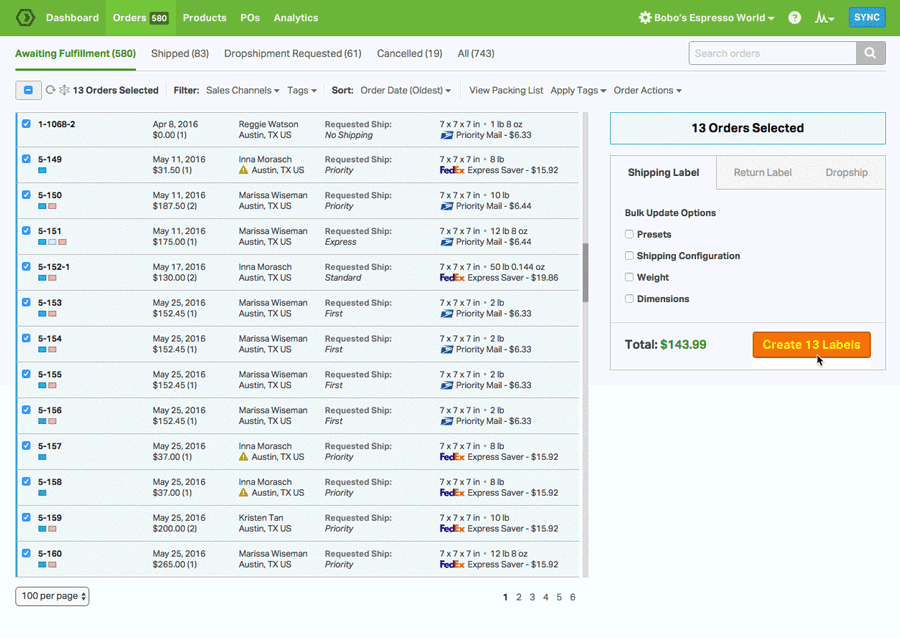 Affordable Amazon FBM Shipping Rates
The All-In-One Ecommerce Logistics Platform
Equip yourself with a comprehensive solution
Inventory Management
Stock, sync, and scan.
Automatically track and sync your inventory levels
Create and send out Purchase Orders when it's time to restock
Bundle multiple SKUs into one unit for sale
Use Barcode Scanning to reduce fulfillment errors
Multi-Carrier Shipping
Your workflow, minus the work.
Enjoy heavily-discounted shipping rates via USPS
Ship via any of our integrated shipping carriers like USPS, UPS, FedEx, DHL and Canada Post
Set up your own Automation Rules and Shipping Presets
Print shipping labels in triple-digit batches or individually
Dropshipping
Truly hands-off dropshipping.
Launch a dropshipping operation in a matter of clicks
Tag any product as drop shipped and assign it to a vendor
Choose between automated or manual routing
Activate a Vendor Portal between you and your supplier
Multichannel
We're your operations hub.
Integrate and view all of your sales and supplier channels in one spot
Use our open API to hook up any third-party or custom apps
Manage every aspect of your orders
Establish Supplier Feeds for real-time, back-end communication
Barcode Generation and Scanning
Raise the bar for stocking and packing.
Create UPC barcodes for your products
Scan, set, and search UPC codes for SKUs within Ordoro
Reduce fulfillment errors with our pack and pack barcode scanning workflow
Scan received POs to automatically adjust stock levels
Don't take our word for it
Our awesome customers have shipped some really great compliments our way:
"I spent about a month thoroughly searching for the right backend fulfillment software for my eCommerce business. There were definitely some big name guys out there that I considered, but at the end of the day, I went with Ordoro and I'm so glad I did!"

Tina Yarandi
Founder/CEO of Nature's Artisan
"Ordoro continues to add immensely valuable features to an already awesome sales/warehousing/shipping platform. Using Ordoro continues to save us time and money."

Anthony Krize,
VP of GE Holiday Lighting
Amazon FBM Shipping Rates
For businesses looking to expand their online operations, Amazon may be the way to go, thanks to its robust platforms and its tremendous global user base. Millions of people use Amazon on a regular basis to shop for a wide variety of products. Because of this, having a strong presence on Amazon can be a great way of getting your business noticed and your offerings purchased.
At the same time, though, you also have to think carefully about how your newly-online and booming business will get its orders delivered to customers. After all, being online doesn't replace the need to move products from shelves or storage to people's doorsteps. Shipping can also impact customers' ratings, word-of-mouth reviews, and future purchases with your business, so you need to think carefully about how you'll keep your customers happy in this area.
This is just one reason why it is important to be thinking about Amazon FBM shipping rates.
If you are interested in exploring this option, then it's worth starting with the fact that FBM stands for "fulfilled by merchant." Moreover, this term means that the seller is entirely responsible for storing inventory and shipping orders, while Amazon simply acts as a conduit connecting the merchant to the customer. So, if you decide to go this route, then you will be entirely responsible for making sure you get orders to your customers on time. This means that you are in control of storing and tracking your inventory, shipping it, and tracking it until it reaches its final destination with the customer.
There are probably also a lot of customers who will be asking about Amazon shipping costs without Prime. These options will vary depending on whether the seller themselves is using Amazon fulfillment or merchant fulfillment, and that is why it may be helpful for you to use an Amazon shipping calculator FBM. That way, your customers understand exactly how much they will be paying in order to get their orders shipped to them within a certain timeframe. You also need to be as transparent as possible if you want your customers to be happy with your company's services as well as its products.
Amazon Seller Shipping Options
Clearly, there is a lot to keep in mind if you are running a business. For instance, it is important to think carefully about your shipping needs and how you handle and fulfill them.
In general, there are three separate programs that you can choose from. For example, you may be able to ask Amazon to handle all of your shipping issues entirely, which is Amazon FBA and why it is helpful. Second, there is also a situation where you can work partially with Amazon, which is referred to as Amazon SFP: this stands for seller fulfilled Prime. Finally, another option you may want to use is called Amazon FBM, which is where you are responsible for handling your shipping on your own so that they are now under "fulfillment by merchant."
These are the three broad categories of Amazon shipping options for sellers. It is important to think about these Amazon shipping methods, since you have plenty of Amazon seller shipping options available and the best option for one customer's orders may not necessarily be the best option for yours. It is also important for you to take a closer look at your Amazon seller shipping options through Ordoro as well. You might be able to take advantage of dropshipping through Amazon, which can help you save a lot of money on your shipping services. All things considered, make sure that you explore all shipping options available to you.
Amazon Seller Shipping Rates
If you are taking a look at your shipping expenses, then you might be trying to find a way to save money. If this is the case, then it is important to take a closer look at Amazon seller shipping rates. With access to an Amazon seller fees calculator, it is possible to get a better idea of your Amazon shipping costs for sellers.
There are several factors that will end up playing a role in how much you pay for shipping. For example, you might end up paying a significant portion of your profits back to Amazon if you choose the FBA option that asks them to handle all of your shipping needs for you. In other words, even though this option might save you some time, it can also cost you a lot of money.
With all of this in mind, you may be looking for a way to save time on your shipping without having to pay so much money. This is another reason why you may want to work with a dropshipping company instead. For example, you can take advantage of the features available with Ordoro and thus save a lot of money on your shipping expenses. Furthermore, you can still retain control over your shipping, including tracking your packages all the way to their final destinations. By doing this, you can make sure that your customers are happy without having to pay so much money to handle your shipping and achieve this result. Optimizing your shipping can be one of the top ways for you to continue growing your business, and at a cost-savvy rate too.
Amazon Shipping Rates
Before you make a decision on which shipping option is right for you, it is important to understand all options you have available. This is why you may be looking at Amazon shipping rates, wondering: how much is Amazon shipping?
If you take a look at tools such as an Amazon shipping calculator, then you will see that the price can vary widely from place to place. It all depends on the carrier you choose, the shipping method you choose, and how quickly you want your package to get there. Therefore, the Amazon standard shipping cost can be difficult to interpret sometimes.
If you are wondering, "how much does Amazon charge for shipping?" then the answer is that it depends. Several factors impact final prices. For instance, If you run a big company, then you may be able to save money on your shipping because you can send a lot of items via bulk to the same destination. However, it's also worth noting that the vast majority of small business owners will not be able to take advantage of this option or its cost-saving options. This is why it is critical for you to explore other options outside of Amazon: the more options you have available, then the more money you can save on shipping. This is another reason why so many people are deciding to go with dropshipping to handle all of their Amazon orders.
How To Set Shipping Rates on Amazon Seller
If you run an online business, then you probably want to be in total control of how you ship your orders: after all, the speed and reliability of this service will be a large part of how you make an impression on customers. This is why there are so many people looking at Amazon shipping rates for sellers, wondering how to set shipping rates on Amazon Seller. The answer is that you have to be a "pro seller" on Amazon to take advantage of certain options, though, and if that is the case, then you are in control of setting your own shipping rates. You can make them as low or as high as you want.
For example, you may be wondering how to remove shipping charges on Amazon seller. In that case, you will simply be building the price of shipping into the customer's order without calling it that. In other words, instead of asking the customer to pay for shipping, you'll simply charge a higher price for the overall order and handle the shipping expenses on your own end.
It is important for you to understand exactly how much money you are paying for shipping, so that way, you do not lose out on potential revenue by handling shipping. Remember too that the only way you are going to control your shipping rates is if you are a pro seller. However, you can do this by selecting a professional account on Amazon, which may cost more money than an individual account. It's worth weighing the pros and cons of each option and thinking about which will benefit your company more.
Amazon International Shipping Rates
As your company continues to grow and its target market expands, you may also need to begin looking at Amazon international shipping rates. If you have to send certain orders overseas, then you will probably need to deal with a lot of additional regulations that can be costly and time-consuming to deal with. If you are looking at Amazon international shipping rates, then you will quickly realize that these vary widely from place to place as well. For example, Amazon Canada seller shipping rates may not be that expensive if you are shipping from the continental US. On the other hand, if you have to send something overseas to Europe, Africa, Japan, or China, then you could end up paying a lot more money.
This is a complicated process that may be too difficult for you to handle on your own. Furthermore, it could take up a lot of your time that you would rather spend on other areas. If that is the case, then you should consider Ordoro and take a look at the numerous integrations they have available. If you can automate more of the processes that you used to complete by hand, then you may be able to save more time and money, even on your international shipping orders. Because of this, you should explore all options available through Ordoro in order to make sure that you are making the best decision for your company.
Amazon Seller Shipping Rules
If you decide to run a business on Amazon, then it is also important for you to abide by the Amazon shipping policy. There are lots of Amazon Seller shipping rules that you need to follow as a seller. In addition, if you are wondering how to see shipping costs on Amazon, then this is where you have to navigate to your order page. There you can see how much money the customer is paying for shipping.
Ultimately, you still have a lot of control regarding how you get your orders to your customers. You can use boxes, envelopes, or whatever packing materials are easiest for you. However, beyond packing materials, you should also consider putting a packing slip into every package. Try not to include any promotional inserts, though, because Amazon doesn't like this as it could encourage customers to make purchases outside of Amazon.
It may be beneficial for you to experiment with several options. That way, you can see what works best for you. Remember too that you should take advantage of the shipping options provided by Ordoro,since this can alleviate many concerns while also helping you save significant amounts of time and money on your shipping needs.