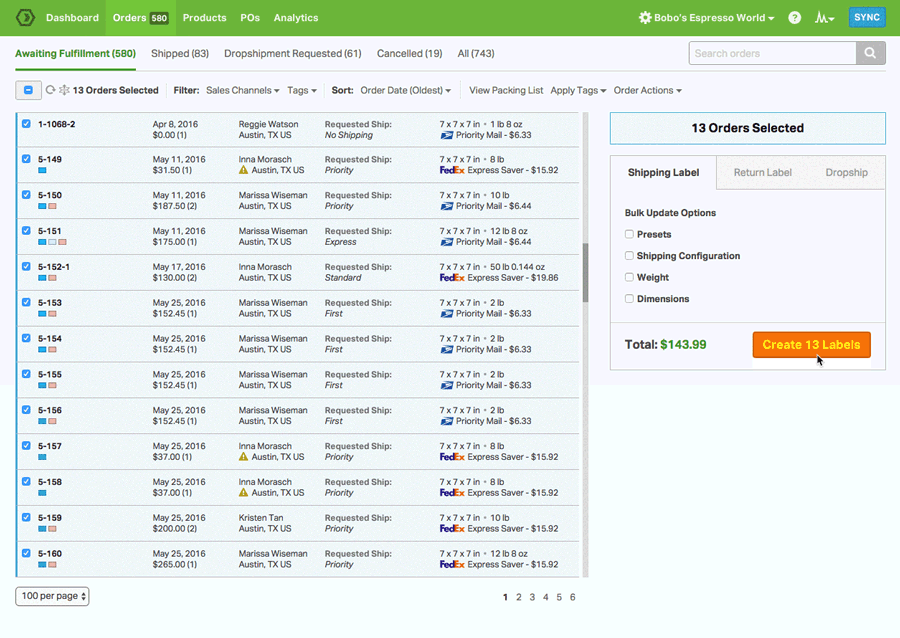 Fulfill orders faster with the best shipping software for ecommerce
The All-In-One Ecommerce Logistics Platform
Equip yourself with a comprehensive solution
Multi-Carrier Shipping
Your workflow, minus the work.
Enjoy heavily-discounted shipping rates via USPS
Ship via any of our integrated shipping carriers like USPS, UPS, FedEx, DHL and Canada Post
Set up your own Automation Rules and Shipping Presets
Print shipping labels in triple-digit batches or individually
Inventory Management
Stock, sync, and scan.
Automatically track and sync your inventory levels
Create and send out Purchase Orders when it's time to restock
Bundle multiple SKUs into one unit for sale
Use Barcode Scanning to reduce fulfillment errors
Multichannel
We're your operations hub.
Integrate and view all of your sales and supplier channels in one spot
Use our open API to hook up any third-party or custom apps
Manage every aspect of your orders
Establish Supplier Feeds for real-time, back-end communication
Dropshipping
Truly hands-off dropshipping.
Launch a dropshipping operation in a matter of clicks
Tag any product as dropshipped and assign it to a vendor
Choose between automated or manual routing
Activate a Vendor Portal between you and your supplier
Don't take our word for it
Our awesome customers have shipped some really great compliments our way:
"I spent about a month thoroughly searching for the right backend fulfillment software for my eCommerce business. There were definitely some big name guys out there that I considered, but at the end of the day, I went with Ordoro and I'm so glad I did!"

Tina Yarandi
Founder/CEO of Nature's Artisan
"Ordoro continues to add immensely valuable features to an already awesome sales/warehousing/shipping platform. Using Ordoro continues to save us time and money."

Anthony Krize,
VP of GE Holiday Lighting
The Best Shipping Software for Ecommerce
Did you know that your shipping system can make or break your ecommerce business? It's easily the largest expense of your enterprise, and for good reason: no matter how great a brand your offer, if an order takes too long for a product to arrive, you have no idea which warehouse or location may be out of stock and which can fill an order, then your business is in trouble.
Today's ecommerce owner can choose from a wide array of shipping and tracking software options for large and small businesses to help you keep your shipping department humming along. Most of them are easily integrated with accounting, inventory, and tracking components of a business's inventory and shipping systems. In this article, we'll talk about shipping rates, compare shipping services and software of some of the biggest carriers and shipping software developers and the importance of multi-carrier shipping.
If you're new to the wonderful world of inventory and shipping logistics, you may be wondering about which of the factors go into in determining rates. In a nutshell, here they are:
Weight tops the list, including dimensional weight used for light but larger, bulky items that while light-weight, take up a significant amount of truck space.
Next is the distance to be delivered, otherwise known as "zone" in the USA, while Canada uses its own postal code system.
Shipping methods, such as flat­-rate methods, fast methods, low-weight and international methods – the highest of all rates due to distance and additional charges – round out the main components of shipping charges.
The above underscores the necessity for a reliable shipping calculator built into your shipping management software or available as a plug-in. (Imagine the time wasted by checking with each and every carrier for information every time you had to ship a package!)
The current big players vying for the best shipping software for ecommerce include Shippo, Shipstation, Shipping Easy, and Easy Ship. Most of these software companies now offer some version of shipping rate calculations, carrier connection interface, package tracking, reporting, and often special features such as batch shipments of quantities of the same products and label creation for shipping and bills of lading.
Ordoro is also poised right up there with the Big Guys, offering integrated solutions connecting carriers such as USPS, FedEx, Canada Post, and DHL utilizing each carrier's best rates and methods for domestic and international shipping.
Shipping Management Software
FedEx tracking utilizes GPS tracking devices to monitor a package's in-transit status from start to finish, an online rate calculator and small business-assist pages similar to those of USPS shipping software.
FedEx Express also offers users a fast shipping option with Standard, Priority, Overnight, Next Day or 2-Day /3-Day Delivery, with delivery time setting the rates.
USPS allows API integration by web developers and technicians with an array of free USPS Web Tools® for use in websites, customer service centers or shipping operations. A Business Customer Gateway (BCG) is their hub for businesses of all sizes to manage volume shipping and mailing.
Other tracking systems and software include Transportation Management System Software (TMS) for tracking when goods are in transit, through an app for freight shipments or mail tracking capabilities.
One important tracking feature that ecommerce businesses need in their shipping software is what's known as "Last Mile" tracking of the final portion of a package's trip from warehouse to customer and is a now-standard tool that buyers have come to expect.
What other features should you look for when shopping for shipping management software?
First, what are your shipping requirements? Take into account your current needs but if just starting out, also look for features that are scalable as your business grows. Shipping calculator software is a must, to help find the most economical carrier at the best rate.
Do you prefer open source supply-chain management or paid subscription and apps? One example of an open source system is WPCargo Pro from WordPress, which includes international tracking. Ordoro, on the other hand offers an online subscription which includes a multitude of shipping solutions through apps for a variety of shipping tasks.
Does the software include state-of-the art security measures to reduce the chances of hacking? Online stores are often prime targets for hacking customer information, such as credit cards and identity theft.
Finally, no software is worth much if it's too complicated to be understood and used by those who aren't experts in software or computer technology. Software needs to be user-friendly without extensive, lengthy training sessions.
Multi-carrier Shipping Software
Having software with the capability to interface with a variety of carriers is essential to the success of your ecommerce business. It's critical to have a good multi-carrier shipping software program in place to handle the innumerable tasks that shipping management entails, including the tasks outlined below.
Features you'll want to have should include:
Up-to-date rate information and calculators for figuring real-time shipping rates in your estimates. This should be obvious, but you might be surprised how often this is missing in action on the more generic software offerings out there. Ordoro leads the pack in rates with giving you best-in-industry cost-effective shipping rates as well as discounts through USPS of up to 67%!
The ability to fully integrate with the rock stars of major ecommerce platforms, such as Shopify, WooCommerce, Etsy, Amazon and eBay. Most purchasing is now done online, making seamless interfacing with these platforms a must-have feature for multi-carrier software.
Any shipping software worth its salt should be able to create shipping labels, and for larger shipping needs, bills of lading, packing slips, and other documents appropriate for your type of business.
If you already have or plan to move into a larger logistics model, as with a transportation management system (TMS), software with multi-carrier shipping capabilities are a must. Today's cloud-based solutions can help automate and manage your entire freight process, saving money and time by ensuring the smooth flow of goods and their documentation from their origin to final destination.
Certain delivery models, such as cloud-based, can scale up automatically to handle spikes in demand, such as happens during seasonal and holiday purchasing.
Finally, the name of the game is convenience – for customers tracking their packages and for you, the owner. If you make it easy for your customers to buy and receive their purchases, your ecommerce business will take off like a rocket.
Enterprise shipping software
Enterprise shipping software is used by organizations, such as clubs, interest-based user groups, schools and similar organizations, including governments. Because it's an integrated part of a (normally computer-based) information system, this software collection is called an Enterprise system. Unfortunately, most traditional enterprise fulfillment processes take up to 6 or 7 days – not including the actual transit time.
Newer Enterprise shipping software offers users a full suite of flexible, configurable and scalable shipping as well as full documentation automaton built into the shipping process. These functionalities enable the order and (warehouse) fulfillment teams to more efficiently process multi-carrier shipments in one location.
Using pack and ship software allows your business to connect shipping, order processing, your business or ERP system as well as customer service by consolidating everything into a single powerful solution. This improves fulfillment accuracy and efficiency with pick and pack lists. Ordoro offers automation rules as well as presets for help with bulk selection, bar code scanning and label printing. In addition, Ordoro connects seamlessly to supply-side channels and warehouses, efficiently routing orders to 3PLs and others, while selecting the best location to ship from. Ordoro also relays tracking numbers and shipping status to the appropriate sales channel to keep the customer on track.
Best shipment tracking software
As previously mentioned, package tracking abilities are essential and an expected tool of any shipping management software package. Here are some final picks for finding and utilizing the best shipment tracking software for your ecommerce business:
Shippo multi-carrier shipping software designed for ecommerce to help businesses ship smarter by saving on carrier rates for UPS, DHL Express, USPS and more. When connected with your ecommerce platform Shippo synchronizes order information, creates and prints documents and shipping labels. Customer service is improved through its tracking pages, batch printing and branded emails.
Shipping Easy is a bit different from other shipping software in that it offers tools for not only inventory, shipping and tracking but marketing campaigns and inventory automation. Used by stores and other sellers on Shopify, Amazon, Magento, eBay and Etsy, Shipping Easy saves you money on shipping with discounted USPS rates and a free US postage account. Shipping Easy is probably the less expensive option, although most providers are becoming pretty competitive.
Shopify Shipping has become an ecommerce industry leader in recent years for good reason: in addition to its popular ecommerce sales platform, the shipping arm of the company helps users improve their customer service with real-time tracking updates, as well as offer them the best rates with trusted carriers, shipping insurance and return labels. While not the least expensive among the group, it carries the well-known Shopify brand – no small consideration.
Ordoro is gaining in branded shipping and inventory solutions for businesses of all sizes, but with a special focus on ecommerce. This workhorse company does it all: whether through Ordoro-supported sales channels, integrating a custom API, importing orders into their handy app (and quickly shipping them out), as well as staying connected to your supply side and other channels, Ordoro walks away with the prize for best choice.