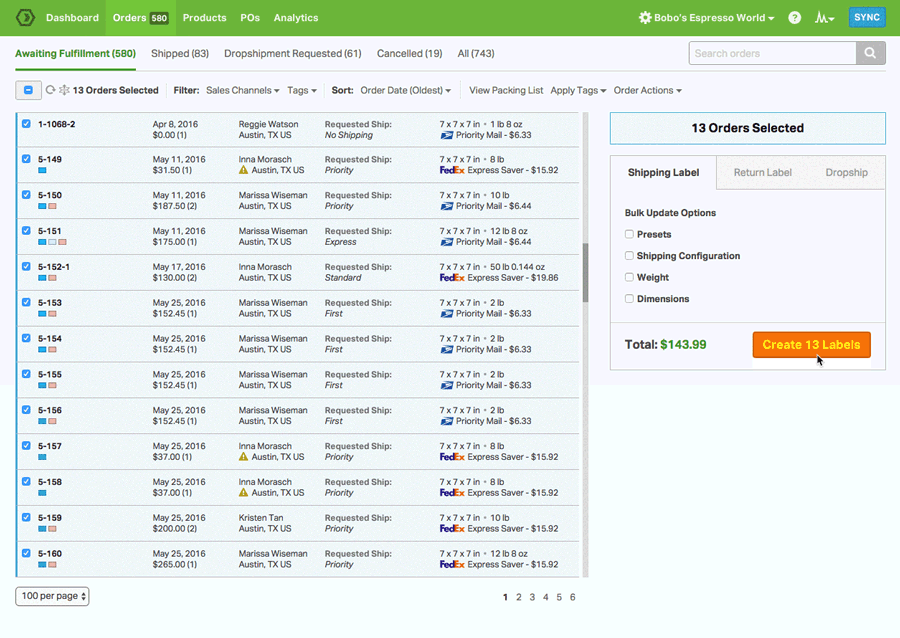 Discover The Best Barcode Scanner App For Your Business
The All-In-One Ecommerce Logistics Platform
Equip yourself with a comprehensive solution
Inventory Management
Stock, sync, and scan.
Automatically track and sync your inventory levels
Create and send out Purchase Orders when it's time to restock
Bundle multiple SKUs into one unit for sale
Use Barcode Scanning to reduce fulfillment errors
Multi-Carrier Shipping
Your workflow, minus the work.
Enjoy heavily-discounted shipping rates via USPS
Ship via any of our integrated shipping carriers like USPS, UPS, FedEx, DHL and Canada Post
Set up your own Automation Rules and Shipping Presets
Print shipping labels in triple-digit batches or individually
Dropshipping
Truly hands-off dropshipping.
Launch a dropshipping operation in a matter of clicks
Tag any product as drop shipped and assign it to a vendor
Choose between automated or manual routing
Activate a Vendor Portal between you and your supplier
Multichannel
We're your operations hub.
Integrate and view all of your sales and supplier channels in one spot
Use our open API to hook up any third-party or custom apps
Manage every aspect of your orders
Establish Supplier Feeds for real-time, back-end communication
Barcode Generation and Scanning
Raise the bar for stocking and packing.
Create UPC barcodes for your products
Scan, set, and search UPC codes for SKUs within Ordoro
Reduce fulfillment errors with our pack and pack barcode scanning workflow
Scan received POs to automatically adjust stock levels
Don't take our word for it
Our awesome customers have shipped some really great compliments our way:
"I spent about a month thoroughly searching for the right backend fulfillment software for my eCommerce business. There were definitely some big name guys out there that I considered, but at the end of the day, I went with Ordoro and I'm so glad I did!"

Tina Yarandi
Founder/CEO of Nature's Artisan
"Ordoro continues to add immensely valuable features to an already awesome sales/warehousing/shipping platform. Using Ordoro continues to save us time and money."

Anthony Krize,
VP of GE Holiday Lighting
Best Barcode Scanner App
Most new businesses dealing in sales, manufacturing or other tangible goods for sale use a manual method, such as spreadsheets, to add new products to their inventory, as well as log sales. As your ecommerce business grows, you'll need better ways to enter incoming stock as well as fulfill customer orders by using a barcode scanner for inventory.
Creating a simple barcode inventory system isn't hard to set up. Scanners, which are connected to a computer, can be wireless, Bluetooth-enabled, wired or even smartphones.
Ordoro takes the guesswork out of setting up a barcode scanner app for inventory. The Ordoro inventory management tool will adjust the remaining inventory quantity. When you need to fulfill orders, simply scan as you go.
We believe that Ordoro offers the best barcode scanner app for inventory, warehouse and other functions, reducing errors in packing and shipping, including the following:
Are you selling the same product on multiple sales channels under different branded descriptions? Ordoro is centered around multichannels, so list them individually, and simply link them to a "Master Product" to sync each.
After issuing a Purchase Order and receiving the full or partial amount requested, there's no need to manually tally new quantities. Using your scanner, simply scan the PO, and the app will take care of quantity adjustments for you, adding new stock to your existing count and automatically changing the status of your PO.
Ordoro's apps are scalable to grow with your business, so you get more for your software money, now and into the future. Thousands of satisfied customers agree!
Best Barcode Scanner App Free
As a newer ecommerce owner, you may be tempted to save money on software for inventory and barcodes when looking for a free barcode scanner app for small business, or even skip the code assignment process completely.
You will probably find that there's no reliable free barcode scanner app for inventory, especially if large quantities of products are involved.
The thing about using spreadsheets and other free or low-cost options is that while you can download data to them, they can't generate a barcode for your products – they only deal with what's already assigned. Inventory scanner app free of charge software that may be downloadable often comes with limitations, as does even the best free barcode scanner app.
Software for a free price scanner app that lets you generate codes is what you'll need and want to enable your business to be competitive and thrive.
So, should you even bother with a barcode scanner app free of charge?
How about tagging products for better organization as they're entered into the scanner system with bin and aisle locations? Will even the best barcode scanner app free of charge handle these tasks? If not, better use the inventory management software by Ordoro.
Ordoro provides inventory management tools including:
Automatically track and sync your inventory levels
Bundle multiple orders together to make it easier to handle shipping needs and concerns
Create and send out Purchase Orders when it's time to restock
Use of Barcode Scanning to reduce fulfillment errors
Barcode Scanner Online
Although you can use any barcode scanner you prefer with the Ordoro app, we highly recommend using a CCD scanner compatible with your particular computer, iPad, or other system. A CCD is a Charged Coupled Device, normally presented as a flatbed scanner, using the same sort of imaging sensor as one finds within a legacy digital camera. Its ability to obtain a high level of image quality often makes it the preferred device for scanning. You can easily scan barcode online with this type of scanner as well as a Contact Image Scanner (CIS) for wide format scanning.
This is basically the same thing as using a price scanner online as long as you have compatible apps.
All you have to do to begin the process is bring out your preferred scanning device, hook it up to your computer and begin scanning the codes into your system or onto a packing list.
Using a barcode scanner with the right inventory management software features from Ordoro will help you with the following necessary tasks:
Creating UPC codes for your products using our barcode system software for inventory scanner
Using Ordoro's platform to set, scan and search for SKUs, including bundled items
Reducing common mistakes with picking and packing thanks to Ordoro's barcode scanning software
Minimizing other fulfillment errors with Ordoro's item­-to-code verification capability, resulting in increased customer satisfaction and more reorders.
Ordoro doesn't forget about you after you've signed on: we continue to offer support with your concerns and questions. Ordoro offers FREE 30-day onboarding, with lifetime support from our experienced, friendly team members. To schedule a free demo of what our ecommerce management software can do, schedule your demo today.
Bluetooth Barcode Scanner for iPad
How about using a Bluetooth barcode scanner for iPad?
Since an increasing number of businesses are relying on iOS devices and their compatible apps for managing inventory, it's a good question about whether one can move beyond the rather limited scanning abilities of IPad and iPhone's cameras. The answer is "absolutely!" The following suggestions can help you choose a scanner that best fits your business's needs.
If you have an iPad, you can take advantage of your device's Bluetooth functionality to wirelessly connect to barcode scanners for inventory and product management.
To set up a Bluetooth barcode scanner you can use an application called Bluetooth /smart Scanner for scanning, retrieving and detecting local Bluetooth devices. Intateck Bluetooth Barcode Scanner, Socket Mobil 7, KoamteacKD200, Motorola CS3000, with the Motorla Symbol L14278 being among top picks. Combined with the Bluetooth Smart Scanner the above are all Bluetooth-compatible scanners and apps that should do a good job accurately scanning and reading your inventory pricing data. Some, such as the Intateck, have a wide range of compatibility and are usable with many other POS systems.
You can connect a dedicated handheld scanner wirelessly via Bluetooth to any IPad or iPhone for improved 1D and 2D scanning when compared to what you normally get with the built-in cameras.
When you combine modern Bluetooth technology with Ordoro's affordable and user-friendly barcode system apps and other ecommerce management tools, there's no need to be locked into an outdated inventory system. You can ditch copying and pasting data into spreadsheets or using outdated scanning equipment to spend more time uploading into inventory files when you should be spending your valuable time running your business.
Google Barcode Scanner
There are many Google Apps that allow users to scan barcodes and QR codes. Google Chrome app now has its own way to scan barcode or QR codes.
A Google barcode scanner can be quickly used through Google's Chrome mobile browser, which currently includes built-in scanning features. These can be accessed either by 3D Touch or the app's icon, or you can do a QR search by opening your (Android) phone's camera app by swiping up from the screen.
You can also tap on the search bar and enter "camera'. Point your Android phone at the QR code and scan it, making sure that all four corners of the code are visible in the viewfinder.
Ordro offers barcode apps that enable you to read standard SKUs, UPC QR codes and easily upload the information to your inventory. Remember that you need to know which types of barcodes to use, as well as the differences between SKU and UPC codes, to have an accurate code to be assigned.
Scan your just-arrived purchase orders (POs) to automatically adjust stock levels and prevent unexpected shortfalls that could negatively impact sales. It's important to have an accurate code to be assigned and entered to keep on track with inventory and Ordoro helps you do just that.
Interface with your multichannels in real-time for the most accurate picture of your stock movement.
Those ubiquitous QR codes that hit the markets a few years ago have been fading into the background, but are still in use for a lot of devices and users, so you'll probably want to keep any code reader apps around for a while longer.
QR Code Reader
What exactly are QR codes? The letters stand for "Quick Response" - a matrix barcode (two-dimensional) invented by the Japanese in 1994. It's a machine-readable code that looks like a bunch of little squiggles and squares within a small square. They are used to store URLs or other data and product information, similar to that of a barcode, but are readable with a smartphone's camera. No PC needed!
Using your mobile device's QR reader should enable mobile scanning while downloading the information to your inventory files.
To use the QR code scanner app, simply position the code in the camera's viewfinder screen and tap, following the prompts. As we mentioned earlier, be sure that the entire code square fits into the viewfinder.
What's the best QR code scanner app? Most new mobile phones such as the latest Samsung models, have Bixby Vision integrated reader built in, with similar scanning abilities built into Apple's iOS 11 operating system.
What are some of the different readers users can use? If you have an Android phone, it should have the QR code reader already installed as part of the available apps. iOS 11 systems also have the reader app, so it's a matter of personal preference, as long as you get a clear, accurate image.