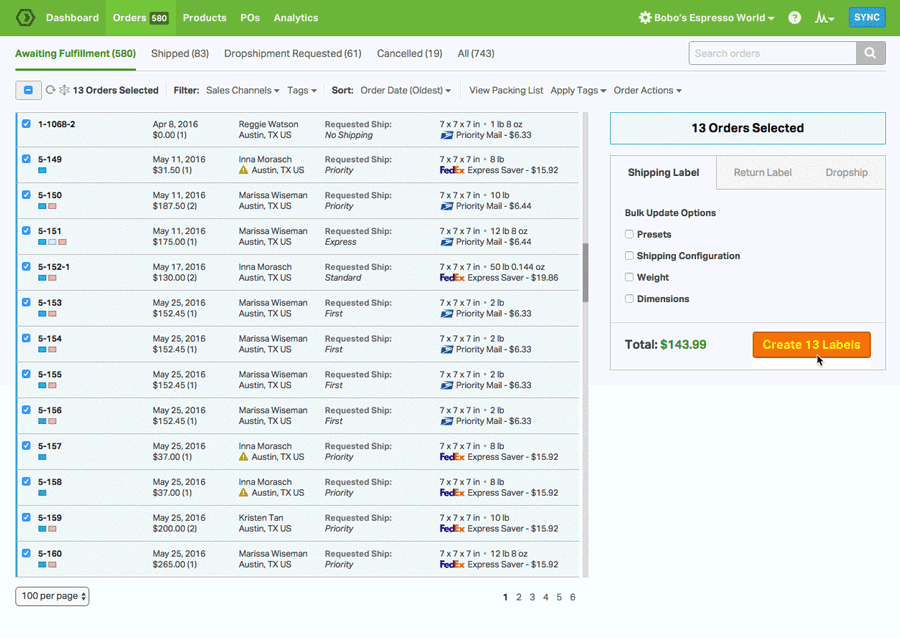 Automatically Manage Your Stock Levels With Our Simple Barcode Inventory System
The All-In-One Ecommerce Logistics Platform
Equip yourself with a comprehensive solution
Inventory Management
Stock, sync, and scan.
Automatically track and sync your inventory levels
Create and send out Purchase Orders when it's time to restock
Bundle multiple SKUs into one unit for sale
Use Barcode Scanning to reduce fulfillment errors
Multi-Carrier Shipping
Your workflow, minus the work.
Enjoy heavily-discounted shipping rates via USPS
Ship via any of our integrated shipping carriers like USPS, UPS, FedEx, DHL and Canada Post
Set up your own Automation Rules and Shipping Presets
Print shipping labels in triple-digit batches or individually
Dropshipping
Truly hands-off dropshipping.
Launch a dropshipping operation in a matter of clicks
Tag any product as drop shipped and assign it to a vendor
Choose between automated or manual routing
Activate a Vendor Portal between you and your supplier
Multichannel
We're your operations hub.
Integrate and view all of your sales and supplier channels in one spot
Use our open API to hook up any third-party or custom apps
Manage every aspect of your orders
Establish Supplier Feeds for real-time, back-end communication
Barcode Generation and Scanning
Raise the bar for stocking and packing.
Create UPC barcodes for your products
Scan, set, and search UPC codes for SKUs within Ordoro
Reduce fulfillment errors with our pack and pack barcode scanning workflow
Scan received POs to automatically adjust stock levels
Don't take our word for it
Our awesome customers have shipped some really great compliments our way:
"I spent about a month thoroughly searching for the right backend fulfillment software for my eCommerce business. There were definitely some big name guys out there that I considered, but at the end of the day, I went with Ordoro and I'm so glad I did!"

Tina Yarandi
Founder/CEO of Nature's Artisan
"Ordoro continues to add immensely valuable features to an already awesome sales/warehousing/shipping platform. Using Ordoro continues to save us time and money."

Anthony Krize,
VP of GE Holiday Lighting
Simple Barcode Inventory System
Barcodes are a fact of life for any business selling tangible goods and are designed to make identification and tracking of products in inventories easier and faster. There is often some confusion among newer business owners regarding Universal Product Codes (UPC) barcodes and SKUs. To clarify, SKUs are unique to identifying and organizing a particular business's products, UPC codes are indeed universal as a code attached to each product to be sold, no matter where. The Global Standards Organization (GS1) is the large organization responsible for working with entrepreneurs to come up with new UPC codes as products are developed.
Each code consists of a numerical 12-digit code as well as a scannable barcode which contains all relevant information about the product such as description, weight, and so on. Whether you're a brick-and-mortar retailer, ecommerce retailer or other business, the code and its information is universal, making them especially useful in managing inventory. Even if you're selling merchandise from a supplier or wholesaler, it should already have an attached barcode
Creating a simple barcode inventory system isn't as hard to achieve as you might think. Ordoro takes the guesswork out of setting up a barcode scanner app for inventory. (While Ordoro does not supply the actual scanners, its apps and other software are compatible with most scanning devices.) Scanners, which you'll connect to a computer, can be wireless, wired, Bluetooth-enabled, or even a smartphone.
You can scan product codes on products or onto a packing slip listing every item unit on an order. Use your scanner and scan products to bring up orders within the inventory management system.
When you need to fulfill orders, scan as you go. The inventory management tool will adjust the remaining inventory quantity.
Ordoro offers a great barcoding system for warehouse use, reducing errors in packing and shipping.
Barcode Inventory System Excel
As a newbie ecommerce owner, you may be tempted to cut a few corners, at least in the beginning, to save money on software for inventory and barcodes when looking for a free inventory app for small business, or even skip the code assignment process completely.
You will probably find that there's no good barcode system for inventory free of charge. Like with anything else, you get what you pay for. Inventory management is too important for cost-cutting measures!
Excel is one example: like most spreadsheets, using Excel inventory management requires time spent entering data, copying and pasting, then having to redo once products moved out of inventory, or when receiving new products. Of course, this method is full of potential errors: it is incredibly easy to enter the wrong information, even with using barcode scanner check in check out Excel and not be aware of it until problems arise, such as in the picking/ packing department.
Many newer scanning devices can transfer the barcode scanner to Excel spreadsheet, but it's still a cumbersome process compared to the faster and more accurate apps and inventory management software Ordoro has developed. In short, a barcode inventory system for small business free or very low-cost is often one of those "Buyer Beware" situations: will those free apps allow you to scan, set and search UPC codes for SKUs as does Ordoro's software? How about tagging products for better organization as they're entered into the scanner system with bin and aisle locations? If not, use the inventory management software by Ordoro.
Free inventory management software in Excel can be one way to get off the ground in the very beginning, but if you intend to grow your business, you will absolutely need a faster, more nimble means of logging and finding new products while maintaining accuracy in packing. So, a barcode inventory system for small business free of charge exists but you will be better off going for a more comprehensive system such as that offered by Ordoro.
Inventory Management System with Barcode Scanner
As we've already seen, switching from a spreadsheet program such as Excel to using an inventory management system with barcode scanner is what will keep your business competitive. The larger companies often have their own dedicated in-house software and platforms with the bells-and-whistles they need to deal with thousands of products on any given day, but the good news is you don't have to spend that kind of money to have something with similar capabilities. Ordoro has you covered with an affordable, easily-installed and user-friendly barcode inventory system app to successfully manage your inventory needs, whether from a single location in your basement or multiple warehouses across the country.
How do you get started with setting up a barcode scanner inventory system? Ordoro's support team can help advise you on how to implement a barcode system for inventory, using their latest software apps and plug-ins.
It's really pretty easy, once you have Ordoro's software overseeing the process. All you have to do to begin the process is bring out your preferred scanning device, hook it up to your computer and begin scanning the codes into your system or onto a packing list. Ordoro's software will automatically add new products as soon as they're scanned. Once set up, you'll quickly find that using a barcode scanner with the right inventory management software will help you:
Create UPC codes for your products with our barcode system software
Set, scan and search by UPC codes for SKUs within the Odoro platform
Reduce common pick and pack mistakes with Ordoro's barcode scanning software
Keep other types of fulfillment errors to a minimum through Ordoro's item­-to-code verification, ensuring faster shipping, fewer returns and customer complaints, resulting in increased reorders
Scan newly-received purchase orders to adjust your stock levels automatically
Inventory Management Software Small Business
Ordoro targets small and medium-sized businesses – the ones needing affordable expert assistance the most – providing the tools they need, such as inventory scanning system for small business, to succeed at a fraction of the cost of the competition. Name a task that needs to be done and Ordoro has a software app for it – and probably for some jobs you didn't realize were important enough to bother with. Some of the most common tasks needing to be performed include:
Inventory tracking, from the time a customer places an order to the time it's shipped (and beyond) with creating a barcode system for small business
Use the Ordoro inventory scanner app to enable barcode scanning to ensure accuracy in entering product identification information as well as reduce picking and packing errors during fulfillment
Bundle multiple orders to ease handling shipping requirements and other concerns
Automatically creating purchase orders when inventory falls below a certain level, making it time to restock
Perhaps the best assurance you can have about Ordoro's commitment to their customers is found in their vision statement: "We spoke to almost one hundred ecommerce merchants and realized that while there were many tools to help them with the frontend of their ecommerce – making great websites, finding products to sell, marketing tools – most of these merchants were struggling to manage their business backend using spreadsheets and antiquated software. So we launched Ordoro with the vision of becoming the all-in-one ecommerce logistics platform to solve these problems."
So, throw out those spreadsheets and other outdated software and let Ordoro streamline your shipping and inventory operations with the inventory management software small business needs. Remember, whether you're still a small startup newbie with limited inventory stashed in your garage or have successfully moved up to using one or more warehouses, including multiple locations and sales channels, Ordoro has the software that's right for wherever your business is right now – and where you plan to be in the future.
Best Barcode Inventory System for Small Business
Ordoro is committed to helping your small or medium business compete and succeed in the world of ecommerce. We can help with everything related to inventory management, fulfillment and more, whether you've decided to set up a dropshipping operation, are an ecommerce retailer with on-premises inventory or a manufacturer dealing with warehouses and are contemplating adding multiple locations, we have your back.
Barcode inventory system setups for small business can be challenging. As we pointed out earlier, there can be some confusion surrounding them as well as how to obtain a code for your own products. (Remember that Ordodo does not supply the scanning devices – we do supply the software to optimize them!)
Did you know that you can put your P.O. into a barcode with Ordoro's app? All you need to do after issuing a purchase order (P.O.) is to scan the P.O. and the app will automatically handle any quantity adjustments, adding new products to the existing inventory and changing your P.O. status.
If you're looking for the best barcode inventory system for small business be sure to take a look at Ordoro's additional features:
Order tracking, including sending emails to customers to help them follow shipping progress
Multi-carrier Shipping
Inventory Management Systems, including automatically generating purchase orders when inventory levels drop below a pre-set point
Dropshipping - when buying products from a third party who in turn ships them directly to customers. Ordoro's dropshipping apps and software helps facilitate the process.
Kitting
Picking and Packing Tasks
Automation of everyday tasks, including scanning for barcodes and inventory management
Multichannel integration
Analytical reporting to review where your business is at and as a blueprint for future activities, helping spot shipping trends and other strategic information
Finally, we'd like to remind you that Ordoro offers FREE 30-day onboarding and lifetime support. Let's talk!