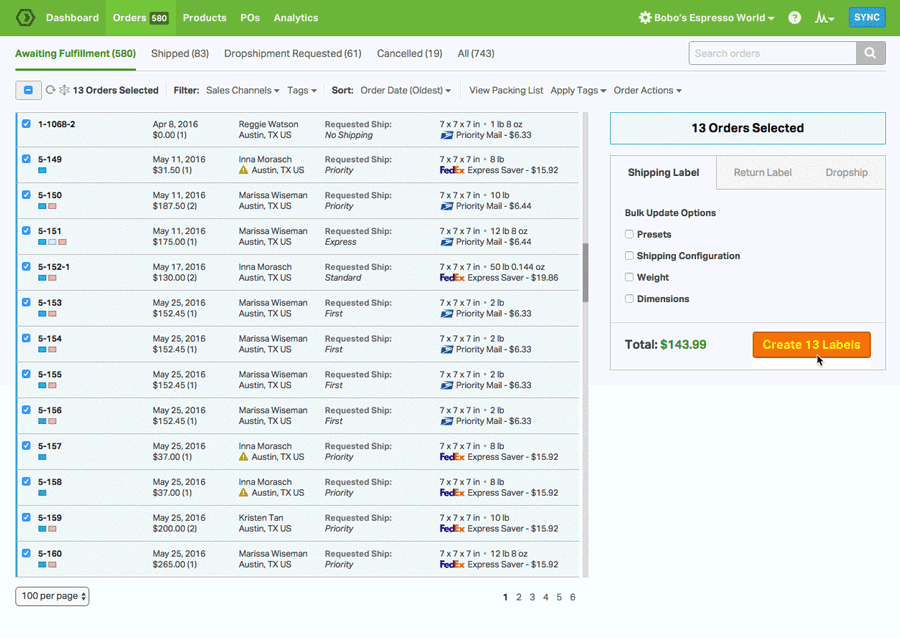 Keep Your Stock Levels In Sync With Our Ecommerce Inventory Management Software
The All-In-One Ecommerce Logistics Platform
Equip yourself with a comprehensive solution
Inventory Management
Stock, sync, and scan.
Automatically track and sync your inventory levels
Create and send out Purchase Orders when it's time to restock
Bundle multiple SKUs into one unit for sale
Use Barcode Scanning to reduce fulfillment errors
Multi-Carrier Shipping
Your workflow, minus the work.
Enjoy heavily-discounted shipping rates via USPS
Ship via any of our integrated shipping carriers like USPS, UPS, FedEx, DHL and Canada Post
Set up your own Automation Rules and Shipping Presets
Print shipping labels in triple-digit batches or individually
Dropshipping
Truly hands-off dropshipping.
Launch a dropshipping operation in a matter of clicks
Tag any product as drop shipped and assign it to a vendor
Choose between automated or manual routing
Activate a Vendor Portal between you and your supplier
Multichannel
We're your operations hub.
Integrate and view all of your sales and supplier channels in one spot
Use our open API to hook up any third-party or custom apps
Manage every aspect of your orders
Establish Supplier Feeds for real-time, back-end communication
Barcode Generation and Scanning
Raise the bar for stocking and packing.
Create UPC barcodes for your products
Scan, set, and search UPC codes for SKUs within Ordoro
Reduce fulfillment errors with our pack and pack barcode scanning workflow
Scan received POs to automatically adjust stock levels
Don't take our word for it
Our awesome customers have shipped some really great compliments our way:
"I spent about a month thoroughly searching for the right backend fulfillment software for my eCommerce business. There were definitely some big name guys out there that I considered, but at the end of the day, I went with Ordoro and I'm so glad I did!"

Tina Yarandi
Founder/CEO of Nature's Artisan
"Ordoro continues to add immensely valuable features to an already awesome sales/warehousing/shipping platform. Using Ordoro continues to save us time and money."

Anthony Krize,
VP of GE Holiday Lighting
Ecommerce Inventory Management
Why do you need ecommerce inventory management software? To answer that, we'll ask if you remember using spreadsheets (or worse, before spreadsheets came along, 10-column ledger pads)? If so, remember the "joys" of entering then copying and pasting new information and data changes into those rows and cells? Excel and other programs did a better job of tracking and sharing data than those ledger pads, but for businesses with thousands of items to track, they were time-consuming and prone to errors.
How does the right software help businesses with ecommerce inventory management?
First we'll take a look at some of the other systems and methods of tracking inventory still in common use, particularly those spreadsheets as well as more updated methods of tracking inventory and sales. Spreadsheets, such as Excel, have been used for as long as this software has been in use – primarily for organizing and tracking inventory and other data. However, as anyone who has spent a lot of time with these knows, it can be not only time-consuming but prone to mistakes. So, it's time to move on to better methods, such as online real-time inventory management.
Some of the top reasons for using Ordoro inventory management software designed for ecommerce are:
Reduced inventory costs thanks to more accurate monitoring and ordering capabilities, allowing you to give restocking priority to those items that generate the most revenue, while delaying ordering underperforming products
Improved inventory orders and control over real-time stock levels as well as future requirements projections
User-friendly interface that is easily navigated to be widely used by non-technical employees within your organization
Integration with existing applications such as third-party accounting and CRM software to prevent duplicating tasks for end users, and sync with financial, customer and order-related data
Reliable and secure for your peace of mind and customer safety from unauthorized usage
Ecommerce Inventory Management Software Free
If you're like most new business owners, the search for ecommerce inventory management software free of charge may be high on your priority list. For simple inventory software free of charge, there's Excel and similar spreadsheet programs. Of course, this requires installing in your computer, rather than using a simple online plugin. Stock management software free of charge is available online as well as in installable programs.
There are sources for finding a free Excel inventory template with formulas that can be used for tracking inventory, as well as how to create an inventory management system in Excel and other inventory management Excel formulas.
The best inventory management software free of charge or at a rock-bottom price may fall short of expectations and needs.
Subscription-based software is accessible through the Internet, rather than as an installed inventory tracking Excel template, or other forms of spreadsheets. This reduces the demand on your hardware requirements and is actually less expensive in the long run, as it is easier and faster to update than installed programs, making subscription-based software ideal for smaller ecommerce businesses.
You will want to use this checklist when shopping for inventory management software – while no software will probably include every single aspect, it should contain most of the following:
Organize products into categories
Track purchase orders (POs) as well as sales
Reorder new stock automatically to reduce inventory costs
Software should be easily learned and used by non-technical employees without resorting to lengthy and expensive training sessions
New users need to remember that the final determinants of which software is best for your business are your budget, size of business and type of products offered, as well as whether you plan to drop ship, utilize a warehouse and other related factors.
Multi Channel Ecommerce Inventory Management
Multi-channel software is at the heart of your listing, selling, and management of your various online channels to coordinate data flow as well as align your customers' experiences, including shipping information, inventory, marketing and analytics. The great thing about multi-channel software is the freedom and control it gives ecommerce businesses to administer each channel from one dashboard. Each customer needs to have the same positive buying experience, every time across each channel.
The downside is often that you as a business owner often feel as if you are spending too much time going from one app to another, importing data from Excel or another spreadsheet and hammering together numbers that you hope accurately reflect your multi-channel inventory sync with marketing, sales as well as order fulfillment operations.
Utilizing multi channel inventory management Amazon, eBay and other platforms present special considerations in multi-platform inventory management. A study showed that businesses with an additional market with the above sales platforms boosted revenues by as much as 38%!
The best multi channel inventory management software will allow users to:
Leverage templates for merchandising
Expedite and update product listings
Optimize control over online store inventory management
Streamline fulfillment operations
Measure effectiveness of all channels
Multi-channel ecommerce inventory management is critical because customers are driven to all kinds of channels from many different sources. In fact, according to PriceWaterhouseCoopers, social media sites such as Facebook and Twitter are the top influencers of buying decisions.
Having a centralized online inventory system in place, such as developed by Ordoro, helps keep track of products, automatically restock based on order levels, unify inventory operations from web stores to suppliers and warehouses, bundle orders in bulk, support UPC barcodes, offer product kitting and shape brand perception and linking through the "Master Product" sync.
Best Shopify Inventory Management
Speaking of multi-channels, perhaps one of the most important and popular sales platforms is Shopify. To optimize sales through Shopify, you'll absolutely want the best Shopify inventory management features within Ordoro's Shopify-centric app, such as Shopify API. The use of this versatile Shopify app allows you to:
Sync inventory volume across all sales channels
Manage inventory in perfect sync with the Shopify Locations feature and online store inventory tracker
Connect with each sales and supplier channel for a total and complete real-time view of your business
Set up product kits to automatically bundle SKUs together in a single order
Send purchase orders to suppliers within the app, to prevent stock shortages
Because Shopify is such an important platform, how to get inventory for Shopify should be one of your top priorities when using this as a sales platform. The handy automatic purchase order feature should make the process of reordering stock automatic and accurate, so you never miss an order due to shortfalls.
For any software intended for ecommerce inventory management Shopify friendly capabilities are essential. Of course, Ordoro doesn't stop at inventory management. Our Shopify software apps and plugins can also help you take control over:
Shipping expenses, with savings of up to 67% via USPS and top tier shipping rates
Create and print individual or multiple shipping labels
Track the status of orders from packing through final delivery to the customer
Because Shopify already has such a wide array of apps and other tools to make it as easy as possible to sell online, Ordoro's apps and tools are the perfect fit for a platform as widely used as Shopify. For a look at the applications offered by Shopify, visit the Shopify website, keeping in mind your company's needs and sales goals as well as your current ecommerce inventory and shipping software capabilities when choosing which apps to use. Ordoro's inventory management apps and other software are compatible with a wide range of platforms, including Shopify.
Best Ecommerce Inventory Management Software
For those of you still using Excel and other spreadsheet/ data entry methods of entering and attempting to track product movement, having the most up-to-date inventory management software can not only track inventory levels but track sales, orders and deliveries.
When shopping for the best inventory management software, you'll want features that not only let you track your current (and incoming) inventory stock but if you own or otherwise utilize warehouses, you'll need software that lets you run warehouse/inventory management software small business focused, as well as warehouse/inventory management for e-commerce.
You'll want your software to provide real-time transparency into the quantities, locations and other factors of products in your inventory, as well as offer scanning abilities compatible with whichever types of scanners you use. (It's important to note that Ordoro produces the software, not the scanners themselves.)
A great ecommerce inventory management software experience also allows you to adjust and add on plugins and other tools to adapt your inventory management system as your business grows, so it keeps up with your growth. The last thing you want is software that holds you back because of limitations and glitches. Plugins that don't work on the latest browser, programs that won't let you interface with your sales channels and warehouses – who needs that?
Ordoro is always on top of the latest developments and advances in inventory management with software applications and other tools to put your business front and center of the competition.
Ordoro provides the best ecommerce inventory management software with tools that let you:
Automatically track and sync your inventory levels
Bundle multiple orders together to make it easier to handle shipping needs and concerns
Create and send out Purchase Orders when it's time to restock
Use Barcode Scanning to reduce fulfillment errors
Don't wait any longer to see what you've been missing – bring your ecommerce business up-to-date with Ordoro's proven ecommerce inventory management software and other tools. We offer FREE 30-day onboarding and lifetime support! Call us at 512-271-9453 or email at: info@ordoro.com for a free consultation with one of our experts to learn more.