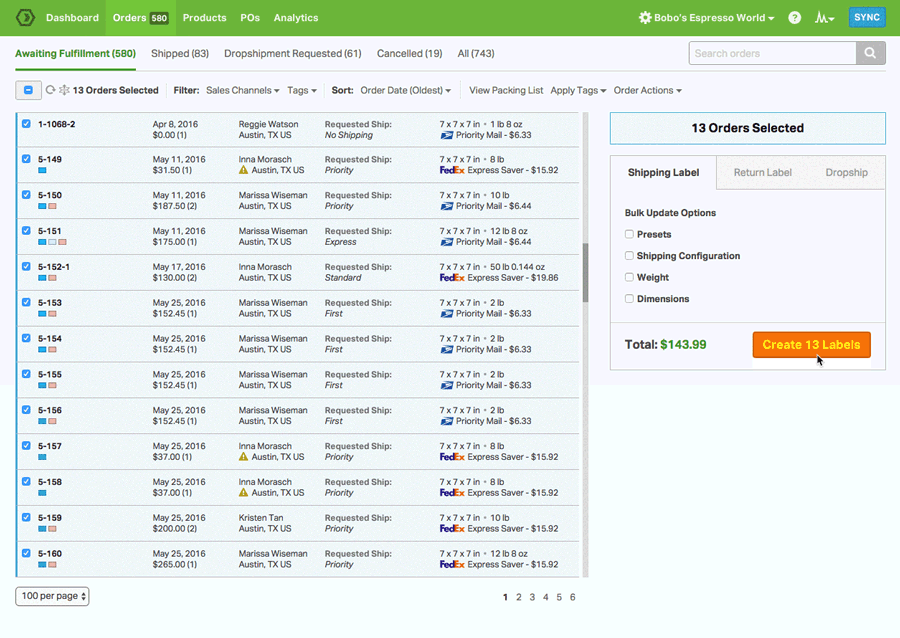 Fulfill Orders Faster with Our Warehouse Inventory Management Software
The All-In-One Ecommerce Logistics Platform
Equip yourself with a comprehensive solution
Inventory Management
Stock, sync, and scan.
Automatically track and sync your inventory levels
Create and send out Purchase Orders when it's time to restock
Bundle multiple SKUs into one unit for sale
Use Barcode Scanning to reduce fulfillment errors
Multi-Carrier Shipping
Your workflow, minus the work.
Enjoy heavily-discounted shipping rates via USPS
Ship via any of our integrated shipping carriers like USPS, UPS, FedEx, DHL and Canada Post
Set up your own Automation Rules and Shipping Presets
Print shipping labels in triple-digit batches or individually
Dropshipping
Truly hands-off dropshipping.
Launch a dropshipping operation in a matter of clicks
Tag any product as drop shipped and assign it to a vendor
Choose between automated or manual routing
Activate a Vendor Portal between you and your supplier
Multichannel
We're your operations hub.
Integrate and view all of your sales and supplier channels in one spot
Use our open API to hook up any third-party or custom apps
Manage every aspect of your orders
Establish Supplier Feeds for real-time, back-end communication
Barcode Generation and Scanning
Raise the bar for stocking and packing.
Create UPC barcodes for your products
Scan, set, and search UPC codes for SKUs within Ordoro
Reduce fulfillment errors with our pack and pack barcode scanning workflow
Scan received POs to automatically adjust stock levels
Don't take our word for it
Our awesome customers have shipped some really great compliments our way:
"I spent about a month thoroughly searching for the right backend fulfillment software for my eCommerce business. There were definitely some big name guys out there that I considered, but at the end of the day, I went with Ordoro and I'm so glad I did!"

Tina Yarandi
Founder/CEO of Nature's Artisan
"Ordoro continues to add immensely valuable features to an already awesome sales/warehousing/shipping platform. Using Ordoro continues to save us time and money."

Anthony Krize,
VP of GE Holiday Lighting
Warehouse Inventory Management Software
Technology is advancing so rapidly that this article suggests that one day in the future, even computer programmers themselves could be replaced by computer programs they create. A good warehouse stock management system is one in which your most popular items are positioned to be the most easily accessible. You want to be able to get those items scanned, packed, labelled, loaded, shipped, re-ordered, and re-stocked as quickly as possible. That looks like a pretty daunting to-do list. When small business owners begin experiencing success, the pressure to deliver and satisfy increasing demand can seem overwhelming. Fortunately, good warehouse inventory management software can help you check those items off your list with just a few clicks of a mouse. In fact, you can even do them simultaneously. More importantly, it can help you make the success you've worked so hard to achieve sustainable. Long-term sustainability is much more achievable if your system can be customized for your specific business. There's a lot of truth in the old saying that if the only tool you have is a hammer, you'll start treating all your problems like a nail. Today's consumers have more choices than ever before. Having a great integrated software system allows you to compete successfully with the business giants whose vast resources make it possible for them to gain such advantages. You too will be able to link products, bundle multiple orders, and offer deeply discounted shipping. Smart use of data analytics can even make it possible for you to offer free shipping. With the right integrated system, there is almost nothing a multinational corporation can offer that you can't. In fact, the number of international e-commerce small businesses is growing exponentially. A recent article points out that e-commerce has increased to a staggering $27.6 trillion dollars—that's trillion—with twelve zeros.
Warehouse Inventory Management Software Free
While a number of new online businesses have sprung up in response to the global pandemic, not all of them will survive. Business experts agree that developing a loyal customer base and being responsive to customer feedback are essential to avoid joining the 80% of small businesses that fail. Automating as many processes as possible allows you to have the time to spend communicating with and getting to know your customers. There is some warehouse inventory management software free out there. Many small businesses start out using inventory management software free, like the free inventory management software in Excel. However, it's hard to achieve the results you want with such little control. One problem is that open-source software is always changing, and what if the next upgrade contains features you don't want? Or worse, features that make it incompatible with the other essential elements of your system? While free inventory software for small business is a great way to help you determine which features you need most for yours, most also have order limits. That means that once you start achieving some success, the inventory management system software for small business free version is no longer free. A fully integrated system is an investment well worth making, and scalability is an important factor to consider. If you have a sudden spike in sales, you don't want to get hit with a barrage of unexpected expenses. You do want to be able to optimize your work-flow and manage your bulk shipping, label creation, omni-channel inventory and automated drop-shipping from a single platform. Many start by trying the free warehouse stock management in excel, but unfortunately, unless they invest in the right tools for the job, many end there as well.
Warehouse Inventory Management Software Small Business
Your business has survived the first year. You've cultivated some repeat customers and developed a reputation for fast, dependable service. You've done enough research to know what tools you'll need to go from surviving to thriving. The next best step to take is investing in a good warehouse inventory management system. It's a good idea to go with a company that specializes in helping small to medium-sized businesses succeed. Ordoro has invested thousands of hours in researching how to keep track of inventory for small business and developing the right tools for the job so you don't have to. A good warehouse management system for small business ensures that you know what products are where at all times. That knowledge helps you make your most popular products the most easily accessible. It also gives you the control to store items which are often bundled or kitted in close proximity, further reducing costs. With a barcode scanning feature, you also reduce costly fulfillment errors. A well integrated system allows you to choose single or multiple orders, and with a few clicks of a mouse, access items to be picked, scanned, and packed, and then mark the orders complete once you've filled them.
Inventory Management Software
There is some open-source inventory management software available. However, many of them don't have supplier, purchasing, or barcode features. Most limit the number of items or transactions and some don't have kitting or bundling capability. Two of the most popular open source programs for those just starting out in business are Zoho inventory and Odoo inventory management. Each of them has some excellent features. However, Zoho has both sales and purchase order limits, and only supports FIFO costing. It doesn't have pick lists, bin ID support, or forecasting features. The Odoo inventory management system only works with other Oddo apps, which is a considerable disadvantage. That means you can't integrate with other apps and it doesn't allow customization, either. Most small business owners aren't professional programmers and haven't even heard of PHP, which is an open source general-purpose scripting language suited for web development that can be embedded into HTML, which stands for Hyper Text Markup Language. The biggest problem with open source inventory management php is that you have to know some coding to take full advantage of its functionality. Learning to code and how the software works instead of leaving all that technical know-how to the software developers doesn't leave you much time to develop long-lasting customer relationships.
Inventory Management Tools
There are a number of important inventory management tools that most successful e-commerce entrepreneurs consider essential. One of them is a cloud-based warehouse management system. Online businesses generate a lot of data, and that data needs to be organized efficiently and stored securely while remaining easily and quickly accessible to those that need it. Simple inventory software for small business may be sufficient for a company still small enough to be able to enter data by hand. Once a business reaches a certain number of orders, that's no longer possible. Unless you want to hire a team of high-paid employees for data entry, as well as purchase and maintain a number of computers to store your data on, a cloud-based system is the way to go. Maintaining the highest possible level of security and only updating your system after all the bugs have been worked out in new releases are two more advantages they offer. Ideally, your system should enable you to automatically track and sync your inventory levels, no matter how many warehouses your merchandise is stored in. You should also be able to use barcode scanning to reduce fulfillment errors. Inventory software for small business with scanner capability is a whole new ball game. There are some things that computers are just better at than humans will ever be, and reading and recording long label numbers accurately is one of them. Fewer errors in data entry means fewer pick and pack errors as well. You should even be able to automate sending out purchase orders to restock when the amount of a particular item in stock falls below the amount you consider low enough to trigger a re-order. That's the power of customization. Ordoro provides the additional power of Advanced Analytics, allowing you to track what items are your best sellers, where, and when. It also works with integrations like Quickbooks. Being able to extract specific information from your numbers can prove invaluable in helping you make good decisions about how best to store, market, and price your merchandise for maximum profit at minimum cost.
Best Warehouse Management Software
Technological advances and globalization are happening at such breakneck speed that a lot of people don't even know that 3PL stands for third party logistics. Those people know even less about the advantages 3PL warehouse management software can have for their small businesses.No matter what kind of online business you have, you're going to need the best warehouse management software available to be able to compete successfully in today's automated world. In the end, the best inventory management app for small business is the one that allows you to customize it to meet the unique needs of your business. You might only need small warehouse inventory management software right now, but when it's time to expand, you shouldn't have to start over. That's why Ordoro offers free 30-day onboarding to educate you and your team members about all of the fully scalable functions it offers. If you've ever had to train your employees, or pay someone else to train them, to use a new software program, you know how much time and money that can cost. The professionals at Ordoro can demonstrate exactly how our multi-channel integration, inventory management, multi-carrier shipping, process automation and data analytics can take your small business to the next level. They also offer lifetime support. That means you won't need to find new software every time there's another technological advance or a new security threat. You'll be able to continue using their software long after you're no longer a small business. You might have noticed that when you use free software, you're often interrupted in the middle of a task by a pop-up screen asking if you'd like to upgrade to their premium service. This is usually followed by another a few hours later. "How about now?" With Ordoro, this could be the last business software upgrade you'll ever have to make.