Shipping Insurance Claims, Without All the Pain
Get It Filed and Get Your Money
Forget about taking a loss because you'd rather avoid the claims process than deal with it. File a claim in under 10 minutes and get reimbursed within a week with Ordoro.
Powered by Shipsurance

Our insurance partner is Shipsurance — an Assurant company with an 'A' rated underwriter — to offer reliable coverage from all major shipping carriers. Plus, just like our shipping rates, our insurance rates include discounts of up to 60%.
Easy Claims

It only takes one form to file your claim, and filling it out is a cinch. Once it's completed and sent to Shipsurance, they'll process your claim in an expedited fashion and allow you to manage it entirely online.
Killer Customer Service

If you hit a hiccup, you're covered. Shipsurance's knowledgeable Customer Service team practically doubles as a squad of shipping insurance experts, and they're ready to help you out quickly when needed.
Simple, Discounted Pricing
Unlike most matters related to insurance, our pricing is straightforward. Expect to save between 40% to 60%, and enjoy discounted coverage throughout every holiday season.
UPS

$0.79

for every $100 of coverage
FedEx

$0.79

for every $100 of coverage
USPS

$0.99

for every $100 of coverage
Looking for the hard numbers? With a declared value of $180, here's how our insurance rates compare with the carriers' rates:
| Carrier | Declared Value | Carrier Insurance Rate | Ordoro Insurance Rate | Savings |
| --- | --- | --- | --- | --- |
| UPS | $180 | $2.70 | $1.58 | 41% |
| FedEx | $180 | $3.00 | $1.58 | 47% |
| USPS | $180 | $3.40 | $1.98 | 42% |
A Feature, Not an Afterthought
We treat our shipping insurance like a core feature. Its workflow is intuitively designed, helping you quickly apply insurance, handle hundreds of claims, and saving you time and money.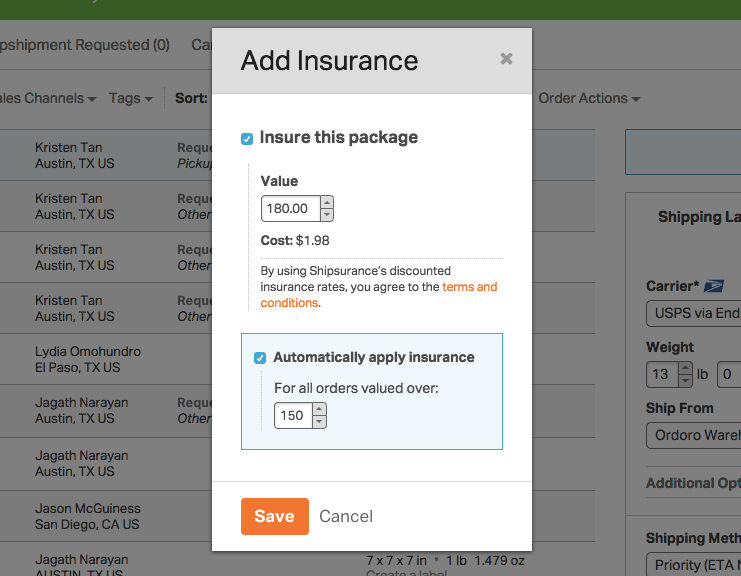 Automate the Process

Apply insurance to orders manually, or choose to spend even less time dealing it. Through our Automation Rules and Shipping Presets, you can select criteria like the price or destination of an order and auto-apply an insurance amount to it.
Take Their Word For It
It's not often that you see rave reviews when it comes to insurance. Check out the positive experiences of some of our merchants.
"We filed a claim on the 16th, and got a response (and approval) on the 23rd. Amazing! We were a bit skeptical at first to use Shipsurance because of previous experience with USPS insurance, but they are on a whole different level. The process is simple, electronically transmitted, and takes about 5-10 minutes to fill out all the information per claim."

Ken Hilton
Shipsurance customer
"My claim was settled in one week and my money was deposited into my paypal account. I can't say how happy I am about this. The post office has been breaking my stuff for years and NEVER honored my claims, although after the first two or three I didn't even bother to file them anymore. Its Shipsurance for me from now on!"

Joseph Cook
Shipsurance customer
"I have been using Shipsurance for 10 years now. I cannot say enough about this company, very professional and courteous. I ship a lot of stuff (8000) packages a year and I save about $8-9,000.00 a year in insurance costs compared to using usps. I am very thankful for you guys. I have recommended you to literally more than 200 sellers over the past 10 years. I have had to file 2 claims and everything went seamlessly."

George Dimitroff
Shipsurance customer
"EXCELLENT! Describes the type of service one can come to expect when dealing with this company! Always friendly, fast, so much faster and hassle free than having to deal with the USPS insurance. Quick pay-out and they are always helpful! I have had to deal with several times and am always amazed that a company can be so customer oriented. No automation here! Many companies out there, that could use Shipsurance as a role model to achieve happy customers!"

Carol Bailey
Shipsurance customer