Tools to Better Manage Suppliers
Enter a Portal to Dropshipping Paradise
Cut down on the back-and-forth between you and your dropshipping suppliers by having them fulfill their orders on their own.
Vendor Portals

A Vendor Portal puts the onus of order fulfillment entirely on your supplier. No routing orders their way, no phone calls, no faxes — just a portal for them to enter.
Vendor Portals allow your suppliers to log into Ordoro, view only their orders, and fulfill them themselves without any action on your end. The supplier is able to create and print shipping labels through whatever shipping account they use, and tracking information created or entered afterwards is sent directly to your sales channel for the customer to check out.
You can activate as many Vendor Portals as you have suppliers; each vendor will only have access to orders containing products they've been assigned to, and they can update inventory counts for you as well. Plus, you have the power to keep control of your brand through customizable packing slips and logo-emblazoned labels.
A Feast of a Feature
Hungry for an easier way of updating supplier inventories? Whet your appetite with Supplier Feeds.
Supplier Feeds

By connecting directly with your suppliers, Supplier Feeds allow Ordoro to update the quantity of your product listings based on the amount of inventory your vendors have on hand.
Our supplier Feeds retrieve suppliers' product counts in a few different ways; via email, file transfer (FTP), or through the web (HTTP). Once collected, the app then targets every sales channel carrying those products and updates their quantities accordingly.
You can choose to leave the cooking to us — we'll set Supplier Feeds up for you — or, if you have the developer chops for it, you can build them yourself.
Issue POs With No Issue
Don't chase down your suppliers when it's time to restock; send Purchase Orders (POs) within Ordoro.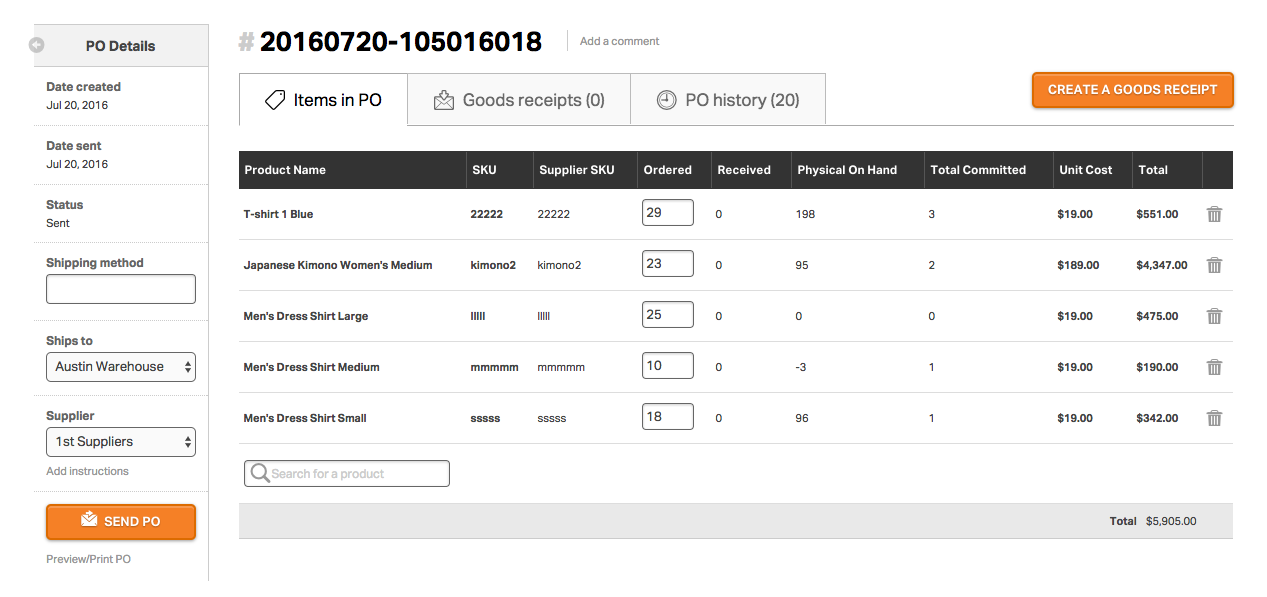 Purchase Orders

Purchase Orders — documents sent to suppliers that place an order for some quantity of their product — are easy to create and send within Ordoro.
From the get-go, the app makes it simple. When you import products, assign them to suppliers, connecting the two by default. Then, once Ordoro alerts you to a low product quantity and it's time to reorder, the PO you create will already know which supplier it's to be routed to.
Once you fill out the PO's specifics, like all the SKUs and quantities involved, feel free to tailor them to your suppliers — instruct them to use certain carriers, methods, or accounts for delivery.
Know When You're Good to Go
Track every PO with a Goods Receipt to ensure that you receive every single unit you requested from your supplier.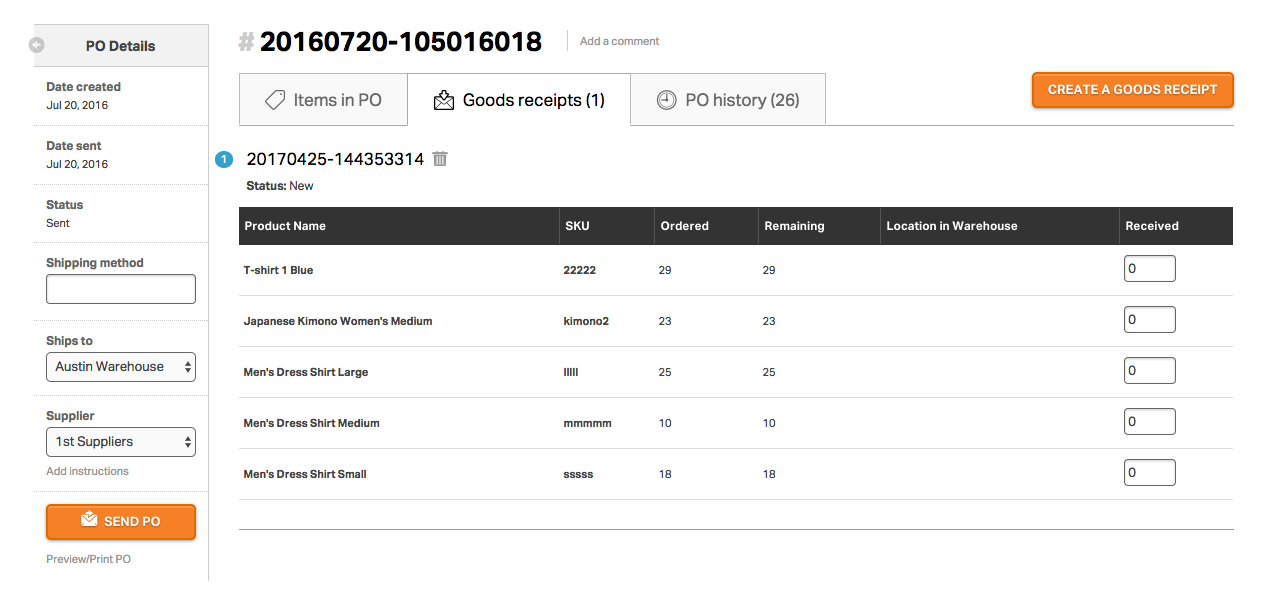 Goods Receipts

Once the products requested arrive, count how many you've received, create a Goods Receipt for the PO, and enter the quantity. If the quantity received fulfills the amount you asked for, the Goods Receipt will mark the PO as "Received," closing it out. And if the quantity is only some of what was ordered, the Goods Receipt will mark the PO as "Partially Received" and leave it open.
Alongside that, Ordoro will also adjust your inventory levels across your sales channels and warehouses to account for the new product on hand.
Don't Just Supervise, Analyze
As you manage your suppliers, judge their effectiveness in a variety of ways via our Advanced Analytics.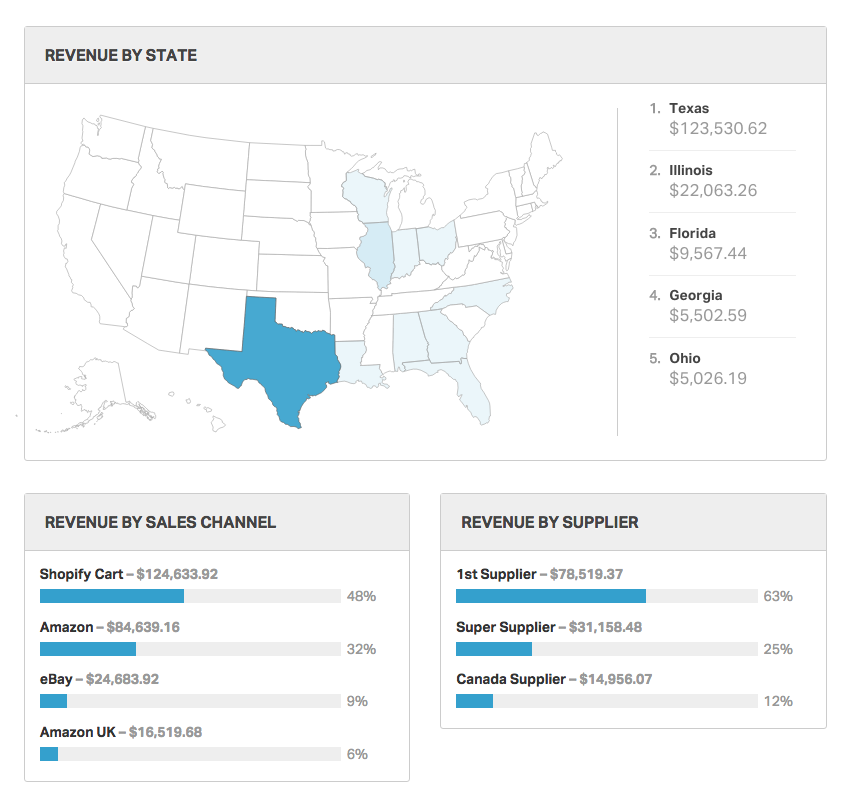 Advanced Analytics

Although you both benefit from your partnership, gauging the performance of your supplier is always worthwhile — especially if you're working with several of them. Our Advanced Analytics lets you do that in a variety of ways.
Using multiple suppliers? Our Advanced Analytics lists out how much revenue each of them is bringing in, giving you an idea of whose products pull the most weight. And if you're dropshipping, Advanced Analytics offers some insight into which carriers and methods your suppliers are using to fulfill, as well as how quickly they're doing it.