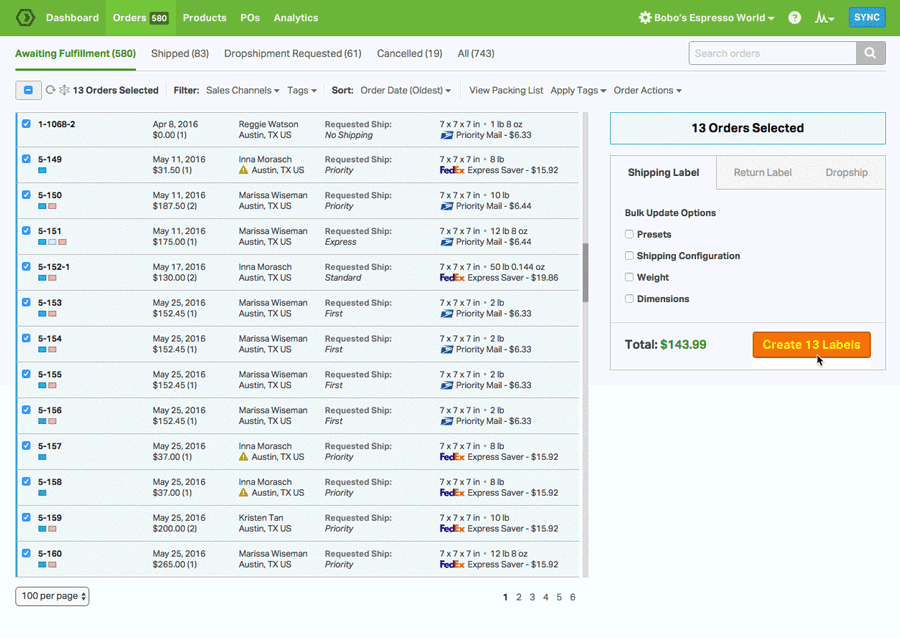 Automatically Manage Your Stock Levels With Our Inventory Scanning System
The All-In-One Ecommerce Logistics Platform
Equip yourself with a comprehensive solution
Inventory Management
Stock, sync, and scan.
Automatically track and sync your inventory levels
Create and send out Purchase Orders when it's time to restock
Bundle multiple SKUs into one unit for sale
Use Barcode Scanning to reduce fulfillment errors
Multi-Carrier Shipping
Your workflow, minus the work.
Enjoy heavily-discounted shipping rates via USPS
Ship via any of our integrated shipping carriers like USPS, UPS, FedEx, DHL and Canada Post
Set up your own Automation Rules and Shipping Presets
Print shipping labels in triple-digit batches or individually
Dropshipping
Truly hands-off dropshipping.
Launch a dropshipping operation in a matter of clicks
Tag any product as drop shipped and assign it to a vendor
Choose between automated or manual routing
Activate a Vendor Portal between you and your supplier
Multichannel
We're your operations hub.
Integrate and view all of your sales and supplier channels in one spot
Use our open API to hook up any third-party or custom apps
Manage every aspect of your orders
Establish Supplier Feeds for real-time, back-end communication
Barcode Generation and Scanning
Raise the bar for stocking and packing.
Create UPC barcodes for your products
Scan, set, and search UPC codes for SKUs within Ordoro
Reduce fulfillment errors with our pack and pack barcode scanning workflow
Scan received POs to automatically adjust stock levels
Don't take our word for it
Our awesome customers have shipped some really great compliments our way:
"I spent about a month thoroughly searching for the right backend fulfillment software for my eCommerce business. There were definitely some big name guys out there that I considered, but at the end of the day, I went with Ordoro and I'm so glad I did!"

Tina Yarandi
Founder/CEO of Nature's Artisan
"Ordoro continues to add immensely valuable features to an already awesome sales/warehousing/shipping platform. Using Ordoro continues to save us time and money."

Anthony Krize,
VP of GE Holiday Lighting
Inventory Scanning System
Many corporate CEOs believe that the invention of the barcode scanning system for inventory is the most important technological advance for business since the Internet. Their only disagreement seems to be about exactly why. Some believe it's because creating barcodes for use with an inventory scanning system virtually eliminates fulfillment errors. Since every item in inventory has its own unique number, customers always receive the item they ordered—and not an item with almost the same number by mistake. Others think it's because of the amount of time it saves to scan items into inventory, rather than having to enter them by hand into a spreadsheet. Still, others think it's because of all the money saved not having to pay employees for hours, days, and weeks of work that can be accomplished in seconds with automation. No matter what their top priority is— efficiency, cost savings, or customer satisfaction, they all agree that a barcode scanner app for inventory reduces both costs and errors while saving them valuable time. A barcode inventory system with an inventory scanning app is what makes it possible for so many small businesses to become medium-sized businesses. It also makes it possible for them to join forces with industry giants like Amazon, eBay and Shopify. If your business has grown large enough that you can no longer afford to keep entering data by hand into a spreadsheet, it might be time to invest in one. If you're new to the world of computer automation, you can learn a lot about what features are available from all the free trial offers out there. You'll be amazed at how many of your business processes you can automate and control with just a few clicks of a mouse with the right programs.
Barcode System For Inventory Free
There's no shortage of free trial offers for business software programs out there. Just typing "barcode inventory system for small business free" into your search engine will get you about 5,650,000 results, delivered in 0.57 seconds. Similarly, googling "free inventory software" delivers 363,000,000 results in 0.45 seconds. Having too many options to choose from can be just as bad as having too few. Breaking it down into individual functions, like just creating barcodes, helps a little, but not much. "Free barcode system" returns 93,400,000 results in 0.52 seconds. That's a lot of information to wade through. That's why most people go with names they recognize. Many people who've been using Excel spreadsheets start their research with the Microsoft barcode generator Excel free download. Unfortunately, the barcode inventory system excel offers may not be compatible with other software programs that aren't Microsoft. Incompatibility with other programs that are essential to their businesses is one of the biggest problems people report having with free software. Another is an unexpected change. Many barcode system for inventory free offers are open-source software. That means that anyone can change it at any time. Some of those changes might be welcome. We all love getting to be the first to take advantage of new technological development. Others, like changes that make it harder for you to find the functions you use most often or that render the newest version incompatible with the shipping software program you have just finished learning how to use, might not be so welcome. That lack of control is usually what convinces people using inventory scanner app free offers that it's worth investing in a system they can not just better control but customize for their specific business needs. No matter how many technological advancements we make, the bottom line will always depend on customer satisfaction.
How To Implement A Barcode System For Inventory
Just as there's no shortage of free offers out there, you won't have to look far for information on how to set up a barcode system. If you just type in "how to implement a barcode system for inventory pdf", you'll get results from all the top industry giants. Microsoft offers a tutorial on how to create a barcode inventory system in Excel. Amazon, eBay, and Shopify all offer articles and videos giving you step by step instructions on how to implement a barcode system for inventory once you've created it. Because good inventory management is so crucial to keeping storage and shipping costs low, there are even videos that focus specifically on creating a barcoding system for warehouse management. Product placement is just as important in the warehouse as it is on your website. You want the items your customers love the most closest to the door! To be sold online, all products must have a twelve-digit UPC (Universal Product Code). Those are usually generated and assigned by the Global Standards Organization, although there are a few less costly alternatives available for obtaining them. That UPC code makes the product both unique and universally recognizable. Your business then creates an SKU barcode for the product that makes it unique to your business. Your SKU code can have as many or as few digits as you like. Part of deciding how to implement a barcode system for inventory is deciding whether you want wired or wireless, bluetooth compatibility, or to use your smartphone. No matter what devices you choose to connect to the scanner, you'll be able to scan product codes directly into inventory. Scanning a single packing slip allows you to scan an entire shipment in seconds. With Ordoro, with every shipment scanned in and every order scanned out, your inventory is automatically adjusted. You'll never run out of a popular item or order too much of an item that isn't selling well.
Inventory Scanning System For Small Business
It's possible to piece together a working inventory scanning system composed entirely of free offers, but only temporarily. That's because most free offers limit the number of orders, customers, or both, that you can have before they're no longer free. Order limits, software incompatibility, lack of control, and rapid technological advances are all good arguments for investing in a single comprehensive system. The software engineers at Ordoro set out to create the best barcode inventory system for small business technologically possible. Their researchers interviewed almost a hundred small business owners and asked what essential features a simple inventory system for small business should have to help them succeed. After receiving the answers, their first order of business was to develop a barcode system for small business. Next, they developed their inventory scanning system for small business to integrate seamlessly with the barcode system. Because a barcode inventory system for small business results in so many more orders and shipments, they developed a shipping application that would allow them to take advantage of deep industry shipping discounts. When it comes to all the most requested features of a barcode inventory system for small business, Ordoro delivers the full package. For example, it allows you to bundle multiple SKUs into a single unit for sale. You can also set up automation rules to create and send out purchase orders when it's time to restock. No matter how many suppliers or warehouses you have, their multi-channel capability makes it possible for you to know exactly what you have and where you have it at all times. Even better, you have complete control of every channel from a single dashboard. You can even use their open API to create your own channel. Ordoro's specialty is making complicated tasks simple, and most time-consuming tasks as fast as the click of a mouse.
Inventory Management System
Reducing errors, shipping costs and the number of employees you'll need for data entry are all good reasons to invest in a sales and inventory management system. It's been proven that an inventory management system with a barcode scanner reduces fulfillment errors. An inventory tracking system that automatically updates your inventory with every sale you make and shipment you receive helps you make smart ordering decisions. But the best reason to invest in a good inventory management system is customer satisfaction. A satisfied customer telling friends about great products and great shopping experiences is still the best form of advertising. Your customers will appreciate knowing that they'll always get the right item at the right price at the right time. They'll also love all the fun sales promotions you'll have time to create when you let Ordoro automate and streamline your business processes. Rated the best inventory management app for small business by The Blueprint, they offer everything a small business needs to succeed. If you want to see for yourself how it can be customized for your specific business, you can schedule a demo. They'll show you the best way to use pick and pack lists, kitting, and other inventory management tools and strategies to your best advantage. Being able to print shipping labels either individually or in batches is a handy tool to have in your toolbox, too. Their professionals provide a 30-day free onboarding to demonstrate and help you customize every feature they offer. That includes multi-channel integration, inventory management, multi-carrier shipping, drop-shipping, and data analytics. Being able to see at a glance which items are most popular during what time of year can increase your advertising campaigns' effectiveness—and your bottom line, considerably. Finally, their system is fully scalable, because they know that with Ordoro working for you, you won't remain a small business very long.