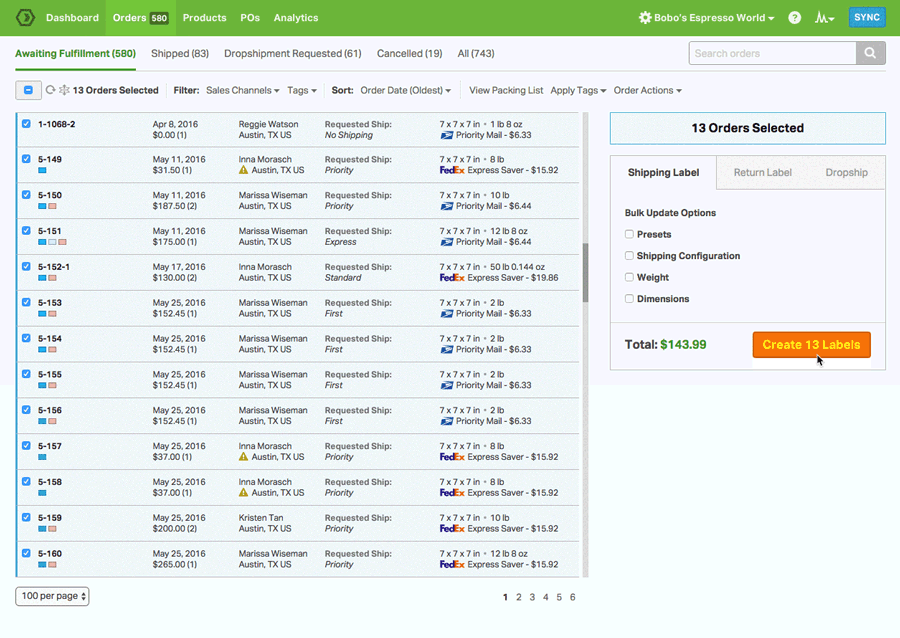 Discover The Best Inventory Tracking Software On The Market
The All-In-One Ecommerce Logistics Platform
Equip yourself with a comprehensive solution
Inventory Management
Stock, sync, and scan.
Automatically track and sync your inventory levels
Create and send out Purchase Orders when it's time to restock
Bundle multiple SKUs into one unit for sale
Use Barcode Scanning to reduce fulfillment errors
Multi-Carrier Shipping
Your workflow, minus the work.
Enjoy heavily-discounted shipping rates via USPS
Ship via any of our integrated shipping carriers like USPS, UPS, FedEx, DHL and Canada Post
Set up your own Automation Rules and Shipping Presets
Print shipping labels in triple-digit batches or individually
Dropshipping
Truly hands-off dropshipping.
Launch a dropshipping operation in a matter of clicks
Tag any product as drop shipped and assign it to a vendor
Choose between automated or manual routing
Activate a Vendor Portal between you and your supplier
Multichannel
We're your operations hub.
Integrate and view all of your sales and supplier channels in one spot
Use our open API to hook up any third-party or custom apps
Manage every aspect of your orders
Establish Supplier Feeds for real-time, back-end communication
Barcode Generation and Scanning
Raise the bar for stocking and packing.
Create UPC barcodes for your products
Scan, set, and search UPC codes for SKUs within Ordoro
Reduce fulfillment errors with our pack and pack barcode scanning workflow
Scan received POs to automatically adjust stock levels
Don't take our word for it
Our awesome customers have shipped some really great compliments our way:
"I spent about a month thoroughly searching for the right backend fulfillment software for my eCommerce business. There were definitely some big name guys out there that I considered, but at the end of the day, I went with Ordoro and I'm so glad I did!"

Tina Yarandi
Founder/CEO of Nature's Artisan
"Ordoro continues to add immensely valuable features to an already awesome sales/warehousing/shipping platform. Using Ordoro continues to save us time and money."

Anthony Krize,
VP of GE Holiday Lighting
Inventory Tracking
In the past, businesses selling tangible goods had to rely on a manual inventory tracking system, using the dreaded ledger pads, until spreadsheets came along (producing a collective sigh of relief among accountants everywhere).
So, when businesses talk about how they keep track of inventory meaning taking control of incoming and outgoing stock, they know that proper management and control of inventory is essential to the success of their business, whether a traditional brick-and-mortar storefront, warehouse, or online ecommerce.
Most newer businesses try to get by with an inventory tracking system free of charge, at least in the beginning when expenses are tight and income is just starting to flow in.
The trick is how to keep track of inventory free of charge while ensuring accuracy and dependability with whatever system is utilized.
The most common choices for free inventory management and tracking are:
Spreadsheets, such as Excel or Google Sheets, are normally downloadable for free
Open source software
Downloadable inventory PDF programs
Cloud-based programs
Inventory tracking management systems can utilize open source software, which is often used interchangeably with "free" and cloud-based or downloadable inventory PDF programs. While these programs are helpful for larger businesses able to afford trained IT staff to configure software for keeping track of inventory, this may not be a good choice for a smaller business whose owners and staff lack IT experience and knowledge.
The one positive thing about these is that they are downloadable and web-based, taking up less space than an installed program in a computer's hardware and servers.
As time passes and the business grows, entering data into spreadsheets or trying to keep downloaded open source software updated to meet business demands may prove too time-consuming – especially when coupled with a need to maintain control over the entire fulfillment and shipping process.
That's where Ordoro – a comprehensive ecommerce management system - comes in, as we'll explain in detail below.
Inventory Tracking Free
If you are looking for an inventory tracking app free of charge, you could try Excel inventory template with formulas and other small business inventory spreadsheet template programs including Google Sheets. Users have reported mixed results with a free Excel inventory template with formulas and other versions of inventory management excel template free download programs.
There is simple inventory software free as well as offline free inventory management software and free inventory software download programs are available but these have limitations and shortcomings. For example, some of these "inventory tracker free of charge" programs, such as Zoho, limit the number of sales and purchase orders, lack bin ID support and bill of material lists, and have little or no forecasting abilities. Plus, Zoho is generally limited to two users with just one location, creating user difficulties for multiple warehouses or distribution centers.
Business.org listed their picks for the best free inventory management programs for 2022, including Zoho (best for small businesses), inFlow (best local software), Odoo (best for growth) RightControl (best for ecommerce), and PartKeepr (best for manufacturers.)
Increasing numbers of apps are focused on free inventory management software for a PC, which meshes with the realities of today's ecommerce entrepreneurs, needing a simple inventory tracking app that's not limited just to phones and other devices.
Zoho Inventory has its positives but also drawbacks:
According to Juan M.: "We were disappointed to have to spend more time tweaking workflows in Zoho Inventory, to achieve a more customized product process for our complex operations – resulting in a rather painful and lengthy automation process."
Another reviewer reported that they had trouble with getting through to Zoho's support as well as getting timely responses about common software bugs that were causing problems in bug reports and feature requests. This creates delays and other obstacles to businesses trying to grow.
Inventory Tracking Excel
Creating a system of inventory management excel template free download lets users list items in stock according to name, description, unit price, and other information, although it's pretty limited to those tasks.
It's not difficult to learn how to keep track of inventory in Excel: the main point is to be accurate and make timely changes and updates right away before sales and changes occur, which is the best way to track inventory in Excel.
As previously discussed, the inventory tracking spreadsheet, including the retail inventory Excel template, has a place in retail inventory management but isn't the most efficient or accurate method for tracking inventory. Using the Excel inventory management template, you can enter data as well as track incoming and outgoing product movement. One drawback is that many manual inventory tracking sheets aren't customizable to integrate with fulfillment programs to handle non-inventory tasks.
Many small businesses start out using free inventory management software in Excel, including free Excel inventory template with formulas and other types of spreadsheets or downloadable free software. If you've spent any significant amount of time entering data into a spreadsheet format, whether inventory tracking spreadsheet Google sheets or using inventory tracking system Excel, you likely know how tedious and time-consuming it can be. Inventory tracking Excel spreadsheets aren't much help in tracking shipments, nor do they create labels, or help manage warehouse tasks without separate entries.
Some of the top reasons for using Ordoro's inventory management software designed for ecommerce instead of spreadsheets are:
Reduced inventory costs with improved monitoring and ordering capabilities to give restocking priority to items generating the most revenue
Improved inventory control over orders, showing real-time stock levels as well as projections for future requirements
With Ordoro, you'll get FREE onboarding for 30 days plus lifetime support from our experienced team. Contact Ordoro today for a demonstration and see how easy and affordable it can be to fully take charge of not only inventory but all aspects of your ecommerce business.
Inventory Tracking App
Having an inventory tracking app can really come in handy – especially for those owners needing more customizable options to suit their individual business needs. The market for apps has taken off, making choosing the right app a bit trickier. If you can't accurately and quickly track your inventory, you don't know how much is available to fill customer orders, how much to re-order, inventory financing, and so on.
We believe that the best inventory management app is produced by Ordoro – and our satisfied customers agree. It's easy to install and customize to use as it efficiently manages your incoming and outgoing inventory – including within a warehouse environment if need be.
(To be clear, when we discuss the inventory app, we're not talking about a phone app but something more akin to a secure and customizable plugin or other specialized assistance in managing your ecommerce business, including inventory. This type of app isn't to be confused with a personal inventory app used for taking inventory of your own home belongings and other non-business items – and which can be easily logged with a phone app.)
So, if you're a product-based business looking for the best inventory tracking system, including apps, you need to check out Orodoro.
According to a recent NerdWallet.com analysis, Ordoro scored among the top five in best inventory management app categories. Ordoro's app comes with other benefits like discounted UPS shipping rates, and customizable integrations, including multi-carrier and multichannel sales.
Here are several of Ordoro's top features that make it a winner:
Track and sync inventory with sales
Create and fill purchase orders
Scan barcodes
Discounted shipping by top carriers
Overall, the prize for the best inventory management software – and ecommerce management software in general– goes to Ordoro, including a barcode scanner app and other necessary apps to reduce fulfillment errors plus FREE 30-day onboarding and lifetime support.
Inventory Tracking for Small Business
Having good, reliable inventory tracking for small business is critical to your success. Many owners, especially when starting out, want to keep things as simple and inexpensive as possible – of course, there's nothing wrong with that.
Regarding which software is the best inventory tracking for small business, Zoho was rated best for "free" inventory tracking but as with anything else, you get what you pay for – or not.
Not only that, but a simple inventory tracking system using basic spreadsheets isn't able to automatically reorder replacement stock – they usually only show you when levels are getting lower, so you reorder in time to prevent out-of-stock items.
If you're looking for the best software for how to manage inventory, you need to look no further than Ordoro.
As a one-stop-shop sales and inventory management system, Ordoro is a leader in ecommerce management software.
To keep things as simple as possible, Ordoro's small business inventory management app can help owners easily manage their inventory with just a few clicks.
When considering the best ecommerce inventory management software to choose, your software needs to be able to perform these essential functions:
The ability to accurately and quickly track sales and POs (purchase orders).
The ability to organize product categories, as well as kitting and multiple-product bundles.
It should be user-friendly for the average employee to learn, without the need for expensive, time-consuming training.
Allow for centralized multi-channel listings to increase sales and enhance customer convenience, resulting in repeat orders.
Ordoro is the clear choice for taking charge of your ecommerce inventory tracking tasks as well as fulfillment, coordinating shipping carriers and rates, tracking shipments, and generating reports and analytics. Get your business off to the best possible start from the beginning by teaming up with Ordoro.