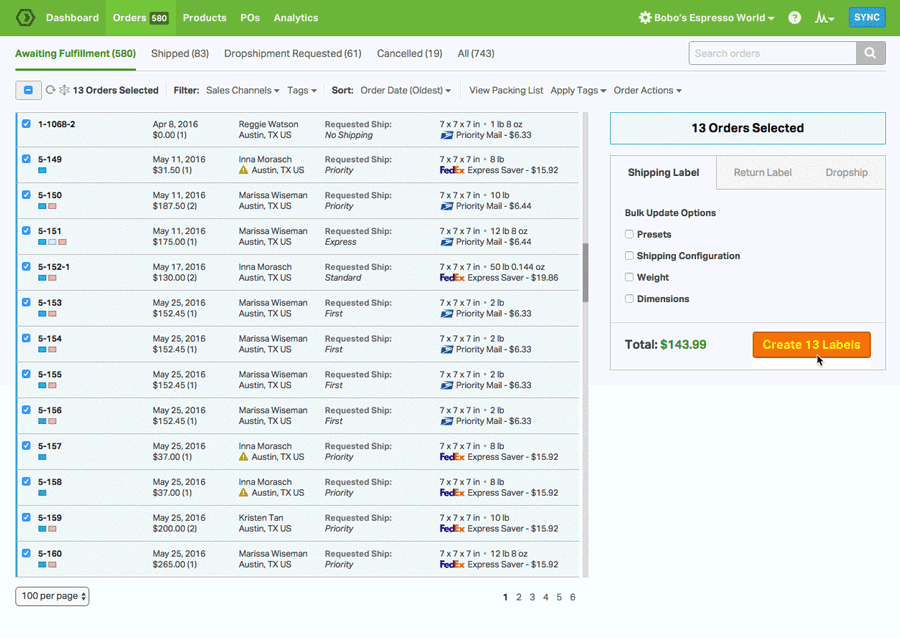 Automatically Manage Your Stock Levels With Our Inventory Tracking Software
The All-In-One Ecommerce Logistics Platform
Equip yourself with a comprehensive solution
Inventory Management
Stock, sync, and scan.
Automatically track and sync your inventory levels
Create and send out Purchase Orders when it's time to restock
Bundle multiple SKUs into one unit for sale
Use Barcode Scanning to reduce fulfillment errors
Multi-Carrier Shipping
Your workflow, minus the work.
Enjoy heavily-discounted shipping rates via USPS
Ship via any of our integrated shipping carriers like USPS, UPS, FedEx, DHL and Canada Post
Set up your own Automation Rules and Shipping Presets
Print shipping labels in triple-digit batches or individually
Dropshipping
Truly hands-off dropshipping.
Launch a dropshipping operation in a matter of clicks
Tag any product as drop shipped and assign it to a vendor
Choose between automated or manual routing
Activate a Vendor Portal between you and your supplier
Multichannel
We're your operations hub.
Integrate and view all of your sales and supplier channels in one spot
Use our open API to hook up any third-party or custom apps
Manage every aspect of your orders
Establish Supplier Feeds for real-time, back-end communication
Barcode Generation and Scanning
Raise the bar for stocking and packing.
Create UPC barcodes for your products
Scan, set, and search UPC codes for SKUs within Ordoro
Reduce fulfillment errors with our pack and pack barcode scanning workflow
Scan received POs to automatically adjust stock levels
Don't take our word for it
Our awesome customers have shipped some really great compliments our way:
"I spent about a month thoroughly searching for the right backend fulfillment software for my eCommerce business. There were definitely some big name guys out there that I considered, but at the end of the day, I went with Ordoro and I'm so glad I did!"

Tina Yarandi
Founder/CEO of Nature's Artisan
"Ordoro continues to add immensely valuable features to an already awesome sales/warehousing/shipping platform. Using Ordoro continues to save us time and money."

Anthony Krize,
VP of GE Holiday Lighting
Inventory Tracking Software
In the age of modern technology, any good inventory system includes inventory tracking software. No matter how tech-savvy you are, sometimes what's advertised as simple inventory software for small business can be anything but simple to learn to use. That's especially true of spreadsheets. While the built-in math functions are great, having to enter all that data by hand isn't so great. In fact, it's one of the leading causes of fulfillment errors like customers receiving the wrong item—or your business receiving 1000 widgets instead of the 100 you thought you'd ordered. When it comes to tracking inventory, single-digit mistakes can result in triple-digit losses. Ordoro's inventory management software was designed specifically for ecommerce. It gives you the power to easily create barcodes for all your merchandise and scan every item into your system in a fraction of the time while making the process error-free. With Ordoro's automation capability, your stock levels are adjusted automatically with every sale. You can even set it up to automatically create purchase orders for items when they reach a certain level in stock. Because they offer free 30-day onboarding to help you customize it for your specific business and teach your employees to use it, they don't just say it's simple, they show it. No matter how many suppliers and carriers you use, you can view and manage them all from a single dashboard.
Inventory Management Software Free
When you're first starting a new business, the definition of "affordable" is often limited to "best inventory management software free", at least for a while. Even the best inventory management software free offer has limitations, though, especially if your goal is to expand your business. Three of those limitations are functionality, scalability, and security. Free versions of software usually allow only the most basic functions, reserving the most popular features for paying customers. They also limit the number of orders, customers, or both, that you can have before using the software is no longer free. That means that just when you start achieving some success, you'll have an unexpected expense that might be bigger than what your monthly budget can handle or have to find, learn and teach your employees a whole new system—and fast. Neither of those things are good for your business or your stress level. The third limitation, security, means that since the software is free, there is no guarantee that your customers' personal information will be kept secure. Ordoro's software engineers take pride in having developed a comprehensive system specifically designed for ecommerce—and keeping the technology cutting edge as well as secure.
Inventory Management Software Open Source
The limitations of a free inventory management system start to outweigh the benefits once you develop a solid customer base. That's especially true when it comes to stock management software free, because there is just so much more potential for human error. Human error is one reason that so many people switch from using free inventory management software in excel to Ordoro. If you see an offer for an "inventory management software open source" package, you can expect to see some great features that use the latest technological advances. Unfortunately, they usually haven't worked all the bugs out of them yet, either. With open source software, with every new development, there's also the potential for hackers to exploit it before adequate security is developed to accommodate it.
There's also much more potential for hackers to exploit inventory management software open source than software with professional engineers managing and testing every new development extensively before updating their system. Other simple inventory software free offers require you to know some coding in order to be able to utilize it. Ordoro's engineers take care of all the coding, testing, and security for you. Unlike open source software, nobody can change the code unexpectedly and make the system work differently than the way you've learned to use it.
Stock Management System
There are two major types of stock management systems, periodic and perpetual. Most small businesses, when they're new, use the periodic stock management system. This method is great for businesses with minimal inventory because it requires physically counting inventory at specific intervals of time. Using those counts, you can then perform calculations about how much stock and what types of stock you need to order to meet customer demand. Once they reach a certain level of success, it becomes necessary for them to switch to the perpetual stock management method. Because the numbers are much higher, this method requires an electronic tracking and point of sale system. Switching to a well-automated stock management system is one of the best and most important investments you can make in your small business. That's why it's a good idea to take advantage of as much research as possible. Software engineers at Ordoro did their research by interviewing almost a hundred small business owners. They asked what features they would use most and what features they couldn't find but needed. In short, they asked them to list every feature that the comprehensive system of their dreams would include. Then they used that information to develop just that dream system.
Warehouse Inventory Management Software
If you're researching "best inventory management software" or "best warehouse management software", that probably means that your business has grown too big for all your inventory to be stored in your garage. It also means that you should settle for either one or the other, but find a system that offers both—and more. If you own a drop-shipping business, you probably pay a percentage of your sales for storage in warehouses that belong to the suppliers you partner with. They might even have their own warehouse management software. While that might be convenient, it doesn't allow you to integrate easily with other suppliers. That's why Ordoro's comprehensive ecommerce package includes the best warehouse inventory management software as well as everything you need for drop-shipping. Its multi-channel integration allows you to manage multiple products, services, suppliers and shipping carriers simultaneously from the same platform. You'll know exactly what products are where at any given moment, so you can make your most popular products easily accessible. You'll also have the ability to store items you want to bundle or kit in close proximity to reduce storage and shipping costs. In today's fast-paced world of ecommerce, when many customers only expect same-day delivery because time travel to make deliveries yesterday is still not possible, investing in a warehouse management system for small business is the best gift you could give your future self.
Inventory Tracking Software For Small Business
The engineers at Ordoro listened when small business owners told them that the best inventory management software for small businesses would help them get all the hard work done behind the scenes so they could focus on their customers. Ordoro's automated inventory tracking software for small business does just that. It gives you more time to find great new products to offer your customers—and create fun, interactive ways to sell them. Without being chained to antiquated software and having to manually enter data or stop everything to hand-count inventory, you'll be able to accomplish more. Having the best inventory management software for ecommerce on your payroll is like having a team of employees working around the clock, but you don't have to pay any overtime. The best inventory tracking software for small business allows you to access items to pick, scan, and pack, mark orders as complete after filling them, print shipping labels in batches, and find the least expensive shipping option-- all with a few clicks of a mouse. You can share as much or as little of your shipping information with customers as you choose. Some people like to include a shipping calculator right on their storefront website. Others prefer to take advantage of the deep industry shipping discounts that Ordoro provides and pass them along to customers in the form of free shipping for orders over a certain dollar amount. With Ordoro, you make the rules. Their engineers made sure that their system has every feature small business owners need to succeed at a fraction of the cost of systems utilized by successful corporations.
Best Inventory Management Software
When it's time to invest in an inventory management software system, it's not easy to decide which would be the best inventory management software for your specific type of business. The ability to customize is important. The fact that it includes an open API so people can design and use their own apps, making it even more customizable, is another feature that makes it the best inventory management system for small business. After switching to inventory software for small business with scanner capabilities, you'll be amazed at the results. Having warehouse inventory management software with barcode scanner capability opens up a whole new world. No matter how many storefronts, suppliers, or shipping carriers you utilize, Ordoro's multi-channel integration allows you to view and control every channel with ease. Their comprehensive system integrates seamlessly with all the heavy hitters in the ecommerce industry, making it the best inventory management software for Shopify, Amazon, or eBay. Whoever you decide to partner with, you'll have all of its powerful features at your command. Ordoro's inventory management system for small business includes multi-channel integration, inventory and warehouse management, multi-carrier shipping, and last, but definitely not least, data analytics to inform your most important decisions. Their lifetime support includes a free 30-day onboarding to show you exactly how to set automation rules to streamline all your business processes for maximum efficiency.