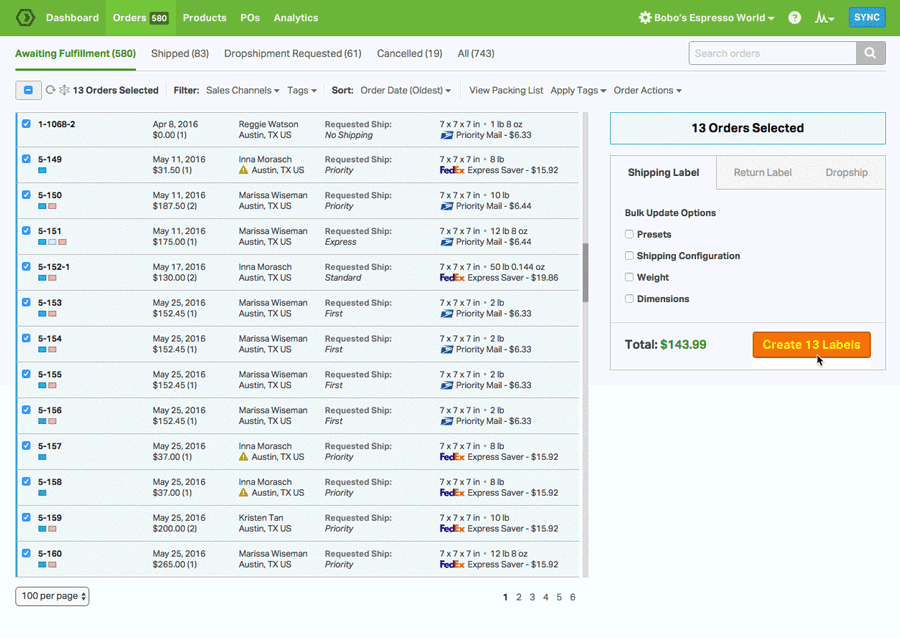 Order Processing System That Saves You Time And Money
The All-In-One Ecommerce Logistics Platform
Equip yourself with a comprehensive solution
Inventory Management
Stock, sync, and scan.
Automatically track and sync your inventory levels
Create and send out Purchase Orders when it's time to restock
Bundle multiple SKUs into one unit for sale
Use Barcode Scanning to reduce fulfillment errors
Multi-Carrier Shipping
Your workflow, minus the work.
Enjoy heavily-discounted shipping rates via USPS
Ship via any of our integrated shipping carriers like USPS, UPS, FedEx, DHL and Canada Post
Set up your own Automation Rules and Shipping Presets
Print shipping labels in triple-digit batches or individually
Dropshipping
Truly hands-off dropshipping.
Launch a dropshipping operation in a matter of clicks
Tag any product as drop shipped and assign it to a vendor
Choose between automated or manual routing
Activate a Vendor Portal between you and your supplier
Multichannel
We're your operations hub.
Integrate and view all of your sales and supplier channels in one spot
Use our open API to hook up any third-party or custom apps
Manage every aspect of your orders
Establish Supplier Feeds for real-time, back-end communication
Barcode Generation and Scanning
Raise the bar for stocking and packing.
Create UPC barcodes for your products
Scan, set, and search UPC codes for SKUs within Ordoro
Reduce fulfillment errors with our pack and pack barcode scanning workflow
Scan received POs to automatically adjust stock levels
Don't take our word for it
Our awesome customers have shipped some really great compliments our way:
"I spent about a month thoroughly searching for the right backend fulfillment software for my eCommerce business. There were definitely some big name guys out there that I considered, but at the end of the day, I went with Ordoro and I'm so glad I did!"

Tina Yarandi
Founder/CEO of Nature's Artisan
"Ordoro continues to add immensely valuable features to an already awesome sales/warehousing/shipping platform. Using Ordoro continues to save us time and money."

Anthony Krize,
VP of GE Holiday Lighting
Order Processing System
What is an order processing system and how is it related to customer order management?
When a customer places an order, data is captured, either from customer service employees or from customers directly, as with online orders, and sends this information to the accounting and shipping departments. From there, it goes to inventory and fulfillment.
An automated order processing system linked to these provides tracking data on orders and inventory from picking and packing to shipment and delivery. It's critical that customer order processing be filled on time and with 100% accuracy for customer satisfaction and repeat business. An automated order processing system reduces errors and speeds up processing with more efficiency, improving a customer's experience and ultimately, your company's profits.
In other words, the functions of order processing are made up of the process, or workflow, from order placement to delivery, as described above. Reliability and accuracy are critical to customer satisfaction, which in turn results in repeat orders.
The elements in order processing include capturing the customer's order data, picking, sorting, tracking, and shipping. Methods can range from manual (hand-written or typed orders on an order log sheet) to technical, data-driven processes (as with online orders).
Customer order management processes and related systems can seem to be adding more time and "red tape" to your operations, especially if you're new and already have multiple expenses and concerns.
A good system can help:
Keep from over-and understocking – you should be able to see in real-time exactly how much of any type of product you stock
Fewer mistakes when fulfilling orders – especially if business is taking off with orders arriving 24/7 from around the world!
Data-driven decisions based on reliable real time information
Less time wasted spent managing product inventory, picking and shipping, and handling customer-service tasks such as refunds, when you could (and should) be making better use of your administrative time.
Order Processing Steps
The order processing steps include picking, sorting, tracking and shipping. Methods can range from manual (hand-written or typed orders on an order log sheet) to technical, data-driven processes (as with online orders). The omnichannel process, which can be incorporated into an automated program, also creates opportunities for making up-selling and cross-selling recommendations to increase revenue.
Ordering process steps generally include the following:
Accepting the order, including entering it into the system
The order's details are sent to inventory, where employees in the warehouse or other distribution center picks and packs up the items to be shipped
Picking and packing the items (once confirmed available in the inventory)
Shipping items ordered with the appropriate carrier
Tracking the movement of the items until finally delivered to the customer
A smart merchant or seller also does a follow-up with the customer after delivery is made, to determine their satisfaction with the order and fulfillment process.
Online order processing steps are more likely to be fully automated than OMS than other types of businesses. Ecommerce has taken off like a rocket, especially in the past 20 years, with millions of buyers shopping the internet daily, making immediate availability and shipment as well as follow-up a necessity to do business in the first place.
The order processing cycle runs from the time an order is placed to the picking, packing, shipping, tracking and delivery. It's a critical part of the supply chain process, which can be described as the streamlining of commerce activities to meet customer needs within a designated timeframe, including transportation of products from manufacturers to warehouses, distribution centers or other sales points and finally to intended customers.
Ordoro's software includes thoughtfully-designed apps and plugins that take you from every stage of your business, from novice startup to a thriving, established ecommerce enterprise.
Order Processing System Examples
What types of order processing are available? There's manual processing by hand, which is how things used to work at a slower pace before the Internet. Lacking an automated order processing system can hamper the growth of your business as you risk falling behind on trying to fulfill every single order on your own.
The types of order processing system requirements can include manual for small non-ecommerce businesses, such as small shoe repair shops, and automated for ecommerce receiving many daily orders, reducing errors and speeding up processing with more efficiency, improving a customer's experience and, ultimately, your company's profits.
One order processing example would be order entry and validation of the customer's / user's input into the system. Additional order processing system examples include:
Credit verification, to ensure that the customer is qualified to buy before the order is fully placed and processing payments
Order processing, including integrating data into subscribing systems
Billing and invoicing are generated once the order is set up and customer information entered
Product sourcing, creating purchase orders and adding to inventory to maintain adequate stock levels
Packing and shipping the order as well as selecting the best shipping method
Customer service is another important function during the buying and shipping processes as well as handling requests and other inquiries and post-delivery feedback from customers.
A couple of examples of order management systems are SmartShip and ShipBob, both of which offer full control over all of your order operations, and your ability to be able to respond quickly to incoming orders as well as complaints, inquiries and other matters requiring your immediate attention.
However, if you're looking into a fully integrated system, look no further than Ordoro, a leader in the ecommerce software management industry. You'll be able to manage your entire ecommerce operations with just a few clicks of the mouse: your entire inventory management, tracking product movement including adding purchase orders, to picking, packing, label creation and the rest of the fulfillment process, including delivery tracking.
Order Management System for Small Business
What should you look for in an order management system for small business? An order management system (OMS) should enable you to:
Centralize order operations, including inventory management and tracking, to get your order information into the right departments.
Provide seamless integration with inventory, fulfillment and shipping tasks as well as choose carriers
Increase the speed for processing orders, allocating to shipping facilities and choosing the best, fastest method of fulfillment.
Automate email with triggers for milestones such as order confirmation, shipping and tracking, delivery and post-delivery customer feedback.
Automating routine manual tasks, such as data entry, can reduce shipping errors: the fewer the manual processes, the fewer chances for errors.
Free up staff time to focus on other processes that improve the customer experience, by increasing your fulfillment department's efficiency and automating more routine jobs.
To accomplish the above tasks, you need to look for software that offers:
Scalability – the ability to adjust inventory to highs and lows in volume demand, without causing disruption to your OMS operations, as well as the ability to grow with you as your business grows without needing to implement a new system
Seamless integration with inventory, fulfillment, including warehouses, and multichannel sales as well as multi-carrier integration
Real-time inventory management and tracking
Integration with multiple warehouse or distribution locations
The role of order processing in supply chain management affects every process within order fulfillment, including accurate inventory management, which is necessary to supervise the movement of products in real-time from manufacturers, to warehouses and to other sales points.
An automated customer order processing system, like what is offered by industry-leader Ordoro that is fully integrated with all of your sales channels, able to adjust inventory levels in real-time, in response to customer orders as well as your own incoming purchase orders, is therefore critical to your ecommerce business success.
Online Order Management System
A good online order management system should optimize the following:
Streamline workflows, including omnichannel inventory management
Expedite shipping label creation, whether in bulk batches or single labels
Automate the fulfillment pick/pack process and dropshipping (when applicable)
Scalability: the ability to be agile and versatile and able to manage operations whether at unexpectedly low or high volumes, adjusting to peaks in demand as well as troughs can make the difference between being competitive or not
Software that are easily customizable, as found with omnichannel fulfillment, expedites meeting customers where they are, ensuring a more seamless buying experience
You may wonder what order management in supply chain processing systems means. Order management impacts virtually every process and system within the supply chain. For example, most organizations today don't have a fully self-contained order management within their companies.. Instead, multiple partners are involved: parts or components suppliers, warehouses or other distribution centers, assembly and fulfillment services – each step makes it easier to lose control and visibility of an order. The end result is lost time and income when manual processes are involved, making an automated OMS a critical part of doing business online.
An online sales order processing system, briefly defined, is the coordination of the functions of the chain of orders though fulfillment and final delivery.
What makes a good order management system? When your software, plugins, and so one can coordinate and control the complex phases of running an ecommerce business, then you have a winner. Ordoro fits that description perfectly, with its thoughtfully-designed apps and plugins that take you from every stage of your business, from novice startup to a thriving, established ecommerce enterprise.
As a superb platform for any ecommerce online store or enterprise in Ordoro, you'll have access to multichannel integration, inventory management, multi-carrier shipping, including discounts through the USPS, kitting, pick/ pack lists, label creation, fully-automated order fulfillment processes, analytics, FREE 30-day onboarding and lifetime customer support.