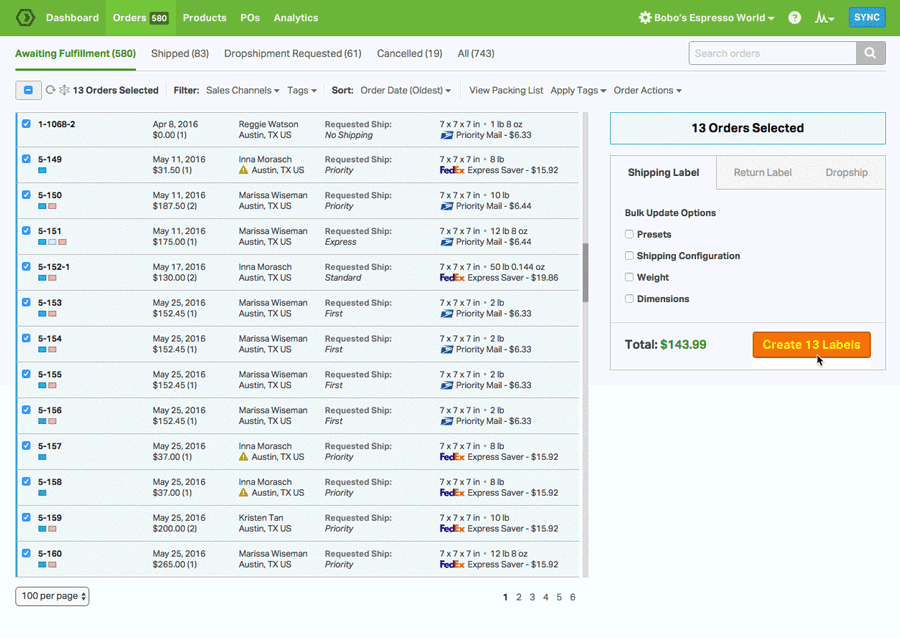 Effortlessly Manage Your Stock Levels With Our WooCommerce Inventory Management Software
The All-In-One Ecommerce Logistics Platform
Equip yourself with a comprehensive solution
Inventory Management
Stock, sync, and scan.
Automatically track and sync your inventory levels
Create and send out Purchase Orders when it's time to restock
Bundle multiple SKUs into one unit for sale
Use Barcode Scanning to reduce fulfillment errors
Multi-Carrier Shipping
Your workflow, minus the work.
Enjoy heavily-discounted shipping rates via USPS
Ship via any of our integrated shipping carriers like USPS, UPS, FedEx, DHL and Canada Post
Set up your own Automation Rules and Shipping Presets
Print shipping labels in triple-digit batches or individually
Dropshipping
Truly hands-off dropshipping.
Launch a dropshipping operation in a matter of clicks
Tag any product as drop shipped and assign it to a vendor
Choose between automated or manual routing
Activate a Vendor Portal between you and your supplier
Multichannel
We're your operations hub.
Integrate and view all of your sales and supplier channels in one spot
Use our open API to hook up any third-party or custom apps
Manage every aspect of your orders
Establish Supplier Feeds for real-time, back-end communication
Barcode Generation and Scanning
Raise the bar for stocking and packing.
Create UPC barcodes for your products
Scan, set, and search UPC codes for SKUs within Ordoro
Reduce fulfillment errors with our pack and pack barcode scanning workflow
Scan received POs to automatically adjust stock levels
Don't take our word for it
Our awesome customers have shipped some really great compliments our way:
"I spent about a month thoroughly searching for the right backend fulfillment software for my eCommerce business. There were definitely some big name guys out there that I considered, but at the end of the day, I went with Ordoro and I'm so glad I did!"

Tina Yarandi
Founder/CEO of Nature's Artisan
"Ordoro continues to add immensely valuable features to an already awesome sales/warehousing/shipping platform. Using Ordoro continues to save us time and money."

Anthony Krize,
VP of GE Holiday Lighting
WooCommerce Inventory Management
WooCommerce is designed for online merchants as an open source ecommerce plugin for WordPress. Launched in 2011, the plugin serves small to large businesses and quickly became popular due to ease of installation and ability to be customized to fit most types of ecommerce businesses. While many of its extensions are now paid and proprietary, its base product has a solid market position as freeware.
Because the platform soon recognized that it wasn't able to meet all the specific needs of its millions of users, it was designed as a flexible CMS, able to be customized to accept third-party plugins to increase functionality.
From the start, there was demand for add-ons to aid inventory management, and currently are dozens of free and paid plugins for that purpose. Unfortunately, many of those are a mixture of being easy to use and implement but sometimes fall short in scalability as a business grows as well as not fully customizable to meet a business's needs.
WooCommerce inventory management plugins take up time and effort updating and maintaining, which can cause some real problems if an outdated plugin isn't compatible with the latest versions of WooCommerce and WordPress.
SMEs wanting to optimize inventory management have been turning to third-parties; like SkuVault, Ordoro and others for inventory management integration with WooCommerce.
In addition, the WooCommerce inventory tracking seems prone to cyber attacks and "buggy" behavior.
Some drawbacks are that it works better for simple products rather than variable stock, the import/ export features aren't always reliable, the plugin updates slowly, making it non-functioning following new WordPress updates.
As many of you may know, you can use a barcode scanner to enter codes into Excel and other spreadsheets, provided you have the right app to do so, such as developed by Ordoro. Once scanned small business owners can then track inventory, however there will have to be time spent on updating and editing the spreadsheets as new inventory is added and existing stock is sold.
WooCommerce Inventory Management Free
There are also some paid plugins, such as WooCommerce Stock Manager, currently the most popular inventory management plugin in use on WordPress. At present Stock Manager costs between $9 - $46 for licensing. The plugin is intended to be adaptable to simple and variable products, notify when stock runs low, exports product data to Google Spreadsheets, Excel, and other forms of tracking, permits tracking and updating inventory on a multiple sales platforms such as eBay and Amazon, and a host of other useful features.
The above plugin isn't free; like most open source material, there's a license fee to be paid. What about software or plugins that are actually free, not including free trials, when owners are faced with so many other expenses? There are some WooCommerce inventory management free options such as spreadsheet programs like Excel that can work for new, smaller businesses in the beginning, but ultimately they can't grow with your business, and worse, can be time wasters, what with copying/pasting, and constant updating with every change, no matter how small.
This is because none of these spreadsheet programs were intended primarily for managing inventory, especially when it involves hundreds of different items. Most newer ecommerce businesses would probably be better advised to move away from the WooCommerce inventory management plugin free limitations and utilize a more cost-effective software system.
WordPress Inventory Management
WordPress inventory management doesn't stand alone on its own; that's why WooCommerce was created along with its numerous plugins. As a customizable CMS it was designed to accept third-party plugins to extend its functionality for a wider range of applications. Most WordPress plugins such as Stock Manager, Smart Manager and others, whether paid or free, all have limitations, with some of the most problematic being their vulnerability to cyber attacks and just plain unreliability as well as difficulty in updating in a timely manner to keep up with the updates on WordPress itself.
While over 20,000 active installations since the end of 2020 are using an inventory management WordPress plugin such as Stock Manager, there are also many users who find it lacking in many areas. It can be easy to use and implement but can come up short in scalability as the ecommerce business grows. Furthermore, not every WordPress inventory management plugin is as fully customizable to meet a business's needs as promised by their developers.
To help bridge some of the limitations of WooCommerce Inventory Management, the WordPress Inventory Management suite from SkuVault takes things a step further with its ability to do everything the WooCommerce apps should do but also track and trace more complex variable stock items. It collects data from all aspects of your ecommerce business for real-time transparent reporting, so you don't risk losing information from glitches in exporting data.
The WordPress barcode scanner plugin, known as "Scanventory" is part of the WordPress suite of apps and plugins. It's a helpful mobile inventory management app that can allow barcode scanning and entry into an Excel or other spreadsheet program, generate labels and assign a QR code to enable scanning or editing through a phone or tablet. The WordPress asset management plugin is another part of that suite. WordPress Inventory tracking can locate items more complex than the older WooCommerce Inventory Management plugin.
WooCommerce Inventory Management Barcode
Every product needing a barcode can easily be scanned and entered into an inventory system with the WordPress plugin Scanventory, in tandem with the WooCommerce barcode generator. Scanventory is part of the suite of apps and plugins. It's a helpful mobile WooCommerce inventory management barcode plugin that can allow barcode scanning and entry into an Excel or other spreadsheet program, generate labels and assign a QR code to enable scanning or editing through a phone or tablet.
Scanventory isn't a free plugin, but can easily pay for itself with just a few product order scans, making tracking inventory easier and more accurate than manually tracking incoming and outgoing shipments. You can count on the WooCommerce Inventory Management extension for a better warehouse management solution, resulting in fewer lost sales from out-of-stock products.
Using the WooCommerce Barcode Generator generates a unique barcode for each product order placed on your site, letting you choose from five types (standard to QR) which can be scanned and processed directly on site. Barcodes can be used for e-tickets, e-reservations, packing slips or anything else needing scannable barcodes attached for tracking. The system even works with spreadsheets, when you have the right app as developed by Ordoro, making tracking inventory easier than before.
WooCommerce Order Management Plugin
Managing orders is a critical part of any ecommerce operation, and WooCommerce created a number of plugins to help users take control over orders, including WooCommerce stock indicator, as well as inventories. While WooCommerce's original plugins served their purpose for many users, those trying to expand their businesses found the plugins, including the better-rated WooCommerce order management plugin Store Manager, frequently didn't live up to their hype. Long minutes spend scrolling through inventory lists, data that wouldn't export correctly, outdated plugins making interfacing to the software useless, - the list goes on.
SkuVault's alternative to (StoreApps) Smart Manager provided a more workable solution to many of the above problems by requiring only one license instead of dealing with multiple and confusing licenses as well as accidental downgrades and being powerful enough to integrate bulk inventory, while keeping a user-friendly single-screen interface. In addition, it offers a full array of seamless customer support services as well as training assistance.
The WooCommerce stock management variations as well as WooCommerce product management plugin worked well, at least for smaller businesses and overall received decent reviews, but the SkuVault improvements along with those by Ordoro's order and inventory management plugins seem to have the edge with inventory and order management.
Best WooCommerce Inventory Management Plugin
There are a large number of apps and plugins for successfully managing inventory whether WooCommerce, Amazon, eBay or Shopify. While WooCommerce's original plugins served their purpose for many users, those trying to expand their businesses found the plugins (including tthe better-rated WooCommerce Store Manager) frequently didn't meet initial expectations. Users spent too much time scrolling through data lists, information wouldn't export correctly, plugins slow to update rendered updated software useless, and so on.
The SkuVault Smart Manager alternative provided a better solution to many of the above problems, but for those looking for a best WooCommerce inventory management plugin, there's another excellent alternative: Zorem's Advanced Shipment Tracking Pro, a plugin that enables Ordoro to write back information in WooCommerce's shipment tracking field for partly or fully shipped orders.
For just $129/year, with a free trial available, Zorem brings your sales channels together to unify inventory, ensures that quantities are accurate and synced across all channels, uses the kitting feature to bundle multiple products into a single SKU for sale, and sends out restock purchase orders with just a few clicks.
The app offers shipping savings rate discounts with USPS, prints shipping labels individually or by batch, integrates accounts with major carriers, implements shipping rules for better workflow, and auto-updates tracking information to WooCommerce. It coordinates with dropshipping products and suppliers, links your market channels to the app, whether WooCommerce, Amazon or others, and handles revenue, expenses and profits for real-time access to status in one place.
This WooCommerce inventory management app is one of the best we've seen – and we've seen plenty. Contact Ordoro, a leader in shipping and inventory platforms, to set up a FREE demo with FREE 30-day onboarding and take charge of your inventory and shipping now!