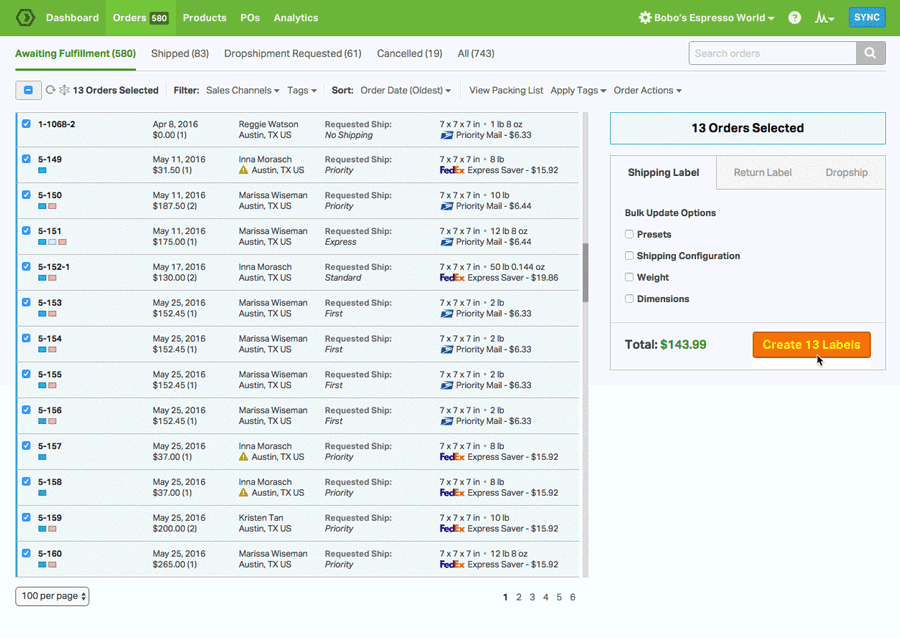 Discover The Best Clothing Inventory Management Software
The All-In-One Ecommerce Logistics Platform
Equip yourself with a comprehensive solution
Inventory Management
Stock, sync, and scan.
Automatically track and sync your inventory levels
Create and send out Purchase Orders when it's time to restock
Bundle multiple SKUs into one unit for sale
Use Barcode Scanning to reduce fulfillment errors
Multi-Carrier Shipping
Your workflow, minus the work.
Enjoy heavily-discounted shipping rates via USPS
Ship via any of our integrated shipping carriers like USPS, UPS, FedEx, DHL and Canada Post
Set up your own Automation Rules and Shipping Presets
Print shipping labels in triple-digit batches or individually
Dropshipping
Truly hands-off dropshipping.
Launch a dropshipping operation in a matter of clicks
Tag any product as drop shipped and assign it to a vendor
Choose between automated or manual routing
Activate a Vendor Portal between you and your supplier
Multichannel
We're your operations hub.
Integrate and view all of your sales and supplier channels in one spot
Use our open API to hook up any third-party or custom apps
Manage every aspect of your orders
Establish Supplier Feeds for real-time, back-end communication
Barcode Generation and Scanning
Raise the bar for stocking and packing.
Create UPC barcodes for your products
Scan, set, and search UPC codes for SKUs within Ordoro
Reduce fulfillment errors with our pack and pack barcode scanning workflow
Scan received POs to automatically adjust stock levels
Don't take our word for it
Our awesome customers have shipped some really great compliments our way:
"I spent about a month thoroughly searching for the right backend fulfillment software for my eCommerce business. There were definitely some big name guys out there that I considered, but at the end of the day, I went with Ordoro and I'm so glad I did!"

Tina Yarandi
Founder/CEO of Nature's Artisan
"Ordoro continues to add immensely valuable features to an already awesome sales/warehousing/shipping platform. Using Ordoro continues to save us time and money."

Anthony Krize,
VP of GE Holiday Lighting
Clothing Inventory
If you have a retail or ecommerce business selling clothing, you might wonder whether inventory management programs are for you. Are they more suited for other kinds of businesses that sell products, whether it's books or gifts or an array of things? Truth is, clothing is a type of product too, and your clothing business is just that… a business. That means clothing inventory management could help your business just as much as it helps any other type of business that sells products of one sort or another.
How does clothing inventory work? It gives you a system to track your clothing inventory and sales. If you run your store with no real inventory system, you're likely to lose track of what you have and how much is selling. You'll be disorganized, more stressed, and likely to lose money. While it may be okay to get started this way, in time you'll need a system to manage your business, especially to help it grow.
For clothing inventory, you treat each piece of clothing as a product. Track the amount of each piece, broken down by type, that you have in stock, and then track when you sell each one. For instance, your inventory might include 50 black t-shirts, 50 white t-shirts, and so on. By tracking sales, you'll know when your inventory gets low and you need to reorder. You'll also see trends, get an idea of popular and unpopular items, find it easier to plan ahead, and gain other benefits.
Clothing inventory management helps you streamline this part of your business, just as you might create systems for payroll, marketing activities, and other aspects. You have options for keeping track of clothing inventory, such as a template, a spreadsheet, or clothing inventory management software.
Clothing Inventory Template
One option available is to use a clothing inventory template. This allows you to find a clothing inventory template free of charge on the internet that someone has created and shared, whether it's a free Excel clothing inventory template or something else. Or you could design your own simple template to fit your current needs. There is also clothing inventory software free of charge that can help businesses like yours in the beginning.
A free clothing inventory spreadsheet template can get you started so you keep track of supplies and sales. It's better than having no system at all. However, there are definite downsides to an apparel inventory tracking spreadsheet free of charge, or worse yet, a template that's not even specialized to the type of business you have. What's the problem with these templates? They only offer basic capabilities that you have to enter by hand for each sale. There are a lot of opportunities for error, and it doesn't streamline your businesses like software would.
These templates generally don't have all of the features that you would need or that would improve your processes. You might be able to track the number of pieces of clothing you have with a free t shirt inventory spreadsheet, but it won't automatically update your inventory when you make a sale, handle dropshipping, help you manage various shipping carriers, and all of the other features you can get from the best inventory software.
In the end, free options like templates or free software only hold your business back. In time, you'll be more organized with more opportunities to grow and thrive if you have clothing inventory management that can keep up with your needs and help you with forward movement. Good software is a business investment worth making that will pay off in revenue and growth.
Clothing Inventory Management Excel
Microsoft Excel is one of the programs you can rely on to create an inventory template or use one that somebody else created. Excel is a common program to have access to, so it makes it easy to use a clothing business inventory Excel template. Nonetheless, you could instead create a clothing inventory template Google Sheets if you prefer to use Google instead of Microsoft services. You can create the same type of basic clothing spreadsheet with either type of program.
Excel offers a quick, easy, and cost-effective way to start tracking your business inventory. You can create or find a clothing inventory management Excel template that helps you know how much clothing you have, break it down by type, and track your sales. It's very good to get organized and have a process for managing your inventory, as this is the way to have a successful and thriving business. Without a system, you're likely to run around like a chicken with its head cut off – in other words, you'll be disorganized without a clear idea of what's going on in your business or where to go from here.
All of this said a clothing inventory list Excel template comes with the downfalls of any free template, spreadsheet, or free clothing inventory management app. It's limited. It only allows you the most basic tracking, and it leaves you open to human error. If you forget to manually enter something, your inventory won't be updated. Also, this kind of system may work in the beginning but won't help you grow. It inevitably holds you back by making everyday business processes more complicated and time-consuming, and by failing to give you the tools that enable your business to seamlessly grow. Rather than using an Excel spreadsheet, consider the tools and benefits the best inventory management software could provide for your business, and think about the potential return on investment.
Wholesale Boutique Clothing
Maybe you're already working with wholesale clothing, or it could be something you're considering for your business. Wholesale clothing is quite simply apparel that comes in bulk to cut down the price of each item. Generally, your retail or ecommerce clothing business would purchase wholesale boutique clothing in large quantities at low prices for each piece, and then turn around and sell this apparel to your customers at a higher price for each item. This system allows your store to have a good stock of clothing while helping you make a good profit on each piece.
Each wholesale item tends to come at a significantly lower price than retail pricing, making it easier to afford and creating a much higher margin for good profits. This makes good business sense. It especially makes sense to order wholesale for items that are popular and sell well. This system ensures you'll keep up with inventory and make better profits on these best sellers.
You might wonder how to get inventory for boutique clothing stores. You can easily search and find quality wholesale sellers online that can offer fast and quality items. The products are generally already made and ready for shipment, so you receive your bulk order quickly to turn it around to your customers. You may need to compare products, prices, reviews, and other aspects of various businesses to find the best one for your needs.
Once you're working with large quantities of clothing like you would through wholesale shipments, you need to properly track your inventory to keep up with everything. This is when the free templates don't cut it and it's time to consider a good inventory management system.
You might want a point of sale (POS) software for clothing store processes, as this type of software can help you manage inventory as well as online ordering, payment processing, customer data, marketing, and more. Boutique inventory management can provide features like automatically tracking your sales and updating your inventory lists. Your business will become great at being on top of orders, knowing when you need to reorder, and providing a great customer experience.
Clothing Inventory Management App
When you see all of the features offered by clothing inventory software and compare it to your free Excel sheet or template, you'll notice the difference. A clothing inventory management app or software like Ordoro can do significantly more for your business than a simple clothing inventory list. It gives you all of the capabilities you need now, regardless of whether you're a startup or a thriving ecommerce business, and it can also keep up as you grow, providing service that helps you act like an enterprise business.
Ordoro is the best clothing inventory app for giving you the tools you need to track inventory and manage shipping. While Ordoro works for all ecommerce businesses, it can act as the clothing inventory app you need. Its features streamline the inventory process, taking it off your hands so you don't have to worry about it. It can automatically sync and track your clothing. You can even easily bundle apparel products within the system to sell more than you would have individually.
When you use Ordoro as your software for clothing business processes, it gives you a barcode scanner feature that helps you easily fulfill orders. The system can see when you need to restock shirts, pants or anything else and automatically develop purchase orders. It helps you ship with multiple shipping carriers, making it simple to manage shipments through your main hub. One of the main ways Ordoro beats out simple spreadsheets is that it automates tracking and functions, so there is no human error and everything is taken care of for you. You have more time for other areas of your business… you know, the ones you dreamed about when you started your business in the first place. This is how to better manage your business and allow it to grow. These are just some of the robust features you can expect from this software.