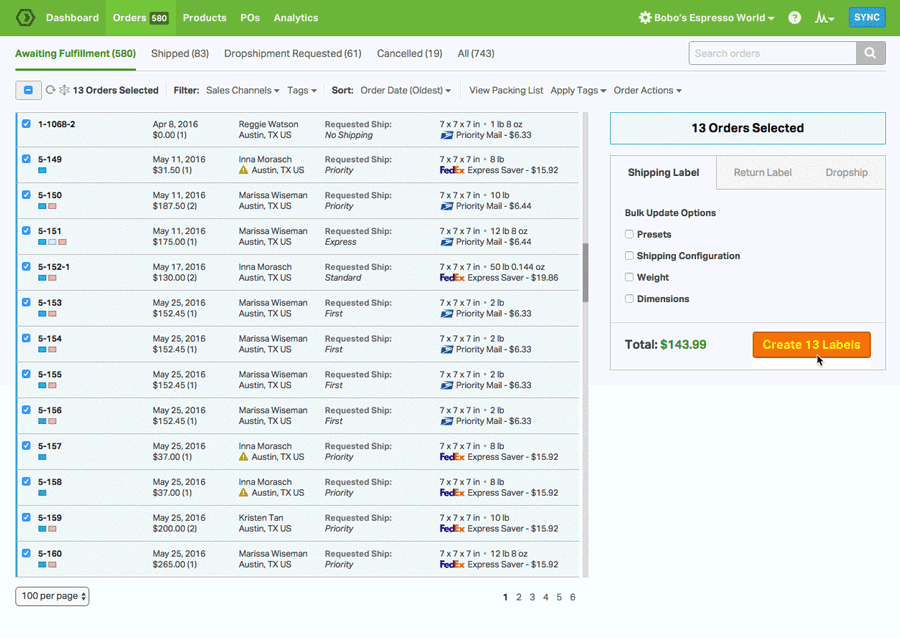 Our Robust Platform Makes Dropshipping Through Amazon Easy
The All-In-One Ecommerce Logistics Platform
Equip yourself with a comprehensive solution
Inventory Management
Stock, sync, and scan.
Automatically track and sync your inventory levels
Create and send out Purchase Orders when it's time to restock
Bundle multiple SKUs into one unit for sale
Use Barcode Scanning to reduce fulfillment errors
Multi-Carrier Shipping
Your workflow, minus the work.
Enjoy heavily-discounted shipping rates via USPS
Ship via any of our integrated shipping carriers like USPS, UPS, FedEx, DHL and Canada Post
Set up your own Automation Rules and Shipping Presets
Print shipping labels in triple-digit batches or individually
Dropshipping
Truly hands-off dropshipping.
Launch a dropshipping operation in a matter of clicks
Tag any product as drop shipped and assign it to a vendor
Choose between automated or manual routing
Activate a Vendor Portal between you and your supplier
Multichannel
We're your operations hub.
Integrate and view all of your sales and supplier channels in one spot
Use our open API to hook up any third-party or custom apps
Manage every aspect of your orders
Establish Supplier Feeds for real-time, back-end communication
Barcode Generation and Scanning
Raise the bar for stocking and packing.
Create UPC barcodes for your products
Scan, set, and search UPC codes for SKUs within Ordoro
Reduce fulfillment errors with our pack and pack barcode scanning workflow
Scan received POs to automatically adjust stock levels
Don't take our word for it
Our awesome customers have shipped some really great compliments our way:
"I spent about a month thoroughly searching for the right backend fulfillment software for my eCommerce business. There were definitely some big name guys out there that I considered, but at the end of the day, I went with Ordoro and I'm so glad I did!"

Tina Yarandi
Founder/CEO of Nature's Artisan
"Ordoro continues to add immensely valuable features to an already awesome sales/warehousing/shipping platform. Using Ordoro continues to save us time and money."

Anthony Krize,
VP of GE Holiday Lighting
Dropshipping Through Amazon
If you are looking for a way to grow your online business through Amazon, then you probably already understand the wide variety of benefits that working with this global corporation can provide. Obviously, Amazon has millions of customers around the world who use its services on a regular basis. Therefore, this can be a great way for you to grow your online presence.
At the same time, as your company grows, you may find that you're also having a difficult time handling your increased shipping needs on your own. This is why you may be interested in exploring dropshipping for Amazon. With Amazon dropshipping, you will have access to multiple options for getting purchases to customers. For example, you may decide to use Amazon FBA dropshipping, or you may also be interested in dropshipping from Amazon to Shopify. Depending on the location of your company headquarters or warehouses, using Amazon dropshipping UK might also be helpful.
However, you also need to understand exactly how dropshipping works when you go through Amazon. The upside is that by using Amazon and its dropshipping services, you may be able to save a significant amount of time and money because someone else will be responsible for your shipping. On the other hand, keep in mind that you are still fully responsible for fulfilling orders and contracts. What this means is that, even if something falls through with the dropshipping provider, you are still responsible for providing the customer with their order or a full refund because you are the seller of record. As a result of both these pros and cons, you need to think carefully about how and whether you could use dropshipping services.
Fortunately, Amazon is well aware that there are many new business leaders who are interested in exploring their dropshipping services. Therefore, there are also plenty of resources available that can help you get the most out of this practice.
So, if you are interested in shipping items using this method, what do you need to know? There are a few important points to keep in mind in order to maximize your dropshipping experience.
Amazon Dropshipping Guide
For starters, you may be looking for an Amazon dropshipping guide that can help you get started. In this case, it's first helpful to understand what is meant when we talk about dropshipping. This term refers to the practice of using a third party to fulfill your shipping needs when you sell products on Amazon. With dropshipping, instead of having to ship your orders to customers yourself, you will be relying on a third-party provider to handle this for you.
If you are interested in learning more about Amazon dropshipping, then it may be helpful to take a closer look at an Amazon dropshipping guide PDF. Or, if you prefer direct user experience, you can even browse the Amazon dropshipping guide Reddit. For the truly dedicated, there is even an Amazon dropshipping course you could take to learn more about this practice.
Whichever route you might go, remember that the goal of dropshipping is to get your orders to your customers faster while also saving money on the business side. Because of how specific this approach is, it may not be appropriate for everyone. To determine this for your own business, take a look at your options, consider what you are selling, and see if this is a good way for you to reduce your overhead expenses when dealing with your particular products and services.
Then, once you have decided whether this is the right approach for your business, you also have to make sure you pick the right dropshipping provider. That way, you will also make sure that you are fulfilling the needs of your customers. If you do this well, then it will convince them to come back to you for future purchases, helping you increase customer loyalty and grow your business.
Amazon Dropshipping Suppliers
If you are interested in learning more about Amazon dropshipping suppliers, then you may be interested in how to dropship on Amazon without money. Here, it's worth understanding that it may be a challenge if you are interested in dropshipping on Amazon for free. At the same time, you may be able to find free dropshipping suppliers in the USA. This could be a great way for you to get started in this industry. In addition, you might even be able to find an Amazon dropshipping business for sale. This could be another way for you to get started in this area.
If you are trying to find the right dropshipping supplier, you need to keep a few important factors in mind. First, you need to find a dropshipping supplier that provides you with plenty of customer support. That way, they can answer your questions right away when you have them. In addition, the right dropshipping supplier should also have a customer service agent to help you answer the needs and inquiries of your customers. If the dropshipping supplier has customer support available in multiple languages, this is even better as you expand your business to serve customers around the world.
Plus, of course, you also have to find a dropshipping supplier that will be able to get your products to your customers on time. So, once you've narrowed your choices down to the first few options, consider: what is their track record? How quickly do they ship? Do they ever miss their deadlines? What happens if they do not get your product to your customer on time?
Finally, you also have to think about the price of working with a dropshipping supplier. How expensive would it be for you to use that dropshipping supplier? If it is going to be better for you to ship your products on your own, then you may not want to use a dropshipper after all. On the other hand, if you are fulfilling a wide variety of orders on a daily basis, then it may be better for you to rely on a dropshipping supplier to speed things along.
Amazon Dropshipping Policy
If you do decide to use an Amazon drop shipper, then you also need to understand Amazon to Amazon dropshipping. This is an important part of Amazon dropshipping for beginners. Furthermore, you should also be aware of any Amazon dropshipping fees you might incur when using this kind of service. In order to learn more about these things, you should take a closer look at the Amazon dropshipping policy.
If you decide to use an Amazon dropshipper, it's worth noting that you are still the seller of record for your products. This means you need to identify yourself as the seller on all of your products and associated documentation, including invoices, packing slips, external packaging, and more. You are also responsible for accepting and processing customer returns, and you need to comply with the other terms of your seller agreement, which is something you agreed to when you first signed up to sell products on Amazon.
In addition, there are certain types of dropshipping that simply are not permitted. For example, you cannot purchase products from another online retailer and then have that retailer ship your products directly to customers. This type of shipment would not identify you as a seller of record. In addition, you cannot ship orders with invoices, external packaging, packing slips, or other information that would indicate the seller is someone other than yourself. This is a very quick way to get in trouble with Amazon and jeopardize a whole ecommerce arm of your business.
Is Dropshipping on Amazon Worth It
So, is dropshipping on Amazon worth it? Is Amazon dropshipping profitable? The answers to these questions are that it depends on many factors, such as how many orders you are fulfilling on average.
For example, if you have a large number of orders coming in, then you may have a difficult time fulfilling and shipping them all on your own. In that case, it's worth finding a third-party provider to help you ship those many orders to your customers. On the other hand, keep in mind that you are also going to be relying on someone else to fulfill a crucial part of your business, and this may not always be something you want to outsource. Even if you go this route, you are still ultimately responsible for fulfilling your customers' needs and the contract you agree to when they buy from you. If you select a poor dropshipper who misses deadlines, then you will still be responsible for these problems, not the dropshipper. Therefore, you need to think carefully about the benefits and drawbacks of this approach before you decide whether to use a dropshipping service.
Keep in mind, too, that you do have other options available. For example, you may want to take a closer look at the Amazon dropshipping API. This is something else to consider before you decide to go with a third party.
If you are able to find a fast, reliable dropshipper, though, working with them can help you save considerable time and money, and you may be able to meet the needs of your customers better while also growing your business.
Amazon Dropshipping Software
Finally, if you are looking to get the most out of your dropshipping experience, then you may want to take a closer look at Amazon integrations. There are plenty of benefits that come with using third-party e-commerce software. For instance, these can help you get your products and services to your customers more quickly.
If you want to learn more about Amazon dropshipping software, then you should be taking advantage of Amazon dropshipping tools. If you are able to take advantage of Amazon dropshipping automation, then you can save a significant amount of time and money while also processing multiple orders quickly and accurately at the same time.
If you are looking for the best dropshipping software, then you may have heard about free dropshipping software. However, even though there are free programs available, keep in mind that these have probably not been created specifically to help you handle your dropshipping needs. So even though free options can provide a good place for you to start, you will eventually run into some serious issues that could bother your customers. Furthermore, you also need to find a dropshipping program that will be able to grow with your company. The only way you are going to do this is if you find a program that you can use to help you improve your dropshipping practices, and most of the time, these are premium paid programs.
Lastly, remember that this is not something you have to do on your own. Instead, you may want to rely on dropping management professionals or small business specialists who can help you improve your shipping practices. That way, you can rely on expertise and experience to help you figure out whether dropshipping is a good option for your company. You also need to find a droppshipping company that can help you remain in compliance with all shipping policies on Amazon. If you do so,though, then you can place your company in a good position moving forward.