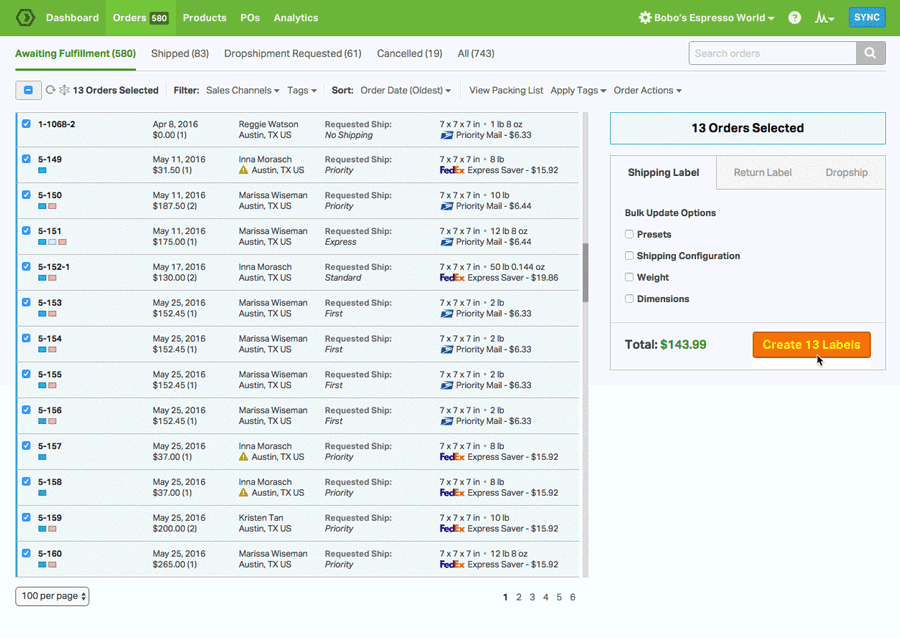 Fulfill orders faster with one of the best dropshipping apps on the market
The All-In-One Ecommerce Logistics Platform
Equip yourself with a comprehensive solution
Inventory Management
Stock, sync, and scan.
Automatically track and sync your inventory levels
Create and send out Purchase Orders when it's time to restock
Bundle multiple SKUs into one unit for sale
Use Barcode Scanning to reduce fulfillment errors
Multi-Carrier Shipping
Your workflow, minus the work.
Enjoy heavily-discounted shipping rates via USPS
Ship via any of our integrated shipping carriers like USPS, UPS, FedEx, DHL and Canada Post
Set up your own Automation Rules and Shipping Presets
Print shipping labels in triple-digit batches or individually
Dropshipping
Truly hands-off dropshipping.
Launch a dropshipping operation in a matter of clicks
Tag any product as drop shipped and assign it to a vendor
Choose between automated or manual routing
Activate a Vendor Portal between you and your supplier
Multichannel
We're your operations hub.
Integrate and view all of your sales and supplier channels in one spot
Use our open API to hook up any third-party or custom apps
Manage every aspect of your orders
Establish Supplier Feeds for real-time, back-end communication
Barcode Generation and Scanning
Raise the bar for stocking and packing.
Create UPC barcodes for your products
Scan, set, and search UPC codes for SKUs within Ordoro
Reduce fulfillment errors with our pack and pack barcode scanning workflow
Scan received POs to automatically adjust stock levels
Don't take our word for it
Our awesome customers have shipped some really great compliments our way:
"I spent about a month thoroughly searching for the right backend fulfillment software for my eCommerce business. There were definitely some big name guys out there that I considered, but at the end of the day, I went with Ordoro and I'm so glad I did!"

Tina Yarandi
Founder/CEO of Nature's Artisan
"Ordoro continues to add immensely valuable features to an already awesome sales/warehousing/shipping platform. Using Ordoro continues to save us time and money."

Anthony Krize,
VP of GE Holiday Lighting
Best Dropshipping Apps
If you are looking for new ways to expand your business, then you may have heard about dropshipping. Dropshipping is the practice of relying on a third party to handle your shipping for you. For example, you already have a lot to do if you run an online business, so you probably don't want to spend all of your time handling shipping concerns too. After all, if something goes wrong with an order, you may have to pull yourself away from another order, just to handle those specific shipping concerns. Therefore, a lot of businesses have realized that it is simply better to rely on a trusted third party provider to take care of their shipping concerns. This is where dropshipping has become helpful.
Whether you are someone who is looking to open a dropshipping business, or if you are looking for ways to begin working with a dropshipper, it is important to create an experience that is as flexible as possible. This is why there are so many people who are looking for the best dropshipping apps. After all, a lot of people envision themselves handling dropshipping in front of their computers. While it is certainly true that this can be helpful, there are also many situations where people are on the go as well and can't always rely on a desktop computer. Therefore, it may be helpful to take a look at the best Shopify dropshipping apps.
Because Shopify has become one of the most popular platforms for e-commerce businesses, many business owners and marketers alike have been exploring the best Shopify plugins. These come in many shapes and sizes, particularly if you look at the selection available on the Shopify App Store. Here you'll see that there are even plugins available for those interested in dropshipping.
As a result, there are many business leaders who have tried out a wide variety of dropshipping apps. These applications are helpful because people can address their shipping concerns from a mobile device instead of having to be tied to a computer. In addition, it is possible that as online businesses and ecommerce options continue to expand, these applications will become more varied as well. Dropshipping is only increasing in popularity, and as a result, many dropshipping suppliers are taking advantage of these applications. Clients should start using them as well, since these tools can make their lives easier too.
With all this in mind, who are some of the top dropshipping suppliers?
Best Dropshipping Suppliers 2021
There are many businesses interested in becoming one of the best dropshipping suppliers 2021. In order to do this, though, they need to make sure they are providing the right tools to their customers and clients. That way, they can rise to meet their target market's expectations, which in turn will place their business in the best possible position to be successful. In order to achieve this, it may be helpful to take a look at the best dropshipping apps for Shopify 2021 and then compare these options.
When people are looking at the best Shopify apps, they may be comparing the best Shopify apps 2020 to the best Shopify apps 2021. Here, keep in mind that some of these could include the best free Shopify apps 2021. The good news is that you don't have to break the bank while looking for a good app for Shopify. Because Shopify is one of the most versatile e-commerce platforms out there, they have a wide variety of mobile applications to choose from. Some of these may even be integrations, which are extensions that do not require the use of any advanced software programs. Having integrations and extensions in play makes it easier for everyone to manage their applications.
For example, when people are looking at the best apps for Shopify 2020, they may discover the best dropshipping app for Shopify 2020 as well. Because there are so many businesses that rely on Shopify, competition can be fierce, and businesses have had to go a long way to increase their business capabilities. This has given rise to a wide variety of dropshipping applications on Shopify that people may find helpful.
There are many advantages that suppliers will enjoy if they use an application on Shopify to manage their dropshipping needs. First, the majority of these applications are very easy to use, which means that there is a relatively short learning curve when it comes to handling dropshipping. Second, these applications are also versatile, and because they can be installed on a wide variety of browsers and operating systems, this makes it easier for people to customize their experiences to meet their needs. Finally, these applications are also very secure. As a result, neither business leaders nor customers need to worry about someone hacking into the application and stealing their personal information. Instead, these applications are designed to withstand these types of attempts.
Because these applications will only continue improving, there is a good chance that Shopify will become more popular too. This is good news to anyone who is interested in using Shopify to run a dropshipping business.
Best Dropshipping Suppliers
There are also other people who may be wondering how to choose a dropshipping supplier. Of course, everyone is looking for the best dropshipping suppliers, including the best dropshipping suppliers USA. These savvy business leaders might even be looking at the top free dropshipping suppliers USA.
As you begin looking, though, it's worth keeping in mind that there is no single "best" option out there. Instead, people need to take a look at reviews or comparison tools, even something like the best dropshipping suppliers Reddit, and from here, compare their features and capacities to the business's own needs, and find the best partner for them. This kind of careful thought and planning will place the business in a good position to be successful.
So, how can someone pick the right dropshipping supplier to meet their specific needs? There are a few factors that need to be considered here. The first is responsiveness. If someone is interested in working with a dropshipping supplier, how responsive are they to client concerns? How quickly do they get back to them, answering any questions or concerns that clients might have? As long as dropshipping suppliers are responsive, then they should be able to handle most client needs, and even if they can't, then look into alternative solutions instead.
Second, where does the dropshipping supplier actually ship? Of course, companies need to make sure that the dropshipping supplier they work with can actually get their orders to their clients. Some dropshipping suppliers may only shift domestically, but on the other hand, the best dropshipping suppliers UK should be able to ship internationally. Make sure the dropshipping supplier you choose is able to handle a wide variety of locations.
Finally, you should also take a look at a few reviews and ratings of your top choices. What do other people have to say about that specific supplier? If they have mostly good things to say, this is a good sign.
If companies are able to answer these questions, then they will be better able to find the right dropshipping supplier to meet their specific needs. Every company should be doing its due diligence before deciding on which dropshipping supplier they will partner with.
Best Dropshipping Suppliers for Shopify
There are many companies trying to find a dropshipping supplier that is familiar with their specific online platform. For example, a lot of online businesses use Shopify because it is relatively inexpensive, comes with a wide variety of features, and is very secure. Furthermore, a lot of customers are already familiar with Shopify as well, given that more and more online businesses are using it.
With all of this in mind, a lot of people are also looking for the best dropshipping products. When they do, they can become one of the best dropshipping suppliers for Shopify. Fortunately, people do not need a lot in order to get started in the world of dropshipping. As long as they have access to the right program, they should be able to start taking orders.
The most important thing that dropshippers themselves need to remember is that they have to be reliable. That is why it is a good idea to use a software program that can automate a lot of these tasks. Dropshipping is a business that comes in waves. For example, one client may drop a lot of orders at the same time and then it may be quiet for a little while before the next order arrives.
Dropshippers should have the flexibility and versatility needed to handle these ebbs and flows. As long as dropshippers are able to handle these kinds of changes, they should be able to meet the needs of their clients effectively. This can go a long way toward helping dropshippers grow a business on Shopify.
Dropshipping Suppliers Clothing
Finally, some people who work in dropshipping may specialize in a certain area. For example, some dropshippers may specialize in clothing, since many people are interested in finding dropshipping suppliers clothing. The best Shopify apps for clothing stores may be able to help dropshippers get started in this area.
When it comes to shipping clothing, there is a lot to think about, sometimes even more than in other industries. Clothing is surprisingly vulnerable to a wide variety of conditions. If clothing has to travel a long way, it may get damaged during the trip if those who pack or ship it do not take the right precautions. For example, some clothing needs to be vacuumed sealed in order to be shipped appropriately. Other clothing might have to be shipped in a climate-controlled area in order to prevent certain types of damage to fabric or decorations. Likewise, temperature changes and humidity changes can also impact the quality of the final product. Anyone who ships clothing needs to keep this in mind, including dropshipping.
Because of these realities, it is important to speak to a dropshipper who has experience shipping clothing. If the dropshipper has a positive track record when it comes to shipping clothing, this is a good sign. That way, businesses can make sure every order arrives intact, in good condition, and on time, keeping clients happy. This will convince them to come back for future purchases as well.