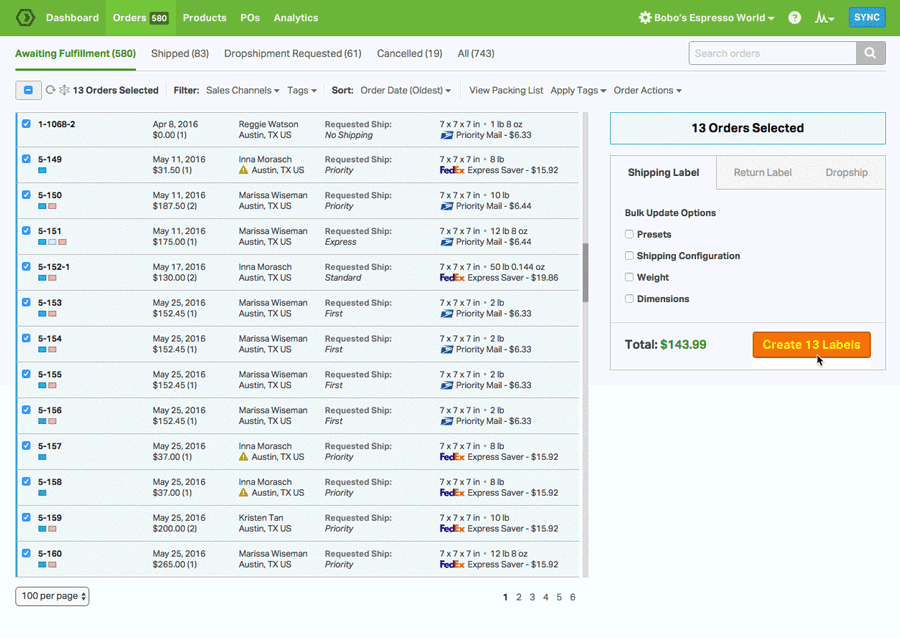 Discover The Functions Of Inventory Management
The All-In-One Ecommerce Logistics Platform
Equip yourself with a comprehensive solution
Inventory Management
Stock, sync, and scan.
Automatically track and sync your inventory levels
Create and send out Purchase Orders when it's time to restock
Bundle multiple SKUs into one unit for sale
Use Barcode Scanning to reduce fulfillment errors
Multi-Carrier Shipping
Your workflow, minus the work.
Enjoy heavily-discounted shipping rates via USPS
Ship via any of our integrated shipping carriers like USPS, UPS, FedEx, DHL and Canada Post
Set up your own Automation Rules and Shipping Presets
Print shipping labels in triple-digit batches or individually
Dropshipping
Truly hands-off dropshipping.
Launch a dropshipping operation in a matter of clicks
Tag any product as drop shipped and assign it to a vendor
Choose between automated or manual routing
Activate a Vendor Portal between you and your supplier
Multichannel
We're your operations hub.
Integrate and view all of your sales and supplier channels in one spot
Use our open API to hook up any third-party or custom apps
Manage every aspect of your orders
Establish Supplier Feeds for real-time, back-end communication
Barcode Generation and Scanning
Raise the bar for stocking and packing.
Create UPC barcodes for your products
Scan, set, and search UPC codes for SKUs within Ordoro
Reduce fulfillment errors with our pack and pack barcode scanning workflow
Scan received POs to automatically adjust stock levels
Don't take our word for it
Our awesome customers have shipped some really great compliments our way:
"I spent about a month thoroughly searching for the right backend fulfillment software for my eCommerce business. There were definitely some big name guys out there that I considered, but at the end of the day, I went with Ordoro and I'm so glad I did!"

Tina Yarandi
Founder/CEO of Nature's Artisan
"Ordoro continues to add immensely valuable features to an already awesome sales/warehousing/shipping platform. Using Ordoro continues to save us time and money."

Anthony Krize,
VP of GE Holiday Lighting
Functions of Inventory Management
What are the functions of inventory management?
If you are a manufacturer, sell directly to consumers, are not a dropshipper and keep your products or other stock on hand to fulfill orders — whether it's in a warehouse or your garage — you need a reliable, efficient way to record how many products you have on hand at any given time, tell you when products sell as well as how many and what type. You'll also need to know when it's time to reorder when stock starts to run low before you're left unable to fill orders or manufacture enough of a given product to meet demand.
What are the four functions of inventory management?
According to information in one "functions of inventory management PDF," such as what's offered through WordPress and other sources, these four functions involve the following tasks:
Ordering: of finished products from a vendor or raw materials
Handling: tracking incoming items or materials, including quantity, type, etc.
Storing: products or materials must be safely kept in a safe, yet easily accessible environment, such as an on-site warehouse
Processing or Selling: turning the raw materials into finished products or selling ready-made products from other suppliers to customers, either B2B or B2C.
Some of the functions of inventory management ppt video as an online download are clearly explained to the novice seller. SlideShare offers one version explaining stock control and more, while there are direct PowerPoint presentations available online as well.
One of the main purposes of efficient inventory management is to avoid overstocks and shortages, either of finished products or raw materials.
Online retailers will have different inventory management needs, such as faster scalability and more flexible features, than those running a brick-and-mortar store or a manufacturing operation. Most larger manufacturing and retail companies have more complex inventories, requiring installed software for their needs.
Importance of inventory control
What is the importance of inventory control for a business? Inventory control is one of the primary functions of the overall inventory management system. It's the process of managing a company's inventory levels, whether you're a retailer or manufacturer, whether inventory is located in a company's own warehouse or spread among different locations. It consists of managing items from the time they're ordered, to arrival, to being placed in stock, their movement, and usage, and eventually to a final (ideally, customer) destination (or disposal). Without an efficient method of inventory control, a business may be unable to keep sufficient stock on hand to fill customers' orders or to manufacture enough quantities of a product to meet future consumer demand.
Inventory control notes, such as found on accountingnotes.net, explain the functions of good inventory control and management.
Simply put, inventory control is a system used by a manufacturer or other seller of goods, to control the company's investment in stock, without leading to shortages or overstock. Whether you own a brick-and-mortar store, are a manufacturer, or run an ecommerce online store, unless you're a dropshipper who doesn't need to worry about inventory, you will need to have access to a reliable and scalable method of tracking the movements of your inventory.
Ordoro's plug-in app allows you to easily handle inventory management duties, such as shipping, integrate with Amazon, eBay, and other major marketplaces, including accessing carts from such powerhouses as BigCommerce and Shopify.
Ordoro also gives you the tools to multi-channel inventory sync of your shipping locations, customer sales data, with the ability to oversee each sales channel from the same dashboard.
Using top-flight multi-channel ecommerce inventory management online software gives your customers more flexibility in choosing which warehouse or other shipping location best serves their needs.
Objectives of Inventory Control
A few of the most important objectives of inventory control include helping a business, whether a manufacturer or retailer, accurately determine the correct quantities of stock or raw materials to be ordered when considering the net stock available.
What is the function of inventory? It helps businesses, whether manufacturers or retailers, take charge of incoming materials or products (new inventory), manage the movement of inventory and ensure that finished products. Inventory, then, is at the heart of commerce: striking the right balance is essential to meeting customer demand and ensuring repeat orders and customer satisfaction.
As previously stated, the four functions of inventory generally include the following:
Ordering raw materials, or finished products from a supplier
Handling and tracking purchased materials or products
Storing in a safe, yet easily accessible environment, such as an on-site warehouse
Processing or selling: turning raw materials into finished products or selling ready-made products from other suppliers to customers.
What is the role of inventory? In terms of inventory management and control, it is the process of tracking and handling items from the time of order, to their arrival, being placed in stock, following their movement and usage, and finally to a destination,
WordPress, as well as other ecommerce and similar resources, offer an inventory control PDF online.
This brings us to discuss ways in which you manage your inventory, regardless of what type of business you own. If you're considering inventory management software, your software needs to be able to perform these essential functions:
The ability to accurately and quickly track sales and purchase orders (POs).
Organization of product categories, including kitting and multiple bundles of products.
Automatically reorder only necessary new stock while streamlining inventory management and reducing overall inventory management costs.
Enable centralized multi-channel listings for increased sales and customer convenience.
Types of Inventory Control
When we think of different types of inventory control, we usually think of spreadsheet programs such as Excel, where inventory data is entered in rows and columns as products are added or subtracted. This has its place in smaller companies, especially those acting as resellers instead of manufacturing, but is prone to errors when data is changed, deleted or added.
There are additional types of inventory control developed for the needs of larger companies, particularly manufacturers:
Just-in-time (JIT) originated in Japan in the 1960s and 1970s largely through Toyota Motors. With this method, companies keep only the amount of inventory needed to produce and sell products, thus avoiding unnecessary spending and waste. However, if demand rises and overtakes available inventory, the company can be left unable to fill orders. If a key ingredient or product doesn't arrive "just in time", a bottleneck in orders can result.
Materials requirement planning (MRP) is dependent on sales forecasts to determine upcoming needs and efficiently communicate those to suppliers, so having a good analytics feature as part of your inventory management software as well as watching market trends is critical to success with this method.
The MRP method is more likely to be used by manufacturers, such as by a ski manufacturer needing to know the amounts of fiberglass, wood, plastic, aluminum and other materials are well-stocked, based on predicted orders. If sales forecasts are inaccurate and the inventory isn't well-planned, the manufacturer will be unable to fill orders.
The above are two types of inventory in supply chain management. For those businesses not large enough to have software developed just for their needs, an Excel or Google spreadsheet program should be sufficient in the beginning to track most incoming and outgoing inventory.
What is Inventory in Supply Chain Management?
The role of inventory in supply chain management has a ripple effect throughout the entire supply chain:
A few of the main functions of inventory in supply chain management:
Initial purchase (raw material or products for resale)
Storage, usually in warehouses until needed for production or to resell to customers
Inventory materials sent to production then returned to stock once manufacturing is completed (or stays in storage until customer order requires shipment)
What is inventory in supply chain management?
One example of inventory in supply chain management can be found with companies manufacturing the kind of products that are perishables with a short shelf-life, as baked goods or other foods, or whose demand may fluctuate, such as with automobiles. Several websites offer podcasts, PDFs and other online information, especially in the role of inventory in supply chain management PDF.
So what software should you use for inventory management for your business? You'll want the following features: as offered by industry software leader, Ordoro.
Ability to integrate with existing applications: The software should offer full integration with accounting software and third-party CRM to avoid duplicating end-users' tasks. It should have the ability to sync with all customer, order-related and financial data with other systems as well as generate consolidated analytics and reports.
A user-friendly interface: Good inventory software should have an easily-navigated interface enabling quick installation and user adoption within your organization. Training other users among staff on any new technology can be expensive for SMBs. For this reason, any solution should be intuitive, requiring minimal training while encouraging your staff to become more efficient with their job performance.
Secure and reliable: Software should enable administrators to manage access and permissions for each user and record their behavior in real-time. Since inventory information is critical for keeping your business afloat, your software should also be able to protect the inventory database from unauthorized access.
Integrate with all connected warehouses in real-time: If your business has multiple warehouses in different states where inventory is kept to better serve customers across the country, it's essential that each location is integrated so users can quickly view real-time inventory levels. The solution should also allow users to select a single warehouse as their primary location, fulfilling orders from a single screen.