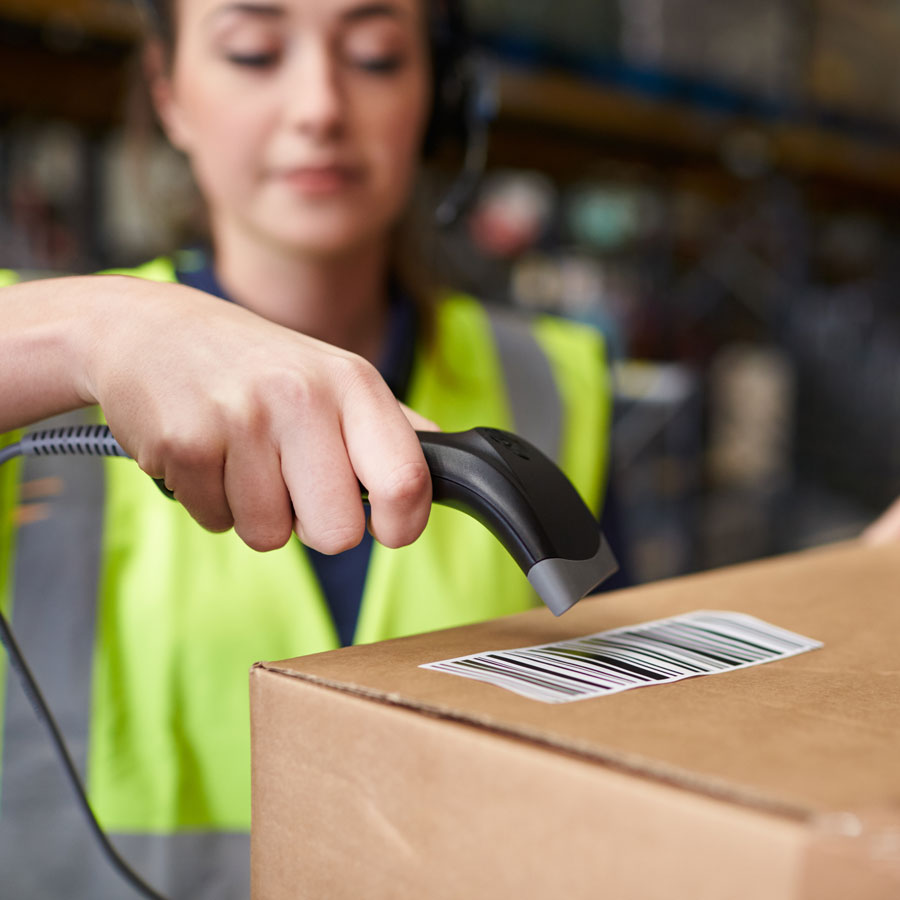 Keep your stock levels in sync with our ecommerce inventory management software
The All-In-One Ecommerce Logistics Platform
Equip yourself with a comprehensive solution
Inventory Management
Stock, sync, and scan.
Automatically track and sync your inventory levels
Create and send out Purchase Orders when it's time to restock
Bundle multiple SKUs into one unit for sale
Use Barcode Scanning to reduce fulfillment errors
Multi-Carrier Shipping
Your workflow, minus the work.
Enjoy heavily-discounted shipping rates via USPS
Ship via any of our integrated shipping carriers like USPS, UPS, FedEx, DHL and Canada Post
Set up your own Automation Rules and Shipping Presets
Print shipping labels in triple-digit batches or individually
Multichannel
We're your operations hub.
Integrate and view all of your sales and supplier channels in one spot
Use our open API to hook up any third-party or custom apps
Manage every aspect of your orders
Establish Supplier Feeds for real-time, back-end communication
Dropshipping
Truly hands-off dropshipping.
Launch a dropshipping operation in a matter of clicks
Tag any product as dropshipped and assign it to a vendor
Choose between automated or manual routing
Activate a Vendor Portal between you and your supplier
Don't take our word for it
Our awesome customers have shipped some really great compliments our way:
"I spent about a month thoroughly searching for the right backend fulfillment software for my eCommerce business. There were definitely some big name guys out there that I considered, but at the end of the day, I went with Ordoro and I'm so glad I did!"

Tina Yarandi
Founder/CEO of Nature's Artisan
"Ordoro continues to add immensely valuable features to an already awesome sales/warehousing/shipping platform. Using Ordoro continues to save us time and money."

Anthony Krize,
VP of GE Holiday Lighting
Ecommerce Inventory Management Software
You've decided to open an online store, also known as "ecommerce," and after weeks of preparation you're getting ready for the final countdown. You've selected which products you're going to sell and you're in the process of setting up a website as well as figuring out which forms of payments to take, finding suppliers and so much more – all important tasks, necessary to getting the word out there on your brand.
But – what are you doing about managing your inventory? You're going to have to have enough stock on hand to quickly fulfill customer orders without over-buying from suppliers. How will you track your products once you've started selling?
In the not-so-good old days, tracking inventory usually meant dealing with the drudgery of spreadsheets and rows and columns of products – and a lot of time lost from actually running the business. Time is money and losing time spent on manually entering scores of products, updating sales and reorders as well as activities at warehouses and other shipping locations is neither cost-effective nor a productive use of your time.
Why Inventory Management is Important
Here are a few reasons why having top-notch ecommerce inventory management software is so important:
A good inventory management system helps track items as they sell so you'll know when to place orders with suppliers before you run out and risk having unhappy customers. For manufacturers, this can mean being able to create production-related documents, such as a bill of materials and work orders.
At the same time, you want to avoid over-buying and stocking, tying up money and space when resources need to be allocated elsewhere.
Your inventory management software also needs to be able to track deliveries – a critical component of any ecommerce business. (And it would really help if it integrated seamlessly into your shipping management software – but we'll get to that a little later.)
To summarize, your software needs to be able to perform these essential functions:
Product categories organization
Track sales and purchase orders (POs)
Automatically order new stock while reducing overall inventory costs
Your inventory management software should be easy for non-tech employees to learn, without expensive and time-consuming training sessions.
As a new user, remember that your budget, the size of your business and related factors are the determinations of what type of inventory management software to choose.
With Ordoro's user-friendly and comprehensive real-time ecommerce inventory management software the above tasks can be easily performed with a few easy plug-ins designed especially for handling all of your online sales and product management needs.
Ecommerce inventory: best practices
There are different types of inventory management software on the market: open source, "free", cloud-based, directly installed into the hardware, and subscription.
Inventory management software open source is web-based, downloadable or accessible with plug-ins, instead of a program installed on your servers and physical computers.
Inventory management software free of charge is often used interchangeably with open source.
One thing to keep in mind is that you may be trading important features for saving a bit of money. Online (subscription) software is usually less expensive than installed plans, reducing hardware capacity requirements, while offering more options and standard features than open source or free versions. Shopify inventory management offers its subscribers a solid platform in an easy-to-use format.
With so many options out there, finding the right software can be overwhelming. Here's what to look for in selecting software for your ecommerce inventory management process:
Your software needs the ability to integrate with your existing applications, such as accounting and third-party CRM, as well as sync financial, orders and customer-related data.
The software needs to be secure and reliable by protecting the business' inventory data from unauthorized access, making the administrator's ability to assign permissions and control access behavior.
Offer a user-friendly interface experience to enable easy and fast adoption throughout your organization. It should require minimal training to successfully use, as well as be sufficiently intuitive for even non-technical employees to utilize.
Integration with warehouses is essential, including those located out of state, to best serve customers located across the country. Giving customers the ability to see inventory levels at warehouses as well a choice in warehouse location preference is one of the smartest business moves you can make to ensure customer satisfaction and repeat sales.
You may not need a product that claims to do it all; rather, you will want to find software that meets your immediate needs and allows upgrades as the business grows. Ordoro's assortment of plug-ins can do the trick without leaving your budget high and dry.
Online inventory management software vs. warehouse inventory management software: differences and similarities
As you may know, good online store inventory management software should be able to seamlessly connect to third-party logistics centers (3PLs) as well as online sales channels.
Warehouse inventory management software is more often than not focused on the needs and uses of very large warehouses, serving anywhere from a single huge entity, such as Amazon, or dozens of different smaller users and their customers. Frequently it's an installed stand-alone program, rather than Web-based, that is periodically upgraded as need arises. In addition, warehouse inventory software may be combined with other functionalities to cover internal movement of stock as well as management of employees and storage systems within the whole structure. Newer versions may also be cloud-based for faster access.
Online inventory management software, on the other hand, is aimed at the smaller business, is usually Web-based with a nimble online presence. It may or may not be "free" or open source, as well as subscription, but is capable of meeting the logistical demands of a growing ecommerce business in its ability to connect third-party logistics (3PLs) as well as all online sales channels, including multi-channel listings.
Multi-channel listing software
Multi-channel listing software is an important aspect of inventory management software allowing the user to connect to all of a business's sales channels to warehouses in one software setup. Why does multi-channel ecommerce matter? In a word: profits.
Remember when everything had to be entered manually into columns and rows of spreadsheets – including sales and new products? Developers of the best inventory ecommerce inventory management software, such as Ordoro, have freed business owners from the drudgery of data entry and streamlined the process as well as offering a far greater degree of accuracy in predicting real-time future needs of their inventories.
Multi-channel software allows users to easily update and expedite product listings, streamline order fulfillment, optimize inventory control and use analytics to measure the channels' effectiveness. Giving customers more channels through which to purchase has been shown to result in significant exponential sales growth for the business.
For example, online stores with an additional marketplace such as eBay, Etsy, Shopify or Amazon can see an uptick in revenue by as much as 38%.
When another channel is added, sales growth leaps to 120%. You read that right – 120%. According to a study by PriceWaterhouseCoopers customers themselves now come from all kinds of channels and increasingly are driven by social media sites such as Facebook or Twitter ­- the biggest influencers of consumer purchasing decisions.
Ordoro's plug-in app allows you to easily handle shipping and related inventory management, Amazon, eBay and other major marketplaces including accessing carts from such powerhouses as BigCommerce and Shopify.
Ordoro also gives you the tools to multi-channel inventory sync of your shipping locations, customer sales data, with the ability to oversee each sales channel from the same dashboard.
Using top-flight multi-channel ecommerce inventory management online software gives your customers more flexibility in choosing which warehouse or other shipping location best serves their needs.
Best ecommerce inventory management software
To recap, attempting to track inventory for online businesses as well as coordinate multi-channel sales listings, is all but impossible with the old spreadsheet methods, making inventory management software a must. Using a nimble web-based software to manage inventory tasks can enable ecommerce businesses to know what's selling (and what's not), what, when and how much to reorder, choosing the best shipping options, and interfacing with your supply centers and warehouses.
When choosing the best inventory management software for small businesses, remember that your business' unique needs, especially if a new start-up, as well as your budget will have the most impact on your choice.
Remember to start with software that supplies what you'll need in the beginning, but is flexible enough to allow for the growth of your business.
In summary, when considering the best ecommerce inventory management software to choose, your software needs to be able to perform these essential functions:
The ability to accurately and quickly track sales and purchase orders (POs).
Organization of product categories, including kitting and multiple bundles of products.
Automatically reorder only necessary new stock as indicated by adaptable filters while streamlining inventory management and reducing overall inventory management costs.
Be easy for non-technical employees to learn, without undertaking expensive and time-consuming training.
Enable centralized multi-channel listings for increased sales and customer convenience.
Ordoro's online ecommerce inventory management software and other web-based sales management solutions offer numerous plug-ins to maximize your ecommerce inventory management potential: access to markets, shopping carts, shipping options and much more. As a true one-stop shop for everything ecommerce, Ordoro goes beyond the rest of the competition with its drop-shipping services, label printing, interface batch shipping and API documentation services.
Ordoro's website is easy to navigate to help prospective users learn more about their array of ecommerce services and see how much more streamlined and easier inventory management, order tracking and fulfillment can be.