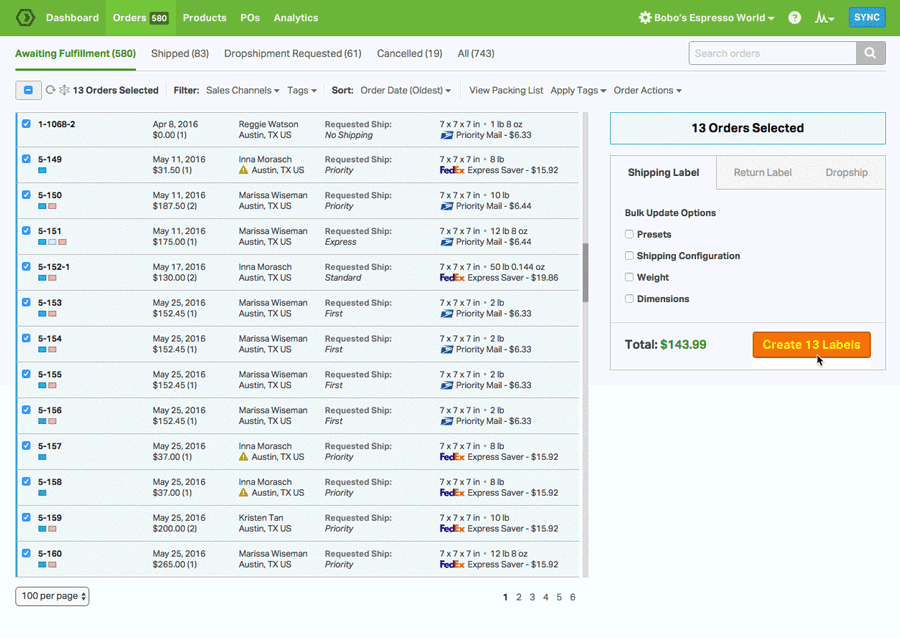 The Best Free Inventory Management Software Alternatives
The All-In-One Ecommerce Logistics Platform
Equip yourself with a comprehensive solution
Inventory Management
Stock, sync, and scan.
Automatically track and sync your inventory levels
Create and send out Purchase Orders when it's time to restock
Bundle multiple SKUs into one unit for sale
Use Barcode Scanning to reduce fulfillment errors
Multi-Carrier Shipping
Your workflow, minus the work.
Enjoy heavily-discounted shipping rates via USPS
Ship via any of our integrated shipping carriers like USPS, UPS, FedEx, DHL and Canada Post
Set up your own Automation Rules and Shipping Presets
Print shipping labels in triple-digit batches or individually
Dropshipping
Truly hands-off dropshipping.
Launch a dropshipping operation in a matter of clicks
Tag any product as drop shipped and assign it to a vendor
Choose between automated or manual routing
Activate a Vendor Portal between you and your supplier
Multichannel
We're your operations hub.
Integrate and view all of your sales and supplier channels in one spot
Use our open API to hook up any third-party or custom apps
Manage every aspect of your orders
Establish Supplier Feeds for real-time, back-end communication
Barcode Generation and Scanning
Raise the bar for stocking and packing.
Create UPC barcodes for your products
Scan, set, and search UPC codes for SKUs within Ordoro
Reduce fulfillment errors with our pack and pack barcode scanning workflow
Scan received POs to automatically adjust stock levels
Don't take our word for it
Our awesome customers have shipped some really great compliments our way:
"I spent about a month thoroughly searching for the right backend fulfillment software for my eCommerce business. There were definitely some big name guys out there that I considered, but at the end of the day, I went with Ordoro and I'm so glad I did!"

Tina Yarandi
Founder/CEO of Nature's Artisan
"Ordoro continues to add immensely valuable features to an already awesome sales/warehousing/shipping platform. Using Ordoro continues to save us time and money."

Anthony Krize,
VP of GE Holiday Lighting
Best Free Inventory Management Software
Are you searching the internet for the best free inventory management software? If so, then it is a good idea that you landed on this page. Throughout this guide, we'll talk about different types of offline inventory management software, who might want to use them, and instances when you'll want to look for a much more robust solution.
First, what is free open source inventory management software? Generally, this is a type of program that manufacturing, retail, or ecommerce retailers would use to keep track of how many items they have within their warehouse.
The good part about this type of program is that it allows you to keep track of inventory levels and determine when you need to increase production, order more stock, or try to liquidate what you have on hand. For small business use where you only have a handful of products total, this might be sufficient to get the job done.
However, you definitely get what you pay for when it comes to simple inventory software free options. In many instances, these programs have a lot of bugs that make it difficult to keep accurate track of the figures that you need to. Plus, most don't include extra features like reporting, analytics, shipping integration, etc.
If you have multiple employees, inventory management software open source might not be a good fit for your needs, either. Why? When one staff member has the program open, another can't update it at the same time. This often leads to mistakes, miscounts, and a whole lot of frustration.
Free Inventory Management Software In Excel
In addition, companies sometimes opt to use free inventory management software in Excel. This isn't always the best alternative, either.
Whether you're using a custom spreadsheet or a free Excel inventory template with formulas, there's just not a lot of functionality available to help you adequately handle all of your inventory management needs. And, just like with open source inventory management software, free use of Excel can lead to a lot of human errors and difficulty with efficiency.
What does this lead to? Problems like low stock without knowing when to order, sending wrong items to the customer, and so much more. You'll also have to spend more employee time ensuring someone is always there to manually input data into the file. The best way to keep track of your warehousing is honestly to skip any type of Excel inventory management template and go straight to a paid alternative, such as Ordoro.
With Ordoro, you can keep track of all items in your inventory with ease. There's an option to integrate your favorite barcode scanner and automate certain tasks, like printing shipping labels. It also makes the process of selling on multiple marketplaces like eBay, Amazon, and Shopify as seamless as possible.
Do you dropship or work with those who do? In that case, Ordoro is your best inventory software option. Although there is a cost to use the app, the amount of time you'll save by not having to pay an employee to constantly update your Excel spreadsheet will help even the cost out in a very short period of time.
Warehouse Inventory Management Software
Warehouse inventory management software is an important part of adequately running your business. Not only does it help you keep track of what's in your warehouse, how long it has been there, and when it leaves, but this type of program really acts as the heartbeat of your entire enterprise.
Choosing the wrong warehouse inventory software can mean added delays, employee frustration, increased costs, and even extra customer service issues if your buyers aren't getting what they ordered on time and correctly.
So, what is the best inventory management software for manufacturing? Well, that would be Ordoro, of course! With our app, you can streamline your entire process for better accuracy and efficiency.
Plus, Ordoro integrates with most barcode scanners and label printers, making it easier to track items as they move throughout your warehouse location. Think of it as the best way to integrate all of your inventory processes into one dashboard, while still getting the flexibility you need to customize features to your needs.
Do you sell on multiple channels, such as Walmart or Amazon? What about Shopify?
Inventory Management Software Small Business
If you're looking for free inventory software for small business use, then you might be reviewing several different options. But, with so many different software companies out there, how do you know where to start?
Orodoro is still the best inventory management software small businesses can utilize to ensure their data is safe, tasks are automated, and the whole process is incredibly efficient.
Our verdict? Skip the inventory management software small business free options and go straight to Ordoro. By eliminating the potential for hassles with an open source program, you can focus on more important things in your operations—like immense growth.
Zoho Inventory
When a lot of companies look at adding an inventory management software program, they look at Zoho Inventory. While this is certainly one option, it is really imperative that you do your due diligence and inspect whether that's the right choice for your needs.
For example, Zoho is known to have certain quirks that not many people like. Things like sales and purchase order limits can be quite difficult to get around. And it only supports FIFO costing, which might not be right for every company.
So, is it a good option for your needs? Only you can really answer that, but taking a look at features is an ideal place to start. Another thing you can do is check out Zoho Inventory review pages online. This will give you an accurate look at what other small business owners are saying about the program and whether it actually fulfills their needs. Likewise, you can always look to see if there are any of your competitors or those in your same niche who have left reviews about Zoho to compare.
Is Ordoro better than Zoho Inventory management? While we would definitely say yes, we feel this is up to you to decide. Not only is it far more flexible, Ordoro offers many more features that our competitors do not in terms of automation, omnichannel sales, and overall functionality.
However, thousands of users have opted for Ordoro as the primary way to manage inventory and that figure continues to grow all of the time.
Best Inventory Management Software
What is the best inventory management software? Ordoro offers tons of robust features that make keeping track of inventory as simple and easy as possible.
Need an example? With Ordoro, you can automatically sync and track inventory levels. You can also bundle items together to make it easier to handle shipping needs and concerns.
What's more, you can automatically create and send out purchase orders when it's time to restock. And the barcode scanner feature makes it much easier to fulfill orders when customers place them.
Ordoro is truly the best simple order management software for online retailers. Whether you're just starting out or looking to expand your existing enterprise, our robust app and full list of features make the process easy.
Additionally, Ordoro offers multi-carrier shipping support, kitting, and tons of automation features to make running a successful ecommerce business a reality.
Why worry about trying to use multiple platforms or programs? With Ordoro, everything is available in one convenient dashboard. You can even run reports to yea j and see where items are in the sales and fulfillment process.
We're considered the best inventory management software for ecommerce in 2021 as rated by The Blueprint.
Even better, Ordoro offers a free thirty-day onboarding program and lifetime support. We believe in your success and cannot wait to help you get started.
Are you ready to find out how Ordoro can improve your online business? Please schedule a demo to learn more.