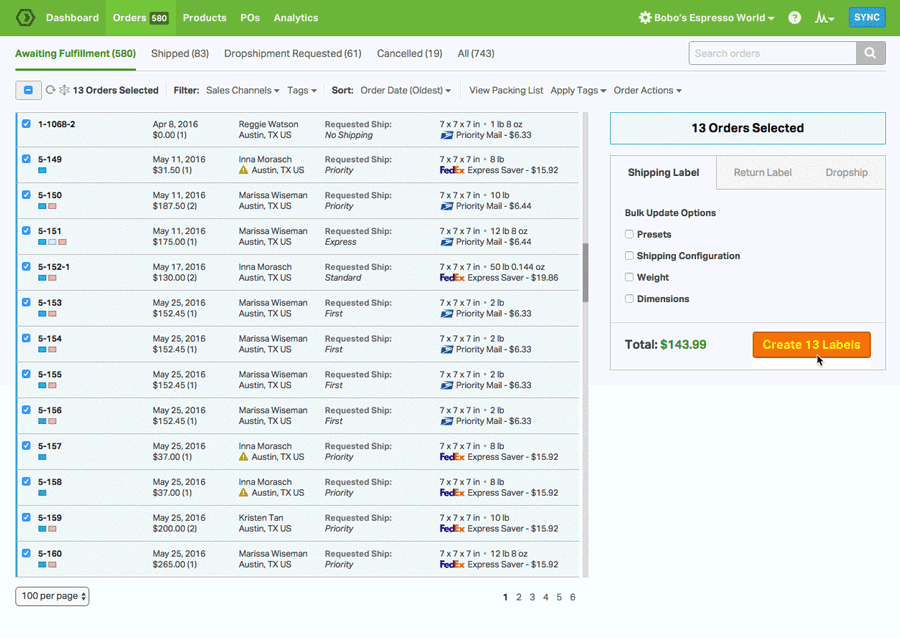 The Platform that shows you How To Figure Out Shipping For eBay
The All-In-One Ecommerce Logistics Platform
Equip yourself with a comprehensive solution
Inventory Management
Stock, sync, and scan.
Automatically track and sync your inventory levels
Create and send out Purchase Orders when it's time to restock
Bundle multiple SKUs into one unit for sale
Use Barcode Scanning to reduce fulfillment errors
Multi-Carrier Shipping
Your workflow, minus the work.
Enjoy heavily-discounted shipping rates via USPS
Ship via any of our integrated shipping carriers like USPS, UPS, FedEx, DHL and Canada Post
Set up your own Automation Rules and Shipping Presets
Print shipping labels in triple-digit batches or individually
Dropshipping
Truly hands-off dropshipping.
Launch a dropshipping operation in a matter of clicks
Tag any product as drop shipped and assign it to a vendor
Choose between automated or manual routing
Activate a Vendor Portal between you and your supplier
Multichannel
We're your operations hub.
Integrate and view all of your sales and supplier channels in one spot
Use our open API to hook up any third-party or custom apps
Manage every aspect of your orders
Establish Supplier Feeds for real-time, back-end communication
Barcode Generation and Scanning
Raise the bar for stocking and packing.
Create UPC barcodes for your products
Scan, set, and search UPC codes for SKUs within Ordoro
Reduce fulfillment errors with our pack and pack barcode scanning workflow
Scan received POs to automatically adjust stock levels
Don't take our word for it
Our awesome customers have shipped some really great compliments our way:
"I spent about a month thoroughly searching for the right backend fulfillment software for my eCommerce business. There were definitely some big name guys out there that I considered, but at the end of the day, I went with Ordoro and I'm so glad I did!"

Tina Yarandi
Founder/CEO of Nature's Artisan
"Ordoro continues to add immensely valuable features to an already awesome sales/warehousing/shipping platform. Using Ordoro continues to save us time and money."

Anthony Krize,
VP of GE Holiday Lighting
How To Figure Out Shipping For eBay
If you are looking for effective ways to grow your business online today, then there is a good chance that you have thought about selling on eBay. And this is a good choice, too - after all, eBay is one of the most established online shopping platforms out there. Though there are many more platforms today than even five or ten years ago, eBay is still a popular option where countless people come to find the products and services they need. So, if you want access to a large customer pool, then you should consider taking advantage of eBay.
However, even though it can be highly lucrative to begin selling on eBay, you also need to think about how you will get orders delivered to the customers who purchase them. This is where eBay shipping is important. So, if you are wondering how to figure out shipping for eBay, there are a few important points to keep in mind.
Of course, one of the first factors you will need to be thinking about is eBay shipping fees. No matter where you need to ship your orders, you will have to pay for this to happen. Here, the main question to consider is how you will structure shipping options to best benefit your company and save as much in costs as possible.
This is why you may want to take a look at your eBay shipping preferences, since this can help you figure out just how you want to structure your account when it comes to meeting shipping needs. While this is worth doing correctly, it can also take a long time to properly assess your options, especially for each individual order. This is where it can also be hugely helpful to rely on a comprehensive program such as Ordoro.
Likewise, because you as a business manager already have a lot to handle on a daily basis, you do not want to spend so much of your time worrying about how to ship each order to customers. Fortunately, with access to the right integrations from Ordoro, you can expedite this process and save both time and costs.
So what do you need to do if you're trying to figure out shipping for eBay and make sure that orders reach customers efficiently?
How To Ship on eBay for Beginners
To begin with, if you are wondering how to ship on eBay for beginners, then there is a lot to think about. For instance, you need to consider your eBay shipping cost report, how you will handle eBay shipping tracking, and what you will do if you need to print out more eBay shipping label examples for your packages.
This, however, is another area where Ordoro can come in handy. By taking advantage of the automated tools available through this program, you may be able to reduce your shipping rates significantly. For example, if you ship through USPS, then you may be able to save up to 2/3 on the cost of that order, and Ordoro can show you how. When using Ordoro, you can also select from a wide variety of shipping services, including Canada Post, UPS, FedEx, and USPS. The program will help you compare rates for both domestic and international orders.
In order to expedite the shipping process, you can also use Ordoro's programs to print out a wide variety of shipping labels effortlessly. Consider: why should you worry about printing out an individual shipping label or a bunch of them at the same time, when this is something that Ordoro can handle for you?
Likewise, you can even take advantage of eBay Global Services if you need to ship orders overseas. The overall goal of this program is to make the shipping process as easy as possible. So, with access to these comprehensive programs, you can significantly reduce the amount of time you spend worrying about shipping orders. You can also even use this integration to help improve your inventory management practices.
Ultimately, the learning curve when it comes to shipping on eBay can be steep, particularly if you're looking at it for the first time or trying to manage it alone. So, one of the ways in which you can make this whole process easier is to take advantage of the Ordoro platform and integrations. The less time you have to spend worrying about your shipping, the more time you can spend growing your business, such as monitoring your sales funnel and acquiring new customers. So, consider putting this program to work for you!
eBay International Shipping
If you have orders that you need to send internationally, then you may be wondering where to even start. First of all, you need to consider where your orders are going. Depending on where your company is located, some countries and some customers will undoubtedly be farther away than others. For example, if you are based in the United States, then it won't be much of a big deal for you to send something to Canada; however, if you need to send something to the United Kingdom, though, this is slightly further away, and it will probably be more expensive. And either way, you still need to be thinking about the rules and regulations that come from shipping something overseas.
As a result, you need to think carefully about how you will be handling your shipping needs. If you do this early and often, then you can rest assured that you are saving as much money as possible on the cost of your shipment.
As one way of doing this, there are multiple shipping calculators that you can use to figure out how much you might spend to ship your order to another country. For example, you may be interested in an eBay shipping calculator UK or an eBay shipping calculator Canada. Here it's also worth noting that eBay international shipping can vary widely from country to country, so you also need to think carefully about where you are sending your orders. This will also impact and change the regulatory obstacles you may have to deal with, such as customs, in order to get your orders there on time.
Fortunately, there are plenty of options available at every step of the way here. For example, if you are curious about the eBay international shipping cost, then there are a lot of factors that you'll need to consider. For example, you may be taking a look at eBay Canada shipping options and eBay postage UK. These are both important factors that will play a role in the amount of money you spend when shipping orders internationally.
However, international shipping costs and options are yet another area that Ordoro can help you address. With access to eBay Global Shipping, you can make this entire process easier for yourself. You can assess your options, pick the best one for your needs, and print out shipping labels that can help you get your orders where they need to go quickly and easily.
Cheapest Shipping for eBay Sellers
If you are wondering how to ship on eBay for free, though, then it is important to remember that there is no such thing as a free lunch. Or, in other words, no matter how you decide to structure your business, you will still have to pay for shipping eventually.
Because of this, you will need to decide whether you want to cover the cost of shipping or if you want to pass the cost of shipping on to your customers through slightly higher prices. Fortunately, there are ways for you to find the cheapest shipping for eBay sellers. For example, if you are looking for cheap postage for eBay sellers, then it becomes crucially important to rely on an integration that can help you compare your options quickly and easily. In this way, you can find the least expensive option for your business.
A lot of people complain that eBay shipping costs are too high. This makes sense in a certain light - after all, if you continue to pay high prices for your shipping, then this is going to take a significant bite out of your profit. To avoid this as much as possible, you need to think carefully about how you are going to scale back the cost of shipping. If you take advantage of the integrations through Ordoro, though, then you can save a lot of time and money when it comes to shipping your orders, so put this integration to work for your company today.
eBay Shipping Cost
If you are curious about your eBay shipping cost, it is also important to understand that there are multiple carriers available. For example, if you take a look at a USPS shipping calculator, then you will see that USPS shipping rates are different from those displayed on a FedEx shipping calculator or on a UPS shipping table. If you take advantage of UPS, though, you will not need a UPS account in order to shift through them. This is a carrier that accepts eBay QR codes and provides you with a discount on certain services.
Or you may also want to learn more about FedEx, which provides competitive eBay commercial rates and also accepts QR codes through eBay. FedEx often offers discounts for business shipping as well.
Finally, the United State Postal Service or USPS also offers eBay sellers a variety of discounts on certain retail rates. With this carrier, it is also free for you to schedule USPS pickups.
These are just a few of the perks that can come from using these carriers through eBay. Likewise, keep in mind that you are not beholden to a single carrier. You will quickly find that one carrier may work well for a specific kind of order, and that it may also make sense to switch to a different carrier for a different type of order. With this in mind, always assess your options and make sure that you find the best carrier for your needs with each order.
eBay Shipping Rates Table
Ultimately, it is important to learn more about how eBay calculates shipping costs for many reasons. Luckily, if you take a look at the eBay shipping rates table, then you can see just how the eBay shipping calculator works. These shipping rate tables increase the transparency regarding how much you will need to pay for shipping. In addition, even though there is an eBay shipping fee, it is also important to take a closer look at your eBay freight shipping calculator. That way, you can learn more about how you can control the costs you pay for shipping.
If you are interested in using calculated shipping, then it is important to take a look at the shipping section and there select the right option for you. Under the services tab, you can also calculate shipping quickly by entering the dimensions of your package, your zip code, and any handling fees. Then, you can select a destination and generate an estimation regarding how much shipping there is going to cost you.
All things considered, it is important for you to go through this process regularly just so that you always know just how much you might have to spend in order to get their packages to your customer. This is tremendously important for running your business effectively.