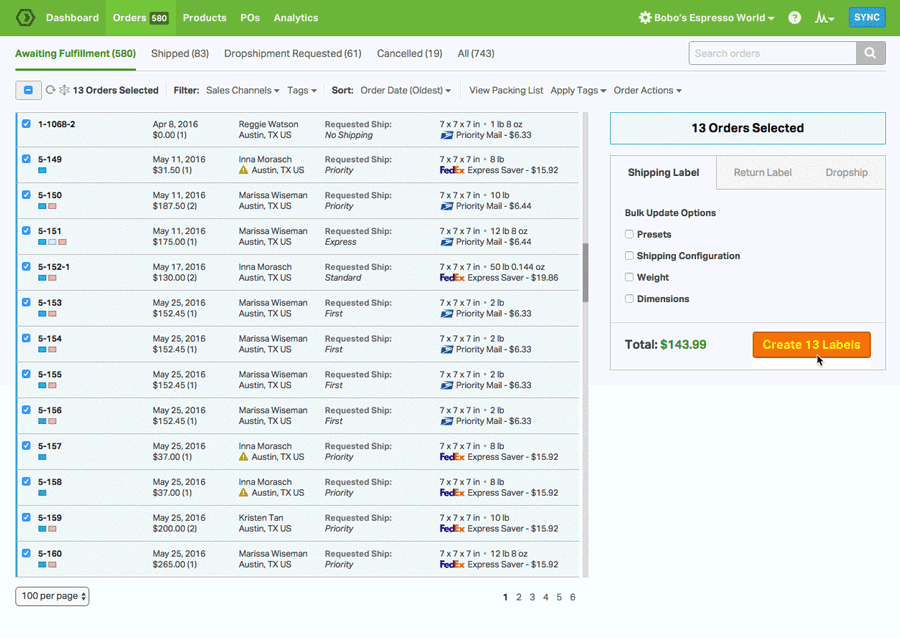 Affordable order fulfillment with the cheapest shipping for ebay sellers
The All-In-One Ecommerce Logistics Platform
Equip yourself with a comprehensive solution
Inventory Management
Stock, sync, and scan.
Automatically track and sync your inventory levels
Create and send out Purchase Orders when it's time to restock
Bundle multiple SKUs into one unit for sale
Use Barcode Scanning to reduce fulfillment errors
Multi-Carrier Shipping
Your workflow, minus the work.
Enjoy heavily-discounted shipping rates via USPS
Ship via any of our integrated shipping carriers like USPS, UPS, FedEx, DHL and Canada Post
Set up your own Automation Rules and Shipping Presets
Print shipping labels in triple-digit batches or individually
Dropshipping
Truly hands-off dropshipping.
Launch a dropshipping operation in a matter of clicks
Tag any product as drop shipped and assign it to a vendor
Choose between automated or manual routing
Activate a Vendor Portal between you and your supplier
Multichannel
We're your operations hub.
Integrate and view all of your sales and supplier channels in one spot
Use our open API to hook up any third-party or custom apps
Manage every aspect of your orders
Establish Supplier Feeds for real-time, back-end communication
Barcode Generation and Scanning
Raise the bar for stocking and packing.
Create UPC barcodes for your products
Scan, set, and search UPC codes for SKUs within Ordoro
Reduce fulfillment errors with our pack and pack barcode scanning workflow
Scan received POs to automatically adjust stock levels
Don't take our word for it
Our awesome customers have shipped some really great compliments our way:
"I spent about a month thoroughly searching for the right backend fulfillment software for my eCommerce business. There were definitely some big name guys out there that I considered, but at the end of the day, I went with Ordoro and I'm so glad I did!"

Tina Yarandi
Founder/CEO of Nature's Artisan
"Ordoro continues to add immensely valuable features to an already awesome sales/warehousing/shipping platform. Using Ordoro continues to save us time and money."

Anthony Krize,
VP of GE Holiday Lighting
Cheapest Shipping For Ebay Sellers
Are you looking for ways to expand your online business or your ecommerce arm? If so, then you may have thought about taking advantage of eBay. After all, eBay was one of the original online shopping services and still sees tremendous use today. Though other platforms may be growing now, eBay is still one of the most effective ways for you to expand your customer base online.
At the same time, though, there are also overhead expenses that you may incur if you decide to ship on eBay after closing sales there. As a result, you need to think carefully about how you will manage these expenses, such as shipping physical products to customers around the world. Given how central and expensive shipping is, this may be why you are looking for the cheapest shipping for eBay sellers.
If you are wondering how to reduce shipping costs on eBay, then you may also want to take a closer look at the eBay shipping cost itself. Or, more specifically, if you are looking for the cheapest way to ship on eBay, then you need to think carefully about the provider you choose. The reality is that there is no single "best" option out there that will meet every need for every company - after all, different businesses have different needs and goals. Instead, then, you should think carefully about your specific business objective, review the available providers, and select the best option there for you.
There are also a number of factors that may play a role in how much money you spend shipping items on Ebay. These factors could include the nature of the items you are shipping, how far you have to send each order, how many orders there are at a time, the shipping provider you choose, and any other special considerations regarding your order. If you intend to find ways of saving money on your shipping needs, then it is also important to think about each of these factors individually. That way, you will be prepared to look for certain things when you are ready to find the right shipping provider to meet your needs.
So, what are a few examples of factors you should consider in this area?
eBay Shipping Service
When trying to get orders to the customers who purchased them, one option is for you to use an eBay shipping service. If you are looking for an "eBay seller used cheaper shipping method" or similar options, you also need to compare what is available. For example, there might be an internal eBay shipping service you can use, since eBay actually launched its managed delivery service in 2020, providing its buyers and sellers with more options. So, the internal shipping service provided by eBay is a viable and well-vetted option that may also be able to save you time and costs.
However, it is also important to review all applicable eBay shipping fees when trying to produce your eBay shipping level. If you do this, then you will have a better sense of the costs you'll need to pay. You also need to consider how you are going to account for this cost when pricing your products and services. This is worth thinking about because, for instance, the cost of eBay branded shipping supplies may be the same as the cost of other providers' in some cases, while the cost of using eBay at all could actually be more expensive in other cases.
The "right" answer here will be different for different companies, which have different needs and ship different kinds of products. This is why you need to look at all your options, assess the benefits and drawbacks of each one, and decide which one is the best fit for you. Keep in mind, too, that the eBay managed delivery service may be able to handle a variety of other tasks for you as well. Then, if you can save both costs and time, these are resources that you can put back into your company, driving new growth in the process.
Therefore, you should not rule out the shipping service from eBay immediately. This could be the best choice for your company, depending on what you're trying to accomplish and how big your budget is. Also, keep in mind that if you have questions or concerns, you can always reach out to shipping professionals who can help you in this area.
Best Shipping Rates for eBay Sellers
If you are trying to find the best shipping rates for eBay sellers, then it may be helpful to take advantage of an eBay shipping calculator. There are plenty of shipping calculators available today that can be helpful for determining shipping rates for different weights, carriers, and destinations.
All the same, you still need to make sure that the calculator you are considering will account for all of the factors involved in the price of shipping something. For example, you need to make sure that the calculator can include information on the provider, the distance that an order will be traveling, the amount of time it will take to reach its destination, and any special considerations like customs or fees.
This is just one way of finding out how you can find the cheapest postage for eBay sellers. Remember too that you may be able to get a discount on your shipping services if you are able to ship certain items or orders in bulk. So, if you need to send multiple items to the same location, then it may be worth it exploring this kind of option.
eBay Delivery Service Tracking
It is also important for you to have options for providing customers with delivery tracking services. One of the biggest challenges of running an online business is that your customers will not walk away with their new item as soon as they have paid for that order, like they would at a brick-and-mortar storefront. Therefore, you need to give them the peace of mind they require while waiting to receive the items they paid for. One of the best ways you can achieve this is by providing eBay delivery service tracking.
Or, at this point you might still be wondering how to ship eBay items USPS. Likewise, you may also be wondering how to change shipping methods on eBay when selling. So, if you take a look at FedEx free shipping supplies, you should see the options available for tracking your orders.
It is important for the future of your business to take this information, summarize the important parts, and pass those along to your customers. This way, if they have any questions or concerns about where their items are on the way to them, customers can simply take a look at the delivery tracking information. That way, they will know exactly when their orders are scheduled to arrive. Plus, on your side of the process, you can also keep an eye on this delivery path and address any issues that might arise at each step along the way.
How To Ship on eBay for Free
Of course, there is also always the temptation of free options. However, if you are wondering how to ship on eBay for free, it's worth understanding up front that this is not completely possible. The reality is that it will always cost money to ship items from place to place, and really, even with "free" deals the only question is who will really be paying this cost. For example, you may be able to take advantage of the fulfillment service from eBay, in which case you as the business owner will be paying a set subscription fee in exchange for eBay shipping your items. So even though this is not exactly free, it may help you save money if you make a lot of sales and can afford a flat subscription price.
Or, if you are wondering "how do eBay sellers offer free shipping on cheap items," the answer is that these cheap items might be included with other delivery orders that they are already paying shipping on. In a related vein, if you are looking for the best shipping for eBay, you may be wondering, "does eBay offer free shipping?" Here the answer is that eBay does have its own fulfillment service, but for sellers it does cost money to use.
So, if you are wondering how to ship on eBay for free, keep in mind that no matter what deal or offer you take advantage of, you will be paying for shipping one way or another. You may be able to save money by taking advantage of free shipping supplies, but that may be the limit of truly "free" options. Whichever route you prefer, though, be sure to take a look at all options available to you.
How To Ship on eBay for Beginners
If you are wondering how to ship on eBay for beginners, there are a lot of shipping supplies for eBay sellers that you need to use. You might be wondering, "how does shipping work on eBay for sellers?" The simple answer here is that you have multiple options available to you.
The first of these options is to handle shipping on your own. In this case, you need to take a look at multiple shipping carriers and see who will provide you with the best rate, speed, and service. A few of the most popular and reliable examples include USPS, FedEx, and UPS. However, remember that different companies might be better in certain situations.
Also, keep in mind that there is the managed service from eBay as well. This is eBay's own fulfillment service, which may be able to handle most, if not all, of this shipping process for you. There are certain situations where this service may be able to help you save time and money as well, so you should also consider the cost of shipping through the fulfillment service provided by eBay.
Whatever you eventually decide, you need to assess all of your options carefully before you decide which provider you want to handle shipping for you.
eBay Shipping Tips
Are you wondering how to lower shipping costs on eBay after purchase? Here, it may also help to take a look at a few eBay shipping tips.
First, make sure you select the tracking option on all of your orders. This way, you will know exactly where your orders are at every step along the way as they travel to your customers. Then if something goes wrong with one of your orders, you can handle this quickly. You might even be able to get an eBay shipping supplies credit if something goes wrong.
Next, you should always compare multiple options. That way, you will never overpay for shipping and you will know the benefits that come from working with specific providers. Also, if you know upfront exactly how much you will have to pay, then you can budget accordingly. That way, you can set your prices more accurately as well to help maintain your bottom line.
Finally, you always need to explore automation tools as well. It can take a lot of time to pack, label, and ship your orders, especially as more and more of them come in. With this in mind, you need to invest in the right set of tools that can help you with your shipping needs. For example, you should consider taking a closer look at the resources Ordoro has available on its website. That way, you can rely on expert guidance from professionals who have experience in this area. They may be able to help you save a lot of money with your shipping options.