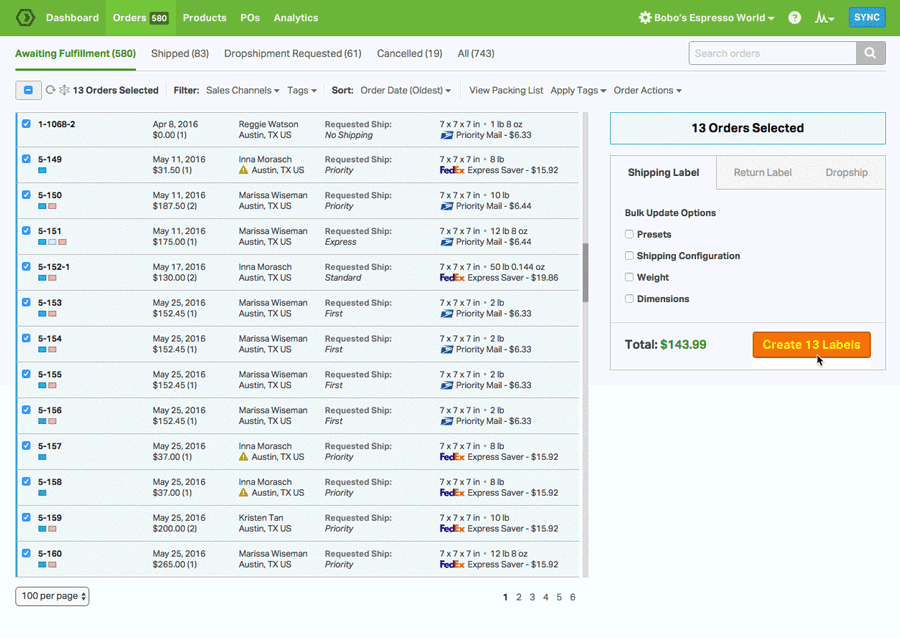 Multi-carrier shipping software that saves you time and money
The All-In-One Ecommerce Logistics Platform
Equip yourself with a comprehensive solution
Multi-Carrier Shipping
Your workflow, minus the work.
Enjoy heavily-discounted shipping rates via USPS
Ship via any of our integrated shipping carriers like USPS, UPS, FedEx, DHL and Canada Post
Set up your own Automation Rules and Shipping Presets
Print shipping labels in triple-digit batches or individually
Inventory Management
Stock, sync, and scan.
Automatically track and sync your inventory levels
Create and send out Purchase Orders when it's time to restock
Bundle multiple SKUs into one unit for sale
Use Barcode Scanning to reduce fulfillment errors
Multichannel
We're your operations hub.
Integrate and view all of your sales and supplier channels in one spot
Use our open API to hook up any third-party or custom apps
Manage every aspect of your orders
Establish Supplier Feeds for real-time, back-end communication
Dropshipping
Truly hands-off dropshipping.
Launch a dropshipping operation in a matter of clicks
Tag any product as dropshipped and assign it to a vendor
Choose between automated or manual routing
Activate a Vendor Portal between you and your supplier
Don't take our word for it
Our awesome customers have shipped some really great compliments our way:
"I spent about a month thoroughly searching for the right backend fulfillment software for my eCommerce business. There were definitely some big name guys out there that I considered, but at the end of the day, I went with Ordoro and I'm so glad I did!"

Tina Yarandi
Founder/CEO of Nature's Artisan
"Ordoro continues to add immensely valuable features to an already awesome sales/warehousing/shipping platform. Using Ordoro continues to save us time and money."

Anthony Krize,
VP of GE Holiday Lighting
Shipping Software
Today's consumers tend to turn to the internet first when looking for a product or service. They visit a search engine, enter the phrase they think describes what they want, and scroll through the first page of results to browse what shows up. Therefore, if you as a business owner would like your company to be able to compete and generate more revenue, then you need to have a strong online presence. The reality is that multiple studies have predicted that online sales are poised to pass sales from brick-and-mortar stores in the near future. Between this prediction and consumers' browsing habits, your business must be visible, memorable, and ready to deliver excellent products and services, all at once.. This is where shipping software comes in handy.
Shipping software, which is designed to make ecommerce order fulfilment quicker and easier, is a great way for businesses to make sure that orders reach their customers in a timely manner. When it comes to shipping software, there are a number of features that business owners should be aware of. For instance, enterprise shipping software has the ability to help small businesses find the best way possible of shipping products to their customers. Furthermore, with the ability to automate shipping anywhere in the world, the best shipping software for ecommerce can also save small business owners a tremendous amount of time. In the beginning, many business owners decide to try to fulfill shipping requests for their orders manually, but the reality is that once orders begin picking up, it is impossible for manual processes alone to keep up. This is where shipping software becomes very helpful.
In addition, there are plenty of options available when it comes to shipping software. In the beginning, many small business owners will be looking for shipping software free options. However, even though small business owners are looking for ways to cut their overhead expenses (and understandably so!), this is not one of the places to try these cost-saving measures. This is because free shipping software options often end up being more expensive in the long run, since the vast majority of free options are not designed to scale with the business. Therefore, switching software selections as the business scales can take a lot of time and money in terms of purchasing, implementing, and training on the new program. Much of this trouble can be saved by investing in these software solutions a little earlier.
With all of these factors in mind, it is important for small business owners to take a closer look at shipping software and consider how they can find the right program to meet their particular needs. Every industry is different, so it is important for business managers and leaders to think about which shipping software will work best for them, given the nature and the details of their business.
Shipping Platform
One of the most important tools that can help a business is a shipping platform. A shipping platform is specifically designed to help customers select, place, and fulfill shipping for their orders. When business owners provide the right shipping platform, this saves them time and money, because instead of needing to worry about finding shipping for each and every customer, their customers can handle this on their own through the shipping platform provided. Given its importance to a thriving business, it is important for business leaders to find the right shipping platform for their company.
When just starting out, many companies will decide to go with a free shipping software option. This choice makes sense: a free option is a great way to learn about what features a business might need in a shipping platform, what features they don't need, and how they can meet the exact needs of their customers without paying for features they don't require. At the same time, though, a free option can only carry a growing business so far. Eventually, companies that are looking to get the best worth out of shipping will need to pay for a shipping platform.
Finding the best shipment tracking software can be an important step in this direction. Shipment tracking is one of the essential features that just about every business should be looking for in a shipping platform. This feature is important because it keeps customers in the loop. When customers place an order online, this is quite different from being able to walk out the door with it, so they will want to make sure that their order is on its way to them. When small businesses are transparent with their shipping, they build a sense of loyalty among their customers, and as a result, customers are more likely to come back for future purchases.
Of course, shipment tracking is not the only feature that small businesses should be aware of when it comes to picking a shipping platform. Instead, selecting the best online shipping service will often mean finding a balance between cost and time. For example, some customers might want to get their order as quickly as possible, even in the next day or two, and these customers will be willing to pay more for the rush service. Other customers, though, might be fine waiting a couple of weeks for their orders, so long as shipping costs less. Therefore, it is important to consider placing a shipping calculator on the business's website so that customers know exactly how much they are going to pay for shipping and how long it will take the products to reach them. Companies can also make this even easier by offering free shipping on orders that reach or exceed a certain value.
Shipping Management Software
Another tool that businesses should consider using is shipping management software. Shipping management software is designed to help businesses meet all of their shipping needs, from inventory control all the way to package tracking. Similar to other products and services, shipping management software comes in many shapes and sizes. Therefore, it is important for business owners to think about the features they will need so that they can find the right tool for their companies without spending too much money.
For example, some people might be looking for shipping software that can label their packages, and for them, shipping label software can be helpful. Creating a convenient shipping label is important for making sure that packages arrive exactly where they are supposed to. At first, many companies may be thinking about handling their shipping label needs by hand, but the reality is that handwriting is prone to getting smudged or being misread. It can also appear less professional and polished. Therefore, it might be a good idea to find software programs that can handle label development automatically instead.
Of course, many companies decide to go with discount shipping software open source shipping software. Small business owners never want to spend more money than they need to, which is understandable. At the same time, discount shipping software will eventually place business owners at a disadvantage. This is because in order to save as much money on shipping as possible, it is important to avoid discount shipping solutions. Even though it is okay to think about a free trial before making a decision to purchase the entire product, it is a good idea for companies to invest in proper shipping software if they want to take advantage of every feature these programs can offer. For instance, the right shipping software program should be able to compare rates across multiple carriers to provide customers with the cheapest shipping option possible.
Furthermore, companies need to think about how much time they can save when they no longer have to worry about managing shipping manually. If customers are able to handle shipping for all of their packages on their own, then they do not have to take up the time of any employees. This is time that managers and business leaders can spend making business deals, expanding the business, and boosting revenue. Therefore, it is a good idea for small business owners to find the right shipping management software to meet their needs.
Multi Carrier Shipping Software
There are also software options that can help small businesses to check out rates across multiple providers, such as USPS, FedEx, UPS, and more. When it comes to a parcel shipping software that can compare multiple carriers, there are a number of advantages. For example, companies will be able to compare multiple rates against each other and figure out the cheapest shipping option for their needs. They may find that one carrier might provide lower rates on international shipping options while another carrier provides lower rates on domestic options.
Therefore, it is a good idea for a company to check out the best multi-carrier shipping software if they intend to be shipping orders of various sizes all over the country. Companies that ship orders domestically and internationally, or that handle both small and bulk orders, will want to make sure they have all of their options available to them.
It is important for all business leaders to consider this as an option if they are going to be using multiple carriers. The reality is that shipping costs are a significant obstacle that business owners have to overcome. With more and more orders being filled online every day, shipping costs will continue to be a reality of the future. Therefore, it is a good idea for business leaders to think about how they can get a handle on their shipping expenses now.
And finally, a free program is usually not tailored to meet the needs of a particular business, let alone an industry. In this way, a free program can leave a company at a distinct disadvantage compared to their competitors. Therefore, in order to truly take advantage of everything that an inventory management software program has to offer, business owners should be willing to invest in a paid program.