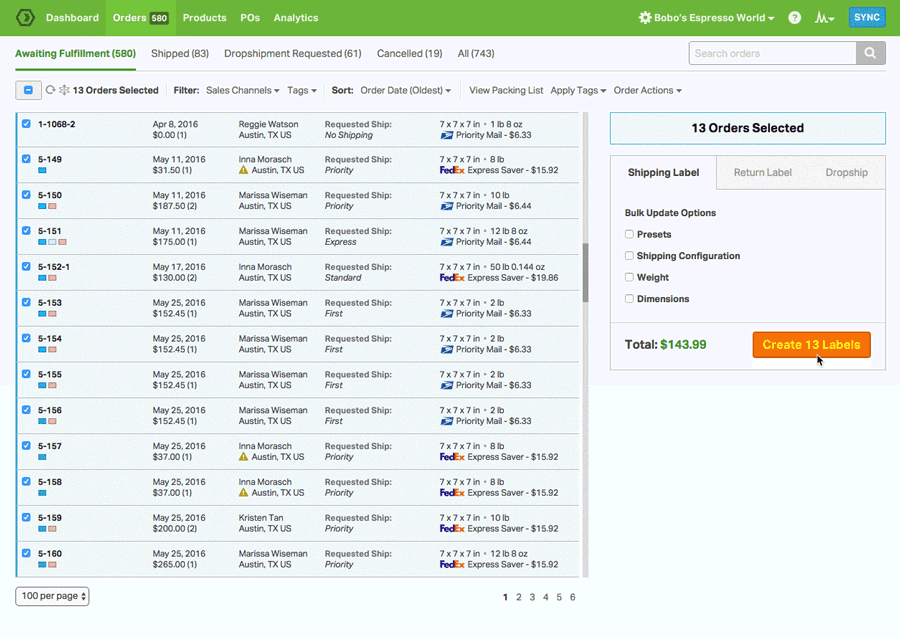 How To Find Dropshipping Suppliers
The All-In-One Ecommerce Logistics Platform
Equip yourself with a comprehensive solution
Inventory Management
Stock, sync, and scan.
Automatically track and sync your inventory levels
Create and send out Purchase Orders when it's time to restock
Bundle multiple SKUs into one unit for sale
Use Barcode Scanning to reduce fulfillment errors
Multi-Carrier Shipping
Your workflow, minus the work.
Enjoy heavily-discounted shipping rates via USPS
Ship via any of our integrated shipping carriers like USPS, UPS, FedEx, DHL and Canada Post
Set up your own Automation Rules and Shipping Presets
Print shipping labels in triple-digit batches or individually
Dropshipping
Truly hands-off dropshipping.
Launch a dropshipping operation in a matter of clicks
Tag any product as drop shipped and assign it to a vendor
Choose between automated or manual routing
Activate a Vendor Portal between you and your supplier
Multichannel
We're your operations hub.
Integrate and view all of your sales and supplier channels in one spot
Use our open API to hook up any third-party or custom apps
Manage every aspect of your orders
Establish Supplier Feeds for real-time, back-end communication
Barcode Generation and Scanning
Raise the bar for stocking and packing.
Create UPC barcodes for your products
Scan, set, and search UPC codes for SKUs within Ordoro
Reduce fulfillment errors with our pack and pack barcode scanning workflow
Scan received POs to automatically adjust stock levels
Don't take our word for it
Our awesome customers have shipped some really great compliments our way:
"I spent about a month thoroughly searching for the right backend fulfillment software for my eCommerce business. There were definitely some big name guys out there that I considered, but at the end of the day, I went with Ordoro and I'm so glad I did!"

Tina Yarandi
Founder/CEO of Nature's Artisan
"Ordoro continues to add immensely valuable features to an already awesome sales/warehousing/shipping platform. Using Ordoro continues to save us time and money."

Anthony Krize,
VP of GE Holiday Lighting
How to Find Dropshipping Suppliers
If you're wondering how to find dropshipping suppliers that are reliable, affordable and trustworthy, you're not alone. There are a number of websites, such as Shopify, BigCommerce, Ali Express and other resources, that can give good information about locating the best dropshipping suppliers.
What makes a good supplier?
Reliability – fulfills orders correctly and on time
Fair pricing and terms of products
Integrity with securing customer information
How can you spot a fake supplier before getting scammed? Here are some clues:
No verifiable address or contact information
Advertising get-rich-quick claims with their dropshipping services. Building a successful dropshipping business takes time (and good marketing) to get customers to find and buy from you
The company isn't based in the US: most overseas dropshipping companies are actually middlemen, not true wholesalers
Extra fees, such as recurring membership or "service" fees, are required to use the dropshipper – not required by legitimate wholesalers
How to find dropshipping suppliers on AliExpress: click on "Sellers's Categories" in the sidebar for products and you'll be directed to listings, descriptions, contact information, and more. Oberlo is also a helpful app, depending on the products desired.
Since many of AliExpress's sellers are in Asia, delivery is often slower, with delivery times sometimes 30 days or more.
Spocket, on the other hand, uses suppliers primarily in the US and EU, which means faster delivery as well as often a higher-quality product.
Sources of the best dropshipping suppliers 2021 are among the following:
AliDropship
Inventory Source
Oberlo
Spocket
Free Dropshipping Suppliers
There are a number of websites and online resources for finding free dropshipping suppliers, such as on free dropshipping platforms like CJ Dropshipping, AliExpress, Modalist, WooCommerce, and AliExpress.
Shopify, while not completely free (there is a free trial period, however, so you can test it out before committing to it long term, as well as a very affordable monthly charge for a basic plan) is one of the most popular and fast-growing ecommerce sales platforms on the Internet. It offers its users a complete course in dropshipping to ensure success right from the start. You'll learn how to create an attractive online store, find products to sell from reputable and reliable sources as well as some free dropshipping suppliers for Shopify, tips to boost sales, plus tools for tracking shipments, sales analytics and more.
If you're based in the USA, finding free dropshipping suppliers USA based may be a little trickier as so many dropshipping suppliers are currently based overseas. However, check out the app Spocket for potential sources of reliable, quality products, with faster shipping, especially if looking for certain categories and industries.
(Note that most reputable wholesalers don't charge high fees to use their sites and purchase products beyond the actual item costs, so any company doing so is probably not legit.)
Ordoro is a leader in ecommerce inventory management software – thousands of satisfied users have looked to it for help in managing and taking better control over their ecommerce tasks, as well as enjoying lifetime support and FREE 30-day onboarding.
Dropshipping Suppliers
Dropshipping suppliers abound on dozens of sites, but finding a good supplier can be a little trickier and take some time, effort, recommendations from friends or online reviews, and more often than not, old-fashioned trial-and-error. Looking for dropshippers USA based? Spocket can be a good source of US-based manufacturers with more emphasis on quality over quantity, and yet is reasonably priced, with faster delivery. You should have figured out your niche market: do you need suppliers for electronics, for example, or dropshipping suppliers clothing and soft goods?
If you have a Shopify store, the Oberlo suppliers app is made to order as one of Shopify's apps with an excellent selection of low-cost products from around the world. Some of its "Pros" are:
It can do most of the online legwork in sourcing suppliers
It has good customer service
It performs product-editing before adding to your Shopify store
Its Chrome extensions are easily installed
It allows editing of multiple items at the same time
The "Cons" are that it may have trouble interfacing with AliExpress under some circumstances.
Whichever type of software or other tools you choose, you'll want something that measures the performance of the dropshippers you may be using, to help you protect your own seller ratings. Tools that interface with dropshipping suppliers and others can expedite routing orders, making everyone's life easier. In addition, you can assign certain products to certain dropshippers for those that might be better with some products than other shippers.
Dropshipping Products
Finding dropshipping products is not hard to do, especially if you focus on specialty markets, but just like anything else, it is what you decide to make it. In the beginning, your profit margins may be lower as building up a customer base takes time, but if you're doing it right and taking the time and effort to apply what you learn, you can earn some serious money.
To get started in dropshipping you need to:
Select a target market segment – Google or Amazon can help with this very important task. Consider selling as a "niche" or sub-market: for example, try selling dog tags and collars rather than just "dog products."
Analyze competitors as well as their sales stats and try to figure out what they're doing right, as well as where they may need improvement. What can you do better than your competition? Can you offer customers services that might be more competitive, such as better customer service, better prices, more variety, better quality, etc.?
Find a reliable supplier of the dropshipping products you want to sell – this is where careful research pays off. You'll have fewer headaches caused by late shippers or poor quality goods.
Create an online store presence with an ecommerce platform such as eBay or Shopify, and be sure that any apps or plugins you might want to install are compatible with your platform.
Develop a proven strategy for marketing and customer attraction.
Finding Oberlo products offered through one of the partners of Shopify, for example, can pay off by locating supplies of in-demand products and their ease of downloading into a Shopify online store.
Dedicated dropshipping software, such as that developed by Ordoro, gives ecommerce businesses access to dropshipping companies and suppliers from a single platform, without having to create supply chains or fulfill orders and ship products.
Dropshipping Websites
It should be pointed out that the term "dropshipping websites" can refer to apps, such as Spocket or Oberlo, or the sales platform itself, such BigCommerce, WooCommerce, Magento, Wix, or Shopify, all of which do a good job catering to dropshippers.
Shopify offers a great course in getting into dropshipping, with training videos and ongoing support. What's more, you'll be likely to find good supplier dropshipping websites and leads on Shopify's dropshipping companies' headings as the platform has performed well for many suppliers. Additionally, Shopify's dropshipping app store offers more helpful tools and plugins for growing a thriving ecommerce dropshipping business.
Oberlo, which is linked to Shopify and helps businesses locate recommended products as well as download them to a Shopify store, is a major plus of using the Shopify platform. Oberlo's downsides are it's only able to integrate with Shopify and AliExpress dropshipping as well being a bit pricey and bringing in unwelcome competition by labeling products you frequently order as "trending" – meaning everyone else on that site will now want the same thing. One problem reported with users of AliExpress is that while it's intended to work in tandem with the Shopify plugin app Oberlo the two sometimes have trouble "speaking" to each other
Spocket is another one of the more popular dropshipping apps that offer users access to products from around the world, but especially from suppliers based in the US and EU. For those sellers wanting to offer customers faster delivery than from China, this could be a good alternative to CJ Dropshipping or AliExpress.
Ordoro offers a great array of dropshipping tools, plugins, and software that perfectly integrates with whatever platform you choose.
Dropshipping Platforms
Some dropshipping platforms can be a bit hard to navigate and use and keep updated, along with other interruptions and frustrations. Ordoro doesn't believe that you should have to struggle so we've made things as easy and intuitive as possible for you to perform the multitude of tasks necessary to succeed.
The Ordoro dropship platforms USA offers essential dropshipping tools, plugins, and related services including:
Multi-channel integration to remain connected and updated with all of your dropship service suppliers, warehouses, carriers, and sales teams in real-time
Your inventory management is under control with fully automated Ordoro dropshipping software, plugins, and other tools created by some of the top industry developers
Multi-carrier shipping with all the major carriers such as FedEx, USPS, Canada Post, UPS
Pick/ pack lists ensure greater accuracy in fulfilling orders for satisfied customers while making life easier for your hardworking fulfillment team
Kitting offers customers more options for better value
Analytics and reports to help you monitor and predict product trends, sales, and your ecommerce business's progress to determine the direction your business needs to take to grow.
As you can see, between its cost-effectiveness, ease of installation, and use, Ordoro comes out ahead of the rest of the competition to claim a spot as best dropshipping platform 2021. Schedule a demo today to learn how to control your inventory, manage dropshipping operations, suppliers and sales as you grow your ecommerce business.