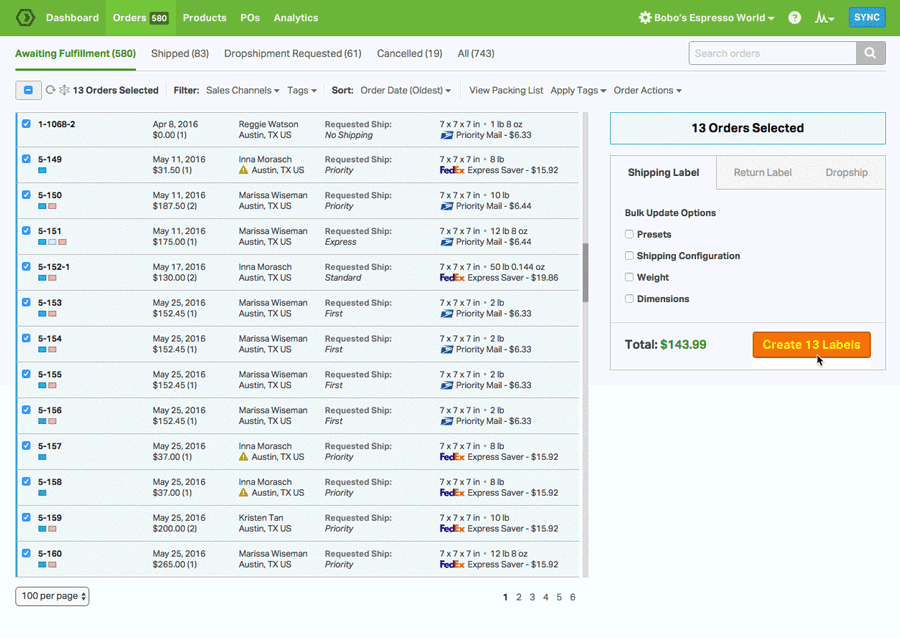 The Best Introduction To Inventory Management
The All-In-One Ecommerce Logistics Platform
Equip yourself with a comprehensive solution
Inventory Management
Stock, sync, and scan.
Automatically track and sync your inventory levels
Create and send out Purchase Orders when it's time to restock
Bundle multiple SKUs into one unit for sale
Use Barcode Scanning to reduce fulfillment errors
Multi-Carrier Shipping
Your workflow, minus the work.
Enjoy heavily-discounted shipping rates via USPS
Ship via any of our integrated shipping carriers like USPS, UPS, FedEx, DHL and Canada Post
Set up your own Automation Rules and Shipping Presets
Print shipping labels in triple-digit batches or individually
Dropshipping
Truly hands-off dropshipping.
Launch a dropshipping operation in a matter of clicks
Tag any product as drop shipped and assign it to a vendor
Choose between automated or manual routing
Activate a Vendor Portal between you and your supplier
Multichannel
We're your operations hub.
Integrate and view all of your sales and supplier channels in one spot
Use our open API to hook up any third-party or custom apps
Manage every aspect of your orders
Establish Supplier Feeds for real-time, back-end communication
Barcode Generation and Scanning
Raise the bar for stocking and packing.
Create UPC barcodes for your products
Scan, set, and search UPC codes for SKUs within Ordoro
Reduce fulfillment errors with our pack and pack barcode scanning workflow
Scan received POs to automatically adjust stock levels
Don't take our word for it
Our awesome customers have shipped some really great compliments our way:
"I spent about a month thoroughly searching for the right backend fulfillment software for my eCommerce business. There were definitely some big name guys out there that I considered, but at the end of the day, I went with Ordoro and I'm so glad I did!"

Tina Yarandi
Founder/CEO of Nature's Artisan
"Ordoro continues to add immensely valuable features to an already awesome sales/warehousing/shipping platform. Using Ordoro continues to save us time and money."

Anthony Krize,
VP of GE Holiday Lighting
Introduction to Inventory Management
What is inventory management? This is the process of tracking your business inventory and stock, so it includes ordering and following the number you currently have of each item compared to how many have sold. It also connects to the shipping of each product.
Managing inventory helps your business have a clear idea of the number of each product you have and when the numbers are low so you need to order again. It helps you be organized and provide better service to your customers. An introduction to inventory management shows that it can both save you money by reducing mistakes and increase revenue through steps like streamlining and bundling.
When developing an inventory management system, your goal should be to streamline inventory tracking. This process can automate inventory tracking and shipping, especially if you use inventory management software that takes these processes over.
There are different types of inventory management systems, so you'll want to find the best fit for your business needs. Manual types of inventory management require entering each piece of inventory data. Using a spreadsheet that you need to manually update is an example of this. A periodic system includes some manual entering and some periodic counts. Barcodes simplify the process, and there is a database to keep track of data. A perpetual system uses active or passive radio frequency ID (RFID) tags to provide real-time updates on stock.
The inventory management process includes knowing the location and level of stock and then tracking its changes. It follows products through the supply chain from the supplier to the customer, including shipping processes.
Importance of Inventory Management
Inventory management helps you run an organized ship rather than one that runs ashore or goes down. You get the drift, wink wink. Basically, lacking a good inventory management system can result in business-crippling problems, such as items out of stock, overstocked items you can't sell, mis-shipments, and more. You can have a hard time running your business when you're not sure how much stock you have or when to reorder, and this inevitably results in poor service that can lose you, customers. Hopefully, this imagery shows the importance of inventory management.
The functions of inventory management include organizing and streamlining your business, saving you money, helping to increase revenue, and providing a better customer experience. The importance of inventory management in warehouse is keeping a well-organized warehouse and cutting down on mistakes that lead to wasted labor time.
What is the importance of inventory management in service? Inventory processes don't only impact the business side of your ecommerce store. They also have a great impact on the service your customers receive. A good inventory management system prevents mis-picks, out of stocks, and mis-shipments that would frustrate customers, and ensures customers get exactly what they order in a timely manner. By providing better service, you increase your chance of positive reviews and retaining customers.
Overall, the importance of inventory management shows itself through the entire supply chain, as it helps facilitate the balance between storage space, budgetary considerations, and business processes with customer demand and satisfaction.
What Is Inventory Management Techniques?
While it's not hard to find a Techniques of Inventory Management PPT presentation touting the benefits of inventory management to either cut costs or boost profits, using the right techniques can help you do both. Either way, automation is what's needed to help you reduce operating costs and also maximize profits. You need techniques and tools that are integrated into a system to achieve the best results.
What is inventory management techniques? These are the features and elements that help your business easily carry out inventory management processes. They include ways to automatically track inventory, bundle SKUs, seamlessly create purchase orders, use barcode scanning, analyze data, and similar techniques.
You can choose batch tracking and bulk shipments. Dropshipping allows you to ship straight from the supplier, while cross-docking moves products straight from the supplier truck to the delivery truck. Consignment works by only paying when the product sells. An ABC analysis shows which products are popular and which aren't, while demand forecasting gives you an idea of upcoming customer demand. These are examples of the many techniques found in an ecommerce business.
The importance of inventory management techniques is that they help you streamline your business and keep up with high levels of sales. At a certain point, manual inventory no longer cuts it, so you need automated systems in place that can take over and manage large quantities of stock and sales. Also, it's important to find the right techniques to fit your business type and your preferences.
Free Inventory Management System
Reading this, you might be saying that you already have an inventory system in place, as you've been using free inventory tools like an Excel spreadsheet or another kind of template. It's great that you have some kind of system in place and have the goal of tracking inventory and being organized. A free inventory management system tends to be helpful as you get off the ground, but its usefulness eventually runs its course, especially if you want your business to grow.
An inventory management PPT free download might encourage you to use Excel or free software to carry out your inventory management. Excel is a program you probably already have that can help you track inventory, but it tends to be time-consuming and complicated to use. Manually entering data in a system like this allows for human error that can negatively impact your business processes and customer service. These free spreadsheets or other inventory management tools free of charge don't have the tools and features that help your business keep up and grow.
Using a better system with software like Ordoro helps your business reach a new level. Ordoro's software allows online merchants to optimize and automate their fulfillment. You have access to a range of features that help with various inventory techniques. For example, Ordoro gives the capability to automate dropshipping and to create bulk shipping labels. You can manage omnichannel inventory and create kits that help you sell more. These are just some of the features that you get from Ordoro that free spreadsheets can't offer.
Best Inventory Management Software
Neil Patel, a respected voice in online marketing, identified Ordoro as the best inventory management software for ecommerce websites in 2021. The reasons he gave are that it gives well-rounded inventory management and shipping solution for this type of business. He noted that it allows an ecommerce website to integrate sales channels, automate fulfillment quantities, assign SKU barcodes, help you carry out dropshipping, and more.
Ordoro is the best Simple Order Management Software available for online merchants. It's the right fit for any online store, whether it's a start-up planning to scale or a thriving ecommerce business. Ordoro allows a business to sync inventory so the platform can keep track of it. It can automatically update product quantities with suppliers, helping you restock and continue to fulfill orders as they come. By using features within the platform, you're able to streamline your inventory process and create a faster, better workflow. This helps you cut costs, increase revenue and grow.
A great thing about Ordoro is that it takes care of many aspects of inventory and shipping through one platform. You can manage stock, orders, and shipping through this software. You can create kits to sell more products, easily work with multiple carriers and channels, carry out dropshipping, analyze your data, and more, all through this inventory management software.
With this platform, you're no longer relying on faulty spreadsheets that have a lot of room for error, not to mention hassle and time expenditure. Ordoro can take care of inventory processes with minimal effort on your part, which is how your business can take off and keep up with ongoing demand.
Inventory Management Tools
As an ecommerce business, you need your inventory management software to perform essential functions. It should have the tool and techniques of inventory management. For example, it needs to accurately track your sales and purchase orders, fast. Good software should automatically reorder stock, but only when it's needed. It needs to organize product categories and help you with kitting of bulk products and bundles. It should streamline your inventory management processes and help you cut down management costs. Further, this software is best when it centralizes multi-channel listings to help your business boost sales while also providing increased convenience for customers.
Ordoro's software provides inventory management tools to help your business carry out all of these essential functions and run smoothly. It helps your workflow by allowing you to scan, set and search UPC barcodes for SKUs. You can also create barcodes if you don't currently have them. Barcode scanning in the platform helps your business weed out fulfillment errors and make sure you do things correctly. You have access to many more tools to create top-notch systems and provide the highest level of service to your customers.
The inventory management tools and techniques in Ordoro also help you analyze your data. This allows you to see what's selling well, what isn't, and other important metrics. You can even send the info to QuickBooks or other resources. And Ordoro provides helpful information so your ecommerce business can use its tools well and thrive through inventory management.