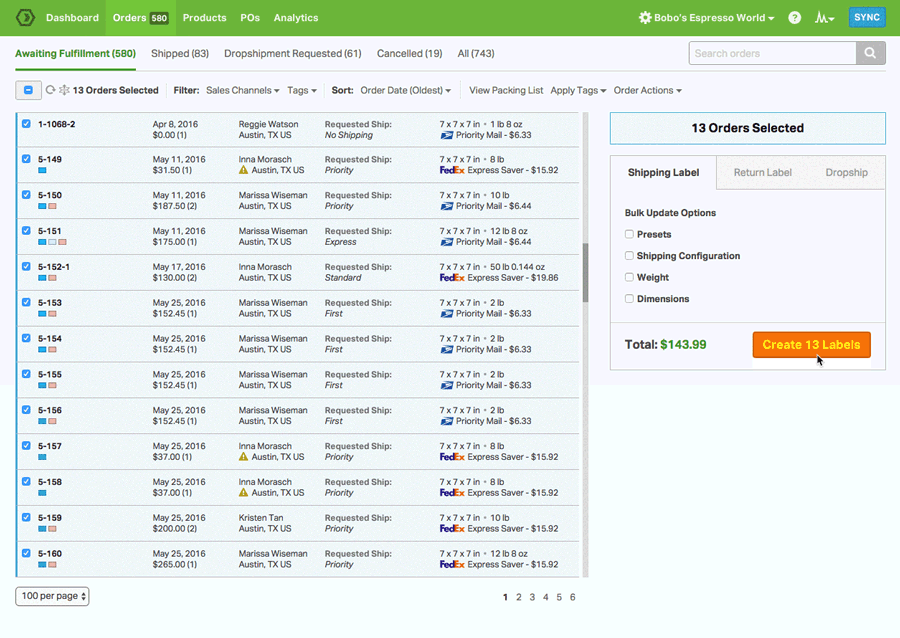 Discover Inventory Management Best Practices With Ordoro
The All-In-One Ecommerce Logistics Platform
Equip yourself with a comprehensive solution
Inventory Management
Stock, sync, and scan.
Automatically track and sync your inventory levels
Create and send out Purchase Orders when it's time to restock
Bundle multiple SKUs into one unit for sale
Use Barcode Scanning to reduce fulfillment errors
Multi-Carrier Shipping
Your workflow, minus the work.
Enjoy heavily-discounted shipping rates via USPS
Ship via any of our integrated shipping carriers like USPS, UPS, FedEx, DHL and Canada Post
Set up your own Automation Rules and Shipping Presets
Print shipping labels in triple-digit batches or individually
Dropshipping
Truly hands-off dropshipping.
Launch a dropshipping operation in a matter of clicks
Tag any product as drop shipped and assign it to a vendor
Choose between automated or manual routing
Activate a Vendor Portal between you and your supplier
Multichannel
We're your operations hub.
Integrate and view all of your sales and supplier channels in one spot
Use our open API to hook up any third-party or custom apps
Manage every aspect of your orders
Establish Supplier Feeds for real-time, back-end communication
Barcode Generation and Scanning
Raise the bar for stocking and packing.
Create UPC barcodes for your products
Scan, set, and search UPC codes for SKUs within Ordoro
Reduce fulfillment errors with our pack and pack barcode scanning workflow
Scan received POs to automatically adjust stock levels
Don't take our word for it
Our awesome customers have shipped some really great compliments our way:
"I spent about a month thoroughly searching for the right backend fulfillment software for my eCommerce business. There were definitely some big name guys out there that I considered, but at the end of the day, I went with Ordoro and I'm so glad I did!"

Tina Yarandi
Founder/CEO of Nature's Artisan
"Ordoro continues to add immensely valuable features to an already awesome sales/warehousing/shipping platform. Using Ordoro continues to save us time and money."

Anthony Krize,
VP of GE Holiday Lighting
Inventory Management Best Practices
One of the most difficult challenges to master when you're in business for yourself is inventory management. That's why there are so many different theories about exactly what should go on an inventory management best practices list. If you google "inventory management best practices pdf" you're bound to get more information that you could possibly absorb. You'll see a lot of articles that contain a list of inventory management practices. While their titles, such as "8 best practices for inventory management" may differ, as well as the number of practices their authors consider essential, there are a few basics that most agree on. Nobody disputes the fact that increasing inventory turnover reduces costs and increases profitability. Depending on what you're selling, it can also reduce spoilage. It's also generally agreed that it's a good idea to classify the items in your inventory according to its value and hold fewer of the more expensive items and more of the least expensive. Automated forecasting has become a must-have. So has automating as much of the workflow as possible to improve efficiency and lower labor costs. That means having a barcode creation and scanning system for batch and expiry date tracking is essential. You may not be selling items with expiration dates, but fashion quickly goes out of style. Whatever you're selling, you need to know where it's coming from, where it's going, and how much of it is left at all times to make smart purchasing decisions. For perishable items, a FIFO system, first-in first out, is a must. Otherwise, LIFO, last in, first out means you won't have to rearrange storage. If you want product bundling capability to be able to sell separate items as a single unit, you'll also need to be able to track those individual items for your end-of-year accounting.
Inventory Management Process
The more complex your supply chain, the more difficult the inventory management process can be. Increasingly, business owners are relying more on comprehensive software systems. If you're thinking of investing in one, you can find and download a types of inventory control systems pdf that describes the most common ones. Four common inventory management system examples are just-in-time, commonly abbreviated to JIT, materials requirement planning, or MRP, economic order quantity, EOQ, and days sales of inventory, DSI. The more your business deals in time-sensitive products, the costlier it can be for items to remain too long in inventory. Having the ability to accurately judge when and how much to buy is essential, which requires a way to track your merchandise. Scanning in your products and creating unique SKUs for each of them is the best way to be able to track your inventory accurately and in real time. It also makes it possible for you to bundle items and sell them as a single unit yet simultaneously track all of the separate items individually for inventory and accounting purposes. To assure accurate stock records, bundled items, commonly known as composite items, have two separate SKU's, one for the bundle and one for each of the items it contains.
The data provided by SKUs can answer a lot of questions, such as:
What is your best selling item during a specific month of the year?
Which item has the worst sales performance?
How much of a certain item do you currently have in stock?
Who bought a particular item?
How often do you need to place orders for particular items to avoid stock shortages?
What is the shelf life of the item based on previous sales of similar items?
Knowing the answers to those questions is the key to making both smart buying decisions and creating winning sales strategies.
Inventory Management Techniques
Tracking inventory efficiently is only one of the inventory management tools small business owners utilize. There are a number of different inventory management techniques. If you're wondering about the degree of importance of inventory management techniques, consider the potential cost savings of the following strategies for your business. Here are just a few of the most common inventory management techniques:
Dropshipping: A process in which small business owners completely outsource their inventory and stock management.
Shipping in bulk: This cost-saving technique focuses on getting the best price for merchandise and depends on quick resale to avoid higher storage fees.
Backordering: This strategy is used to avoid overstocking items and reduce storage costs.
Cross-docking: A system in which products are delivered to a warehouse, sorted, and prepared for immediate shipment. Since they are loaded onto other trucks immediately, the need for storage is completely eliminated.
Consignment: This technique allows a wholesaler to consign their goods to a retailer. Rather than paying for the goods in advance, they are paid for after they are sold, freeing up cash flow. While this can be beneficial for all parties involved, it requires trust. This is where having built a reputation for dependability can really pay big dividends.
Cycle Counting: Rather than completing an entire stock count, this technique involves counting a small part of your inventory as a way to double-check the accuracy of your stock levels.
No matter what inventory management techniques ppt you use, inventory management software can help you streamline your process for maximum efficiency. Automation makes it possible for your system to continue working long after you've called it a day. Combining the right comprehensive software tool and techniques of inventory management can quickly transform your small business into a medium-sized one.
Inventory Management In Pharmacy
It would be impossible to underestimate the importance of inventory management in hospitals. That's why hospitals have formulated hospital pharmacy inventory management best practices protocols. Medications are both expensive and time-sensitive. Most have expiration dates after which they are no longer effective and must be discarded.
Ordering the right quantities is one of the biggest challenges for inventory management in pharmacy, as accurate inventory tracking can become a matter of life and death. Meeting the standards of hospital inventory management best practices requires software systems with both automated processes and data analytics capability. It's important that hospital pharmacists know the exact number of patients who have been prescribed a specific medication and how often that medication must be refilled. There is also the human component of effective hospital pharmacy inventory management. It requires all staff to have specific roles and duties for which they are responsible and accountable. Every process is equally important and entering data as each process is completed is essential, whether it is ordering medication or double-checking purchase orders. It's necessary to be able to see at a glance how much of a particular medication has been ordered per week, month, or year. Even storing products correctly, moving those that will expire soonest closest to the front and most readily available, is important. More so than other types of businesses, hospital management teams are constantly identifying and resolving inventory management issues. They need inventory management software that accurately tracks inventory, alerts them when it's time to reorder, and eliminates errors to the greatest extent possible. Assuring the security of patients' personal information is an equally important consideration. Hospital administrators know exactly how much money investing in a good software system with reliable and consistent support can save. In the world of ecommerce, it's becoming increasingly difficult to compete successfully without one as well.
Inventory Management System
No matter what type of business you have, a good inventory management system is essential. Ordoro was developed specifically for ecommerce and provides every inventory management tool that small businesses need to succeed. With Ordoro, no matter how many suppliers you have, you can plug all of your channels into control central and view and control them all from one dashboard. Multiple storefronts, multiple warehouses, and multiple shipping carriers are no problem with Ordoro's comprehensive multi-channel system. If you choose a drop-shipping strategy, Ordoro integrates seamlessly with all the big-name partners like Fulfillment by Amazon, eBay, and Shopify. You can harness Ordoro's power for:
Automatically tracking and syncing your inventory levels
Bundling multiple orders together to reduce both inventory and shipping costs
Creating and sending out purchase orders to restock or backorder
Using barcode scanning to reduce fulfillment errors
Organizing by tagging products with aisle and bin locations
Generating goods receipts to ensure that your merchandise order shipments are complete
Printing shipping labels individually or in triple-digit batches
Launching a drop-shipping operation
You can also take advantage of heavily-discounted shipping rates via USPS and set up your own automation rules and shipping presets for multiple shipping carriers, including UPS, FedEx, DHL, and Canada Post. Valuable data is generated with every item scanned in or out and Ordoro's Advanced Analytics tracks all of your important sales metrics. You'll always know exactly how much cash you've got invested in inventory and what your best-selling items are. Their free 30-day onboarding shows you how to implement every feature and set automation rules for your specific business. Because Ordoro is fully scalable and its engineers integrate new technological advancements and upgrade security measures, they offer lifetime support. That means it's the only software system that you and your team of employees will ever have to learn. As complicated as inventory management can be, Ordoro provides an integrated solution—and relief.