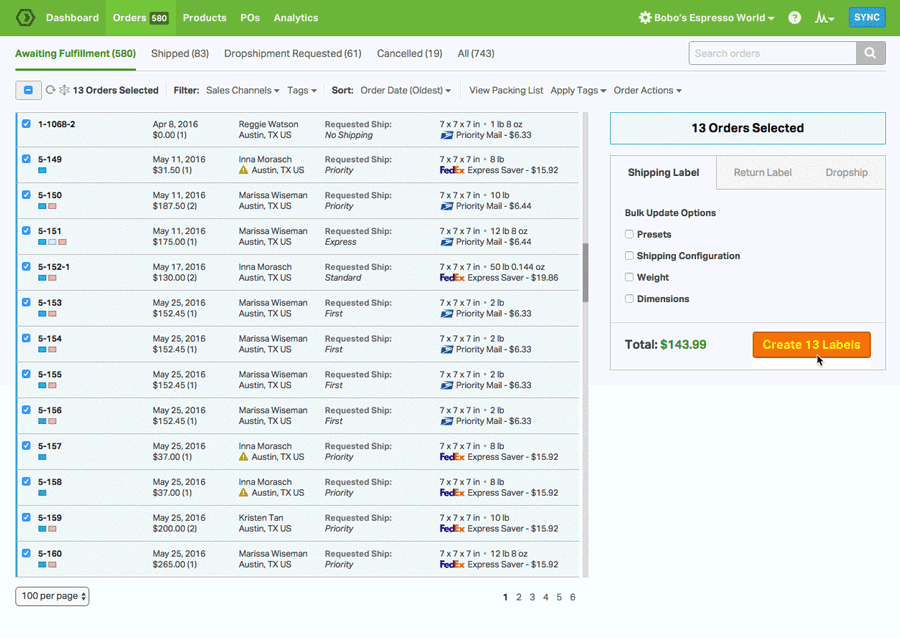 Your Question Answered: Why Is Inventory Management Important?
The All-In-One Ecommerce Logistics Platform
Equip yourself with a comprehensive solution
Inventory Management
Stock, sync, and scan.
Automatically track and sync your inventory levels
Create and send out Purchase Orders when it's time to restock
Bundle multiple SKUs into one unit for sale
Use Barcode Scanning to reduce fulfillment errors
Multi-Carrier Shipping
Your workflow, minus the work.
Enjoy heavily-discounted shipping rates via USPS
Ship via any of our integrated shipping carriers like USPS, UPS, FedEx, DHL and Canada Post
Set up your own Automation Rules and Shipping Presets
Print shipping labels in triple-digit batches or individually
Dropshipping
Truly hands-off dropshipping.
Launch a dropshipping operation in a matter of clicks
Tag any product as drop shipped and assign it to a vendor
Choose between automated or manual routing
Activate a Vendor Portal between you and your supplier
Multichannel
We're your operations hub.
Integrate and view all of your sales and supplier channels in one spot
Use our open API to hook up any third-party or custom apps
Manage every aspect of your orders
Establish Supplier Feeds for real-time, back-end communication
Barcode Generation and Scanning
Raise the bar for stocking and packing.
Create UPC barcodes for your products
Scan, set, and search UPC codes for SKUs within Ordoro
Reduce fulfillment errors with our pack and pack barcode scanning workflow
Scan received POs to automatically adjust stock levels
Don't take our word for it
Our awesome customers have shipped some really great compliments our way:
"I spent about a month thoroughly searching for the right backend fulfillment software for my eCommerce business. There were definitely some big name guys out there that I considered, but at the end of the day, I went with Ordoro and I'm so glad I did!"

Tina Yarandi
Founder/CEO of Nature's Artisan
"Ordoro continues to add immensely valuable features to an already awesome sales/warehousing/shipping platform. Using Ordoro continues to save us time and money."

Anthony Krize,
VP of GE Holiday Lighting
Why Is Inventory Management Important
The more things change, the more they stay the same. That certainly applies to the importance of inventory management in modern business. Inventory management methods and techniques may have changed with technological advances, but good inventory management remains as important as ever. Just what is the importance of inventory management in a service business? Well, considering that every business depends on customer satisfaction, on a scale of one to ten, it probably ranks close to number one. No matter how many new customers your awesome two-for-one sale attracts, if the right number of the right items aren't delivered to their doors by the date you promised, they aren't going to be repeat customers. That means that all the time and money you spent creating a successful advertising campaign is wasted. Today's consumers have grown accustomed to instant gratification, which is one reason you shouldn't underestimate the importance of inventory in operations management. The greater number of products your business offers, the more inventory you have to track. The more suppliers you have, the more channels of communication you need to create and keep open to be able to ensure that your products get out the door as quickly as possible. If you're feeling overwhelmed by the enormity of this task, you're not alone. A recent survey showed that 43% of retail business owners ranked inventory management at number one on their list of business challenges. Having the right software system can help you meet, and overcome that challenge.
Types Of Inventory Management
Of course, some people like to create their own style, but most small business entrepreneurs don't want to have to reinvent the wheel. They just want to drive, so they utilize one, or a combination, of the most widely used types of inventory management that already exist. It's a lot easier to follow the inventory management examples of companies like Amazon, that have already found what works. The goals of the inventory management process are to keep storage and shipping costs low— and customer satisfaction levels and profits high. A few of the most common types of inventory management in supply chain operations are:
ABC Analysis: This inventory management technique divides your inventory according to the cost/value of individual products. Products in category A contribute the most to your profits, while those in category C contribute the least.
Reorder Point Formula: This technique utilizes the power of data analytics. It's based on tracking the sales cycles of individual products.
Perpetual Inventory Management: This method counts inventory when it arrives, and tracks sales as they occur. It relies on barcode scanning capability to provide accurate counts.
Dropshipping: This method doesn't require keeping any stock on hand, but rather, uses a third party to fill orders. This method eliminates storage fees altogether. Your storefront displays and describes the merchandise and provides the customer with a way to place the order. You never even have to see, pack, or ship the merchandise, much less store it.
What Are Inventory Management Techniques?
There are many other types of inventory management techniques in addition to those listed above. If you ask Google "What are the 3 major inventory management techniques?", the results will show:
The Push Strategy: This strategy relies on sales analytics to keep a sufficient number of products on hand to meet demand according to the past sales figures of individual products throughout the year. For example, if last December's data shows a high number of umbrella sales, you'd order a greater number of umbrellas in November to meet that projected demand.
The Pull Strategy: This strategy is commonly used for more expensive items or items that buyers want customization. Instead of keeping the item on hand for quick delivery, the item remains stored until someone actually orders it.
JIT Inventory Management: JIT is an acronym for just in time. This technique, in which stock is ordered to meet current demand, is used primarily to reduce storage costs.
Most of the online sales industry giants like Shopify have inventory management techniques pdf that people can download and print out. Because they earn a percentage of every sale, they really want to help small online businesses succeed. Whichever strategy you choose should reflect the importance of inventory management techniques to your specific type of business. Ordoro's multi-channel integration allows you to take advantage of all the benefits of partnering with Shopify, Amazon, or eBay. No matter how many suppliers you choose to partner with, you can view and control them all from mission control—your Ordoro dashboard.
Inventory Management Tools
First on the list of the inventory management tools most necessary for successfully utilizing many of the techniques above is a tool to create your own barcodes. Second, on the list is a tool to scan the barcodes you create. Creating your own SKU barcodes unique to your company ensures that your customers will always receive the right product. Someone eagerly awaiting a new bicycle helmet to arrive in Los Angeles won't receive a New York Yankees baseball cap instead because someone entered one of the twelve UPC digits incorrectly. Error-free order fulfillment isn't the only advantage. Being able to scan an entire shipment into inventory becomes as easy as waving a magic wand over a purchase order. In this case, the magic wand is a scanner, and when you see how much time it saves, you'll become a believer in the magic of technology. With Ordoro's barcode scanning capability, every purchase scanned in and every purchase scanned out automatically updates your inventory for you. Automation allows you to either sell items separately or bundle them with a few clicks of a mouse. You can decide to print shipping labels individually or in batches. Unlike humans, computers don't have to stop and think. That means they can do in seconds what takes us days or weeks. That gives you more time to do what only humans can do—find out more about what your customers want and create fun new ways to help them get it. With enough time, instead of just following buying trends, you can create them.
Advantages And Disadvantages Of Inventory Management
There are far more advantages than disadvantages to investing in a good inventory management system. The disadvantages of having inventory can now be completely eliminated by making your small business a drop-shipping business. For those who choose to partner with suppliers, the role of inventory management continues to be an important aspect of e-commerce. The primary functions of inventory management are to reduce costs and help business owners be able to keep more of the profits they generate. Some of the advantages of investing in a good inventory management system include:
Increased Accuracy—Your inventory numbers will always be exact. Guesswork and estimating will be eliminated.
Reduced Storage Costs—Being able to see exactly how much of any item you have in inventory prevent over-buying. Having access to data analytics also helps you make more informed and accurate buying decisions.
Increased Buying Power—Knowing exactly what products sell best during what season can give you leverage when negotiating prices. Paying less for a bulk purchase of umbrellas in November to meet your increased demand in December increases your profit margin.
Increased Warehouse Organization—The ability to bundle items for quick sale means you'll want those items stored in close proximity for maximum efficiency in packing and shipping.
Increased Customer Satisfaction—This might come last on this list, but customer satisfaction should always come first. Customer loyalty is the most valuable asset that any business possesses. Developing relationships with your customers is as important as providing them with the products they need, delivered quickly and efficiently.
What Is Inventory Management In Pharmacy?
When it comes to pharmacy technician inventory management, the need for both accuracy and fast, efficient delivery is even greater. You don't even have to ask the question "Why is inventory management important in pharmacy practice?". People's very lives can depend on receiving the correct dosage of the right medications at the right time. Running out of stock of potentially life-saving medication isn't even an option. What is inventory in pharmacy isn't the same as inventory in any other type of business. That's because many drugs have an expiration date. Many others are controlled substances that require storage with greater security. Additionally, there are sometimes re-calls of drugs, which requires a greater level of tracking ability. There are no second chances after making a mistake with a customer's medication. Unlike clothing styles that are no longer popular this season, drugs that have passed their expiration date can't be bundled and sold at bargain-basement prices. Once those dates have been reached, any unsold drugs have to be counted as financial losses. Without computer automation, it would be nearly impossible to achieve the level of accuracy necessary for this highly specialized type of inventory management and control. Ordoro's inventory management system can provide the level of accuracy necessary to meet the strict standards of hospital pharmacy inventory management best practices. Just imagine what having the power of their inventory management tools at your disposal could do for your business.