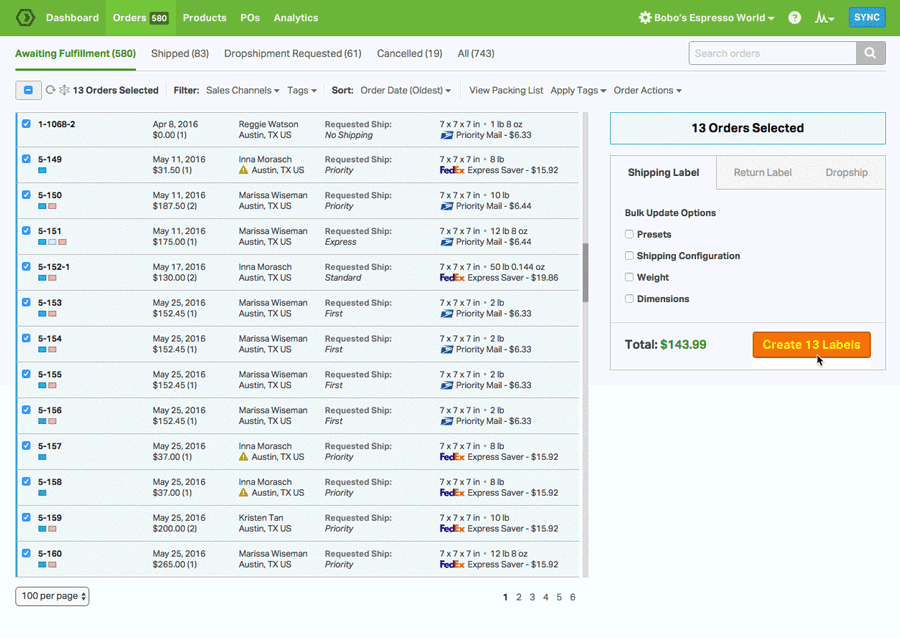 Discover The Best Inventory Control Example On The Market
The All-In-One Ecommerce Logistics Platform
Equip yourself with a comprehensive solution
Inventory Management
Stock, sync, and scan.
Automatically track and sync your inventory levels
Create and send out Purchase Orders when it's time to restock
Bundle multiple SKUs into one unit for sale
Use Barcode Scanning to reduce fulfillment errors
Multi-Carrier Shipping
Your workflow, minus the work.
Enjoy heavily-discounted shipping rates via USPS
Ship via any of our integrated shipping carriers like USPS, UPS, FedEx, DHL and Canada Post
Set up your own Automation Rules and Shipping Presets
Print shipping labels in triple-digit batches or individually
Dropshipping
Truly hands-off dropshipping.
Launch a dropshipping operation in a matter of clicks
Tag any product as drop shipped and assign it to a vendor
Choose between automated or manual routing
Activate a Vendor Portal between you and your supplier
Multichannel
We're your operations hub.
Integrate and view all of your sales and supplier channels in one spot
Use our open API to hook up any third-party or custom apps
Manage every aspect of your orders
Establish Supplier Feeds for real-time, back-end communication
Barcode Generation and Scanning
Raise the bar for stocking and packing.
Create UPC barcodes for your products
Scan, set, and search UPC codes for SKUs within Ordoro
Reduce fulfillment errors with our pack and pack barcode scanning workflow
Scan received POs to automatically adjust stock levels
Don't take our word for it
Our awesome customers have shipped some really great compliments our way:
"I spent about a month thoroughly searching for the right backend fulfillment software for my eCommerce business. There were definitely some big name guys out there that I considered, but at the end of the day, I went with Ordoro and I'm so glad I did!"

Tina Yarandi
Founder/CEO of Nature's Artisan
"Ordoro continues to add immensely valuable features to an already awesome sales/warehousing/shipping platform. Using Ordoro continues to save us time and money."

Anthony Krize,
VP of GE Holiday Lighting
Inventory Control Example
Inventory management is often used interchangeably with inventory control, but is there a difference? Yes, there is: inventory control refers to a part of the larger inventory management process, such as the software technology system used for tracking inventory, whereas inventory management is the overall process of forecasting and ensuring that there is enough stock on hand to fulfill customer orders.
What are the four functions of inventory management?
These involve the following tasks:
Ordering – whether finished products from a vendor or raw materials
Handling – tracking incoming products or materials, including type and quantity
Storing – materials or products must be kept in a safe yet easily accessible environment, such as an on-site warehouse.
Processing or selling – turning raw materials into finished products for sale or selling ready-made products from other suppliers to either B2B or B2C customers.
Here's an inventory control example using the materials requirement planning (MRP) process described further below:
A ski manufacturer needs to know how much fiberglass, plastic, wood, aluminum and other materials to have in stock to manufacture skis, based on predicted orders. If the company's analytics predicting sales forecasts are inaccurate and the inventory isn't well-planned, leaving shortages, the manufacturer will be unable to fill orders. On the other hand, overstocking materials before the need arises could jeopardize the company's financial resources earmarked to cover other expenses.
Store inventory control is necessary to automate many of your inventory-related processes as well as assure that fulfillment and tracking operations run smoothly.
A few inventory control system examples include:
Establishing reorder points as well as demand forecasting
Tracking all SKUs and their associated product data
Integrating barcode scanners with your inventory tracking software
Creating bundles of products and kitting for maximizing sales and profits
Storage and inventory control examples include keeping only necessary stock on hand to reduce storage costs and boost profits, leaving money for other expenses. It's important to maintain enough levels to fill orders as well as optimize storage space, order fulfillment and reduce costs.
Types of Inventory Control
There are usually four types of inventory control methods utilized by most businesses today:
Perpetual inventory systems that track inventory in real-time, are the most accurate method. Once a product has sold, its corresponding barcode is scanned and the item is then removed from its global inventory database. As new items arrive, they are scanned and added to the database. The parts of the inventory management system all have access to the same database information in real-time.
Periodic inventory control systems of physical goods that are kept updated at specific intervals and can be useful for smaller businesses that either have only periodic surges in sales or carry relatively small amounts of inventory most of the time.
Barcode systems use numbers such as Stock Keeping Units (SKU) or Universal Product Code (UPC) containing unique bits of information such as identifying the product, manufacturer, supplier location, weight, time in stock, and so forth.
There is also the manual inventory system (either basic spreadsheets or even a hand count of available items for sale), but since this is the most cumbersome and least reliable method (more prone to mistakes as well as time-consuming), it's generally not used by any but the smallest businesses with little or no inventory.
Information on the different types of inventory control PPT is available on the SlideShare.net website, along with others, which underscore the discussion presented here.
Ordoro's inventory management tools can help businesses:
Automatically track and sync inventory levels
Ease handling of shipping by bundling multiple orders together
Automatically create and send Purchase Orders when time to restock
Reduce fulfillment mistakes, especially at the pick/ pack level, by using barcode scanning
Create and access inventory guides for SKUs and other apps and features
Inventory Control Techniques Notes
Some inventory control notes include inventory management guides and resources, including inventory control techniques notes, tools, and various methods of ecommerce-friendly inventory management.
Importance of inventory control PDF resources can be found in website downloads, covering the following most commonly-used stock control methods, particularly in manufacturing:
Just-in-time (JIT): Companies keep only the necessary amount of inventory for production and sales of products, avoiding unnecessary spending. However, if key ingredients or products don't arrive "just in time", order backlogs can result.
Materials requirement planning (MRP: Dependent on accurate business forecasts to assess and communicate upcoming needs to suppliers, it requires robust analytics capability. A good analytics feature should be part of your inventory management software, as well as watching market trends, which is critical to success with this method.
For those businesses not large enough to have or need extensive inventory management, an Excel or Google spreadsheet program should be sufficient, at least in the beginning, to track most incoming andoutgoing inventory.
Every business engaged in selling or reselling products needs a storage and inventory control business plan.
Remember that warehouse organization falls under inventory control, as new products or materials arriving must be scanned into the system for receiving, storing, and transferring stock as well as fulfilling orders. For smaller businesses, warehouse ecommerce software by Ordoro can easily be combined with other functionalities to encompass all movement of stock, manage storage systems as well as warehouse employees, fulfillment operations, and other tasks within the warehouse environment. Newer versions of such web-based software may also be cloud-based for even faster access.
Ordoro, a longtime leader in ecommerce management software, can help businesses manage incoming and outgoing inventory, integrate with multi-channels as well as multicarriers while streamlining fulfillment and related operations. Our real-time analytics and report-generation are second to none, allowing businesses to accurately track all phases of inventory management and beyond.
Inventory Accounting
You may wonder "what is inventory in accounting" or rather, what role does it play? Since inventory consists of the accounting of items, parts, or raw materials needed in production or sales, accurate inventory accounting is critical to know when there are enough stock or production materials to be able to fulfill customer orders.
Inventory accounting and valuation include three primary methods of valuing inventory:
First In, First Out (FIFO), Last In, First Out (LIFO), and Weighted Average Cost (WAC).
FIFO – assumes that the first items purchased are also first to leave the warehouse or distribution center.
LIFO – the opposite assumption is true: the last items entered are the first to leave.
WAC - the item's average cost-per-unit is calculated by dividing the total cost by the total number of units purchased during the year.
Inventory accounting methods usually include the following:
Just-in-time (JIT) originated in large part from Japan's Toyota Motors in the 1960s and 1970s. With this method, companies keep only the amount of inventory needed to produce and sell products, thus avoiding unnecessary spending and waste. If, however, customer demand rises and overtakes inventory availability, the company may be unable to fill current and future orders, resulting in backups if a key ingredient or product doesn't arrive "just in time."
Materials requirement planning (MRP) is dependent on sales forecasts to determine upcoming needs and efficiently communicate those to suppliers, so having a good analytics feature as part of your inventory management software as well as watching market trends is critical to success with this method.
Note that the MRP method is more apt to be utilized by manufacturers. If sales forecasts are inaccurate and the inventory isn't well-planned, the manufacturer will be unable to fill orders.
For those businesses that don't stock inventory or are not large enough to need specialized software for inventory, an Excel or Google spreadsheet program should be sufficient in the beginning to track most incoming and outgoing inventory. You can learn more about inventory control with downloadable inventory accounting PDF information online through websites, such as Redis, SlideShare, or Microsoft.
Inventory Management Software
Effective inventory management is necessary to track as well as value inventory, depending on your type of business and its size, and the inventory management system technologies available.
Inventory management software should be able to perform these essential functions:
The ability to accurately and quickly track sales and purchase orders (POs).
Organizing of product categories, including kitting and multiples as well as bundles of products.
Automatically reorder new stock only as necessary while streamlining inventory management and reducing management costs.
Centralize multi-channel listings for customer convenience and increased sales.
The importance of inventory management objectives include helping a business, whether a manufacturer or retailer, accurately determine the correct amounts of raw materials or products to be ordered when considering the net stock currently available. This knowledge is critical to meeting customer orders in a timely manner, resulting in satisfied, repeat customers and higher revenues.
Your inventory management system depends on your type and size of business, whether reseller or manufacturer, the valuation methods used as well as the ability of your software to handle the multiple tasks associated with effective inventory control and management.
Some of the top reasons for using Ordoro inventory management software designed for ecommerce are:
Reduced inventory costs thanks to Ordoro's accurate monitoring and ordering/ reordering capabilities, giving restocking priority to items generating the most revenue, while reducing ordering of underperforming items
Improved real-time control over inventory orders and stock levels as well as projections for future requirements
Easily-navigated interfacing that is quickly usable by non-technical employees within the company
Integration with existing applications, including CRM software and third-party accounting to prevent duplicating tasks, and syncs with financial and customer data
Finally, Ordoro offers FREE 30-day onboarding and lifetime support. Schedule a demo today!