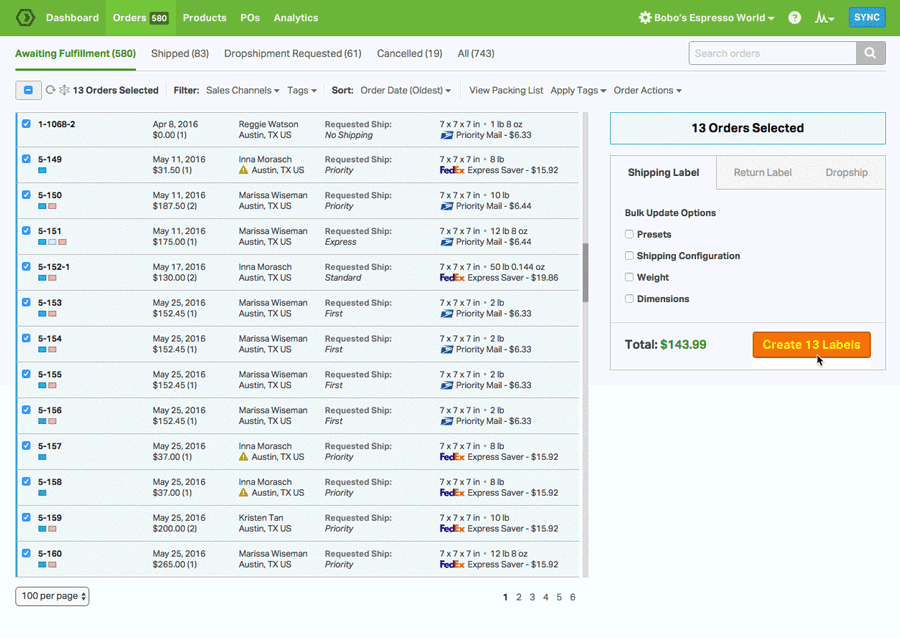 Automatically Manage Your Stock With Our Inventory Control System
The All-In-One Ecommerce Logistics Platform
Equip yourself with a comprehensive solution
Inventory Management
Stock, sync, and scan.
Automatically track and sync your inventory levels
Create and send out Purchase Orders when it's time to restock
Bundle multiple SKUs into one unit for sale
Use Barcode Scanning to reduce fulfillment errors
Multi-Carrier Shipping
Your workflow, minus the work.
Enjoy heavily-discounted shipping rates via USPS
Ship via any of our integrated shipping carriers like USPS, UPS, FedEx, DHL and Canada Post
Set up your own Automation Rules and Shipping Presets
Print shipping labels in triple-digit batches or individually
Dropshipping
Truly hands-off dropshipping.
Launch a dropshipping operation in a matter of clicks
Tag any product as drop shipped and assign it to a vendor
Choose between automated or manual routing
Activate a Vendor Portal between you and your supplier
Multichannel
We're your operations hub.
Integrate and view all of your sales and supplier channels in one spot
Use our open API to hook up any third-party or custom apps
Manage every aspect of your orders
Establish Supplier Feeds for real-time, back-end communication
Barcode Generation and Scanning
Raise the bar for stocking and packing.
Create UPC barcodes for your products
Scan, set, and search UPC codes for SKUs within Ordoro
Reduce fulfillment errors with our pack and pack barcode scanning workflow
Scan received POs to automatically adjust stock levels
Don't take our word for it
Our awesome customers have shipped some really great compliments our way:
"I spent about a month thoroughly searching for the right backend fulfillment software for my eCommerce business. There were definitely some big name guys out there that I considered, but at the end of the day, I went with Ordoro and I'm so glad I did!"

Tina Yarandi
Founder/CEO of Nature's Artisan
"Ordoro continues to add immensely valuable features to an already awesome sales/warehousing/shipping platform. Using Ordoro continues to save us time and money."

Anthony Krize,
VP of GE Holiday Lighting
Inventory Control System
When it comes to running a retail business, having the right inventory control system is important.
After all, your inventory system makes it possible to automate certain processes that save time and money. And it also allows you to keep tabs on what you have in stock, how customer orders are processed, and analyze what items are the most popular in your inventory.
Without it, you might be stuck doing all these steps, which can take a considerable amount of energy and staffing resources. Makes more sense to have a software program handle this for your business, right?
Of course. Which is why finding the right inventory app or platform for your needs is important.
Sadly, not all inventory systems are the same. Some of the free options are too oversimplified for small business use, while other premium or enterprise platforms are just too large and expensive for mid-size eCommerce brands.
Thus, finding a solution comes down to looking at the processes behind what you need to program to do.
So, what are the objectives of inventory control software? To save time through automation, offer enough benefits to make the fulfillment and tracking processes easier, and keep all information in an easily accessible hub for your employees.
This might mean having the option to scan barcodes of products and track inventory via the system. Or your company might need integrated shipping to minimize logistics issues and improve pick-and-pack time. Maybe even the objective of having this type of software is to make it easier to track items between multiple warehouse locations.
Throughout looking for software for your company's inventory control process, you'll want to weigh each platform against the various needs of your company based on this list. By doing so, you'll be able to select an option that provides enough robust features to make your tracking and fulfillment processes faster and easier.
Types of Inventory Control Systems
When it comes to choosing a platform or application, businesses typically have the option of two types of inventory systems: the perpetual inventory control system and the periodic inventory system.
The difference between the types of inventory control has to do with how they keep track of the various items in stock at any given moment.
Perpetual inventory control systems count items as they come and go on an individual basis. While this is often the easiest method for small inventories or high-ticket products, it can be quite cumbersome for companies that have tons of items or multiple locations.
Then there's periodic inventory control systems. These allow businesses to keep a beginning total of products in stock and an end total. Often, this means stopping operations at a specific timeframe to manually count inventory and input it into the system, usually monthly or quarterly. It is also more prone to human error.
Looking for an inventory control system example to compare your business to?
A sunglasses company that keeps track of each order and automatically subtracts it from the available inventory is using a perpetual system. Despite the fact it takes a little extra work each time a customer makes a purchase, it is often more accurate.
Likewise, a major grocery chain that uses overnight staff to count items on shelves individually would be utilizing a periodic inventory process. This process is much more difficult, especially when there are thousands of items that need to be accounted for.
Knowing the difference between the types of inventory control systems and what each does is important to choosing the right one for your company's needs. That is why it is important to weigh the pros and cons of each before making a decision on which one is better for your organization.
Inventory Control Techniques
In addition to systems that count the number of items within your inventory, there are also varied inventory control techniques.
These are the steps and workflows used to keep track of the number of items within a given warehouse at a specific time.
While there are well over a dozen different processes, we're highlighting just a few of the most commonly used ones:
Economic Order Quantity (EOQ): An EOQ formula takes into account cost of goods and the funds necessary to warehouse items to find the right number to keep on hand to meet demand.
Minimum Order Quantity (MOQ): The smallest amount a supplier is willing to sell in a single order.
ABC Analysis: A way of categorizing items to identify those that are the most valuable to profit to those that are the least important.
Safety Stock Inventory: Items ordered over the demand amount to help prevent running out of stock.
Reorder Point Formula: The lowest range your inventory of an item can get before you need to reorder it from the supplier.
Dropshipping: When the retailer does not hold inventory of an item, but rather has a third-party handle warehousing and order fulfillment on their behalf.
Again, there are tons of concepts that fall under the category of inventory control. A quick Google search will give you far more to consider implementing into your company's process.
Free Inventory App
So, how do you keep track of your inventory management in a simple and affordable way? If you're still looking for an inventory control system free of charge, you'll want to pay attention here.
To save money, many small companies attempt to use free inventory management software in Excel. Essentially, this is just a very complicated spreadsheet template that the business manager bought to try to keep track of the different items coming and going from the warehouse.
While this process can work in some situations, it isn't always ideal. Not only can it be very time-consuming, it is also a perfect storm for human error, especially if you have multiple locations, a large product catalog, or many employees trying to access the document simultaneously.
Furthermore, it requires having someone manually input data on a daily or weekly basis. Depending on whether you're using a perpetual or a periodic inventory management system, this could mean extra hours daily or even days of data entry later on.
Which, of course, can affect your bottom line and make operations too slow to keep up with customer demand.
With Ordoro, you can seamlessly track your brand's inventory in an easy and convenient manner. Likewise, the platform also provides fulfillment workflow optimization with bulk shipping label creation, omnichannel inventory management, automated dropshipping, and more.
While it does cost a bit more than any old free inventory app, the important thing to remember is that you're getting what you pay for. Ordoro's robust features and seamless integration make it easy to save elsewhere in your business—such as on shipping label costs or employee wages.
In the end, Ordoro is simply the better choice for inventory management. Plus, the development team is always looking for new ways to delight our clients with new features.
Stock Management System
A key component of inventory control is stock control. What are the principles of stock control?
Essentially, a stock control system is designed to help come up with the exact right quantity to fulfill customer demand without creating too many additional costs. For example, when you have just the right amount of product on hand, it isn't taking up too much space in your warehouse and your employees are more productive.
So, what is a stock management system? Usually, it is part of a bigger enterprise resource planning (ERP) system that unifies stock control with inventory management, accounting, point-of-sale orders, and supply chain management.
While there are multiple types of stock control systems out there, the biggest thing to remember is that your business needs one that is both effective for the current size of your organization and can grow as you scale up in the future.
You should also look for a solution that can integrate with your other business systems and apps, creating a seamless process for analyzing sales, inventory levels, and current costs more efficiently. After all, having more information about how things run within your warehouse gives you the power to make better inventory control decisions.
Importance of Inventory Systems
As an eCommerce retailer, the importance of having an inventory control system is high. After all, you need to be able to keep track of all the various items available for customers to order and whether or not you have the right amount of stock to run promotions, keep up with seasonal demand, etc.
That's where Ordoro helps. Our simple order management software is designed to help online merchants and brands streamline common tasks like inventory management, marketplace integration, kitting, and more.
There are even automated processes designed to help streamline pick-and-pack lists, shipping label printing, and many others.
Interested in dropshipping? Ordoro makes it simple to find distributors for your niche, automate order processing, and keep track of analytics, too.
Ranked as the number one inventory management system by The Blueprint, Ordoro also comes with 30-days of free onboard training and a wonderful customer support department. In fact, one of the things we pride ourselves on the most is our ability to provide ongoing help to our users.
Whether you're just starting off as an online brand or scaling up your eCommerce enterprise, Ordoro is the best way to manage inventory and improve workflows for your entire business.