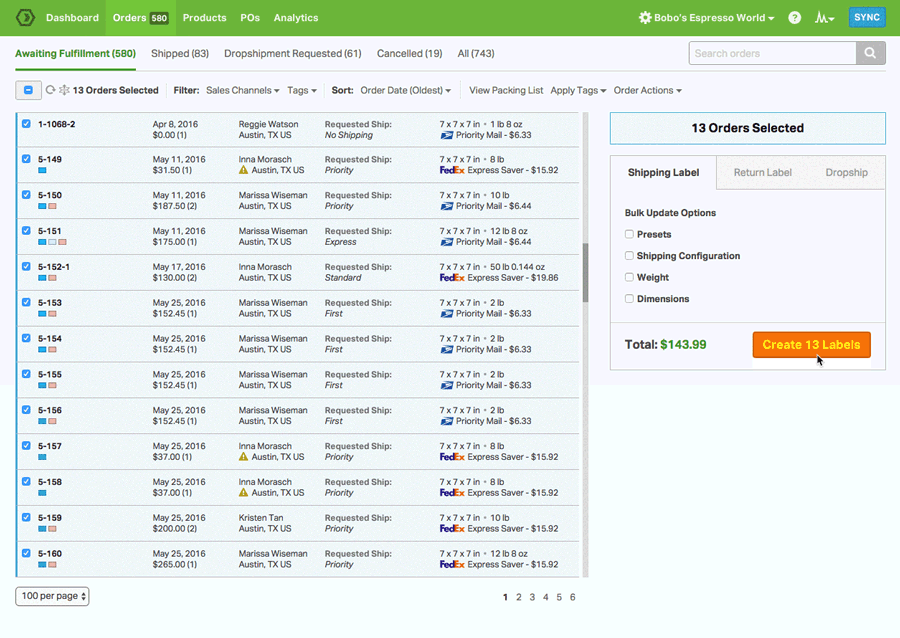 Learn More About The Kitting Process With Ordoro
The All-In-One Ecommerce Logistics Platform
Equip yourself with a comprehensive solution
Inventory Management
Stock, sync, and scan.
Automatically track and sync your inventory levels
Create and send out Purchase Orders when it's time to restock
Bundle multiple SKUs into one unit for sale
Use Barcode Scanning to reduce fulfillment errors
Multi-Carrier Shipping
Your workflow, minus the work.
Enjoy heavily-discounted shipping rates via USPS
Ship via any of our integrated shipping carriers like USPS, UPS, FedEx, DHL and Canada Post
Set up your own Automation Rules and Shipping Presets
Print shipping labels in triple-digit batches or individually
Dropshipping
Truly hands-off dropshipping.
Launch a dropshipping operation in a matter of clicks
Tag any product as drop shipped and assign it to a vendor
Choose between automated or manual routing
Activate a Vendor Portal between you and your supplier
Multichannel
We're your operations hub.
Integrate and view all of your sales and supplier channels in one spot
Use our open API to hook up any third-party or custom apps
Manage every aspect of your orders
Establish Supplier Feeds for real-time, back-end communication
Barcode Generation and Scanning
Raise the bar for stocking and packing.
Create UPC barcodes for your products
Scan, set, and search UPC codes for SKUs within Ordoro
Reduce fulfillment errors with our pack and pack barcode scanning workflow
Scan received POs to automatically adjust stock levels
Don't take our word for it
Our awesome customers have shipped some really great compliments our way:
"I spent about a month thoroughly searching for the right backend fulfillment software for my eCommerce business. There were definitely some big name guys out there that I considered, but at the end of the day, I went with Ordoro and I'm so glad I did!"

Tina Yarandi
Founder/CEO of Nature's Artisan
"Ordoro continues to add immensely valuable features to an already awesome sales/warehousing/shipping platform. Using Ordoro continues to save us time and money."

Anthony Krize,
VP of GE Holiday Lighting
Kitting Process
Kitting can have a significant impact on your company's sales. As long as you have more than one product to sell, you could conceivably carry out the kitting process. Nonetheless, it's best if the products go together with some kind of theme or purpose. This technique can also work with parts of one product or with larger quantities of the same product.
So, for the kitting process, you're bundling some of your items so you can sell them as a single unit. You can pick as many products as makes sense to sell together in one kit. Once you have your kit together, you give it a single SKU number within your system. The bundle is now a separate offering from each component within the bundle.
In a brick-and-mortar sense, it makes sense to keep the items near each other in the warehouse so they can efficiently be bundled when ordered that way. Each time you sell a bundle, you suddenly sell multiple products at once! You also give your customers a helpful option by offering items that can go together. Win-win!
Within the Ordoro system, you can set it up so that when a kit sells, the inventory deducts from each item within the kit. This keeps your inventory accurate and up to date. Ordoro allows you to sell single kits or multi-level ones. Within the system, you can set up a kitting process by setting the quantity of an item that is needed for a kit.
It's possible to do kitting with components from the various items in your inventory and even from items in different warehouses. Many companies also do kitting and assembly to bring together the items a customer will need to assemble a product once they receive it. Ordoro can simplify the kitting process flow chart so it's no longer complicated.
Kitting Meaning
You hear this lingo – kitting – and you probably wonder whether you should be doing it for your business. Overall, kitting gives you another option for selling your goods. It can help you sell more than you otherwise would, which is the name of the game, right? It's definitely a strategy worth looking into when you have an ecommerce or manufacturing business of any size.
But the lingo can get technical, so what the heck is kitting exactly?! The kitting definition basically equates to bundling. It's where you put together separate products into a grouped set that you can then sell as one unit. You're creating a kit, hence the term kitting. This tiny change to the way you offer goods can create major results for your business while making selling easier. Sounds good, right?
If you make kits, you can still sell your items individually. This process doesn't limit your selling capabilities but instead expands them. You can sell individually as well as offer those individual items within bundles. This way, you'll reach both the people who want to purchase a single item and the people who are interested in multiple products at once.
The kitting meaning encompasses any time you bring multiple, separate SKUs together into a single unit for sale. This could work in different ways depending on your business. You could bundle components of a product into a kit, which would work well in manufacturing. You could bring together products that are related in some way or fit a theme. For example, you could take separate body care products and bundle them to create a special gift kit. Another option is to sell a number of the same product, such as five bags of the same food item or 10 white tablecloths within one bundle. Kits can be based on colors, components, themes, purposes or other groupings. You can also see if people commonly purchase certain items together and sell them that way.
Kitting Process In Warehouse
A significant amount of the kitting process takes place in your company's warehouse (or wherever you have your inventory if your business is too small for a warehouse). What is kitting in a warehouse? This process can take place in addition to your normal operations without the need for separate staff or equipment. You're using the same products you already have. The difference comes in the way you track inventory and carry out your workflow.
Kitting in warehouse is simply the process of physically bundling the items that are being sold as one unit. The warehouse receives the order and brings together the various items that go into that bundle. Ideally, these items are kept near each other to maximize the workflow. The warehouse workers scan the individual items and ideally package them together. Then, the workers add the bundle to the inventory system as one SKU, scan it and ship it. It's also possible to carry out some pre-kitting so you have completed kits available, further streamlining fulfillment and shipping.
The kitting process in a warehouse is generally focused on bundling products, whereas manufacturing kitting may be focused on parts kits. Within the warehouse, you could use different methods, which will probably vary by the size of your operation. You could use manual kitting where people bring together the different parts of a kit when the order is placed. Alternatively, you could take advantage of an automated kitting system like vertical carousel modules or vertical lift modules, which are automated storage and retrieval machines. This method utilizes a conveyor or batch station and can then store completed kits as well as parts to turn into fresh kits.
Kitting can take place in a single warehouse or on a larger scale through multiple warehouses. In the case of multi-warehouse kitting, an inventory system like Ordoro can help your business track each item in the kit and update the inventory in response.
Kitting Examples
Kitting doesn't need to look the same for every business. Depending on your brand and products, you could follow different types of kits. Here are some kitting examples:
Kitting in manufacturing puts together components or parts of manufacturing products into a bundle. This can also be called material kitting since it can bring together raw materials, parts, or components. This may include kitting and assembly, where the parts needed for assembly are included within a kit, such as for furniture or entertainment systems.
Kitting and packaging comes into play when a third-party shipper assembles a kit and then adds private labeling so the kit reflects the brand the customer purchased from rather than the brands of each individual item. This can also be referred to as private label kitting.
Kitting in logistics is when a business or logistics company brings together separate products and ships them together in as few packages as they can to streamline the order fulfillment and shipping process. This can also be called kitting and fulfillment. In this case, the bundle may not always share the same SKU.
Product kitting generally includes putting different products together under one bundled item with a singular SKU. This could include multi-packs of products, products with accessories included, similar products put together such as a book series or complementary toys or a matching outfit, kits with the supplies needed for a project or recipe, subscription boxes or products that people tend to buy together.
Shipping in bulk is another form of kitting, as this process can help a brand sell larger quantities of an item within a bundle.
Specialized packaging allows products to be bundled together within customized packaging for a promotion, holiday, subscription box or other purpose.
You can see how these many examples create a more efficient kitting supply chain with streamlined shipping and fulfillment. They can help a brand sell more and save money on shipping costs, which both improve the bottom line.
Kitting Services
Kitting services are offered by third parties like Ordoro, helping your business carry out the fulfillment and shipping processes associated with your bundles. Ordoro makes it easy for online merchants like you to put together customized kits or bundles. This service can help your business gain all of the benefits of kitting, which include saving money on shipping, making more money by selling more products, getting rid of old or less desired products, streamlining your processes and creating happier customers. Those are some good perks!
When you're considering kitting programs and services to help, Ordoro is a good choice in kitting software. It can help you with single-level or multi-level kitting, and is able to support single or multi-warehouse kitting. It can also help with a variety of types of kitting, such as bundling components, varying quantities, material kitting or product kitting. This service is able to support kits with related products, different quantities of the same product or a single product that has numerous components.
With Ordoro, your business can expand your offerings. You can easily set up bundle-based deals out of inventory that's not selling. You can increase the value of your average order by adding products within kits, encouraging each customer to purchase more. You can also manage bulk sales this way and easily keep track of bulk inventory. For instance, you may want to sell bulk quantities of food items, plant seeds, or a B2B item.
Ordoro makes it simple to set up a kitting system with a streamlined process. This software gives the capability to carry out simple kitting bundles or even to set up more complex systems through advanced features. Even if the kitting process seems complicated to you now, you'll find that Ordoro simplifies it once you get started.