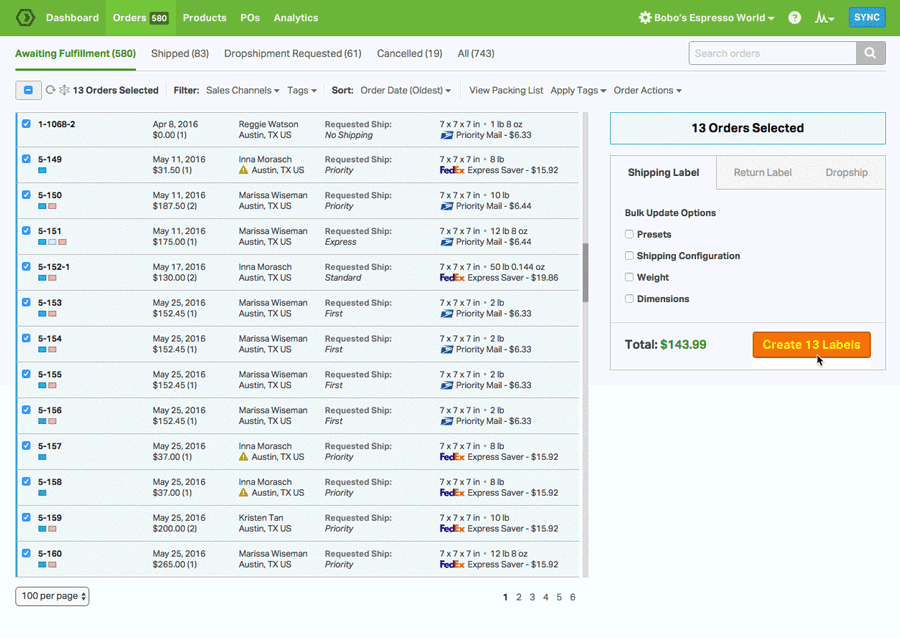 The All-In-One Shipping And Inventory Management Software
The All-In-One Ecommerce Logistics Platform
Equip yourself with a comprehensive solution
Inventory Management
Stock, sync, and scan.
Automatically track and sync your inventory levels
Create and send out Purchase Orders when it's time to restock
Bundle multiple SKUs into one unit for sale
Use Barcode Scanning to reduce fulfillment errors
Multi-Carrier Shipping
Your workflow, minus the work.
Enjoy heavily-discounted shipping rates via USPS
Ship via any of our integrated shipping carriers like USPS, UPS, FedEx, DHL and Canada Post
Set up your own Automation Rules and Shipping Presets
Print shipping labels in triple-digit batches or individually
Dropshipping
Truly hands-off dropshipping.
Launch a dropshipping operation in a matter of clicks
Tag any product as drop shipped and assign it to a vendor
Choose between automated or manual routing
Activate a Vendor Portal between you and your supplier
Multichannel
We're your operations hub.
Integrate and view all of your sales and supplier channels in one spot
Use our open API to hook up any third-party or custom apps
Manage every aspect of your orders
Establish Supplier Feeds for real-time, back-end communication
Barcode Generation and Scanning
Raise the bar for stocking and packing.
Create UPC barcodes for your products
Scan, set, and search UPC codes for SKUs within Ordoro
Reduce fulfillment errors with our pack and pack barcode scanning workflow
Scan received POs to automatically adjust stock levels
Don't take our word for it
Our awesome customers have shipped some really great compliments our way:
"I spent about a month thoroughly searching for the right backend fulfillment software for my eCommerce business. There were definitely some big name guys out there that I considered, but at the end of the day, I went with Ordoro and I'm so glad I did!"

Tina Yarandi
Founder/CEO of Nature's Artisan
"Ordoro continues to add immensely valuable features to an already awesome sales/warehousing/shipping platform. Using Ordoro continues to save us time and money."

Anthony Krize,
VP of GE Holiday Lighting
Shipping And Inventory Management Software
It's difficult to estimate how much more money ecommerce small business owners can earn with the right shipping and inventory management software. People may disagree about how much more you can earn, but everyone agrees that it's a substantial amount. There are just some things that can only be accomplished with automation. Ideally, your software system will enable you to do the following things with perfect precision:
Track purchase orders
Make sure items are shipped from the closest possible location to reduce shipping costs
Automatically update stock numbers with every purchase or sale
Calculate the value of your inventory at any given time
Trigger an automatic reorder of stock when it reaches a certain level
There are so many inventory software choices out there that it can seem overwhelming. There are far fewer fully integrated systems designed specifically for ecommerce, though. It usually doesn't take long for people to realize that trying to mix and match software services is difficult and time-consuming. Small ecommerce business owners face the same challenges as industry giants, but don't have the same unlimited resources to meet them. Chances are your small business doesn't have a professional team of software engineers and internet security experts on staff. Ordoro, a comprehensive software system designed specifically for ecommerce, does. Ordoro is so confident that their product and support services will increase your profits that they don't even require customers to sign a contract. That means their success depends 100% on proven results and customer satisfaction.
Shipping Software
Your shipping system can make or break your ecommerce business. As an ecommerce entrepreneur, shipping is one of your biggest expenses. Being able to quickly and easily calculate the least expensive shipping option for every order, as well as take advantage of industry discounts, is essential for the profitability of your business. Even if you offer the most popular and highest quality products, if they don't arrive in good condition in a timely fashion, you won't get repeat business. A reliable shipping calculator built into your shipping management software eliminates the need for you to have to check with each and every carrier to find the best deal every time you have to send a package. Ordoro's integrated system includes multi-carrier shipping that connects you to carriers like USPS, FedEx, Canada Post, and DHL and utilizes each one's best rates and methods for shipping, whether you're shipping domestically or internationally. Their multi-channel capability makes it possible for you to view all of your merchandise stored in multiple locations from a single dashboard. That can be really helpful when it comes to satisfying your customers' increasing need for instant gratification. Ordoro is not just inventory management or shipping software, it's a fully integrated system that was designed to help you automate and streamline all your processes from beginning to end. It also integrates seamlessly with all the major ecommerce platforms, like Shopify, WooCommerce, Etsy, Amazon, and eBay.
Multi Carrier Shipping Software
Customers love being able to see where their items are while they wait for them to arrive. When Ordoro software engineers were interviewing small business owners about what features they wanted in a comprehensive system, shipment tracking was one of them. Not only does it keep them informed during every step of the process, it also helps build customer loyalty. Studies show that nothing increases your profit margin as much as returning customers. Every returning customer represents not just profit on the items they purchase, but the money you don't have to spend on consumer outreach efforts, which can be expensive. Including a shipping calculator on your website can help you make the shipping process more transparent to build the trust that's so essential for maintaining long-term business relationships. It also lets your customers know just how much money you are saving them when you offer free shipping on purchases over a certain dollar amount. Good multi-carrier shipping software should do more than just help you calculate the most cost-effective shipping options, though. It should also enable you to bundle items for greater savings, as well as print shipping labels either individually or in triple-digit batches to save time. In ecommerce, even more so than with brick and mortar businesses, time really is money. Getting your customers' orders to them quickly and efficiently is the best way to keep them ordering from you. Every time-consuming part of that process that you can automate with software increases your bottom line.
Shipping Software Free
Free versions of software and free trial offers can be really helpful when you're trying to test features to see which ones you absolutely don't want to live without. It can help reduce the number of options out there to a manageable level. Reading reviews is also a good idea because reviews allow you to learn from other people's mistakes, so you don't have to make the same ones yourself. Ending up in a long-term contract for a software system that doesn't meet your needs can be a painful and costly experience. In some areas, it can be okay to cut a few corners to save money, but choosing a good shipping software system isn't one of them. You're buying a huge stock of bathing suits in February and saving money by storing them in your garage instead of the warehouse with your other inventory isn't going to affect the customers that buy them in June. If they receive the wrong item because an employee accidentally types a 6 instead of a 7 for the item number, it could very well affect them. Exceeding the order limit of the free version and being faced with having to pay unexpected charges could adversely affect you and your business as well. Scalability is an important element to consider when choosing a permanent shipping software solution. How easy it is for you and your employees to learn and use is also an important consideration. It might get five stars in all the online reviews, but it's just as important to get feedback from the people who are actually going to use it.
Zoho Inventory
When it comes to free offers, Zoho inventory is a good one to learn about what features are available and which ones you would use most for your business. Although they don't offer a fully integrated system that includes multi-carrier shipping as Ordoro does, many small business owners report that they learned a lot from their free version. When it's time to invest in a software system, scalability will save you and your employees from having to learn a whole new system while you're trying to fill more orders than you've ever had before. Another thing to consider is how well it integrates with other applications. Zoho inventory management software integrates well with other Zoho software products, but according to more than one Zoho inventory review, not as successful as others. Orderhive offers a limited free version of their Orderhive inventory management software and a free trial. However, if you use your desktop as a control center, you'll need a Mac because they don't have versions for Linux or Windows desktops. According to the Orderhive reviews, not everyone wants to have to sign a contract, either. If you don't have a Mac, Orderhive alternatives include Finale and Veeqo. Finale inventory reviews scored a bit higher and they do have a version for deployment from Windows desktop. It's more expensive but there is a free version of Finale inventory for those just starting out to try. Veeqo doesn't have a free version. Instead, they charge per feature per month, which some people love because it means they are only paying for features they actually use.
Best Shipping Software For Ecommerce
The software engineers at Ordoro had the goal of creating the best shipping software for ecommerce on the market. The fact that they were rated among the top shipping software companies of 2021 by Digital dot com is pretty strong evidence that they succeeded. They were also ranked at number one of the top seven in inventory management software by the technology experts at The Blueprint. Whether you're partnering with Amazon or need the best shipping software for Shopify, Ordoro's multi-channel capability provides seamless integration with all the major players in ecommerce. As a comprehensive system, it really does have it all, which means your business can expand, both in size and scope. Ordoro specializes in making small businesses medium-sized businesses. Part of that is serving as both domestic and international shipping software, ensuring you get the best possible rates no matter where your products are shipped. During their free 30-day onboarding process, their professionals will demonstrate all the features that make it the best shipping software for small business. They'll help you customize it for your specific business and set up automation rules that streamline all your processes for maximum efficiency. Their data analytics provide you with all the information you need to make smart purchasing decisions and stay ahead of buying trends. They also offer lifetime support to ensure the highest level of both security and current technology. Their software engineers are looking forward to reading your review once you've seen for yourself how much it can do for your small business.