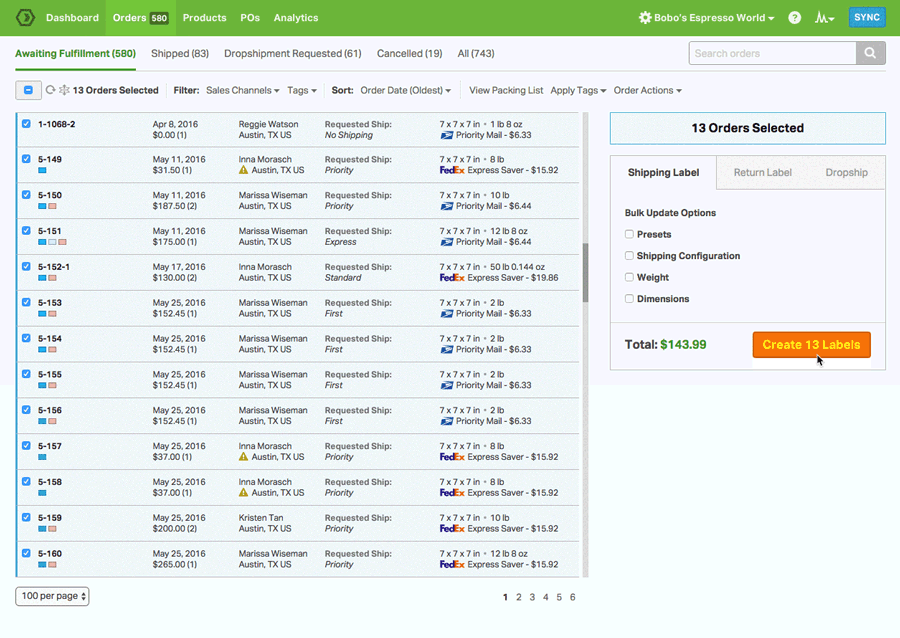 The All-In-One Simple Inventory System For Your Business
The All-In-One Ecommerce Logistics Platform
Equip yourself with a comprehensive solution
Inventory Management
Stock, sync, and scan.
Automatically track and sync your inventory levels
Create and send out Purchase Orders when it's time to restock
Bundle multiple SKUs into one unit for sale
Use Barcode Scanning to reduce fulfillment errors
Multi-Carrier Shipping
Your workflow, minus the work.
Enjoy heavily-discounted shipping rates via USPS
Ship via any of our integrated shipping carriers like USPS, UPS, FedEx, DHL and Canada Post
Set up your own Automation Rules and Shipping Presets
Print shipping labels in triple-digit batches or individually
Dropshipping
Truly hands-off dropshipping.
Launch a dropshipping operation in a matter of clicks
Tag any product as drop shipped and assign it to a vendor
Choose between automated or manual routing
Activate a Vendor Portal between you and your supplier
Multichannel
We're your operations hub.
Integrate and view all of your sales and supplier channels in one spot
Use our open API to hook up any third-party or custom apps
Manage every aspect of your orders
Establish Supplier Feeds for real-time, back-end communication
Barcode Generation and Scanning
Raise the bar for stocking and packing.
Create UPC barcodes for your products
Scan, set, and search UPC codes for SKUs within Ordoro
Reduce fulfillment errors with our pack and pack barcode scanning workflow
Scan received POs to automatically adjust stock levels
Don't take our word for it
Our awesome customers have shipped some really great compliments our way:
"I spent about a month thoroughly searching for the right backend fulfillment software for my eCommerce business. There were definitely some big name guys out there that I considered, but at the end of the day, I went with Ordoro and I'm so glad I did!"

Tina Yarandi
Founder/CEO of Nature's Artisan
"Ordoro continues to add immensely valuable features to an already awesome sales/warehousing/shipping platform. Using Ordoro continues to save us time and money."

Anthony Krize,
VP of GE Holiday Lighting
Simple Inventory System
Any business with an inventory needs to have some type of inventory system. This is essential for any size business to be able to track products along the supply chain. Logistically, you also save money and time, both of which are major expenditures for any company. The more money you save on a simple inventory system, and the less time your team spends transferring data and getting it up and running, the faster your company maintains an inventory tracking system. This allows for optimal growth and scaling upward as you increase productivity and efficiency with shipments and order fulfillment.
To get started with an inventory management system, identify the type of tracking you prefer:
Free software
Excel spreadsheets
Open source software
Paid inventory management software
There are pros and cons to each of these products on this inventory management software list. Some, like free inventory management software, a free Excel inventory template with formulas, and open source software, are more lax and less in your hands. A free system can easily be altered, as can an open source software solution. This reduces security on your end and can lead to cyber hacking and a loss of information and privacy.
Now what companies should be looking for in an inventory tracking solution varies. Typically, you want something affordable and easy to use at any level. This ensures quick and effective onboarding for team members using the inventory management system. You also want innovative API integration to provide syncing from various forms of software.
A free inventory management app by Ordoro is one example of this type of feature. With our simple inventory app, your company controls inventory information within a single platform that is managed by your team. We offer this free app for inventory as part of our best free inventory management software tools.
Simple Inventory Software Free
One of the major downfalls of simple inventory software free for anyone to access is exactly that–open access. Anyone can get into your data and software if you are working with free downloads, which can contain malware and spyware. You are also looking at issues like loss of data with open source software that can crash at any time. When you are managing a company, these losses are legal issues and you are liable to protect both your employees and your customers. As a result, you cannot risk having your customers' contact information or credit card numbers stolen–just because you use simple inventory software free you found online.
There is another issue with simple inventory software free downloads online. You do not have ownership of these kinds of systems. This increases the likelihood you are attacked by cybercriminals searching for an easy way to learn about the financial information of a company. Excel is also open to threats of the cyber world, as well as the loss of data if this company ends security updates on this spreadsheet management software.
Zoho Inventory
A good example of inventory management software to bring up here is Zoho inventory management software free. This software offers an inventory tracking system but lacks customization of its features. According to a customer, Zoho Inventory review the software, "Support isn't always helpful," which is a huge pain when struggling with online systems that lack the human component. Zoho Inventory pricing for free inventory software is also unclear since you are not sure which features are actually free. Choose offline free inventory management software by Ordoro for the best results over an open source inventory management software - free download.
About Free Software
Speaking of free inventory software for small business owners, it is not great to use free software for inventory management. There are a few types of free software including:
Inventory management software in Excel
Inventory management software open source
A simple inventory software free download quickly turns into a nightmare when you suddenly lack access to your data after the software turns out to be a dud. Many users of free software find out all too soon that they will quickly need to upgrade their plan. Then you are back where you started, shopping for a better solution to meet business demands and best practices for scaling up growth.
Smart Inventory Management
A system dedicated to smart inventory management is a type of simple in and out inventory software. Smart inventory systems use QR codes, which are square-shaped barcodes. These are printed and embedded with information or data about a product or service, brand, or business. You also use smart inventory scanners on other types of barcodes, including pricing barcode labels.
This allows your warehousing crew to set up an inventory system where products are easily scanned and organized using both QR codes and barcodes. This increases the efficiency of an inventory management system to also allows for logistics tracking. These barcodes and QR codes, for example, can also be scanned by major shipping agencies and delivery drivers using internationally understood coding language and scanning technology.
One kind of this software is Smart Inventory 365, labeled as Smart Inventory 2.0. There is also smart inventory Ansible Tower 3.2 which is part of the Red Hat software. You can also access a smart inventory management app to help create your own smart inventory. For example, the smart inventory NonZero apps are a system of QR code and barcode scanning tools. This includes a system to organize an inventory based on tags and groups, and for sorting by items.
Inventory Management Software
One of the better options for an inventory management system is the one sold and maintained by Ordoro. This is an all-inclusive system that uses an array of apps, barcode generators, API app integrations, and more. You can also access their inventory management software tools that come exclusively to Ordoro customers.
The Ordoro inventory and warehousing management system include a bevy of tools and software. This comes ready to work in any size warehouse or inventory space thanks to the Ordoro inventory tracking app. The app is free to download when you subscribe to an Ordoro service plan. When you sign up for the Ordoro management software for inventory, you receive a complimentary free trial of 15 days using the sophisticated Ordoro inventory management software. This gives your team the freedom and flexibility to try out our customizable inventory management software.
Ultimately, Ordoro is the best inventory management software on the market. If you don't agree, you get your money back or spend nothing but your own free time testing our highly esteemed warehouse inventory management software. This way, you are able to save money by not paying for software you do not need or cannot access.
Get on track with the Ordoro inventory management system that you need to help you scale up with any industry. In order to reach that point in your business where you are able to identify inventory issues on the go, Ordoro's system helps you serve more customers more rapidly. It's all about a fast pace in the shipping world, and inventory management solutions. These help you get places faster both through expedient order fulfillment and faster invoice payments.
Simple Inventory System For Small Business
Ordoro was made to support those small to medium-sized business owners struggling to manage their inventory. This is an issue for business owners across all industries–there is no easy solution. However, with the Ordoro simple inventory system for small business owners, you are one step ahead of the curveball that customers throw at you. Whether you are dealing with a lot of returned products, or you have hit a peak in order fulfillment, a system for managing inventory is in order.
Along with highly rated inventory management software small business owners' demand, the Ordoro system has several tools in place. These include the free small business inventory management app available only to Ordoro subscription customers. Use this app to track inventory and shipments from anywhere you are using the internet and cloud-based technology. The Ordoro team supports their apps and other software for customers in a number of ways.
You can access tons of support from the Support Center topics ranging from Getting Started to API and Supplier Feeds. Find out about Manufacturing, Purchase Orders, and Dropshipping from within the Ordoro Customer Support Center. This online portal makes it super simple to learn everything you need to know about your Ordoro account and software. Whether you want to find out about New Stuff, or simply need to be more aware of your Payments and Billing within the Ordoro inventory management system–the information is easy to access. You don't even have to be a customer to have this information, which includes YouTube videos and online support requests to actual support agents.
See what the Ordoro inventory system management software and apps can do for your inventory tracking. Stay in the know about low product and inventory, and check analytics and reports for financial data on the spot. Get more control over what you have in your own warehouses with the use of Ordoro. Sign up for a free 15-day period with Ordoro's customized inventory management system. This is the perfect time to decide whether you want to expand your business or stay stagnant. No one likes to be left behind, especially business owners. Start modernizing your operations with our free access offer to Ordoro's inventory management software and tracking app.