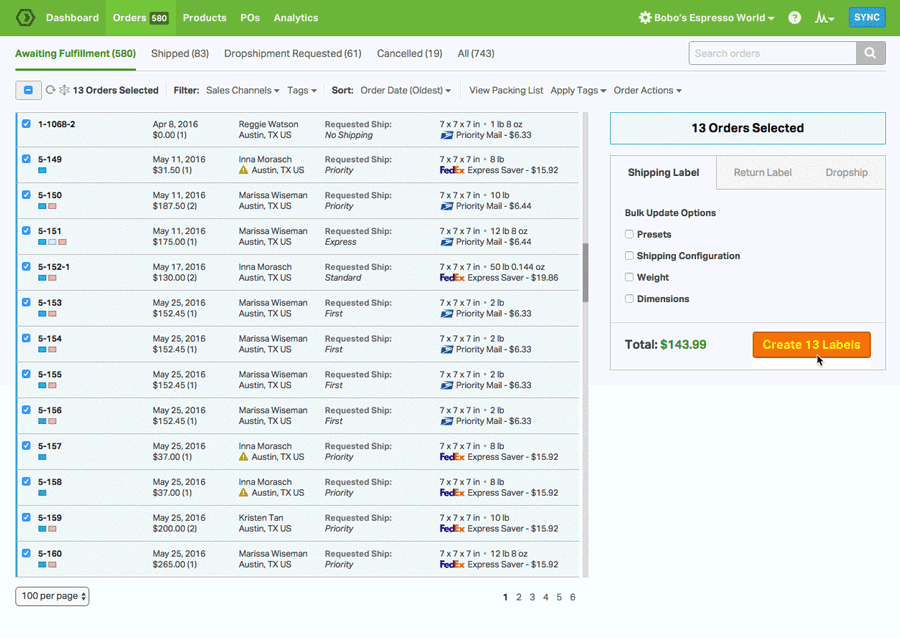 Discover The Best Inventory Software For Small Business
The All-In-One Ecommerce Logistics Platform
Equip yourself with a comprehensive solution
Inventory Management
Stock, sync, and scan.
Automatically track and sync your inventory levels
Create and send out Purchase Orders when it's time to restock
Bundle multiple SKUs into one unit for sale
Use Barcode Scanning to reduce fulfillment errors
Multi-Carrier Shipping
Your workflow, minus the work.
Enjoy heavily-discounted shipping rates via USPS
Ship via any of our integrated shipping carriers like USPS, UPS, FedEx, DHL and Canada Post
Set up your own Automation Rules and Shipping Presets
Print shipping labels in triple-digit batches or individually
Dropshipping
Truly hands-off dropshipping.
Launch a dropshipping operation in a matter of clicks
Tag any product as drop shipped and assign it to a vendor
Choose between automated or manual routing
Activate a Vendor Portal between you and your supplier
Multichannel
We're your operations hub.
Integrate and view all of your sales and supplier channels in one spot
Use our open API to hook up any third-party or custom apps
Manage every aspect of your orders
Establish Supplier Feeds for real-time, back-end communication
Barcode Generation and Scanning
Raise the bar for stocking and packing.
Create UPC barcodes for your products
Scan, set, and search UPC codes for SKUs within Ordoro
Reduce fulfillment errors with our pack and pack barcode scanning workflow
Scan received POs to automatically adjust stock levels
Don't take our word for it
Our awesome customers have shipped some really great compliments our way:
"I spent about a month thoroughly searching for the right backend fulfillment software for my eCommerce business. There were definitely some big name guys out there that I considered, but at the end of the day, I went with Ordoro and I'm so glad I did!"

Tina Yarandi
Founder/CEO of Nature's Artisan
"Ordoro continues to add immensely valuable features to an already awesome sales/warehousing/shipping platform. Using Ordoro continues to save us time and money."

Anthony Krize,
VP of GE Holiday Lighting
Inventory Software for Small Business
What does inventory software for small business do and how can it help a business grow? You need a reliable, smooth system of entering incoming inventory stock, ensuring there are enough stock levels during fulfillment operations to enable orders to be filled quickly and smoothly, while keeping back orders to a minimum. The best inventory management software for small business, especially if engaged in ecommerce, should meet the following criteria:
Be able to organize your products into categories
Track sales and purchase orders (POs)
Have the capability to order replacement stock from designated suppliers automatically when levels drop to a pre-determined number
Be easy to install and use, especially for employees without a technical background
Meets your start-up budgetary requirements now and is scalable into the future as your business grows.
Taking into consideration the size and type of business – whether dropshipping, warehouse, manufacturer, or reseller/ retailer,- are also major factors in determining which software is right for you.
Other brands that made the inventory management software list include:
FreshBooks — tops for service-type businesses,
Xero — highly rated for micro-business owners
QuickBooks Self-Employed — for part-time freelancers
QuickBooks Online is rated as the best overall
If you're running any type of an ecommerce operation, however, you will certainly want to check out Ordoro. As a leader in developing ecommerce inventory software, they understand the special requirements of all types of online businesses, whether you're a retailer, dropshipper, or manufacturer. With inventory management features that enable users to track and organize incoming stock and reorder when levels drop to a designated number, Ordoro also keeps your fulfillment team on task with picking/ packing and shipping integration.
Below we'll look at the best inventory management software free of charge, as well as the best free inventory app for small business for those using mobile devices and other on-the-go means of staying on top of managing their ecommerce business.
Overall, when searching for the best inventory management software, you need to look no further than Ordoro: from tracking incoming materials and outgoing product orders, fulfillment, and shipping – we have it nailed down.
Perhaps the best free inventory management software is that offered through open source, closely followed by spreadsheet programs such Excel and Google Sheets. Those programs, however, are limited by the need to spend time entering and updating stock data while tracking and filling orders and having to match stock levels with incoming orders for fulfillment. They aren't able to create shipping labels, select the best carrier, and track shipments once they're out the door.
Another step up from inventory management software in Excel is inventory management software open source.
One popular ecommerce open source inventory management software brand is Odoo Inventory, which is a suite of business management software, including billing, warehouse management and inventory management. Like most other forms of ecommerce, it requires a degree of technical knowledge to set up correctly and there is a learning curve, as with using QuickBooks.
Of course, any open source software that's licensable can be changed by anyone with knowledge of PHP and other technical expertise. The flip side of that is the possibility of your settings and other features being compromised if someone should tamper with the software, intentionally or accidentally, causing data loss and delays while the problem is identified and fixed. Who needs to worry about that?
Ordoro has a better solution: we offer a comprehensive array of ecommerce inventory management software small business-focused that's designed to be scalable for startups yet powerful enough to manage complex warehouse inventory management software tasks while supporting fulfillment, managing carriers, and multi-channels. Our customers get lifetime customer support (from real, live agents) as well as free 30-day onboarding.
Free Inventory Software for Small Business
There are numerous options for free inventory software for small business such as spreadsheets, that utilize free inventory software download and other offline free inventory management software which can be useful for newer businesses or those that have smaller inventories and few online sales.
You can, of course, use most spreadsheet programs as a simple stock management software free download. These can work well for new businesses that aren't buying or shipping out a lot of products, but as time passes, you'll find that some of these simpler programs can't keep up with your growing business.
The downsides of free inventory management software in Excel and other types of simple inventory software free of charge are if you've ever spent any significant amount of time entering data into a spreadsheet format, you likely know how tedious and time-consuming it can be. Not only that, but most spreadsheets aren't able to automatically reorder replacement stock – only show you when things are getting low with stock items.
Odoo's inventory software, offered as open source inventory management software - free download, claims to help organize inventory, track sales, and more. However, as we mentioned above, there are learning curves involved, especially if the user has little or no tech background, so your business may be subject to downtimes while you and your employees are on a learning curve.
Business.org listed several inventory management software free of charge for 2022, including Zoho Inventory (best free inventory software for small businesses), inFlow (best local software), Odoo (best for new business growth), RightControl (best for ecommerce), and PartKeepr (best for manufacturers.) Square for retail is among the best inventory management software offering a free inventory management app.
Ordoro combines the best of the above but picks up where many leave off: you're not limited to just inventory tracking and organization, but you get superb fulfillment, carrier integration, and shipping capabilities as well. You can track shipments, and generate reports and analytics, saving time and money.
Manufacturing Inventory Management System
If you are a manufacturer, whether, of finished products for direct sale to final markets or to other producers, you absolutely need a manufacturing inventory management system that can support your specialized business. The best free inventory management software is versatile enough to allow users to track incoming and outgoing stock as it categorizes inventory, generates purchase orders from suppliers before levels run low, and is easily installed and utilized by non-IT employees.
Free inventory software download is available through spreadsheets as well as open source programs offering simple inventory software free and simple stock management software free download.
What are some best free inventory management software for the manufacturing industry in the auto parts manufacturing sector? Besides PartKeepr, the online software-locator service Capterra recommends sites such as Fullbay, Shopmonkey AutoFluent, MaxxTraxx, Shop Boss, PartKeepr, AutoLeap, Identifix all offer systems to manage accounting, warehouse integration, including CRM¸ parts and labor to help auto parts and shop managers grow their businesses.
One source of offline free inventory management software is through manufacturing inventory management Excel and other spreadsheet programs still have a place, but whether your business is planning on doing a lot of shipping of parts or finished products, you'll need software that's powerful yet nimble enough to keep up with the demands of production and online-based orders.
As mentioned above, PartKeepr offers to manufacture inventory management software free download that's cloud-based and easily utilized, even by non-tech personnel.
Ordoro, with its nimble and versatile plugins and other tools, is an ideal choice for best inventory management software for manufacturing as well as inventory management software for small manufacturing business overall. Ordoro's manufacturing inventory software is designed to help manage the numerous tasks of a manufacturing plant and/ or warehouse – from inventory, to fulfillment of customer orders, tracking shipments, and generating reports and analytics – Ordoro does it all.
Best Inventory Management Software Small Business
While there are number of companies that claim to offer the best inventory management software for small businesses, you need to look no further than Ordoro. We're able to help you tackle more complex warehouse management tasks with our warehouse inventory management software, which is able to handle fulfillment and multi-channel sales and coordinate with multiple carriers.
Companies advertising the best inventory management software small business–focused may be offering what's really a free trial period, but once that's over, you could see a serious price increase.
For QuickBooks users, if you're looking for the best inventory software for QuickBooks, you want something that's not only compatible with the program., which itself can entail quite a learning curve for new users but is user-friendly for employees learning it. Ordoro fits that bill on all counts and is compatible with other types of accounting software as well.
What's currently rated as best inventory management software for small businesses free of charge? That could be "Wave", according to a recent Investopedia report.
When all factors are considered, it's clear that Ordoro stands out from the rest of the pack. Unlike most free inventory management software for small business, Ordoro provides inventory management tools that can help you to:
Automatically track and sync inventory levels to prevent under-stocks
Bundle multiple orders together to make it easier to handle shipping needs and concerns
Create and send out purchase orders when it's time to restock through a handy vendor's portal that you can easily set up for designated suppliers.
Use barcode scanning to reduce fulfillment errors while speeding up shipping
Does your current software do all of that?
As the best inventory management software for ecommerce in our opinion, Ordoro offers 30 days of FREE onboarding as well as lifetime customer support with live team help. Contact Ordoro now to schedule a demo and learn more about managing all aspects of your ecommerce business, from inventory to warehousing and fulfillment.