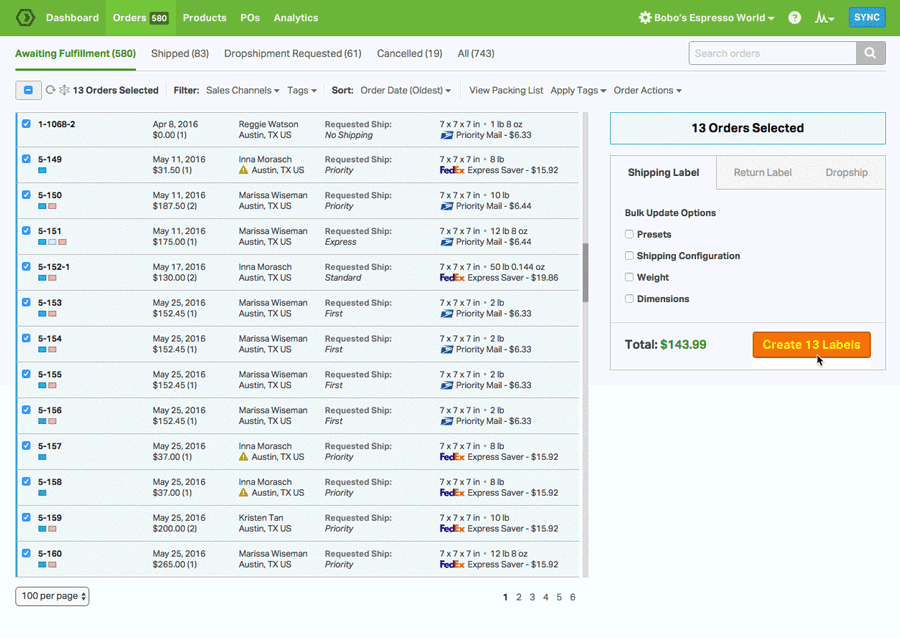 The All-In-One Inventory System for Small Business
The All-In-One Ecommerce Logistics Platform
Equip yourself with a comprehensive solution
Inventory Management
Stock, sync, and scan.
Automatically track and sync your inventory levels
Create and send out Purchase Orders when it's time to restock
Bundle multiple SKUs into one unit for sale
Use Barcode Scanning to reduce fulfillment errors
Multi-Carrier Shipping
Your workflow, minus the work.
Enjoy heavily-discounted shipping rates via USPS
Ship via any of our integrated shipping carriers like USPS, UPS, FedEx, DHL and Canada Post
Set up your own Automation Rules and Shipping Presets
Print shipping labels in triple-digit batches or individually
Dropshipping
Truly hands-off dropshipping.
Launch a dropshipping operation in a matter of clicks
Tag any product as drop shipped and assign it to a vendor
Choose between automated or manual routing
Activate a Vendor Portal between you and your supplier
Multichannel
We're your operations hub.
Integrate and view all of your sales and supplier channels in one spot
Use our open API to hook up any third-party or custom apps
Manage every aspect of your orders
Establish Supplier Feeds for real-time, back-end communication
Barcode Generation and Scanning
Raise the bar for stocking and packing.
Create UPC barcodes for your products
Scan, set, and search UPC codes for SKUs within Ordoro
Reduce fulfillment errors with our pack and pack barcode scanning workflow
Scan received POs to automatically adjust stock levels
Don't take our word for it
Our awesome customers have shipped some really great compliments our way:
"I spent about a month thoroughly searching for the right backend fulfillment software for my eCommerce business. There were definitely some big name guys out there that I considered, but at the end of the day, I went with Ordoro and I'm so glad I did!"

Tina Yarandi
Founder/CEO of Nature's Artisan
"Ordoro continues to add immensely valuable features to an already awesome sales/warehousing/shipping platform. Using Ordoro continues to save us time and money."

Anthony Krize,
VP of GE Holiday Lighting
Simple Inventory System For Small Business
Keeping track of inventory is a crucial part of running a business. Whether you're selling to other companies in a B2B capacity, have an online retail store, or are dropshipping, you definitely need to know what you have available for people to order.
That said, finding a simple inventory system for a small business doesn't have to be difficult. While there are tons of options on the market, they generally come down to two categories—paid vs. free.
In this guide, we'll explore the benefits of having an inventory management system. Plus, we'll explore both the pros and cons of using free inventory management software in Excel versus the robust features of Odoro. Let's get started.
Why You Need an Inventory Management System
Communication is crucial when it comes to fulfilling orders for your customers. And that's true whether your target market is other businesses in a manufacturing niche or general eCommerce for a retail brand.
Simply put, if you don't know what you have available, you can't sell it.
With an inventory management system, it is possible for staff members to instantly determine what is in stock and what you might be running low on.
This helps for things like packing orders, inventory reorders, and making decisions about sales, pricing, and so much more.
Which means that choosing the right solution for your needs shouldn't be a quick decision. Instead, it is important to weigh the pros and cons of both paid and free options, while keeping in mind the various features each one offers.
Inventory Management Software in Excel
One very common inventory tracking option for small companies and brands is Excel.
To be clear, when we mention creating inventory management software using Excel, what we're really talking about is a template that makes it easy to know what is currently in your warehouse.
For many companies, this is an attractive option because it is free. These templates cost nothing but time to create, which makes them an ideal alternative to bigger warehouse inventory management software programs. However, that doesn't necessarily make them better.
To get started, most inventory managers just start off by searching the internet for tips on how to create an inventory management system in Excel. Then they use that instruction to pick and choose elements to track the specific bits of information they need to keep track of.
The benefits of this method is that it is simple, free, and usually only takes a moderate amount of knowledge to really create a rudimentary system that works. Plus, you can customize your template to meet your needs.
However, there are quite a few cons to utilizing Excel as a stock control system for small business. You definitely get what you pay for when it comes to bargain inventory management tools. While Excel is certainly an effective option if you have only a few items to keep track of, it isn't the best path you could choose.
For starters, there's a big risk of human error. Numbers are a tricky thing and trying to keep track of inventory by hand and inputting that information in Excel can be highly tedious. One simple mistake can lead to a big error, which is exactly what you're trying to avoid by having inventory management software in the first place.
In addition, it is also incredibly time-consuming. All that time spent adding information to a spreadsheet, calculating formulas, and trying to make sense of the data can really eat away at the number of hours your team is able to spend focusing on other areas of your merchant business.
And only one person can typically have a file open at a time. If there are multiple team members trying to access the data all at once, this can become a big problem in terms of accuracy.
For these reasons alone, it is usually a better idea for companies to opt for dedicated simple inventory management software for small business—even if that means spending a little bit of money to make it happen.
Why Odoro is Your Best Inventory Management App for Small Business Needs
As an alternative to Excel, there's Ordoro. This sales and inventory app is specifically designed for tracking items and overall supply management.
Not only does it improve your workflow with features like bulk shipping label creation, but the omnichannel inventory management and automated dropshipping give you far more flexibility than just using Excel. In turn, your fulfillment workflows become much more streamlined, making it easier to accomplish tasks while reducing the chance of error.
To break down the reasons why Ordoro is a better option than Excel as simple inventory software for small business, here are a few factors to consider.
Inventory Management Software with Barcode Scanner
One benefit to using Ordoro as your chosen inventory management software for small businesses is that you have the option to use a barcode inventory system to keep track of items as they come and go from your fulfillment center.
This is an excellent way to reduce errors, ensure constant knowledge of current inventory, and streamline your entire inventory process.
Think about this for a moment. Who has time to constantly check an inventory management software list by hand? With a barcode scanner, this process is effective, automated, and much more efficient.
For merchants that have hundreds or thousands of products with varying options, the ability to create barcodes and scan items as they come and go saves both time and money in the long run.
Plus, if you're currently using an inventory list template Excel, switching to a solution that's robust enough to handle barcode and UPC scanning is a huge upgrade designed to benefit the growth of your brand. The end result gives you more functionality and less dependence on those who have access to the spreadsheet.
If you've been looking for new inventory software for small business with scanner, then you'll love the features that Ordoro provides.
Support for Multiple eCommerce Platforms
Finding the right inventory management software for your eCommerce business is still a pretty big decision. Not only does this program keep track of every item in your inventory, it lets you know when to remove items from your website and when to keep selling to your customers.
Another important issue to consider with free inventory management software for small businesses is that it doesn't usually integrate with your eCommerce store. This means any changes or orders have to be updated manually, making it harder to keep an effective count at all times.
However, that's another big difference with Ordoro. As a dedicated inventory management app, it allows you to accomplish tasks like bundling SKUs for sales and handle multiple sales channels at once, like Walmart, eBay, Amazon, and your own website. For a growing online brand with multiple products in various marketplaces, this functionality is super important.
Not sure your company is big enough to need omnichannel support? That's okay. This is a feature that will be here when you're ready to grow, meaning you won't have to make such a big jump to integration when you can finally start selling in multiple places at once.
Dropshipping and Automation Capabilities
Finally, there's the option within Ordoro to track dropshipping. Once a product sells on your online store or in a marketplace, you can set it to automatically place the order with the vendor. Not only does this get the product to the customer more quickly, but it eliminates the need for you to manually handle tasks yourself. Think of it as a true hands-off dropship solution!
This also works in reverse. Let's say you're the manufacturer and have multiple brands that trust you as a wholesale dropshipping solution. Ordoro's features make it easy to accept orders and seamlessly create shipping labels based on certain vendor profiles and more.
And you don't have to just take our word for it. Ordoro has thousands of happy customers who've continued to tout us as the best inventory management app on the market for small manufacturers, online stores, and virtually anyone who needs to keep track of items within a dropship model.
Finding the Best Warehouse Management System for Small Business
Simply put, if you're looking for the best inventory management app for manufacturing and small business, then look no further than Ordoro.
Whether your company operates a manufacturing facility or just offers retail sales on a number of different platforms, this inventory management software provides clarity, accuracy, and better productivity for an enhanced workflow.
Best of all, it is ideal for companies with only a few products or those who have thousands of different SKUs. With the ability to integrate a barcode scanner, print out shipping labels, and customize to suit your needs, there's no reason to look any further. Or settle for a subpar option like using a basic Excel template.
Are you ready to get started and improve your inventory management workflow? To learn more about Ordoro, schedule an inventory management software free demo today.