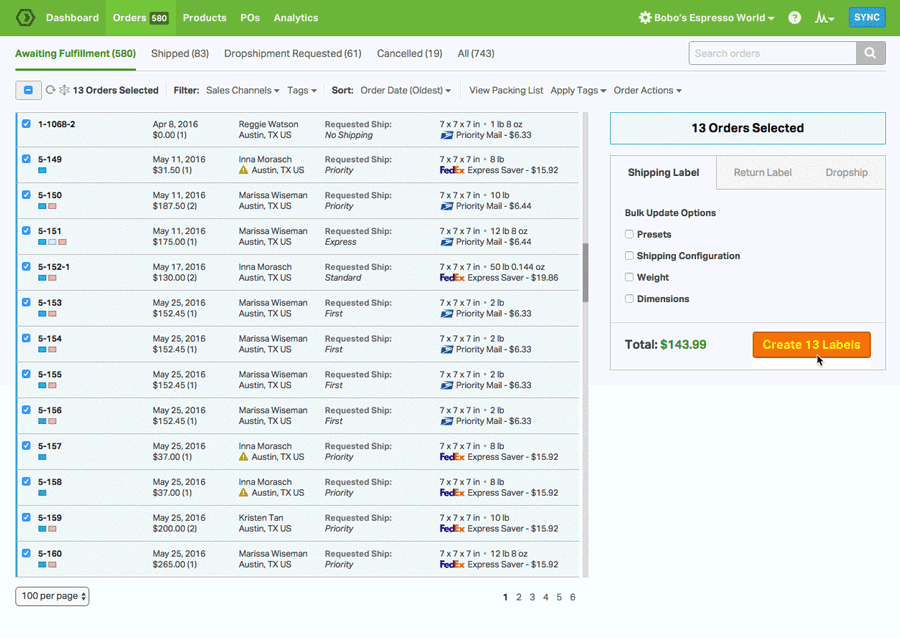 Keep Stock Levels In Sync With Our Walmart Inventory Management Software
The All-In-One Ecommerce Logistics Platform
Equip yourself with a comprehensive solution
Inventory Management
Stock, sync, and scan.
Automatically track and sync your inventory levels
Create and send out Purchase Orders when it's time to restock
Bundle multiple SKUs into one unit for sale
Use Barcode Scanning to reduce fulfillment errors
Multi-Carrier Shipping
Your workflow, minus the work.
Enjoy heavily-discounted shipping rates via USPS
Ship via any of our integrated shipping carriers like USPS, UPS, FedEx, DHL and Canada Post
Set up your own Automation Rules and Shipping Presets
Print shipping labels in triple-digit batches or individually
Dropshipping
Truly hands-off dropshipping.
Launch a dropshipping operation in a matter of clicks
Tag any product as drop shipped and assign it to a vendor
Choose between automated or manual routing
Activate a Vendor Portal between you and your supplier
Multichannel
We're your operations hub.
Integrate and view all of your sales and supplier channels in one spot
Use our open API to hook up any third-party or custom apps
Manage every aspect of your orders
Establish Supplier Feeds for real-time, back-end communication
Barcode Generation and Scanning
Raise the bar for stocking and packing.
Create UPC barcodes for your products
Scan, set, and search UPC codes for SKUs within Ordoro
Reduce fulfillment errors with our pack and pack barcode scanning workflow
Scan received POs to automatically adjust stock levels
Don't take our word for it
Our awesome customers have shipped some really great compliments our way:
"I spent about a month thoroughly searching for the right backend fulfillment software for my eCommerce business. There were definitely some big name guys out there that I considered, but at the end of the day, I went with Ordoro and I'm so glad I did!"

Tina Yarandi
Founder/CEO of Nature's Artisan
"Ordoro continues to add immensely valuable features to an already awesome sales/warehousing/shipping platform. Using Ordoro continues to save us time and money."

Anthony Krize,
VP of GE Holiday Lighting
Walmart Inventory Management
In the real estate business, the phrase used to describe what new businesses need to consider first and foremost when looking for a storefront where their business can succeed is "location, location, location". When it comes to retail and e-commerce, that refrain becomes "pricing, pricing, pricing". Pricing is one of the strategies Walmart used to become a retail industry giant. However, their pricing strategy wouldn't be possible without a good inventory management strategy, and Walmart has one of the best. If you're new to inventory management, there are four different categories of inventory: finished goods, transit, buffer, and anticipation inventories. Walmart inventory management offers a prime example of how using advanced technology and innovation for each of those categories can optimize performance in every area. Using automation and delegating inventory management to their suppliers, Walmart was able to offer them consistent business in exchange for lower wholesale prices. That guarantee, combined with the sheer volume of merchandise sold by Walmart on a daily basis, was enough to get manufacturers on board. That meant that Walmart could cut out the middleman completely. Trucks were no longer bringing merchandise to warehouses to be stored, but to be immediately re-distributed, either directly to stores to stock shelves or to fill orders that have already been placed. As a result, the company doesn't need extra personnel to manage goods from each supplier. Instead, the suppliers hire extra personnel to watch stock levels and replenish items when they fall below a certain level. Those cost savings are passed along to customers in the form of low prices, which increase the number of customers. Walmart is currently the single largest retailer in the world, with sales of $341 billion dollars in 2020 alone. I'd say they've found themselves a winning strategy.
Walmart Supply Chain
Walmart delegating part of the responsibility of inventory management to manufacturers and suppliers with a vested interest in ensuring that stock levels remain constant is just one element of the overall Walmart supply chain strategy. However, it's a cost-saving part, since it reduces overhead by eliminating some Walmart supply chain jobs. Their data analysts, after conducting a Walmart supply chain analysis, found that making suppliers responsible for monitoring and maintaining inventory of their own products removed a costly step from the Walmart supply chain process. Further, it streamlined the Walmart supply chain flow. By having access to an integrated system that connects expert analysts that forecast consumer demand, real-time POS sales data, and the information at distribution centers, suppliers are able to accurately determine which products they need to send to Walmart stores to satisfy that demand. Technology also continues to expand the definition of what's possible, so now, as if inventory management weren't complicated enough already, there is a fifth type of inventory called cross-docking inventory. This is inventory destined for Walmart stores based on their inventory needs that's uploaded directly to Walmart delivery trailers instead and brought to re-packaging warehouses and distributed immediately without sitting in storage. Walmart supply chain management practices have made it possible for them to cut costs for both personnel and warehouse storage. The recent pandemic really demonstrated how keeping abreast of new technological developments is a key factor in businesses surviving under adverse conditions.
Walmart Inventory Management Problems
No matter how good an inventory management system, life happens, and that means that there will always be things that we can't foresee, no matter how accurate our data analytics are. For example, who could have predicted that a pandemic would produce not just a surge, but more like a tidal wave, of consumer demand for bicycles? Well, that's exactly what happened, and as a result, bicycles remained out-of-stock for a good part of the year 2020. Other items were frequently out of stock too. Due to school closures and virtual classroom learning, paper products were also often out of stock. As people grew bored with being indoors, sales of craft items suddenly skyrocketed. You know you are living with adverse conditions when you see even the Walmart inventory management app not working sufficiently to satisfy consumer demand. It was reported that at the height of the stay-at-home orders, sales in the general merchandise category rose 60%. That meant that customers had to wait longer for items like fabrics, paint and accessories, furniture and even gaming equipment. Those are just a few of the Walmart inventory management problems we had last year, and not all of the Walmart supply issues are resolved yet. However, 2020 still saw their sales grow by a substantial margin—general merchandise by 18.87%, and food sales by 15.41%. That increase was despite the fact that they were only able to keep food items stocked at 85% of normal capacity for the first three months of the year. Many people now refer to that increase in food sales as their "post-pandemic poundage" which they are vowing to lose by 2022. Despite everything, overall sales still increased by 17.21 percent from the prior year, and much of that increase can be attributed to e-commerce.
Walmart BYOD App
Smart phones have made technological innovation and automation such a big part of our everyday lives that Walmart decided to incorporate smartphones into their inventory management operations. Since the majority of employees already had smartphones, back in 2018 they started a BOYD (bring your own device) pilot program to test whether smartphones could be used to lower costs and increase both accuracy and productivity. Their then-new Me@Walmart app consolidated a lot of activities onto one platform, including shift scheduling and clocking in. Instead of employees having to walk to a location and stand in line to punch in, they could just use the app once they entered the building. The app even had a function that allowed employees to communicate with one another using their cell phones like walkie-talkies—another time and step-saving feature. At the time, the Walmart byod app received a lot of press because they were one of the first companies to try it. The results of that experiment answered the question of whether smartphone apps at work could be beneficial with a resounding YES! What their pilot program revealed was that it could be expanded to encompass Walmart byod inventory management. Since then, the Walmart inventory management app for employees has saved them so much time and money that in June of this year, they issued 740,000 new Samsung Galaxy smartphones to employees. The phones were issued along with the promise that all Walmart employee apps installed on the phones wouldn't compromise employee privacy or prevent them from being able to use them in their personal lives outside work. What's not to love about that? They even offer an employee discount on phone service as well as providing insurance protection. Employee satisfaction is becoming a more important element in the success of businesses. That's why when it's time to update and automate your inventory management system, ease of use for your employees is an important consideration. It's best to go with a company that will provide you and your employees with continued access to tech support even after the initial onboarding period.
Walmart Inventory Management App
Like all successful businesses, Walmart best practices include maintaining a technological toolbox with all the tools necessary to keep their business not just running, but growing. One of the most important tools in it is their Walmart inventory management software. It's so important that they want their employees to have it on their cellphones. Ordoro's multi-channel integration gives you access to those tools as well as providing you with a full set of your own. Your Ordoro toolbox will include multi-carrier shipping, scanning capability for automated inventory management, kitting and pick and pack capability, drop-shipping and data analytics. You'll be able to automatically adjust your inventory stock levels with every sale or purchase and print out shipping labels individually or in batches. Their free 30-day onboarding will teach you and your employees how to automate and streamline your business processes to not just stay competitive, but win. They'll show you how to set automation rules specific to your particular products and suppliers to ensure that your most popular products are never out of stock and that they always arrive at your customers' doorstep on time. Their software engineers and developers ensure that your business has access to every beneficial new technological advancement, while ensuring that all the bugs are worked out before your system is updated, and that your customers' personal information is always protected. With Ordoro's multi-channel integration, Walmart could be one of the many industry giants you can partner with instead of compete against. Combining Ordoro's inventory management software with the power of data analytics, you can manage your inventory with just as high a degree of accuracy as Walmart inventory accuracy, since you have complete control. The fact that they specialize in transforming small businesses into medium-sized businesses is the reason they were rated the best inventory management software in 2021 by The Blueprint. With the seamless integration and lifetime support they provide, no matter what suppliers you choose to partner with, Ordoro delivers.