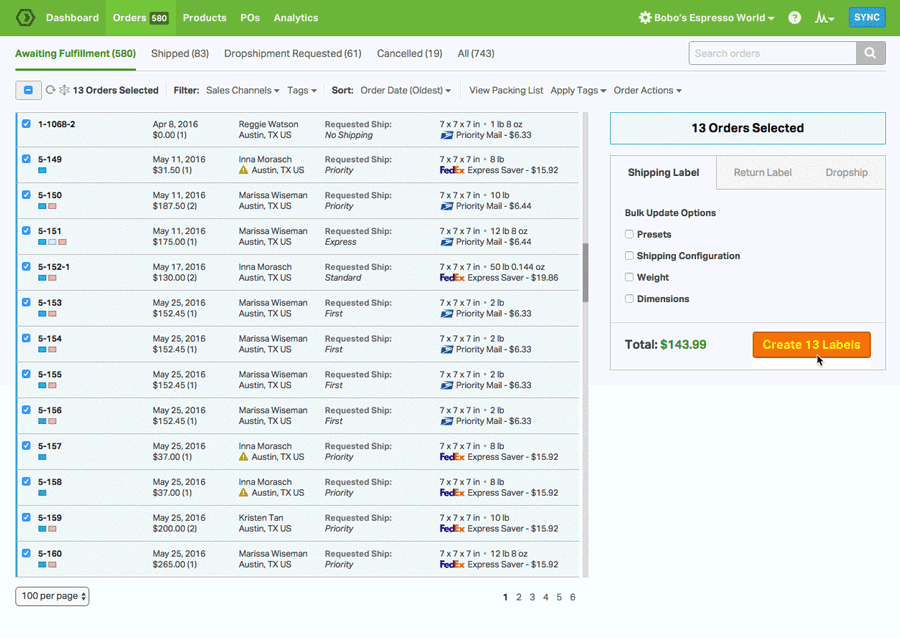 Fulfill Orders Faster With Our Amazon Inventory Management
The All-In-One Ecommerce Logistics Platform
Equip yourself with a comprehensive solution
Inventory Management
Stock, sync, and scan.
Automatically track and sync your inventory levels
Create and send out Purchase Orders when it's time to restock
Bundle multiple SKUs into one unit for sale
Use Barcode Scanning to reduce fulfillment errors
Multi-Carrier Shipping
Your workflow, minus the work.
Enjoy heavily-discounted shipping rates via USPS
Ship via any of our integrated shipping carriers like USPS, UPS, FedEx, DHL and Canada Post
Set up your own Automation Rules and Shipping Presets
Print shipping labels in triple-digit batches or individually
Dropshipping
Truly hands-off dropshipping.
Launch a dropshipping operation in a matter of clicks
Tag any product as drop shipped and assign it to a vendor
Choose between automated or manual routing
Activate a Vendor Portal between you and your supplier
Multichannel
We're your operations hub.
Integrate and view all of your sales and supplier channels in one spot
Use our open API to hook up any third-party or custom apps
Manage every aspect of your orders
Establish Supplier Feeds for real-time, back-end communication
Barcode Generation and Scanning
Raise the bar for stocking and packing.
Create UPC barcodes for your products
Scan, set, and search UPC codes for SKUs within Ordoro
Reduce fulfillment errors with our pack and pack barcode scanning workflow
Scan received POs to automatically adjust stock levels
Don't take our word for it
Our awesome customers have shipped some really great compliments our way:
"I spent about a month thoroughly searching for the right backend fulfillment software for my eCommerce business. There were definitely some big name guys out there that I considered, but at the end of the day, I went with Ordoro and I'm so glad I did!"

Tina Yarandi
Founder/CEO of Nature's Artisan
"Ordoro continues to add immensely valuable features to an already awesome sales/warehousing/shipping platform. Using Ordoro continues to save us time and money."

Anthony Krize,
VP of GE Holiday Lighting
Amazon Inventory Management
There has never been a better time for ecommerce entrepreneurs. The Amazon inventory system is one of the largest and most sophisticated in the world. They continue to refine and upgrade that system, as well as their policies and procedures for the sellers who use it. Amazon provides a lot of resources to help sellers get their new businesses up and running. Partnering with Amazon can reduce startup costs significantly. They offer so many resources that it's a good idea to ask yourself a few questions before checking them all out. One good question to ask is which services you want to provide yourself, and which ones you want Amazon to handle for you. Do you want to handle your own inventory warehousing and shipping, or pay Amazon a percentage of your profits to handle that? The answers to those questions are probably going to depend on how many tools you already have in your own toolbox. With a multi-channel integrated software system, you can automate many of those processes and save yourself a lot of time and expense. However, many small businesses with limited resources choose to utilize Amazon FBA (fulfillment by Amazon). After achieving some success, most people choose to invest in a software system that gives them more control. They like being able to respond to changing trends, and making their inventory reflect those trends more quickly and efficiently. Advanced software programs help automate scanning, syncing and stocking, all important elements of Amazon inventory management. A good fully integrated system will provide not just seamless Amazon inventory integration but seamless integration with other top sellers like eBay and Shopify as well.
Amazon Jobs
As the number two employer in America, 1 out of every 153 workers in the United States works for Amazon. While they offer an amazing variety of positions, there are Amazon jobs that haven't even been invented yet, but will be as technology continues to advance. Through their education and training initiatives, Amazon warehouse jobs can lead to Amazon inventory management jobs. People can even work for Amazon from home, as customer service representatives, computer programmers, accountants and various other roles. You can even work for them part-time. If you google "part time work near me" or "inventory control jobs near me", an Amazon job is likely to be at the top of the list of your search results. Three of the cultural priorities that have helped make them one of the largest employers in the world are diversity, equity, and inclusion. They want their employees to be able to attain the highest level of personal achievement possible. That includes not just people who work for them, but also entrepreneurs who work with them. They provide a platform from which hundreds of thousands of small businesses have been launched. A recently released report revealed that during the last 12-month period that just ended in September, 65,000 of the approximately 500,000 Amazon sellers in the U.S. earned over $100,000 in sales. Those odds for success are way better than buying a winning lottery ticket. The 15% of third-party sellers who reportedly surpassed $1 million in sales this year probably felt like they'd won the lottery, but they probably didn't have to pay as much in taxes as if they actually had. With the right products, technological tools, and level of commitment, the seemingly impossible has been reduced to the highly probable.
Amazon Seller Central
One of the most educational and beneficial resources you should take full advantage of is Amazon Seller Central. It allows you to sell your products directly to customers through the Amazon marketplace. Unlike Vendor Central, which is invitation only, and for larger, more established businesses that deal with a much larger volume of products and orders, anyone can apply to participate at Amazon Seller Central. Of course, while almost anyone with a name, phone number, and credit card can apply, there are certain requirements that have to be met to participate. Some of the requirements include:
Product barcode requirements—they want to minimize fulfillment errors and a barcode scanning system does that -- and allows you to automatically adjust your inventory.
Shipping and routing requirements—they want to be sure you're aware of their shipping protocols.
Shipment label requirements—these make the ability to print labels in bulk a really desirable feature for your system to have.
FBA product title requirements—this is your chance to be creative and set your product apart from others.
Packaging and prep requirements—nobody wants to receive a damaged item that's been improperly packed.
One of the most popular features of Seller Central is their data analytics. You are given access to Amazon data, valuable information to have. Data analytics can help you improve every aspect of your business, even complicated processes like splitting inventory across multiple fulfillment centers to reduce transit time and storage costs. Information presented in graphs can help you make better decisions about pricing, inventory management, and what new products to add to your website.
Amazon Inventory Tracker
There are three good reasons to have a good inventory management system: it saves money, improves cash flow, and increases customer satisfaction. Reasons don't get better than those three when you're trying to take your small business to the next level. There are some common challenges that small business owners face when it comes to managing their inventory effectively. One of them is gathering accurate stock data. The best tool to use to meet that challenge is a barcode scanning system, which practically eliminates fulfillment errors and automatically adjusts inventory with every purchase or sale. Another common challenge is outdated processes. Manually entering purchase order information into a spreadsheet just isn't as efficient or as precise as scanning it in. A more difficult challenge to meet is changing customer demand.
However, with good inventory management tools, pleasing the ever-changing customer is not impossible. Having the ability to bundle items can help you sell off those items that were trending last season, but nobody wants to admit out loud that they still like this season. You ordered a lot of them to avoid running out, and you don't want to have to pay to store them. And where did you store those hilarious Jack-a-lope coffee mugs that you had to pay to store last year which are suddenly back in vogue? The Amazon inventory tracker is a valuable tool for helping you manage your Amazon inventory levels of trending items. Their Amazon inventory management course can teach you everything you need to know about how to keep your customer satisfaction ratings high enough to qualify you for the Buy Box.
Amazon Inventory Management Software Free
While Amazon provides a lot of useful information, and even some services free of charge, once your business reaches a certain level of success, it's highly unlikely that the Amazon inventory management software free version will be adequate to accommodate that growth. For example, the Amazon inventory policy provides information about the Amazon inventory limit 2021 requirement. Their inventory limit was reduced to 450 from the 500 limit of 2020. The new limit took effect on January 1st, which gave sellers a chance to do a holiday Amazon inventory clearance sale. You can bet that every sales channel was open and operating at full capacity in December! Big sales are where multi-channel fulfillment (MCF) becomes essential. Even if you started out using an Amazon inventory management excel template, you'll need to automate your processes if you want to remain competitive. A system pieced together like a patchwork quilt can't integrate and automate all your processes as seamlessly as a comprehensive system like Ordoro, which was designed specifically for ecommerce. Ordoro works 24/7 behind the scenes, automatically updating your inventory, triggering purchase orders when stock falls below a certain level, creating labels for bulk shipping, and automating your drop-shipping. That leaves you free to research what's trending this month, and equally importantly, creative ways to move the merchandise that isn't. That's where kitting, bundling, and pick and pack strategies really come in handy. Being able to create shipping labels in bulk doesn't hurt when you're having a big sale, either.
Ecommerce Inventory Management Software
The engineers at Ordoro asked small business owners themselves what features would most help them succeed in ecommerce before developing their ecommerce inventory management software system. That fully integrated system included every feature they asked for— and more. That's why Ordoro was awarded the 2021 Best Inventory Management Software title by The BluePrint. When they say "and more" , they mean that their software integrates seamlessly with Amazon, eBay, Shopify and other industry giants. That gives you more options—and access to more resources. It doesn't replace Amazon order management software, it works with it. No matter how many storefronts, or suppliers, you have, Ordoro's multi-channel integration allows you to view them all from a single dashboard. When it comes to inventory management, sometimes less is more. With Ordoro, you'll have less unsold inventory taking up expensive warehouse space and pay less in storage fees. With fewer fulfillment errors, you'll spend less time emailing apologies and special offers to unsatisfied customers. You can be sure that the engineers at Amazon developed the best Amazon FBA inventory management software possible. Ordoro's powerful tools allow you to integrate seamlessly with the best Amazon inventory management software to expand your capabilities beyond what you thought possible. From establishing multi-carrier shipping channels to data analytics, during the free 30-day onboarding process, their professionals will show you exactly how to create and set up automated rules to streamline all your business processes to perform at peak efficiency. With life-time support, no matter how many times you need to scale up, you can keep the trusted system that helped you get there.