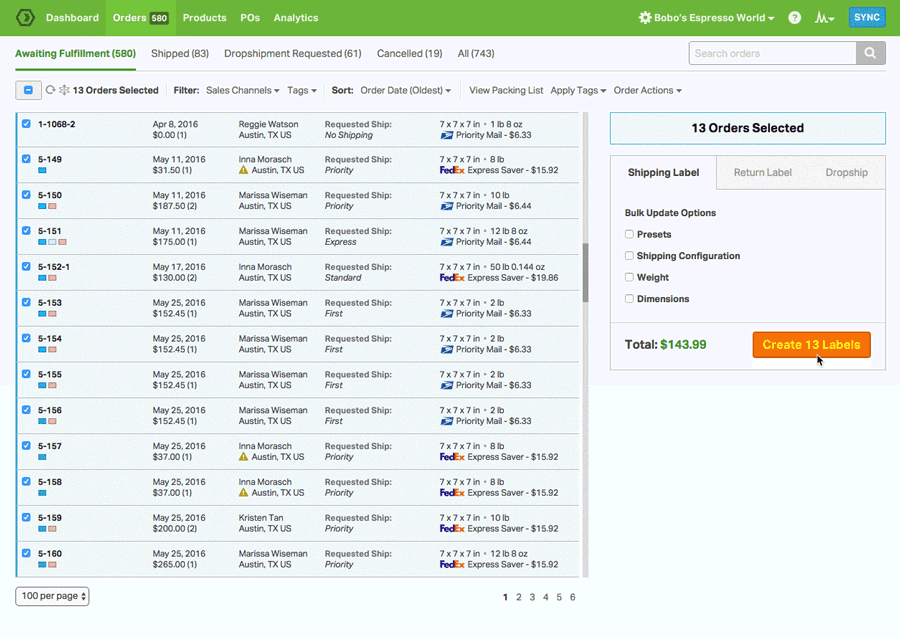 Fulfill Orders Faster With Our Automated Shipping Software
The All-In-One Ecommerce Logistics Platform
Equip yourself with a comprehensive solution
Inventory Management
Stock, sync, and scan.
Automatically track and sync your inventory levels
Create and send out Purchase Orders when it's time to restock
Bundle multiple SKUs into one unit for sale
Use Barcode Scanning to reduce fulfillment errors
Multi-Carrier Shipping
Your workflow, minus the work.
Enjoy heavily-discounted shipping rates via USPS
Ship via any of our integrated shipping carriers like USPS, UPS, FedEx, DHL and Canada Post
Set up your own Automation Rules and Shipping Presets
Print shipping labels in triple-digit batches or individually
Dropshipping
Truly hands-off dropshipping.
Launch a dropshipping operation in a matter of clicks
Tag any product as drop shipped and assign it to a vendor
Choose between automated or manual routing
Activate a Vendor Portal between you and your supplier
Multichannel
We're your operations hub.
Integrate and view all of your sales and supplier channels in one spot
Use our open API to hook up any third-party or custom apps
Manage every aspect of your orders
Establish Supplier Feeds for real-time, back-end communication
Barcode Generation and Scanning
Raise the bar for stocking and packing.
Create UPC barcodes for your products
Scan, set, and search UPC codes for SKUs within Ordoro
Reduce fulfillment errors with our pack and pack barcode scanning workflow
Scan received POs to automatically adjust stock levels
Don't take our word for it
Our awesome customers have shipped some really great compliments our way:
"I spent about a month thoroughly searching for the right backend fulfillment software for my eCommerce business. There were definitely some big name guys out there that I considered, but at the end of the day, I went with Ordoro and I'm so glad I did!"

Tina Yarandi
Founder/CEO of Nature's Artisan
"Ordoro continues to add immensely valuable features to an already awesome sales/warehousing/shipping platform. Using Ordoro continues to save us time and money."

Anthony Krize,
VP of GE Holiday Lighting
Automated Shipping
If your business is growing and you have more orders than your fulfillment staff can handle, having an automated shipping process as part of your automated fulfillment system is invaluable to speeding up the entire process, resulting in happier customers and increased sales and reorders. Good shipping software helps manage orders as they arrive from customers, choose the best shipping option, accurately create printed shipping labels and send the package out with the preferred carrier.
Automated order fulfillment can save your business thousands – if your size, budget, and sales orders justify it. If you're in a tight labor market and having trouble filling warehouse positions, automated fulfillment, and are starting to lose orders through shipment delays or mistakes, then it would make sense to automate as much of your fulfillment operations as possible. You should hit the "buy" button for automation if numbers show that you'll recoup the initial expenses in a couple of months or sooner. For example, any technology that helps speed up creating accurate shipping labels, as well as bagging/ packaging, can offer a rapid ROI.
Since so many people buy through the Shopify platform, utilizing their automatic fulfillment Shopify feature helps ensure that customers will have fast and accurate delivery of orders. In addition, Shopify Shipping lets you create and print shipping labels while providing real-time updates to customers.
Ordoro has listened to dozens of ecommerce owners and designed our shipping software to optimize your workflow, providing a seamless fulfillment and shipping experience for you, your employees, and your customers. You can configure Shipping Presets that auto-fill shipping parameters when you create labels or even set Automation Rules that act on orders the moment they arrive.
As orders are imported into Ordoro, you can automatically or manually assign tags and search to check the status and activity of each shipment on every leg of the journey, within a single interface. The app allows you to auto-audit orders, showing a timeline and documenting actions for each.
Types of Shipping
What is meant by a shipping details example? In the form to be filled out showing the recipient and other information, the first line contains the recipient's name, the second line shows the number address and street name, the town is on the third line followed by the state abbreviation and postal ("Zip") code.
"Shipping" meaning in English technically means the sending of goods from one place to another, especially by ship. It also can refer to the movement of goods and other items from warehouses to customers. It follows the manufacturing process and packaging and is normally controlled by a shipping or logistics company.
A shipping system definition means one or more solutions to maintain compliance, reduce shipping costs while becoming an asset in the shipping process. These shipping systems are able to handle all types of freight, from specific kinds to a wide variety of goods, with some specializing further in the mode of transportation, such as ocean, air, LTL freight shipping, parcel shipping and so on.
There are different types of shipping available, depending on your business's needs.
A shipping courier is normally a privately-operated carrier that transports parcels and documents to the end destination or user. Some courier services emphasize speed, same-day service, or other extra benefits. Examples of large courier services include DHL, FedEx, UPS, DTC, India Post, and others.
Having a number of reliable and reasonably-priced shipping options to offer customers is how savvy ecommerce owners grow their businesses, with more reorders from satisfied customers.
Ordoro can provide you with informative guides for shipping, inventory, working with USPS (don't forget about those USPS discounts) and more. Ordoro helps you create branded packing lists and shipping labels – even in triple-digit batches, with just a couple of clicks, using the direct-to-printer option. No more need for downloading PDFs, changing screens, or other time-consuming tasks, and you get the streamlined fulfillment you need to keep customers happy and your business growing.
Shipping Tool
What is a shipping tool? Simply put, it's an app, plugin, software program, spreadsheet or other feature to increase the efficiency and speed of a shipping operation. It helps provide solutions to shipping management tasks, giving shippers more control over orders and shipments from a central location. A shipping toolbox, such as what's offered by Ordoro, offers more efficient ways to do the following fulfillment processes:
Import orders from multiple sales channels, warehouses, marketplaces, and so on
Manage orders using automatic workflow apps, and other forms of automation to speed up fulfillment of orders, sending accurate pick and pack lists that can be readily confirmed prior to shipping
Print labels, either in bulk or individually, and compare best rates from carriers
Track and send information to customers and selling channels
Ordoro helps you optimize the entire shipping process to free your time and energy for other matters. Save money on manpower and the headache of having to deal with multiple types of software and clicks with our handy apps and plugins, allowing you to take control of everything in real-time from one dashboard. You can weigh shipments through the USB scale support feature, create batch labels, and track the progress of order shipments to the moment it's delivered to the customer's doorstep.
UPS tools and USPS tools are another feature from Ordoro's shipping toolbox, allowing you to create branded packing lists and the correct shipping labels for each carrier, even in bulk, using the shipping label creator.
Ordoro's handy, easy to use shipping tools cover all the fulfillment bases: Multi-carrier/ and multichannel shipping integration, inventory management, kitting, pick/ pack lists and tasks, automation, as well as reports and analytics. Plus, you get FREE 30-day onboarding and lifetime support. No wonder Ordoro was voted Best Shipping Software of 2021in a recent online survey!
Multi Carrier Shipping Software
Multi carrier shipping software is crucial if you plan to use more than one type of carrier, especially if shipping overseas. Some of the considerations in evaluating which shipping software to choose are: rates, based on distance, weight, method used, and additional fees charged by the carrier. You've made sure to give careful consideration about which carriers to use – your shipping software should be just as carefully chosen to be sure that it offers the features your business needs, now and in the future.
To fully meet your business's shipping needs, you should have an omnichannel shipping program with multi-carrier capabilities. Using a cloud-based solution, your total freight process can be automated, saving money and time. Most multi-carrier solutions will also improve supply-chain operations by integrating with global carriers or store platforms, such as DHL, UPS, FedEx, USPS, and more.
Shipping carriers calculate their rates primarily through weight and distance, with speed also a major consideration.
There are also several shipping methods offered:
Flat-rate: as long as an order fits into one of their boxes and stays within weight limits, you'll be charged a flat rate for a designated range of zones.
Fast: All carriers offer overnight, one, two or three days' shipping for quick delivery. Generally, the faster the method, the more you pay.
Low-weight: Most major carriers, including USPS's First Class, SurePost, UPS, FedEx's SmartPost, provide more cost-effective rates for smaller, lighter orders.
International: These have a major impact on shipping rates, as longer distances mean higher prices, as well as including more additional charges than most domestic services.
Ordoro's plugin app supports most major sales channels, so you can import them into the app, out the door and on the way. You can also connect supply-side channels or warehouses in real-time to route orders to 3PLs and dropshippers.
Shipping Management Software
When you are looking for shipping management software, you'll want to consider the following factors:
Shipping integration with all of your carriers as well as your other systems
Security from cyber attacks and data breaches – incidents that could not only disrupt your operations but damage your reputation with customers and vendors alike.
Awareness of real-time conditions on inbound shipments: temperature control, humidity and other factors that consider local temperatures that could impact certain temperature-sensitive products.
User-friendly experience for non-technical entrepreneurs with easily-installed and supportive software.
Scalable, with a multi-channel app that can grow with your business as it grows, supporting unlimited users to track shipments no matter how large the business gets.
The best online shipping services are the ones that meet your business's needs as well as those of your customers. Many online customers are savvy about shipping rates, so it's important to be as competitive as possible.
Another necessary item if you plan to grow your ecommerce business is shipping label software, as label creation is a huge part of the fulfillment process. You'll want something that can do both individual labels for smaller orders, as well as bulk labels for large orders.
We think that Ordoro is really the best shipping software for ecommerce, and our customers agree (since they voted us Best Shipping Software of 2021!) Here's why: Ordoro designed our shipping software to optimize your workflow, providing a seamless fulfillment and shipping experience for you, your employees and your customers.
There are a lot of shipping software companies out there, some offering more limited "free" versions of software, as well as licensed open source software, requiring some knowledge of PHP.
In our opinion as well as those of our loyal customers, subscription-based software is the best way to go, as you get the benefits of superior software development from a company that listens to its customers and has created products that meet the needs of real sellers.