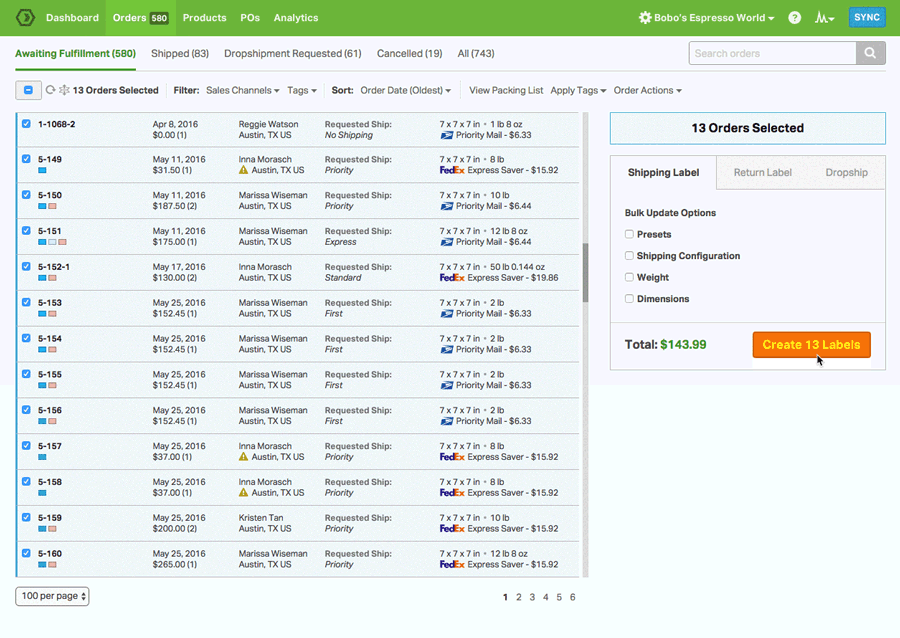 Fulfill orders faster with our multi carrier shipping software
The All-In-One Ecommerce Logistics Platform
Equip yourself with a comprehensive solution
Inventory Management
Stock, sync, and scan.
Automatically track and sync your inventory levels
Create and send out Purchase Orders when it's time to restock
Bundle multiple SKUs into one unit for sale
Use Barcode Scanning to reduce fulfillment errors
Multi-Carrier Shipping
Your workflow, minus the work.
Enjoy heavily-discounted shipping rates via USPS
Ship via any of our integrated shipping carriers like USPS, UPS, FedEx, DHL and Canada Post
Set up your own Automation Rules and Shipping Presets
Print shipping labels in triple-digit batches or individually
Dropshipping
Truly hands-off dropshipping.
Launch a dropshipping operation in a matter of clicks
Tag any product as drop shipped and assign it to a vendor
Choose between automated or manual routing
Activate a Vendor Portal between you and your supplier
Multichannel
We're your operations hub.
Integrate and view all of your sales and supplier channels in one spot
Use our open API to hook up any third-party or custom apps
Manage every aspect of your orders
Establish Supplier Feeds for real-time, back-end communication
Barcode Generation and Scanning
Raise the bar for stocking and packing.
Create UPC barcodes for your products
Scan, set, and search UPC codes for SKUs within Ordoro
Reduce fulfillment errors with our pack and pack barcode scanning workflow
Scan received POs to automatically adjust stock levels
Don't take our word for it
Our awesome customers have shipped some really great compliments our way:
"I spent about a month thoroughly searching for the right backend fulfillment software for my eCommerce business. There were definitely some big name guys out there that I considered, but at the end of the day, I went with Ordoro and I'm so glad I did!"

Tina Yarandi
Founder/CEO of Nature's Artisan
"Ordoro continues to add immensely valuable features to an already awesome sales/warehousing/shipping platform. Using Ordoro continues to save us time and money."

Anthony Krize,
VP of GE Holiday Lighting
Multi Carrier Shipping Software
One of the best ways for companies to compete in today's fast-moving marketplace is to grow the ecommerce or online side of their business operations. Taking advantage of multiple platforms can be one of the ways to do exactly this, and there are plenty of places businesses can turn to when looking for ways to reach more customers. For example, many business leaders may look to platforms such as eBay, while others may decide to go with Amazon or Shopify. Each of these platforms offers its own features and advantages, and there are plenty of other ecommerce options available as well.
Ultimately, if you are looking for a way to grow your own business, then you need to consider using online platforms. However, this shift also comes with its own unique challenges, such as making sure you can get orders to your customers on time. This is where you should be looking at a shipping platform and considering how your business can get the most out of this option.
For instance, if you use multiple platforms, then you might be considering multi carrier shipping software. Or you may be wondering if this type of shipping management software is the right fit for you. You might even find yourself asking, "what is shipping software?"
Here it's worth knowing that shipping software is exactly what it sounds like: a program that you can use to make it easier to ship products and orders to your customers. So, given that every product and service is different, you need to think carefully about the software you use, since this can play a major part in helping your business grow sustainably and well.
Ideally, effective shipping software should also be a software program that can help automate a lot of the simple clerical tasks that you might still do by hand at the moment. In addition, shipping software should be a program that can help you save money on your shipping expenses.
So, how do you evaluate all of the shipping software available today and decide which one is right for your business? Or, if you already have shipping software in place, how can you get the most out of it? As you start deciding how to use the best shipping software for your company, here are some important points to keep in mind.
Best Shipping Software
If you are looking for the best shipping software, then it's worth knowing that there are several factors to keep in mind. For example, depending on the ecommerce platform you use the most, you might be looking for the best shipping software for Shopify, which can include automated shipping software.
In general, though, there are two important factors to be thinking about before you begin trying to narrow down your options.
The first factor to consider is time. In other words, you need to invest in shipping software that will help you save time. For example, you may still be completing all of your shipping orders manually, which of course can be incredibly time-consuming. It would make a lot more sense to spend this time growing and scaling your business, so it is important for you to think carefully about the software you use. Can it help you achieve this? If the software program is able to automate more of your processes, then it can help you save time, labor, and other resources.
Next, you also need to think about money. An effective shipping software program should be able to help you find the best rate quickly, getting your orders in the mail and on their way. That way, you will be able to reduce the amount you spend on shipping, helping you maximize profits instead.
Given their importance, make sure you think carefully about these two factors. That way, you can find the best shipping software to meet your needs. In addition, remember that if you have questions or concerns about shipping software, then you should reach out to shipping professionals who can help you make this big decision.
Enterprise Shipping Software
If you are looking for the best shipping software option for your company, keep in mind that there is no single "best" option out there. Or, in other words, that the best shipping software for one company might not be the best shipping option for another. Every company has different needs regarding shipping, so different programs may be better fits in different areas.
For example, if you are looking for enterprise shipping software, then you may want to take advantage of cloud shipping software. This type of program will enable your employees to access everything they need from the cloud, which in turn means that they will be able to handle your shipping needs from just about anywhere. Or, you may find that you want to take a closer look at a shipping ERP software company. Whichever route you end up taking, focus on getting the most out of your shipping program and keep in mind that this may look different for your company than it does for others.
You may also have a much larger number of orders to fill, particularly if you run a large corporation. If this is the case, then that makes it even more crucial that you find a useful software program that can handle most of these requirements. Having this kind of efficiency and automation in your back pocket can go a long way toward helping you meet the needs of your customers and growing your company in the process.
Remember, too, that you should also be evaluating your shipping program regularly. In other words, as your company grows, you need to find a program that will grow with you. The best way to save time and money on this process is if you find the right software program early on and invest in it.
Parcel Shipping Software
If you are trying to get the most out of your parcel shipping software, too, there are several additional features you should look for. A program with lots of customizable features, for example, can be adjusted to meet your particular business needs.
Luckily, there are plenty of parcel shipping software programs out there, and each one will offer its own array of features. So, if you can customize these features, this will maximize your opportunities for expediting various shipping requirements. This can also go a long way toward placing your company in the best possible position for success.
If you want to find a software program that can compare shipping rates across multiple companies, then the features you have access to become even more important. This is because there are many factors that will each play a role in how much it might cost to ship something to a specific destination. For example, the speed and potential delivery date of the order will matter a lot. Then you also need to consider the total distance this order will need to travel - the farther it goes, the more expensive the cost will be. Finally, if you are shipping orders internationally, then you need to find a shipping program that can handle this as well.
Meeting all of these needs simultaneously can create another significant hurdle you may have to overcome when trying to get your orders to the right destination on time. However, having the right shipping software on deck can help make this entire process exponentially easier.
Best Shipping Websites
Likewise, if you are serious about getting the most out of your shipping process, then you are probably looking for the best shipping websites available. If you can find one, then these options will help place your company in the best position to fulfill all of its orders both on time and at the lowest possible price. Of course, you should still take a closer look at generic shipping tracking as well.
One of the most important things you need to make sure you get out of your shipping process is a tracking number. That way, if a customer has a question about their order, you will be able to let them know exactly where it is located and how long it will take to reach them. The best shipping websites should be able to handle this kind of tracking and reporting for you, instead of making you do it all manually.
This is yet another reason why you should utilize shipping software programs as you strive to improve and grow your business. However, you also need to think carefully about the programs you will be using. This way, you can rest assured that you do not have to spend any extra time or money on meeting your shipping needs.
In addition, if you are having trouble finding the best shipping website or the best shipping software program to meet your needs, keep in mind that experienced shipping management professionals can help you with this entire process.
International Shipping Software
If your company is growing quickly, then you may have to handle international orders soon, if you aren't already. After all, don't you want your company to be known as a leader around the world?
As you start receiving these orders, though, then you also need to find a shipping program that can handle this area as well. Shipping internationally can be a significant challenge: there will be a lot of new regulations you have to learn and follow, as well as new rules that may impact shipments from some of your ecommerce platforms. So if you are looking for someone who can handle global shipping, then you may want to take a closer look at Ordoro.
Ordoro can provide international shipping software as well as multi carrier shipping software Canada and to most other countries around the world. So if you are looking for shipping software Canada, then you need to find a program that can integrate with all international shipping channels - which is exactly what you will get if you decide to partner with Ordoro.
While it can be a hassle to ship something internationally, it does not necessarily have to be expensive, and you don't have to deal with this process alone. As long as you are able to find the right shipping program to help you, then you can expand your company internationally without incurring an overwhelming number of additional overhead expenses. This is one reason why so many companies have already decided to partner with Ordoro.
Free Shipping Software
Ultimately, if you are looking for ways to save money in this area, then you may also be thinking about using free shipping software. However, while there may be plenty of free shipping programs available today that can provide you with access to shipping software free, it's worth keeping in mind that a free shipping plan can only get you so far in the end. Free shipping software might be helpful because using it can help you figure out exactly which features you need in your shipping software program and which ones you don't want to pay for. However, you will find that you outgrow the features and functionality of free delivery software for small business very quickly. So, if you want to maximize your shipping processes, then you should be willing to invest in the right software program to help you do this.
That is why you need to think carefully about the benefits and drawbacks of each individual option for shipping providers and you need to work with multi carrier shipping software that will give you the flexibility to choose among carriers as each order demands. After all, you need to find a shipping carrier that can help you get your orders to their final destinations as quickly as possible without driving up your overhead expenses in the process. One of the ways to do this is to use the best premium shipping software program available. If you can save a lot of money on shipping expenses, then you can put this money back into your company and keep a step ahead of your competitors.