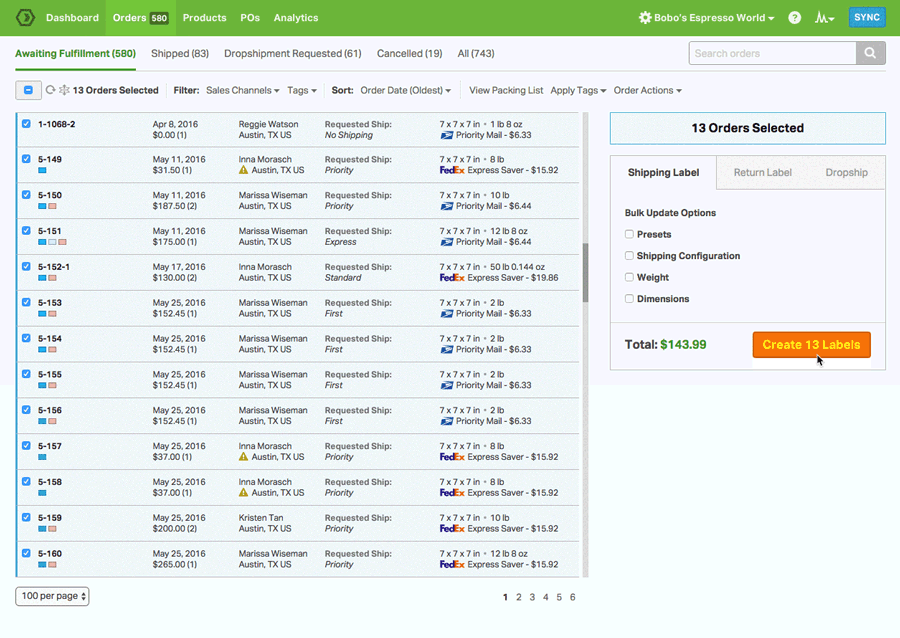 Fulfill orders faster and cheaper with our ecommerce shipping solutions
The All-In-One Ecommerce Logistics Platform
Equip yourself with a comprehensive solution
Multi-Carrier Shipping
Your workflow, minus the work.
Enjoy heavily-discounted shipping rates via USPS
Ship via any of our integrated shipping carriers like USPS, UPS, FedEx, DHL and Canada Post
Set up your own Automation Rules and Shipping Presets
Print shipping labels in triple-digit batches or individually
Inventory Management
Stock, sync, and scan.
Automatically track and sync your inventory levels
Create and send out Purchase Orders when it's time to restock
Bundle multiple SKUs into one unit for sale
Use Barcode Scanning to reduce fulfillment errors
Multichannel
We're your operations hub.
Integrate and view all of your sales and supplier channels in one spot
Use our open API to hook up any third-party or custom apps
Manage every aspect of your orders
Establish Supplier Feeds for real-time, back-end communication
Dropshipping
Truly hands-off dropshipping.
Launch a dropshipping operation in a matter of clicks
Tag any product as dropshipped and assign it to a vendor
Choose between automated or manual routing
Activate a Vendor Portal between you and your supplier
Don't take our word for it
Our awesome customers have shipped some really great compliments our way:
"I spent about a month thoroughly searching for the right backend fulfillment software for my eCommerce business. There were definitely some big name guys out there that I considered, but at the end of the day, I went with Ordoro and I'm so glad I did!"

Tina Yarandi
Founder/CEO of Nature's Artisan
"Ordoro continues to add immensely valuable features to an already awesome sales/warehousing/shipping platform. Using Ordoro continues to save us time and money."

Anthony Krize,
VP of GE Holiday Lighting
Ecommerce Shipping Solutions
Today's consumers tend to turn to the internet first when looking for a new product or service. Common approaches include pulling up a search engine, typing up a description of what the consumer wants, and reviewing the results. Because of this practice, small business owners who want to be successful in today's market must consider a digital storefront or other ways of taking at least part of their businesses online. This is why ecommerce, or business transactions conducted online, forms such an important part of today's marketplace - and it's also why this space has grown so quickly.
Despite the sales side of ecommerce taking place online, though, businesses that sell physical products in this way will still need to find means of getting those products to their customers. Because of this, it is very important to consider the shipping side of ecommerce.
eCommerce shipping solutions can be challenging, particularly for those trying to learn how to ship products online business. With this in mind, it is important for small business owners to understand that they can create a business account with some of the biggest shipping providers, since then they will have access to discounted rates that they can compare from provider to provider. However, many small business owners may not have the time to make such comparisons in detail, so this is where ecommerce shipping software can be helpful.
When it comes to the best ecommerce shipping solutions, there is no single answer. What one business finds to be the best shipping software for ecommerce, might not be the same as the best shipping option for another business. Therefore, all online business owners should consider all of the options that are available to them and choose the one that best meets their unique needs.
Even though it is important to customize shipping solutions for each individual business, it is also worth knowing that there are a few best practices that do apply across shipping solutions for most online businesses. For instance, the most important thing that small business owners have to remember is that their customers want transparency. Customers do not want to have to guess much shipping will be tacked onto the end of their orders. To avoid this annoyance, small business owners should be upfront when it comes to the amount that customers are paying for shipping. In some cases, small business owners might even want to make shipping free (i.e., included in the price of orders rather than advertised as shipping per se). Following these ecommerce shipping best practices will help drive success when it comes to running an online business.
UPS Tracking
One of the most popular options when it comes to shipping for ecommerce is United Parcel Service, or UPS. UPS tracking is incredibly popular for a number of reasons. First of all, it is very easy to figure out how much it will cost to ship a package with UPS, since there is a UPS shipping calculator that anyone can use. Another popular service includes UPS e-commerce tracking options. This service makes it possible for anyone to view the status of their UPS commercial orders and see when they are going to reach their destinations. This type of transparency is popular among customers and small business owners alike.
When it comes to UPS account shipping, it is important to note that anyone can set up a commercial account with UPS. There are also fantastic UPS ecommerce shipping solutions that anyone running an online business will appreciate. At the same time, though, it is also important to note that shipping costs through UPS will vary depending on a number of factors. For example, UPS international shipping will always be more expensive than UPS domestic shipping. Therefore, small business owners must make sure that they understand how much money they will be paying if they decide to ship with UPS. In some cases, online business owners decide to cover this cost for customers by including this charge in the total price of the sale. In other cases, small business owners might decide to charge customers for shipping per individual order, depending on how expensive these are. In either case, if small business owners decide to charge their customers for shipping, it is a good idea to add a UPS shipping calculator to the website as a widget. This type of transparency will appeal to customers, encouraging them to come back for future purchases.
Best Shipping Websites
When it comes to the best shipping websites, this is about much more than simply finding the best shipping provider. In order for small business owners to set up the best shipping website for their customers, there are a few important points to keep in mind.
First, the best shipping websites will often provide a shipping calculator for my website. Too often, online business owners end up losing sales because their websites surprise their customers at the end of the purchase with an extra fee for shipping. To avoid this unpleasant surprise, small business owners will want to make sure that they are upfront about this particular cost. By adding a shipping calculator to an ecommerce website, small businesses will help customers figure out exactly how much money they are going to be paying for shipping—all before they decide to check out.
Furthermore, an effective online business should also offer multiple options for shipping, which might be possible by providing shipping options through multiple providers. There might be some cases where FedEx ecommerce is the best option, while in other situations, UPS or USPS might be better. By providing customers with plenty of options when it comes to their shipping needs, small businesses will go a long way toward building a sense of loyalty to their brand among their customers.
Versatility, flexibility, and transparency are some of the most important qualities to remember for those looking to build the best shipping website for an online business. When small business owners take the time to set up a strong shipping platform, they will acquire new customers by leaps and bounds.
Shipping Cost Calculator
As mentioned above, one of the best ways for small ecommerce businesses to win over customers is to add a shipping cost calculator to their websites. However, it is also important to think about which shipping cost formula to use. For example, many online businesses decide to use a USPS shipping calculator, but whichever route a business decides to take, leaders should be considering all the factors that will play a role in the overall cost of shipping.
For example, distance is one of the most important factors that will impact the cost of shipping an order. The farther a package has to travel to reach its destination, the more expensive the shipping cost will be. In addition, the weight of the package might also play a role: the heavier a package is, the more costly it will be to ship.
In addition, it is also critical to think about whether orders will need to be shipped across international borders. Shipping something internationally will always be more expensive than shipping something domestically. Therefore, there might need to be a surcharge built into the formula when it comes to packages that have to cross international borders.
These are a few of the most important factors that should be kept in mind when it comes to the cost of shipping, and these factors should be carefully considered when building a shipping cost calculator. Customers do not like to be surprised with additional charges when it comes to shipping, and an accurate shipping cost calculator can prevent this from happening.
How To Calculate Shipping Costs for Online Store
While a shipping cost calculator is helpful for customers, it may not be able to answer all the questions being asked by small business owners, who will actually need to handle shipping. Those who run ecommerce storefronts and other online businesses may still be left wondering how to calculate shipping cost for online stores.
A shipping cost calculator should take into account many of the factors mentioned above, such as the weight of a package, the distance it must travel, the time for its delivery, and the possible presence of international borders. However, the small business owner who is actually doing the shipping will need to source costs too. Luckily, there are almost always discount shipping solutions available.
One of the biggest discounts that small business owners might be able to use are those that come with bulk shipping. For example, if a small business will be sending multiple packages to the same destination, then they might be able to save money by bundling these packages together. Bulk orders are a great way for small business owners to try and reduce their shipping costs. At the same time, small business owners might not be aware that these discounts are available, so this might be a good place to use a software program that has this information built into it.
By paying closer attention to shipping costs, it is possible for small business owners to save a lot of money. At the same time, though, it is understandable that small business owners have many demands on their time, meaning that they might not have time to research the ins-and-outs of different options when it comes to shipping. This is why it is a good idea to invest in advanced software for ecommerce shipping needs. By choosing the right software program, small business owners can save both time and money when it comes to shipping.