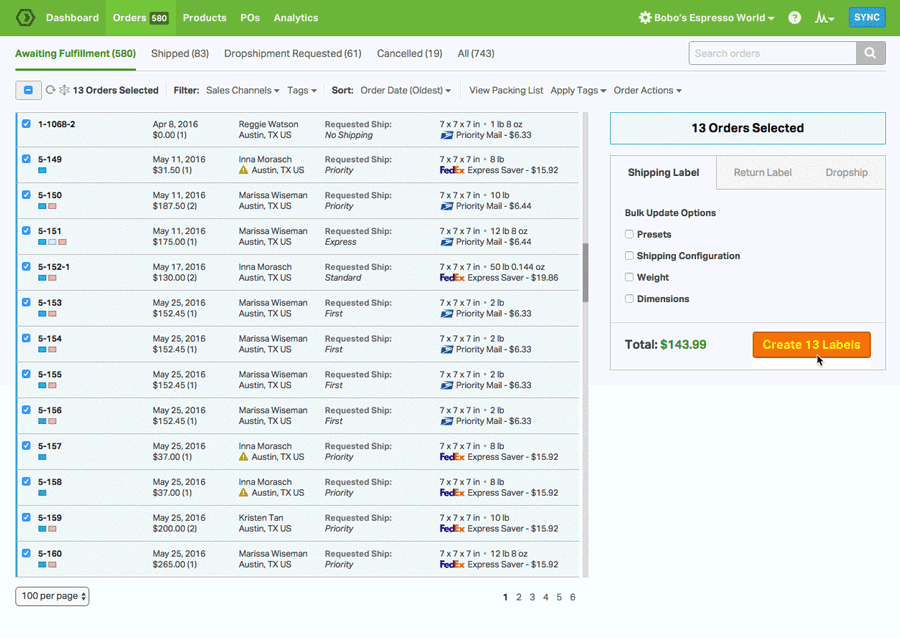 Barcode Scanner Software, Free Options
The All-In-One Ecommerce Logistics Platform
Equip yourself with a comprehensive solution
Inventory Management
Stock, sync, and scan.
Automatically track and sync your inventory levels
Create and send out Purchase Orders when it's time to restock
Bundle multiple SKUs into one unit for sale
Use Barcode Scanning to reduce fulfillment errors
Multi-Carrier Shipping
Your workflow, minus the work.
Enjoy heavily-discounted shipping rates via USPS
Ship via any of our integrated shipping carriers like USPS, UPS, FedEx, DHL and Canada Post
Set up your own Automation Rules and Shipping Presets
Print shipping labels in triple-digit batches or individually
Dropshipping
Truly hands-off dropshipping.
Launch a dropshipping operation in a matter of clicks
Tag any product as drop shipped and assign it to a vendor
Choose between automated or manual routing
Activate a Vendor Portal between you and your supplier
Multichannel
We're your operations hub.
Integrate and view all of your sales and supplier channels in one spot
Use our open API to hook up any third-party or custom apps
Manage every aspect of your orders
Establish Supplier Feeds for real-time, back-end communication
Barcode Generation and Scanning
Raise the bar for stocking and packing.
Create UPC barcodes for your products
Scan, set, and search UPC codes for SKUs within Ordoro
Reduce fulfillment errors with our pack and pack barcode scanning workflow
Scan received POs to automatically adjust stock levels
Don't take our word for it
Our awesome customers have shipped some really great compliments our way:
"I spent about a month thoroughly searching for the right backend fulfillment software for my eCommerce business. There were definitely some big name guys out there that I considered, but at the end of the day, I went with Ordoro and I'm so glad I did!"

Tina Yarandi
Founder/CEO of Nature's Artisan
"Ordoro continues to add immensely valuable features to an already awesome sales/warehousing/shipping platform. Using Ordoro continues to save us time and money."

Anthony Krize,
VP of GE Holiday Lighting
Barcode Scanner Software Free
Choose the best barcode scanner software free on the web. We have a barcode reader app and free barcode reader that does the work for your team, including tracking inventory. Take this opportunity to improve the way your company's workflow operates with smarter warehousing and labeling. Our barcode scanner online shopping solution will keep your online retail side running smoothly. Improve pick and pack, while getting rid of costly human errors. Your employees will be happier, too, when they don't have to deal with those tedious manual entry practices that keep them worried late into the night.
Reasons to choose Ordoro's free barcode scanner software:
Create barcodes for product names
Generate pricing labels
Initiate actions using a barcode scanner
Locate products in a warehouse
As a Top Performer for Barcode Scanning Software by Featured Customers in the Winter of 2021, Ordoro rocks in this arena. Give us the chance to show us what we can do for your company today. We offer a free 15 day trial run of our products and software including our barcode scanning feature. We also have an online barcode system that allows customers to use QR codes and other discounts, as well as for tracking your brand on social media. Free barcode scanner software by Ordoro also puts your team ahead of the competition for scalable business growth.
Kickstart your company's growth with smarter warehousing and barcode scanning solutions by Ordoro. With our free 15-day offer using the Express Plan, you will get to see how this system will operate for your company. Save time and money with the best barcode scanner software free for customers of Ordoro. As one of the best free barcode scanner software on the market, Ordoro works super hard to maintain the services companies like yours need.
Barcode Scanner Software For Inventory
The primary purpose of using a barcode inventory system for small business is to manage a large bulk inventory. With multiple items of so many products, a barcode scanning tool and barcode scanner inventory software for free is necessary to track, as well as pick and pack, individual items. The more you can automate this process with integrated channels, the better for productivity and your bottom line.
This is where barcode scanner software for inventory by Ordoro can serve your company well. We offer a streamlined solution for supply-side and sales. Take advantage of our free barcode scanner app and barcode scanner software for your inventory management needs. To get started, Ordoro offers tons of guidance and information, including how to implement a barcode system for inventory pdf.
Here are ways our barcode scanner software for inventory works for businesses:
Supports UPC barcodes
Works with SKUs
Assists with aisle location
Improves bin pick and pack
Establishes a simple barcode inventory system Excel
The barcode scanner and inventory software with a scanner makes scanning individual items a cinch. You save time and allow for optimized reporting and data analysis when it comes time to run end-of-quarter and end-of-year reports. Organize products more efficiently than ever before with Ordoro. Increase efficiencies in your warehouse so that you never lose sight of your inventory.
Be prepared to handle any shipment, and improve how fast you manage to ship items out while accounting for each one. This way, you understand your inventory and improve your workflow. This will also serve to improve the way your business looks thanks to high-tech and professional barcode solutions. Ordoro has the tools you need to automate the inventory and information workflow in your company. We understand how to connect individual channels for peak performance.
Barcode Scanner Software Excel
A barcode generator Excel free download for corporate barcode scanning is not the ideal solution for a number of reasons. To start with, Excel is a limited form of data processing that cannot always capture the full scope of information that is being recorded.
You may not have the capacity to manage the Excel spreadsheet system either, as this requires advanced technical training for things like macros. Excel, for some, is the bane of existence, so why put yourself through the hassle of trying to make this tool work for your barcode scanning software inventory system? There are other options on the market that are more viable.
The use of a barcode scanner to Excel spreadsheet app also limits the end user. You are not able to update the information using an automated process in many cases. Issues with tracking real-time data for inventory purposes are limited, which is problematic.
The use of Excel spreadsheets involves manual entry, including the input of cell information and calculating Excel barcode scanner macro formulas. As a result, you are more likely to see an increase in human error, as well.
If you use a template to calculate formulas, as with bulk barcode generator Excel, this could be altered without your knowledge making it super difficult to deal with your spreadsheets in the future. This is especially the case with open source free inventory software for Excel templates.
Open source software has an attraction for small business owners simply due to cost savings. After all, free is hard to pass up! We have a free 15 day trial of the Express Plan here at Ordoro to help you get started with our excel barcode scanner auto enter system.
A barcode scanner to spreadsheet system can be beneficial, as long as you have the right tools. This includes the best barcode scanner for Excel along with the right barcode scanner software Excel offers for your industry. Let Ordoro show you how we can solve your barcode scanner software dilemma today!
Barcode Scanner Software Open Source
The use of barcode scanner software open source for a company is debatable for many reasons. Primarily, you are dealing with software that might be free–but it is also made by random developers who are not working for your company's interest. This could be a disaster and leave your team with bugs and problems in code that you cannot fix later on.
You want the best for your company, and that's why you should avoid using open source software for inventory and barcode scanning. You are also restricted in how you can integrate and implement open source software. While it is open source in coding, that does not mean you can do whatever you want with it–even if you do have coding expertise. According to Ordoro, "Open source software is different. Its authors make its source code available to others who would like to view that code, copy it, learn from it, alter it, or share it."
An example of barcode scanner software open source is the ZBar download. The ZBar source code is a C barcode reading library that operates with several coding languages, including Python and Perl. The cross-platform open source software suite reads barcodes featuring image files and video streams. As open source software there are few limits on the user capabilities. However, this also opens this type of barcode reader download for anyone to use and alter.
It is not the safest to use the open source barcode scanner JavaScript. This can put your company in danger with the threat of cybersecurity risks. For instance, hackers can get into the javascript and read or make edits to the barcode scanning information you have provided. Instead, opt for barcode reader software free by Ordoro. This ensures you receive barcode reader software for Windows 10 that is free of weird quirks and bugs, or that comes with features that will only bloat your system.
Best Barcode Inventory System For Small Business
As you shop for the smartest and most efficient warehouse inventory management software with barcode scanner, Ordoro is there for you. We have the best barcode scanner app and barcode reader software for PC. These tools will carry your business to the next level with better scalability. We are ready to help you whether you are a startup or small business–or an enterprise-level company wanting to grow even more. Features we offer for our customers:
Multi-Carrier Shipping
Multichannel Integration
Inventory Management
Dropshipping
Kitting
Pick and pack lists
Automation
Analytics
Flex pricing
To make the most of your money, opt for Flex Pricing with Ordoro. This is a smart solution for the best barcode inventory system for small business owners. The way this works is, the price of your monthly subscription to Ordoro fluctuates based on your usage. Throughout the seasons, you are able to decrease or increase the price and use of your Ordoro plan based on a variety of factors.
Let's say it is the holidays and you have an increase in traffic. Ordoro's Flex Pricing allows you to take advantage of those extra benefits and features we offer just for that occasion. Then, when times are slower in terms of customers and sales, you are able to expand and get just enough software, such as barcode reader software for PC, that your small business truly needs and can use for operations.
Contact our sales team and start the process today. We have a real live person ready to take your call and get your company moving in the right direction with multichannel integration of inventory management. Choose Ordoro for your barcode reader software free online today! Our convenient services and software solutions are designed to inspire and boost productivity in your team members. Give us the green light on getting your team and supply chain moving faster and more efficiently. It all starts with Ordoro for your professional inventory and barcode scanning system. Get started now!