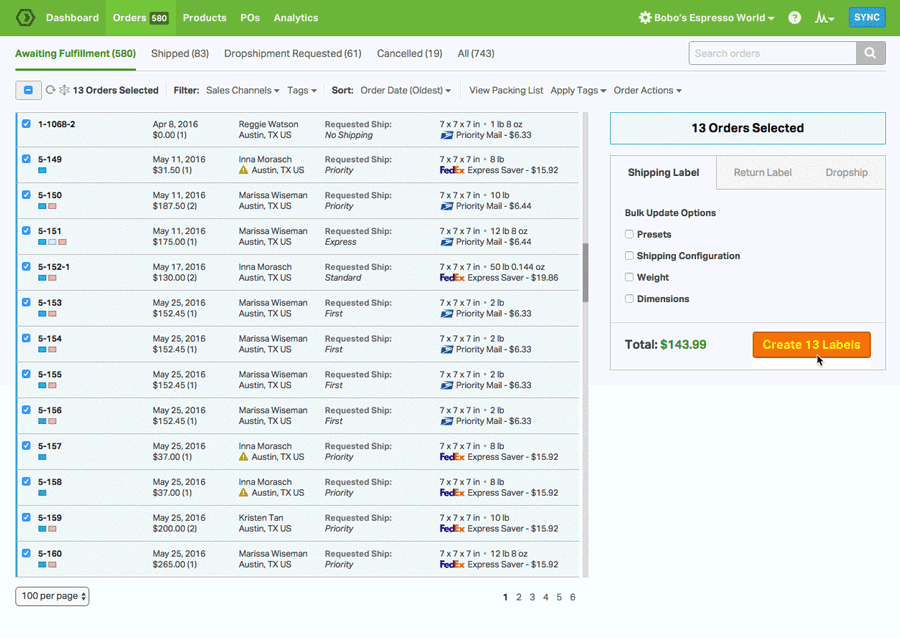 Supplier Management Software That Cuts Down The Back-And-Forth
The All-In-One Ecommerce Logistics Platform
Equip yourself with a comprehensive solution
Inventory Management
Stock, sync, and scan.
Automatically track and sync your inventory levels
Create and send out Purchase Orders when it's time to restock
Bundle multiple SKUs into one unit for sale
Use Barcode Scanning to reduce fulfillment errors
Multi-Carrier Shipping
Your workflow, minus the work.
Enjoy heavily-discounted shipping rates via USPS
Ship via any of our integrated shipping carriers like USPS, UPS, FedEx, DHL and Canada Post
Set up your own Automation Rules and Shipping Presets
Print shipping labels in triple-digit batches or individually
Dropshipping
Truly hands-off dropshipping.
Launch a dropshipping operation in a matter of clicks
Tag any product as drop shipped and assign it to a vendor
Choose between automated or manual routing
Activate a Vendor Portal between you and your supplier
Multichannel
We're your operations hub.
Integrate and view all of your sales and supplier channels in one spot
Use our open API to hook up any third-party or custom apps
Manage every aspect of your orders
Establish Supplier Feeds for real-time, back-end communication
Barcode Generation and Scanning
Raise the bar for stocking and packing.
Create UPC barcodes for your products
Scan, set, and search UPC codes for SKUs within Ordoro
Reduce fulfillment errors with our pack and pack barcode scanning workflow
Scan received POs to automatically adjust stock levels
Don't take our word for it
Our awesome customers have shipped some really great compliments our way:
"I spent about a month thoroughly searching for the right backend fulfillment software for my eCommerce business. There were definitely some big name guys out there that I considered, but at the end of the day, I went with Ordoro and I'm so glad I did!"

Tina Yarandi
Founder/CEO of Nature's Artisan
"Ordoro continues to add immensely valuable features to an already awesome sales/warehousing/shipping platform. Using Ordoro continues to save us time and money."

Anthony Krize,
VP of GE Holiday Lighting
Supplier Management Software
When it comes to business success, whether online or in a more traditional setting, it's really all about relationships: with your customers as well as with your suppliers. The main advantage of long-term relationships between buyer and supplier is the free flow of ideas and feedback. By working to keep the channels of communication open, correct information is shared between the parties, enhancing important business opportunities.
If you're planning on working with vendors for your ecommerce business, you would be smart to look into signing on for supplier management software.
Of course, food traceability software free can be found through online searches, but if you are in the business of serving or selling food products in any capacity, you will want the best software you can find. This is no place to cut corners, as your business's reputation and, really, its very existence, depend on it, especially if there's a recall.
What is supplier audit software? This is software from vendor management companies that helps manage and control the various processes in the supplier relationship. Good supplier audit software should allow users to easily source, procure, pay and manage the entire process while on the go.
Supply chain traceability software follows materials and products from the start of the supply chain to the customer purchasing the product. Traceability software for manufacturing is needed to track every part and product throughout the manufacturing process. Not only is it essential for building consumer trust as well as enhancing sales, but it is vital to be able to track every step of the processes if there should be a recall.
Among the top choices of vendor management software for small business which are rated 4 stars or higher are: Torli, LogicGate, Order, Tipalti, Onspring, VendorINSIGHT, Fusion Framework System, Gatekeeper, according to the Capterra software review website.
Supplier Management Software Free
You can find a free vendor management software download through Word as well as a free vendor management Excel template if you want to take the less costly route.
When considering vendor management software, there are three kinds of retail vendor management software solutions:
Vendor engagement tools through active procurement cycles
Vendor performance management
End-to-end vendor management
The term supplier portal software is a bit different than some other types of supplier or vendor management software.
Keeping up with your supplier and/ or vendor contact management is actually a series of tasks that need to be managed. There should be portals, for example, and a clear and easy means of communication, particularly between multiple sales channels and, if applicable, the different groups of vendors or suppliers within each channel.
If you are looking for a more comprehensive vendor database software free Odoo is an open-source suite of integrated apps for managing CRM, PoS, websites, ecommerce, accounting, sales and more.
According to Capterra, some of the top free vendor management software includes:1factory, Digital Business Transformation Suite, Benchmark ESG/ Gensuite, Qualcy QMS, Autodesk Construction Cloud, Fieldens, Ease, Process Street, Qooling, iAuditor and CAPA Manager.
There's open source vendor management software to be found online – a quick Internet search should provide links to software vendors offering free vendor management software similar to those programs described above.
Finally, it's important to remember that nothing is really "free." If trying to save money with supplier management software free downloads, cloud based programs, and licensable software, users will likely be making a tradeoff between their time, energy and, in some cases, the data's accuracy, security and responsiveness.
Most owners find after a few frustrating weeks trying to keep up with frequent changes, upgrades and other headaches that it isn't worth it for the sake of saving a few extra dollars. Ordoro ecommerce management software gives users more bang for the buck, with its capability to manage inventory, order fulfillment, shipping tasks, and tracking.
Supplier Management Process
Managing suppliers can be a headache, especially for dropshippers, or retailers that sell hundreds of different products, often from different suppliers. Between tracking their products, keeping up with changes in product lines with items added or dropped, as well as syncing them all in your inventory and through fulfillment makes it clear that having a superb supplier management system is critical to your business's continued success.
Most vendor management system companies understand the importance of the supplier management process, and keeping communication channels open and everything running smoothly is part of that process.
Ordoro provides some of the best supplier portal software tools and apps with our integrated Vendor Portal that lets vendors access Ordoro easily by logging in to view only their orders and fulfill those orders themselves without additional action from you. There's no need to manually route orders, no phone calls, or faxes — just a user-friendly portal for them. The supplier/ vendor can create and print shipping labels through whatever their preferred shipping account, with tracking information created or entered afterwards which is sent directly to your sales channel for the customer to view.
By connecting directly with your suppliers, Ordoro's Supplier Feeds is a tool that allows Ordoro to update the quantity of your product listings based on the amount of inventory your vendors have on hand. Our Supplier Feeds retrieve suppliers' product counts in a few different ways; via email, file transfer (FTP), or through the web (HTTP). Once collected, the app then targets every sales channel carrying those products and updates their quantities accordingly.
According to the noted software reviewer and selection platform Capterra, among the top 10 vendor management systems are Supplier Management Software (no rating), Vendor 360 (no rating). Those systems which are rated 4 stars or higher are: Torli, LogicGate, Order, Tipalti, Onspring, VendorINSIGHT, Fusion Framework System, Gatekeeper.
Supplier Management Software Features
What is a supplier management system? It is an application acting as a mechanism for businesses to manage and procure suppliers and improve their impact on the buyer's business. It includes managing deliverables, co-developing new processes, managing compliance and invoice payments. When lining up software and tools for a supplier management system project, you want to consider the features you need right now as well as any which may be needed in the near future.
Among the highly-rated supplier quality management software in 2021 includes Torli, LogicGate and Order.
Vendor relationship management software is often used interchangeably with supplier relationship management software. While the two terms are almost identical, suppliers may be those which provide raw materials for manufacturing, for example, while vendors usually offer finished goods for sale as part of the final point in the production process.
What vendor management features and tools (also referred to as supplier management software features) should you look for in vendor management software?
To help you do a better job of managing both, Ordoro offers supplier relationship management tools in addition to taking care of the customer/ sales functions portion of business. Ordoro also includes linking information – as through a Vendor Portal app– and leveraging the potential for Internet and other forms of communication. A Vendor Portal therefore puts the onus of order fulfillment entirely on your supplier. There's no need for routing orders to suppliers, no phone calls or faxes. The supplier/ vendor can create and print shipping labels through whatever their preferred shipping account, with tracking information created or entered afterwards which is sent directly to your sales channel for the customer to view.
While Ordoro is more of an ecommerce platform and not relationship management software per se, many of our user-friendly features can help further positive experiences with your suppliers and others.
Supplier Relationship Management Tools
What is SRM in supply chain management? Supplier Relationship Management and supply chain management are intertwined: in a good supply chain relationship, customers and suppliers are connected in ways allowing them to exchange information, access relevant data as well as visibility of status. What are some supplier relationship management tools to improve the SRM between business and supplier? There are some good PDFs, PPTs and other resources online, including:
Resarchgate has created a paper covering the importance of supplier relationship management PDF, including that of Key Supplier Relationship Management (KSRM).
SA Partners also created a white paper on supplier relationship management framework PDF, free to download. There are a number of primarily academic supplier relationship management PPT documents that are easily downloadable for no charge.
In a supply chain relationship management PDF by Researchgate examines logistics, strategies and behavior in creating good SRM.
A couple of supplier relationship management examples might include if a company manufactures cars, a tire manufacturer makes tires for installation in those cars, and who in turn may also be engaged with a material supplier providing the aluminum for a portion of the tires to be included in the supplier relationship.
There's a growing supplier relationship management software market, making choosing a good program more difficult, especially among the newer offerings. Among the higher-rated best, we find Torli, LogicGate, Order, Tipalti, Onspring, VendorINSIGHT to name a few SRM software examples.
The best supplier management software is pretty similar to that of best vendor management software, with the above-named companies rated at the top of the lists, although with suppliers the main focus may be on production, with vendors emphasizing finished goods.
Ordoro lets you manage inventory, fulfillment, shipping, tracking and follow-up, with reports and other analytics to help guide you in making the best decisions for your business.
Beside inventory and purchase order integration Ordoro offers additional features that most vendor management-only software doesn't: multi-carrier shipping, multichannel integration, dropshipping, kitting, pick and pack lists, automation, FREE 30-day onboarding and lifetime support.