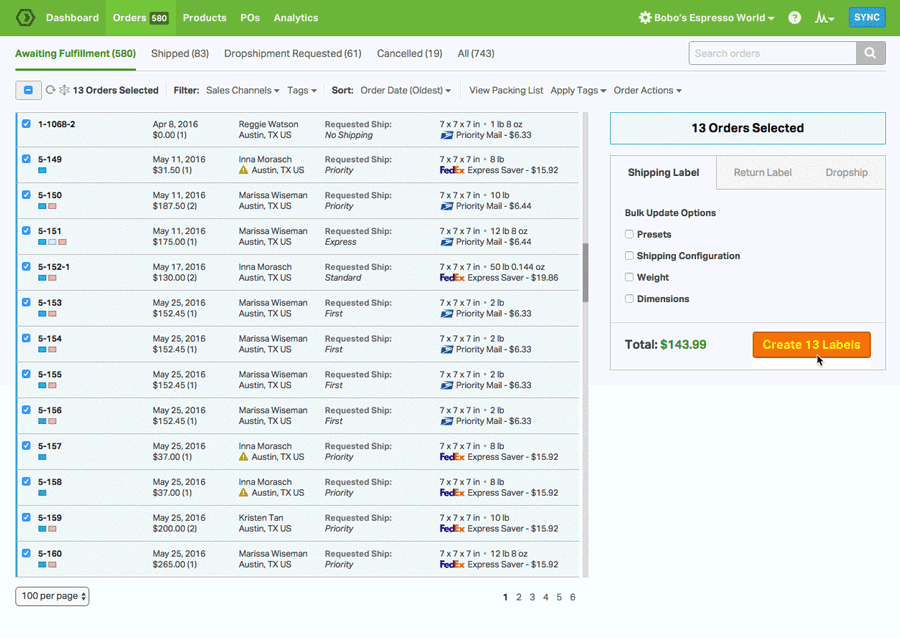 The Best Inventory App With Barcode Scanner
The All-In-One Ecommerce Logistics Platform
Equip yourself with a comprehensive solution
Inventory Management
Stock, sync, and scan.
Automatically track and sync your inventory levels
Create and send out Purchase Orders when it's time to restock
Bundle multiple SKUs into one unit for sale
Use Barcode Scanning to reduce fulfillment errors
Multi-Carrier Shipping
Your workflow, minus the work.
Enjoy heavily-discounted shipping rates via USPS
Ship via any of our integrated shipping carriers like USPS, UPS, FedEx, DHL and Canada Post
Set up your own Automation Rules and Shipping Presets
Print shipping labels in triple-digit batches or individually
Dropshipping
Truly hands-off dropshipping.
Launch a dropshipping operation in a matter of clicks
Tag any product as drop shipped and assign it to a vendor
Choose between automated or manual routing
Activate a Vendor Portal between you and your supplier
Multichannel
We're your operations hub.
Integrate and view all of your sales and supplier channels in one spot
Use our open API to hook up any third-party or custom apps
Manage every aspect of your orders
Establish Supplier Feeds for real-time, back-end communication
Barcode Generation and Scanning
Raise the bar for stocking and packing.
Create UPC barcodes for your products
Scan, set, and search UPC codes for SKUs within Ordoro
Reduce fulfillment errors with our pack and pack barcode scanning workflow
Scan received POs to automatically adjust stock levels
Don't take our word for it
Our awesome customers have shipped some really great compliments our way:
"I spent about a month thoroughly searching for the right backend fulfillment software for my eCommerce business. There were definitely some big name guys out there that I considered, but at the end of the day, I went with Ordoro and I'm so glad I did!"

Tina Yarandi
Founder/CEO of Nature's Artisan
"Ordoro continues to add immensely valuable features to an already awesome sales/warehousing/shipping platform. Using Ordoro continues to save us time and money."

Anthony Krize,
VP of GE Holiday Lighting
Inventory App With Barcode Scanner
When it comes to finding the right inventory management system for your warehouse, there are a ton of different options in terms of software for your company to consider. However, depending on your needs, you might want to look specifically for one that includes the ability to integrate your favorite barcode scanner.
Why is this important? Well, for numerous reasons. First, if you have a large product catalog or intend to eventually grow to that point, the ability to use a barcode scanner to keep track of inventory is crucial for overall efficiency. It also ensures your employees can find items quickly and easily within your warehouse without wasting too much time. Barcode scanning also reduces the chance of human error or problems when tracking items versus those going out.
In addition to inventory management, barcode scanning is also important for shipping. Why? If you've set specific shipping profiles in your warehouse management app, you'll want to be able to expedite tracking and other critical aspects of the process by using an inventory app with a barcode scanner. And certain apps also allow you to assign a tracking number, scan the barcode, and send the information automatically to the customer via email.
If you're looking for a barcode scanner app for inventory, shipping, and warehousing, then you'll love Ordoro. Our robust solution is ideal for both big and small retailers, as it offers many options to keep track of products and orders more efficiently.
Best of all, it integrates with nearly any wireless barcode scanner. This means that you can seamlessly add this type of tool into your inventory management process without having to switch your entire system. For companies that are still on the small side and don't need a barcode scanner yet but anticipate growing their catalog in the future, this is especially excellent news.
How To Implement A Barcode System For Inventory
If you're looking to learn how to implement a barcode system for inventory, you're in luck. Ordoro makes the entire process super simple, which is definitely a plus for any brand looking to start using an inventory scanner.
The first step is to decide the type of barcode you want to use. There are 1D linear barcodes, SKU barcodes, UPC barcodes, 2D barcodes, and QR codes. While 1D barcodes are the more traditional aspect, QR designs are becoming more popular in the inventory control niche.
Next, you'll want to actually print the barcodes themselves. These little stickers come from a specific type of printer that makes labels. The good news is that, as a complete inventory scanning system for small business, Ordoro integrates with a lot of these types of printers.
Finally, you'll add the barcodes to products and then start scanning them into your stock control app. If you're already using Ordoro, this is even easier to do, as the system will remember the barcodes from when you created and printed them in the first place.
So, how do you choose which products within your inventory to barcode and which ones to skip? Really, this depends on your needs. But we highly recommend doing this for all items to ensure better consistency and improved efficiency for your team.
Barcode Scanner For Inventory
Of course, there are numerous types of barcode scanners on the market. Before deciding on one for your business needs, you should look to see what each one offers and whether it integrates with your inventory control software.
At Ordoro, we highly suggest the Brainydeal USB Automatic Barcode Scanner. Why? It can handle up to a hundred scans per minute, making this wired option the best barcode scanner for inventory in bulk. It is worth noting that this particular model is one of the top sellers on Amazon in the category, so others seem to agree that it is an excellent choice.
If you're looking for the best wireless barcode scanner for inventory, you have several options. The Namadoo Wireless Barcode Scanner is available for under a hundred dollars and includes up to 328-feet of wireless indoor connectivity. In addition, the brand's compact wireless option is a good idea, too.
As a side note, it is worth noting that Ordoro works with most barcode scanners—both wireless and wired. This means you can choose a wearable, stationary, or fully wireless option that best suits your overall needs.
So, why should you use a barcode scanner for inventory management? There are actually several reasons. Besides being able to track exactly where items are on the shelf at any given moment, barcode scanning helps save a considerable amount of time and effort for your employees. And, with the right inventory app, you can utilize barcode scanning to keep accurate track of how many items are in your warehouse, how long they've been there, and when they arrived.
Whether your retail brand is a startup or already at an enterprise level, these are all incredibly important aspects to know. Using a barcode scanning system makes this process much easier and allows you to always know the status of what's coming in and out of your warehouse without any guesswork.
Barcode Inventory System Excel
For some small ecommerce retailers, budget is a huge concern. That's why they might be tempted to look for the best free inventory app for small business or even opt to use an Excel template as a tracking option.
The problem? There's no distinct barcode inventory system in Excel. Instead, you still need software to populate fields in your template to keep track of data. And that can be both costly and time-consuming in terms of what your staff has to do to ensure that data is completely accurate.
Simply put, trying to use a barcode scanner to Excel spreadsheet app doesn't really work. And it can be more hassle than it is even worth configuring, too.
That's where a solution like Ordoro comes in. While it isn't a free inventory app for small businesses, the truth is that it will give you much more reliable data and efficiency than trying to use an Excel template alone—especially when you consider all of the extra features it offers.
Ordoro is an all-in-one inventory management system for ecommerce retailers. With a single dashboard, you'll be able to track items, arrange shipment, manage omnichannel sales, and so much more. There are even features for automated dropshipping, reporting, custom workflows, and many other options.
There's a reason why Ordoro is one of the most popular barcode inventory systems for small businesses. With this app, you can handle dozens of tasks at the same time, instead of paying an employee to input data manually. Plus, Ordoros automated barcode scanning features make it easier to cut down on errors and inconsistencies, which can be a big issue with free barcode scanning apps or Excel templates.
And Ordoro is committed to customer success. That's why we offer a free thirty-day onboarding program, plus lifetime support. With new features being added on a regular basis, how could you choose anything else?
Barcode Inventory System
Are you looking for the best inventory app for small business use? Then you'll love Ordoro. Rated the top inventory management software for 2021 by The Blueprint, this all-in-one solution features a barcode inventory system, multi-carrier shipping, and so much more.
Additionally, there is dropshipping support to make sending items to customers through a third-party an easy endeavor. You can also print pick and pack lists on an automated basis when customers place orders, arrange kitting of products, and a ton of other great options.
If you're just adding a barcode scanning system to your business, you'll be happy to know that Ordoro integrates with most printers. This means you can create product-specific barcodes, print them, and add them to the system with little effort.
How is Ordoro a good choice for small businesses? While it is not a free option, it does offer plenty of flexibility to help you use the program to meet your needs. Whether you're simply dropshipping from a supplier to customers or need to be able to catalog a whole warehouse full of inventory, this program is designed to meet your needs.
But that doesn't mean that it isn't an excellent option for large brands, too. Ordoro is extremely flexible, allowing you to add multiple users, connect barcode scanners, and integrate functionality with your favorite online marketplace or ecommerce store platform.
In fact, if you're looking for the top sales and inventory app that will grow with your online business, then Ordoro is your best bet. As we previously mentioned, we offer a free thirty-day onboarding program designed to help you get the most out of the app. And we're here to help as your business grows and thrives, developing new needs along the way.
Are you ready to see how Ordoro can help you dramatically improve your brand's efficiency, improve workflows, and make keeping accurate track of inventory a simple process? Please contact us today for details.