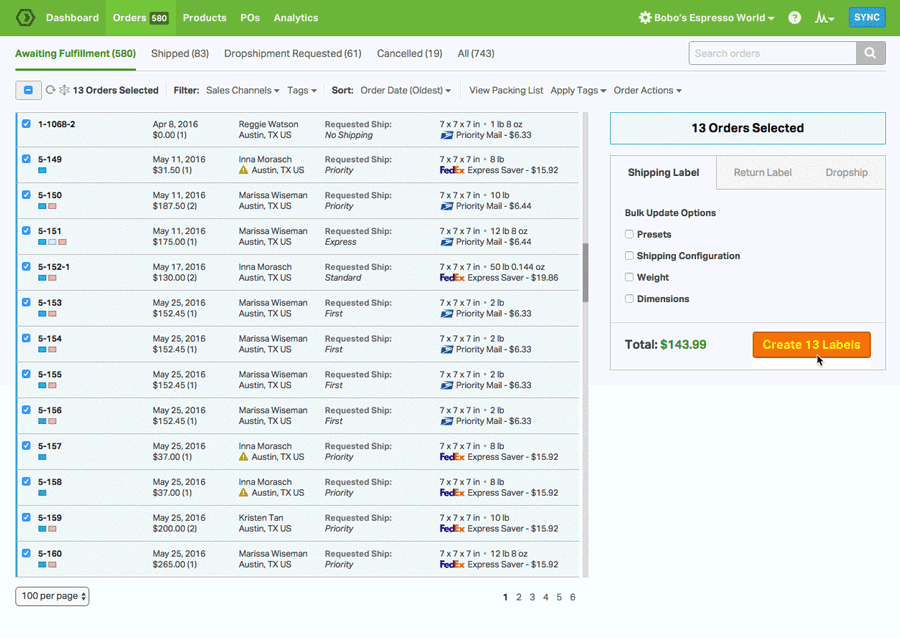 Best Free Label Maker Software On The Market
The All-In-One Ecommerce Logistics Platform
Equip yourself with a comprehensive solution
Inventory Management
Stock, sync, and scan.
Automatically track and sync your inventory levels
Create and send out Purchase Orders when it's time to restock
Bundle multiple SKUs into one unit for sale
Use Barcode Scanning to reduce fulfillment errors
Multi-Carrier Shipping
Your workflow, minus the work.
Enjoy heavily-discounted shipping rates via USPS
Ship via any of our integrated shipping carriers like USPS, UPS, FedEx, DHL and Canada Post
Set up your own Automation Rules and Shipping Presets
Print shipping labels in triple-digit batches or individually
Dropshipping
Truly hands-off dropshipping.
Launch a dropshipping operation in a matter of clicks
Tag any product as drop shipped and assign it to a vendor
Choose between automated or manual routing
Activate a Vendor Portal between you and your supplier
Multichannel
We're your operations hub.
Integrate and view all of your sales and supplier channels in one spot
Use our open API to hook up any third-party or custom apps
Manage every aspect of your orders
Establish Supplier Feeds for real-time, back-end communication
Barcode Generation and Scanning
Raise the bar for stocking and packing.
Create UPC barcodes for your products
Scan, set, and search UPC codes for SKUs within Ordoro
Reduce fulfillment errors with our pack and pack barcode scanning workflow
Scan received POs to automatically adjust stock levels
Don't take our word for it
Our awesome customers have shipped some really great compliments our way:
"I spent about a month thoroughly searching for the right backend fulfillment software for my eCommerce business. There were definitely some big name guys out there that I considered, but at the end of the day, I went with Ordoro and I'm so glad I did!"

Tina Yarandi
Founder/CEO of Nature's Artisan
"Ordoro continues to add immensely valuable features to an already awesome sales/warehousing/shipping platform. Using Ordoro continues to save us time and money."

Anthony Krize,
VP of GE Holiday Lighting
Best Free Label Maker Software
Getting professional-looking and accurate shipping and barcode labels is not easy. In fact, this could be one of the tedious back-office jobs that your company has to deal with on a daily basis. Finding a solution for the best shipping and order management software for online retailers starts with Ordoro. We have what it takes to solve your label printing demands using the best free label printing software for PC.
Ordoro offers the most innovative order management and shipping software features:
Analytics
Automation
Dropshipping
FREE 30-Day Onboarding
Kitting
Inventory Management
Lifetime Support
Multi-Carrier Shipping
Multi-Channel Integration
Pick and Pack Lists
Solve all of your label-making and printing problems with Ordoro. We will even print Amazon shipping labels for your business. There is also a 15-day free trial of Ordoro's Express Plan. Start today to see real value in the way your labels look and are received by customers, and within your company. Great-looking labels require the right printing software and equipment.
Things you can do with Ordoro's free label making software:
Branded packing lists
Direct-to-printer option
Shipping Presets for automating the process
Automated audits for print orders
Ship with all major shipping carriers, i.e, Amazon Seller Fulfilled Prime account, Canada Post, DHL International, FedEx, UPS, and USPS
Save up to 67 percent on shipping with USPS with insider rates
From there you need to have optimized labels in the right shape, paper, backing, and cut. The thermal printing must meet the demands of your customers as well. For example, hot labels require heat-resistant ink, while beverage bottles will need to have waterproof labels to resist condensation and handling.
Ordoro serves as your go-to solution for ecommerce business printing requirements. We are ideal for online stores and businesses interested in scaling up with best practices. Start today with our free 15-day trial on the Express Plan to see what Ordoro has to offer for your company. Using the best free label maker software for PC means you save money and time on printing premium labels.
Free Barcode Label Printing Software
Ordoro is a leader in ecommerce business workflow. Our goal is to help online merchants come up with workable systems for managing the entire supply chain process. We start with the printing arena by creating and printing shipping barcodes and product labels. Optimizing order fulfillment means that your company gets products shipped to customers earlier, resulting in happy customers and online reviews faster.
Your mission is to sell products and get them in the hands of customers quicker with fewer mistakes in order fulfillment workflow. This ensures greater gains in scalable growth for your company. Ordoro is here for you. We have free label software for Windows 10 that will optimize shipping and logistics.
Ordoro's free barcode scanner app is one more example of our successful technologies for businesses. This barcode scanning app works on any of the major barcode scanning devices for inventory and warehousing. Using a barcode scanning system increases productivity and reduces pick and pack errors among employees.
Other features of our free barcode label printing software:
Generate barcodes using SKU and UPC Code parameters
Initiate actions for barcode scanners
Access our free barcode printing software today. Here is a free PDF to teach you some of the shortcuts for barcode scanners we have created using our free barcode label maker software for Windows 10.
Are you ready to start using the best free label printing software for Windows 10? We have a free trial offer for the barcode printing software by Ordoro. Begin printing barcode labels today using the free solutions with our services. The trial is good for 15 days after you download the software and best barcode scanner app.
Open Source Label Printing Software
If you are interested in using open source label printing software, think again. There are many places that offer free open source software on the internet. You can read many of the open source label printing software Reddit reviews from users. As a result, we are seeing a common theme. These open source software solutions have weird quirks and bugs. Some of this software ends up giving computer systems viruses and spam that never ends.
This is because of the nature of open source software, which is "something people can modify and share because its design is publicly accessible." Since anyone and everyone can access this software, you can easily see how being open and available can lead to problems. The software may be inspected and edited by anyone. If you have a business that operates with any sort of security, it is a bad idea to include it in your system. Open source software, such as A4 label printing software, will open up network access to your computer files and documents through downloading and updating their software. Do you really want to do that? No, not likely.
There is also the catch of having the open source software hacked or altered without your knowledge, or suddenly shut down without being able to get your data back. A lot of features with the default setup might also be good for most, but not for all, including your own operations. If the system is not straightforward, and you have minimal onboarding or customer service, how are you expected to progress? This is a lot to have to deal with, which can all be avoided by not using open source free software that you download from the internet.
Perhaps the biggest issue with open source inventory management PHP is the code involved. Coding is needed to be able to get the full functionality out of open source software. This way, your team can alter the software as needed to make it work for your business practices. But this also means other people can change the code on your company, leaving you in a mess. Going with Ordoro and our free label printing software for Windows 10 allows you to avoid all of this in favor of protected and copyrighted software.
Free Label Printing Software Excel
When printing shipping labels using Excel or Avery, which are some of the more common commercially recognized solutions, there are often issues. Companies lack control of their ability to use the software and free downloads can cause viruses. This is especially the case if it is open source software as we have just discussed. And even though those free label design templates might be free to use, these freebies are often too cumbersome and have too many constraints, i.e., watermarks, for commercial use.
The negative aspects of using free label software or templates like Avery or free label printing software Excel are extensive. For starters, it is difficult to find exactly the right solution that your company needs for its operations. Every company has its proprietary data and information, as well, that should be protected. Using these online systems and free open source solutions like free label printing software removes those protections. This is hazardous for your company.
Using an Avery label printing software free download lets your team speed up downloads for labels. This system allows for using shipping templates, but you have to manually type in or paste each address for the individual labels. This is slow for productivity and leads to human error and wasted labels and materials. Plus, it's old school. Nobody wants to manually do labels, and they shouldn't. That is why we offer the best free label printing software for Windows 10 including a sticker design software free download.
Excel claims to be a free platform for businesses interested in making shipping labels. However, the services they offer take a lot of time and are also manually done. This leads to more errors than are necessary for this type of printing task. Automation is key with barcode label printing software. Ordoro has the software and shipping label app you need to optimize bulk shipping label printing.
Free Label Printing Software For Zebra Printers
As you shop for the top-rated free label printing software for Zebra printers, we have some news for you about the competitors. Zebra is a leader in the label printing industry from the development of commercial label printers and printing software. The company has several solutions for retail and ecommerce:
Fulfillment
Labeling and Packing
Returns
Companies working in hospitals, warehouses, and retail shops are using Zebra printers for their commercial printing requirements. If you have a Zebra printer, it is ideal to use the accompanying software in order to achieve optimal results with workflow. The Zebra line of software includes types of printing software including:
Zebra Designer 2 free download
Zebra Designer Essentials 3 free download
Zebra Designer Pro Free Download
You are able to deal with workforce management using Zebra technology as well. The inventory solutions and collaboration tools by Zebra are made for commercial operations. This includes high-level software for task management, as well as barcode printers and barcode scanners. As a mobile computer and printer label system, there have been some concerns with quality control using Zebra products. In addition, companies with proprietary applications are not able to customize the code or software using the Zebra brand.
The free label printing software for Zebra printers does not allow companies to alter the code. This also harbors concerns for companies wanting scalability with software. The Zebra label designer online and Zebra label printer software also seem to be too large-scale to work for small businesses. You simply lack that control you get when working with a company like Ordoro.