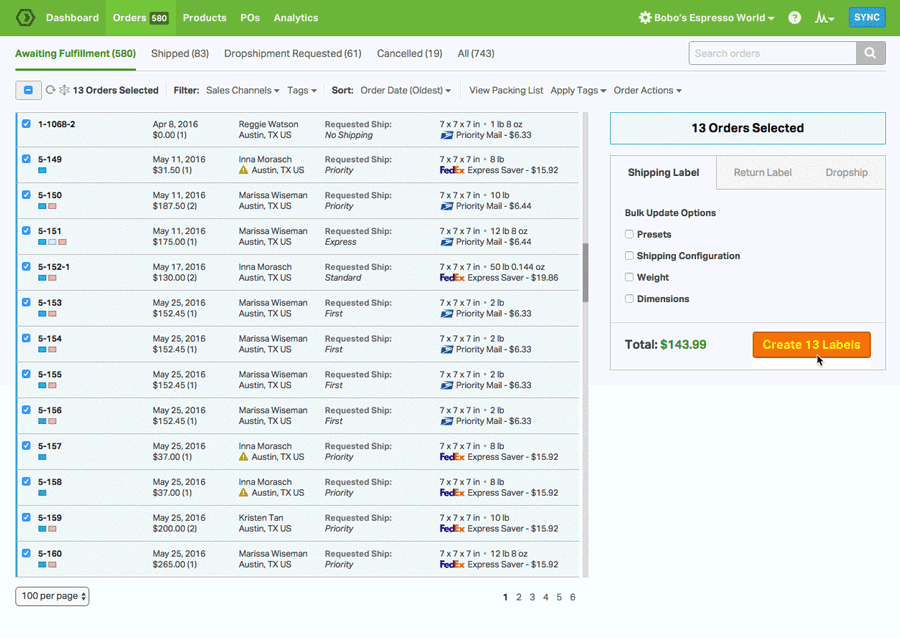 Dropshipping Business Model Explained In Full Detail
The All-In-One Ecommerce Logistics Platform
Equip yourself with a comprehensive solution
Inventory Management
Stock, sync, and scan.
Automatically track and sync your inventory levels
Create and send out Purchase Orders when it's time to restock
Bundle multiple SKUs into one unit for sale
Use Barcode Scanning to reduce fulfillment errors
Multi-Carrier Shipping
Your workflow, minus the work.
Enjoy heavily-discounted shipping rates via USPS
Ship via any of our integrated shipping carriers like USPS, UPS, FedEx, DHL and Canada Post
Set up your own Automation Rules and Shipping Presets
Print shipping labels in triple-digit batches or individually
Dropshipping
Truly hands-off dropshipping.
Launch a dropshipping operation in a matter of clicks
Tag any product as drop shipped and assign it to a vendor
Choose between automated or manual routing
Activate a Vendor Portal between you and your supplier
Multichannel
We're your operations hub.
Integrate and view all of your sales and supplier channels in one spot
Use our open API to hook up any third-party or custom apps
Manage every aspect of your orders
Establish Supplier Feeds for real-time, back-end communication
Barcode Generation and Scanning
Raise the bar for stocking and packing.
Create UPC barcodes for your products
Scan, set, and search UPC codes for SKUs within Ordoro
Reduce fulfillment errors with our pack and pack barcode scanning workflow
Scan received POs to automatically adjust stock levels
Don't take our word for it
Our awesome customers have shipped some really great compliments our way:
"I spent about a month thoroughly searching for the right backend fulfillment software for my eCommerce business. There were definitely some big name guys out there that I considered, but at the end of the day, I went with Ordoro and I'm so glad I did!"

Tina Yarandi
Founder/CEO of Nature's Artisan
"Ordoro continues to add immensely valuable features to an already awesome sales/warehousing/shipping platform. Using Ordoro continues to save us time and money."

Anthony Krize,
VP of GE Holiday Lighting
Dropshipping Business Model
The dropshipping business model is a method of retail fulfillment where a store sells a product that it doesn't actually keep in stock but instead purchases from a third party, either directly from the manufacturer/wholesaler or a middleman, and has the product shipped directly to the buyer. The seller never handles the product before it goes out. That's the big difference between a traditional retailer owning or at least stocking inventory, whereas a dropshipper purchases inventory as required from third-party suppliers.
The dropshipping business model is currently in use by many ecommerce businesses offers a way to create and sustain a good income with less upfront investment than most. However, it isn't something that can be started with zero money invested and no planning or effort on your part.
Several good introductions to dropshipping are found in several dropshipping business model PDF formats as offered on AliDrop and other sites.
One of the most popular dropshipping business model examples can be found within the Shopify platform. They've thought of just about everything to starting and succeeding in a dropshipping business, including well-designed and produced training videos, as well as offering handy supplier-search apps such as Oberlo.
When done right, with planning and effort, the dropship model in ecommerce has delivered on its promises of a good income with less risk and upfront expense than more traditional forms of online retailing.
Some are asking is dropshipping worth it in 2021? The short answer is, yes, it can be worth it – if, you're willing to devote the time, resources and energy to your ecommerce business.
Drop Shipping Meaning
Drop shipping meaning as stated above, concerns offering products for sale on a platform such as Amazon, BigCommerce, Blue Cart, Shopify, Woo Commerce, Wix, but instead of you having to stock inventory and pack and ship the order, you instead relay the order to your supplier who fulfills it and sends it out to your customer.
Blue Cart even has a resource guide for beginners: their "Drop shipping for Dummies" pages advise newbies on what's needed to start and succeed in the dropshipping industry.
One benefit of dropshipping is that you can test different business ideas with more limited downsides. Below are a few more benefits:
Less capital is required upfront – you don't have to pay until you make a sale and are paid by the customer.
Lower overhead - dropshipping is easy to begin (see above) plus there's no need to worry about any of the following:
Storing inventory in a warehouse or elsewhere
Packing and shipping
Flexible locations – you can run a dropshipping business wherever you have an internet connection
Large product selections from global suppliers
Okay, there are a few downsides to dropshipping, such as lower profit margins, especially if selling on Amazon with their higher prices as a tradeoff for their unbeatable delivery, plenty of online competition, especially if buying products from larger suppliers, and the delivery times can sometimes be unreliable as you have no control over shipping or a supplier's stock inventory.
Overall, it's a good way to make money. You don't need to quit your "day job" – at least in the beginning when starting. Over time, you may find that you enjoy making sales while you sleep and waking up to the ka-ching of money in your account, far more than slogging away in your current job.
Is Dropshipping Worth It
Dropshipping websites such as through eBay, Amazon, Shopify, Blue Cart, AliExpress and even Walmart can be done on just about any website with an online storefront as long as you're offering popular products and excellent customer service.
Successful dropshipping stores including Meowingtons, Inspire Uplift, HYGO, and Trendy Goods, are those that have excellent customer service as well as offering quality, popular products.
Is Amazon dropshipping profitable? It can be, depending on the product, shipping and pricing, but remember that dropshipping on Amazon, with its higher prices, will usually entail thinner profit margins.
Is drop shipping legal? In most places, yes, as long as you meet the criteria of offering a real, legitimate product at a fair price and can ship to customers within a reasonable time frame. If customers complain you consistently fail to deliver on time, especially after accepting payment from customers, you could be held accountable for fraud by the authorities.
On the other hand, offering certain types of products sold on Shopify, such as the popular CBD products, containing hemp or hemp-derived products may get you into trouble with the law unless certain requirements are met.
So, is dropshipping worth it? As with anything else, success depends on preparation, educating yourself on the how-to's with the help of the training provided by Shopify, Amazon, AliExpress, and others, as well as the ability to spend enough money upfront to sign up for a Shopify or another platform plan, create a storefront, set up supplier accounts and purchase initial products to get started.
Drop Shipping Suppliers
You can locate reliable drop shipping suppliers using the Oberlo app on Shopify, which connects you to the many products available on AliExpress. Or, you can do a Google search or browse wholesale directories, which while a bit more time-consuming, may be worth your while if you're looking for certain types of products, pricing, or brands. Oberlo is a dropshipping marketplace that offers products from thousands of suppliers. It uses analytics to find products that are trending to be popular and top sellers, as well as more everyday items that are reliable staples of sellers.
It's recommended that you search for reliable dropshipping suppliers offering good quality products with fast shipping either in wholesale directories or by contacting the manufacturer directly. You can often get better pricing and terms than dealing with a more expensive middleman and avoid paying monthly user fees to boot. Yes, it takes longer than just signing up for a service and plunking down a fee, but you should remember that, since you'll never be actually handling these products before a sale, you need to ensure that your customers are getting exactly the items ordered, on time, and that the quality is representative of the brand you want to create.
If you've done your homework and found a niche spot, researched good, reliable suppliers (try to deal with manufacturers if possible, rather than middlemen) and have an attractive website, you should be able to expect a decent amount of business, even in the beginning.
How to Start a Dropshipping Business
If you're interested in dropshipping for beginners 2021 could be one of the best times to begin your new ecommerce business.
There are a number of good training videos as well as PDF online courses to learn how to start a dropshipping business. Shopify as well as Amazon dropshipping for beginners both offer very good training as well as helpful tips and support.
A few dropshipping business ideas could include popular items such as sports and fitness, pets, electronics, accessories for the home, or gardening, to name a few. You could also investigate entering a niche market: since 'pets' is a pretty broad category, why not narrow it down to "dog toys" or "dog tags and collars"? You get the idea.
Like with any budding enterprise, you will need a dropshipping business plan that will act as a guide to setting up and growing your ecommerce business. You'll need to know how much money to budget for setting up a webpage on Shopify or some other platform, as well as the costs of advertising on social media and elsewhere. You'll have to create an advertising budget, such as running ads on social media, and know how much to spend on listing products from your chosen supplier(s) as well as what terms and conditions they require.
Ordoro's software can help you boost sales with multiple dropshipping methods, such as routing dropship requests to vendors manually or automatically, while letting vendors/ suppliers fulfill orders within the same app.
Drop Shipping Amazon
Drop shipping Amazon: there's a difference between dropshipping on Amazon and Amazon FBA, so take the time to read the information posted on their website about their various seller's policies. One possible downside is that margins tend to be thinner than with other platforms.
Among the more successful models is the Amazon dropshipping business model. However, as anyone who has sold anything on Amazon knows, the platform has some pretty strict policies for sellers. Violating these can have expensive consequences, such as the removal of your store, so you need to know what you're getting into first.
Is dropshipping on Amazon worth it? It can be as long you have the right product – in fact, this is where being in a more specialized "niche" can be very advantageous to be "found" online. Be sure that your Amazon dropshipping products aren't violating any copyright or other laws as well as being outright fakes or other forms of fraud. Exorbitant markups are another red flag to avoid. You need to understand the differences between "markup" and "margin" to avoid even the appearance of price gouging.
Stay within the guidelines and play by the rules and you can do well, keeping in mind that your margins will be somewhat thinner than with other platforms.
Ordoro can offer you software and other tools to help manage your ecommerce business that is compatible with most of the sales platforms out there, including Amazon, eBay, Shopify, and others. Ordoro offers order management, custom integrations between you and suppliers, and everything else needed to grow your ecommerce business.