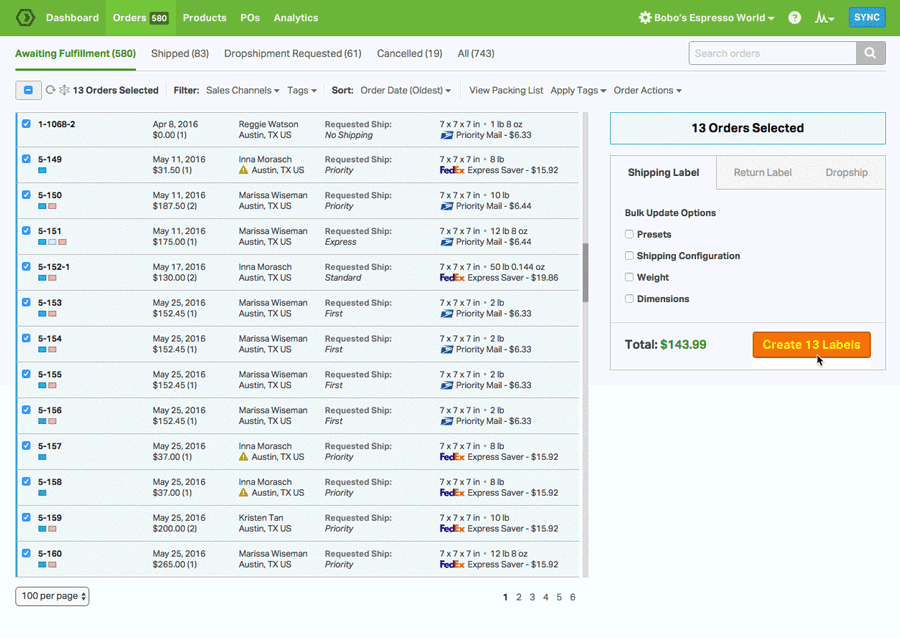 Discover The Best Dropshipping Websites On The Market
The All-In-One Ecommerce Logistics Platform
Equip yourself with a comprehensive solution
Inventory Management
Stock, sync, and scan.
Automatically track and sync your inventory levels
Create and send out Purchase Orders when it's time to restock
Bundle multiple SKUs into one unit for sale
Use Barcode Scanning to reduce fulfillment errors
Multi-Carrier Shipping
Your workflow, minus the work.
Enjoy heavily-discounted shipping rates via USPS
Ship via any of our integrated shipping carriers like USPS, UPS, FedEx, DHL and Canada Post
Set up your own Automation Rules and Shipping Presets
Print shipping labels in triple-digit batches or individually
Dropshipping
Truly hands-off dropshipping.
Launch a dropshipping operation in a matter of clicks
Tag any product as drop shipped and assign it to a vendor
Choose between automated or manual routing
Activate a Vendor Portal between you and your supplier
Multichannel
We're your operations hub.
Integrate and view all of your sales and supplier channels in one spot
Use our open API to hook up any third-party or custom apps
Manage every aspect of your orders
Establish Supplier Feeds for real-time, back-end communication
Barcode Generation and Scanning
Raise the bar for stocking and packing.
Create UPC barcodes for your products
Scan, set, and search UPC codes for SKUs within Ordoro
Reduce fulfillment errors with our pack and pack barcode scanning workflow
Scan received POs to automatically adjust stock levels
Don't take our word for it
Our awesome customers have shipped some really great compliments our way:
"I spent about a month thoroughly searching for the right backend fulfillment software for my eCommerce business. There were definitely some big name guys out there that I considered, but at the end of the day, I went with Ordoro and I'm so glad I did!"

Tina Yarandi
Founder/CEO of Nature's Artisan
"Ordoro continues to add immensely valuable features to an already awesome sales/warehousing/shipping platform. Using Ordoro continues to save us time and money."

Anthony Krize,
VP of GE Holiday Lighting
Best Dropshipping Websites
If you're thinking of expanding your small business, spending some time researching the best dropshipping websites is an investment that can really pay off. Dropshipping is a strategy many people use to expand their businesses while keeping costs down. Not having to pay for space to store your inventory is one of the things that allows small businesses to become medium-sized businesses. You've worked hard to build your customer base and you want to make sure they remain your base while you're planning ways to increase their numbers. When you're looking Just googling "dropshipping websites examples" isn't going to help much. You don't know if you're going to get a list of the best or a list of companies who paid the most to appear at the top of the list. When you go looking for the best dropshipping sites, you'll find that they're not all alike. Some specialize in particular products. When you go looking for the best dropshipping sites, you'll find that they're not all alike. For example, many people consider Printify the best for sales of apparel. Just as some dropshipping sites are better than others for certain products, the same is true for dropshipping platforms. If you're like most people expanding their e-commerce business, you probably offer more than one type of item and have more than one supplier. That's why it's a good idea to invest in an integrated system that offers scalability, multichannel integration, and multi-carrier shipping at the very least. Ordoro offers all of those features, plus inventory management, data analytics, and automation. Automation is what gives you the time to focus on attracting new customers while your software is hard at work taking care of your current ones. Their experts will spend 30 days showing you and your team exactly how to set up your automation rules to best benefit your particular type of business.
Dropshipping Business
Just the thought of starting your own dropshipping business or using dropshipping to expand and existing business can feel intimidating. The good news is that some of the biggest players in the dropshipping business, like Amazon and Shopify, offer free online courses in dropshipping for beginners. It's no longer a matter of competing with these giants, but learning how to take advantage of their success to help further your own. If you haven't even decided what items you'd like to offer yet, here's an example of just a few of the dropshipping business ideas out there. Whatever products you choose to offer, you're going to want a software system that can integrate easily with Amazon, eBay and Shopify as well as smaller niche item suppliers. With the right planning and software in place, you can have multiple suppliers for your most popular niche products, so if one of them goes out of business, you won't have to panic-search to find another to keep from disappointing your customers. Any dropshipping business plan should include investing in software that provides a high level of security while allowing you to take advantage of industry shipping discounts. With the right software system, you should be able to launch a dropshipping operation with a few clicks of a mouse. Those clicks should activate multi-channel vendor portals between you and your suppliers, assign products to them, and tag your products as dropshipped—all while allowing you to choose between automated and manual routing. The most successful people in the business are those who buy from wholesale suppliers, saving themselves and their customers money by eliminating the middlemen in the supply chain. Having multi-channel capability and multiple suppliers can increase your profits exponentially.
Best Dropshipping Products
If you compare the list of best dropshipping products 2021 with the list of best dropshipping products 2020, you're going to see quite a few of the same items on both of them. There are certain items that people are always going to need. The best dropshipping products are those that have appeared on the list year after year. Even if you've found a perfect niche market, you should probably include at least some of those items on your list of offerings. According to researchers at Shopify, health and self-care products are at the top of the list of things that remain in demand. Not surprisingly, three of the top-selling items in that category right now are:
• Children's face masks
• Electric toothbrushes
• Yoga mats
Another popular category is wardrobe and accessories. Three of the most popular items in that category right now are:
• Leggings
• Backpacks
• Balaclavas (hats that cover the face, kind of like a ski mask)
No matter what the state of the economy, people are always going to need to take care of themselves and their health. They're also going to need clothing—and to cook, which is why the kitchen and grocery category is next on the list. Further down are office products and home improvements, while gaming and car accessories are still further down the list. Like the most successful lives, the most successful retail businesses offer both necessities and some of the luxuries that make it worth living. Time is, by far, the greatest luxury that any of us have. The e-commerce professionals at Ordoro developed their software to seamlessly integrate and automate your business processes to give you more of it. It also provides the same kind of data analytics capabilities for your small business that made all this research possible.
Dropshipping Suppliers
Ordoro software offers multi-channel capability, so you can take advantage of all the best dropshipping suppliers 2021, just like industry giant eBay does. One of the advantages of eBay is that they have built a high degree of customer trust over the years by having strict standards for their suppliers. You may see some offers out there for "free dropshipping suppliers USA", but you have no way of knowing whether they meet the strict standards upheld by eBay. Reviewing their list of approved dropshippers before you decide which dropshipping suppliers to choose for your business can save you a lot of time and money—and prevent potential future losses. Joining eBay and Shopify in the field of e-commerce is relative newcomer BigCommerce. Compared to other platforms, Bigcommerce is one of the higher-priced platforms available. While they do offer a feature that provides the ability to sell products using multiple currencies with no transaction fees, you'll have to pay more if you want a theme that sets you apart from others using their platform. Finally, they have limits on annual online sales. Recent research on dropshipping suppliers clothing shows that the top-selling clothing item on eBay last year was men's t-shirts. Other research results available on Shopify showed that the sales growth of fashion clothing items, as represented by the compound annual growth rate—is decreasing. From 15.3% in 2018, growth is projected to be at just 7.6% by 2022. This decrease is being attributed to western market saturation. This means that the number of dropshipping suppliers for USA clothing could decrease as well. This is the kind of up-to-the-minute information your business needs to make the right choices about what items to offer. Ordoro offers a fully integrated scalable system that doesn't limit your success and provides you with all the data analytics capabilities you need to make the best possible business decisions.
AliExpress Dropshipping
Another company gaining global recognition is AliExpress dropshipping. Like Amazon, eBay and Shopify, they offer a comprehensive guide for starting a dropshipping business. Their AliExpress dropshipping center is another excellent resource for information. They allow people to use their center free of charge, even if they're not utilizing their other services. Their product research tool is one of the most popular features of the site. You can type in the name of an item, and it will return a list of companies currently offering that item, as well as the range of prices they're offering it at. You can also find out approximately how much it costs to ship that item within specific timeframes and within specific distances. Finally, you can see a graph of how many of that particular item has been sold during a specific period of time. AliExpress dropshipping reviews are mixed. Among the pros is their success in helping connect the east and west by enabling people to dropship to and from China at no cost. Another is that you don't have to pay for items that your customers don't buy. However, when it comes to the quality of the items shipped and the length of time it often takes them to arrive, their reviews have been less than complimentary. The best strategy for small business owners is to take advantage of every positive resource they have to offer, while avoiding the negative. That's exactly what Ordoro software specifically designed for e-commerce gives you the power to do. With multi-channel integration, multi-carrier shipping, and automated inventory management, you can control your entire operation from a single dashboard. Their free 30-day onboarding process will show you exactly how to do that. After setting up your customized automation rules, you'll be able to complete complex tasks that used to take days in just seconds with a few clicks of a mouse. Helping small businesses succeed and become medium-sized businesses is what Ordoro does best. A lot of companies say that, but offering life-time support is how Ordoro shows it.