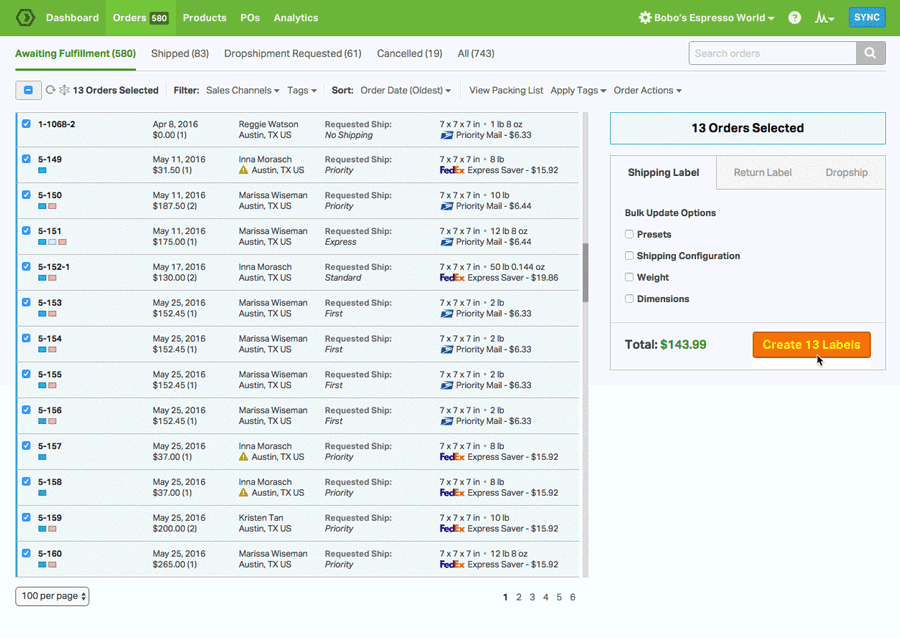 Fulfill Orders Faster with One of the Best Dropshipping Apps for Shopify
The All-In-One Ecommerce Logistics Platform
Equip yourself with a comprehensive solution
Inventory Management
Stock, sync, and scan.
Automatically track and sync your inventory levels
Create and send out Purchase Orders when it's time to restock
Bundle multiple SKUs into one unit for sale
Use Barcode Scanning to reduce fulfillment errors
Multi-Carrier Shipping
Your workflow, minus the work.
Enjoy heavily-discounted shipping rates via USPS
Ship via any of our integrated shipping carriers like USPS, UPS, FedEx, DHL and Canada Post
Set up your own Automation Rules and Shipping Presets
Print shipping labels in triple-digit batches or individually
Dropshipping
Truly hands-off dropshipping.
Launch a dropshipping operation in a matter of clicks
Tag any product as drop shipped and assign it to a vendor
Choose between automated or manual routing
Activate a Vendor Portal between you and your supplier
Multichannel
We're your operations hub.
Integrate and view all of your sales and supplier channels in one spot
Use our open API to hook up any third-party or custom apps
Manage every aspect of your orders
Establish Supplier Feeds for real-time, back-end communication
Barcode Generation and Scanning
Raise the bar for stocking and packing.
Create UPC barcodes for your products
Scan, set, and search UPC codes for SKUs within Ordoro
Reduce fulfillment errors with our pack and pack barcode scanning workflow
Scan received POs to automatically adjust stock levels
Don't take our word for it
Our awesome customers have shipped some really great compliments our way:
"I spent about a month thoroughly searching for the right backend fulfillment software for my eCommerce business. There were definitely some big name guys out there that I considered, but at the end of the day, I went with Ordoro and I'm so glad I did!"

Tina Yarandi
Founder/CEO of Nature's Artisan
"Ordoro continues to add immensely valuable features to an already awesome sales/warehousing/shipping platform. Using Ordoro continues to save us time and money."

Anthony Krize,
VP of GE Holiday Lighting
Best Dropshipping Apps for Shopify
For those who don't want to keep stock and track inventory as well as deal with shipping and other ecommerce tasks, but are looking for a source of dropshippping software Shopify dropshipping stores are one answer. Dropshipping is becoming a more popular way to break into ecommerce without having to have direct access to storage facilities like warehouses or other expensive outlays. You simply set up a website, such as those using the popular Shopify platform, choose your products and your dropshipper/supplier, and you're in business.
If you're using the Shopify platform for selling, you'll want to know about the many Shopify-centric apps available to dropshippers and other ecommerce enterprises. When choosing the best Shopify apps for dropshipping, you'll want to consider the ability to compare real-time shipping costs, the app's security, the cost of the app itself (free or a premium), whether you plan to mostly drop-ship, outsource using a 3P fulfillment, and whether you may decide to mix and match fulfillment models depending on the product and distance to ship.
Shopify offers an App Store where you can browse and select which Shopify dropshipping apps work best for your particular business.
The App store is accessible using your Shopify login. You'll also have access to dropshipping websites, potential suppliers and new products
You'll want an app that offers plenty of features such as tracking orders as well as manage inventory, whether in your location or in a warehouse or supplier,
Another consideration is an app's scalability, or its ability to grow with you as your business grows in the future.
One of your biggest considerations should be to make your Shopify store or other site as user-friendly as possible to prospective customers. Ordoro and Shopify combine apps to offer the best Shopify shipping rates, saving your customers money and giving you more sales.
How to Dropship on Shopify
To succeed in dropshipping, you'll not only need a powerful platform, such as Shopify, but access to great dropshipping software, such as offered through Shopify's apps and Ordoro's supportive software.
Shopify powers over 1,700,000 businesses world-wide, making it one of the most popular sale platforms on the market today, along with Amazon and eBay.
Shopify currently boasts more than 6,000 apps, with the average merchant utilizing six. With apps from Shopify's App Store, shippers can save on shipping rates, manage inventories, track orders from warehouses or suppliers, grade shippers, and research the most popular products to offer customers.
As a side-specialty of the popular Shopify platform, Shopify dropshipping offers a complete dropshipping course on its website, training videos and excellent customer support. Everything needed to set up a successful dropshipping business is all there, from finding products to creating an attractive online store website as well as plug-ins and tools for tracking shipments and sales analytics.
Shopify also offers detailed guides to setting up your online dropshipping store and tips to find products and more. There's a competitive monthly charge compared with most other hosting platforms out there, depending on how much you want to spend and what kind of features you want in the site.
You can integrate Shopify app store developer with FedEx, USPS, Canada Post and UPS, print out shipping labels individually or in batches, and track order's status from initial order to fulfillment. Connect your Shopify website store to other multichannels as well as other markets.
Sellers can sync inventory volume from Shopify App Store data across multiple channels, grade performance of drop shippers route orders to suppliers with one click, assign specific products to certain dropshippers, set up product kits to bundle SKUs together in orders, set up purchase orders to suppliers and manage inventory in sync with the Shopify Locations feature.
Shopify Dropshipping Suppliers
If you decide to drop ship you'll have access to finding Shopify dropship suppliers on their website. You can download the lists to your Shopify store as well as find recommended products and dropshipping websites, especially now that the Shopify dropshipping app offers tools that integrate with Ordoro's Shopify app development for tracking shipments and inventory, as well as communicating with suppliers and other vendors. (Need help finding suppliers? One of the apps offered on Shopify is Aliexpress dropshipping services, which helps dropshippers with locating products to sell on Shopify and elsewhere.)
After reading all of this, you may be wondering: is dropshipping worth it?
It can certainly seem overwhelming at first, but with Shopify's expert tutorials and other guides to get you off to a good start, you can absolutely succeed as a dropshipper.
(Of course, Ordoro helps make the move to dropshipping easier with backend integration with Shopify's dropshipping apps.)
You can even try dropshipping as a side gig without giving up your current job, to test the dropshipping waters.
A few words on suppliers: they're probably the most important part of dropshipping, along with access to the right dropshipping software, products and sales platform. It helps to remember that the "best' supplier is one which can meet your shipping deadlines, provide a quality product at a reasonable cost, and reliably handle reorders as well as keep enough stock in inventory to quickly fulfill orders. Here's a short checklist to keep in mind:
You want a supplier who is responsive and prompt when answering customer concerns and questions.
You also need to know where the supplier will ship: are they limited to domestic deliveries or will they ship internationally?
Check the potential supplier's reviews and look for overall ratings, as well as any "red flags" like late or missing deliveries, shipping mistakes, and other problems.
Free Dropshiping Suppliers
Shopify powers close to 2 million businesses around the world as a top platform for ecommerce and dropshipping, making it competitive with Amazon, eBay and more. You can integrate Shopify app store developer with FedEx, USPS, Canada Post and UPS, print out shipping labels individually or in batches, and track order's status from initial order to fulfillment.
A few of the best free apps for Shopify include Oberlo ("Explorer Plan"), Easyship (free to install, pay only for what's shipped), Aliexpress and PreOrder Alpha.
Sellers can sync inventory volume from Shopify App Store data across multiple channels, grade performance of drop shippers, route orders to suppliers with one click, assign specific products to certain dropshippers, set up product kits to bundle SKUs in orders, send purchase orders to suppliers and manage inventory in sync with the Shopify Locations feature.
Some of the benefits and features of Shopify's dropshipping apps include:
Sell anywhere with Shopify POS, while keeping storefronts and shopping carts in check.
Collect and check all multichannel data in one place
Contrast, rate and compare each channel's effectiveness
Access stats about popular products, targeted customers,
Subscription manager, product reviews, Facebook and Google channels Pinterest, Shopify email, free shipping,
Because of competition among dropshipping users seeking to boost their business's capabilities, Shopify and others, such as Ordoro, have created a wide variety of helpful dropshipping applications for Shopify users. They can be installed on a variety of operating systems and browsers to enable users to customize them to meet their unique needs.
You can access free dropshipping suppliers, and even learn how to start dropshipping for free: several Shopify apps help set you up to sell first, see which products are profitable then pay later. Some of the best free Shopify apps for 2021 suppliers include Oberlo ("Explorer Plan"), MerchMixer – Basic plan (US dropshipping), and WholesaleB, which offers a free starter plan.
Best Dropshipping Apps for Shopify 2021
When checking out the best Shopify shipping apps on Shopify's app store you'll find that there are quite a few choices, including those developed by Ordoro, but which to choose depends on whether you use a third party shipper or dropship altogether.
Shopify currently offers more than 6,000 apps, with the average merchant utilizing only 6 to run their businesses. Apps can be free or premium, but the best dropshipping app for Shopify offers the most value for a business and is more apt to be among the premium offerings.
Often when comparing the best Shopify apps, while the shipping app for 2020 may still work great, the updated best dropshipping apps for Shopify 2021 contain newer features and upgrades that your ecommerce business needs. You can also easily access as well as grade many of the best dropshipping suppliers 2021 has to offer through Shopify's apps with just a few clicks.
Another Shopify-offered app is Oberlo, which, like Aliexpress, helps users locate dropshipping products to sell on Shopify and other markets.
While you may be charging customers for shipping, as the seller you are the one actually responsible for paying for shipping. To save some money on customer shipping rates, you may wish to check out Shopify's discounted shipping rates. You may also be eligible for a discount if you ship bulk (multiple) items to the same location.
Having a good automated dropshipping program, such as Ordoro's, can further reduce the chances of errors as well as handle routine dropshipping automated tasks, making the whole process run more smoothly with fewer mistakes and returns, resulting in more satisfied customers, reorders and bigger profits.
Ordoro's software helps new, smaller merchants operate like large-scale corporations, but at a fraction of the cost. Optimize your fulfillment workflows with the Shopify app's bulk shipping label creation, omnichannel inventory management, automated dropshipping, and more – all in one platform. With Ordoro's Shopify-compatible dropshipping plug-ins and software, Shopify offers a wide variety of mobile apps and other tools, including integrations which are designed to help your dropshipping business thrive.